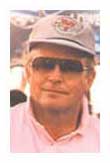 BEHIND THE SCENES: AN INTERVIEW WITH
OUR EDITOR

Editor Jerry W. Bird has been interviewing business leaders in print and on air for decades." This time the tables are turned - as he express his thoughts and goals in the following interview. A similar session was hosted by Sandy Dhuyvetter of TravelTalk Radio of San Francisco - a d solid supporter of Africa Travel Magazine. Brief Biography

What did you do prior to becoming a magazine publisher?
Jerry: In 1989, after a career as an audio visual producer, advertising agency professional and seminar leader, I joined a national travel magazine. I had been writing for magazines based in Seattle, Montreal and Western Canada at the time, and had produced videos and broadcast features for the Canadian Government and many corporate clients. My first project for the travel magazine was a special issue on Israel, working with Yehuda Shen, Director of the Israel Tourist Office in New York and an agent in Jerusalem. Flushed with success, I looked for other areas of interest.
What were your aims at the time?
Jerry: I firmly believe that the best magazines are keepers, like National Geographic and Readers Digest, which become collector's items. So, I coined the expression "it's a keeper" for my pet projects and looked for areas where other media were paying scant attention. It became obvious that little space in most magazines was paid to train travel. Seizing the moment, I made contact with as many continental and short line rail companies as I could locate. The result was "Railways of the World," one of the longest running, most successful editions in the magazine's history and highly profitable in terms of advertising support.
Do you have a special fascination with various modes of travel?
Jerry: I write about railways in every country we visit. The most recent was this spring in France, Germany, Egypt and Morocco. Another early success was a feature we called Airlines of the World. Having flown with bush pilots in the Yukon, prior to joining the Royal Canadian Air Force, aviation was in my blood. We developed and printed several hundred thousand maps of roads, rail, sea and air routes for Best Western Hotels and Avis Rent a Car - and created a distribution network through Transport Canada and its 35 airport managers. With this structure in place, we then launched a successful Air and Marine Tourism Expo, which is the foundation for a repeat performance at an African location.

Did you discover Africa - or did Africa discover you?
Jerry: It came as a big surprise, when our editor who just returned from Kenya, recommended me to Mira Berman, Executive Director and Karen Hoffman, Public Relations Director of the Africa Travel Association (ATA) in New York. They wanted a trade magazine to promote interest in travel to Africa as a counterbalance to conventional media. I agreed and opened a Vancouver office in August of 1995 . Gary Chaloner, one of Western Canada's top advertising sales executives, joined me to launch two magazines - Air Highways, the Journal of Open Skies - and Africa Travel Magazine, the voice of ATA.

What did you know about Africa?
Jerry: Very little at the time. Only what I had gleaned from reading stories about South Africa and the Boer War - or what was served up by the news media, who seldom accentuate the positive. A lover of African - inspired music, whether it be calypso, blues, soul or rock, I was fortunate to know many African American entertainers, such as Ray Carroll of the Platters and Bill Kenney of the Ink spots. While serving in Public Relations and Marketing with a hotel group client, I worked closely with entertainers of African heritage. Let's say I was ripe for a challenge.
How did you get started with the Africa Travel Association?
Jerry: Having studied the background of ATA and its worthy goals, I took on the responsibility of building a Canadian chapter. Our first effort was Africa Night at a downtown university campus to introduce a group of visitors from Ghana Tourism. It was a great success and was repeated for 30 Safari operators from Kenya, led by Peter Muiruri, a friend and founder of ATA. The first magazine we printed was for ATA's 21st Annual Congress in Windhoek, Namibia in 1996.

How did you get your material for various magazine issues?
Jerry: Fortunately for me, Karen Hoffman of the Bradford Group in New York, who had been active in Africa for many years, became our Associate Editor. She provided most of our first articles. Others were written by ATA members from the USA and Africa. However, when my friend Gary Chaloner passed away suddenly, Muguette Goufrani became active in the magazine's operation. Her knowledge of French was a definite asset.
The fact that she was born in Casablanca, Morocco, from a family active in tourism added another dimension. Muguette knows Africa well, having worked as an airline, automotive and travel agent in Morocco, Cote d'Ivoire, Gabon and Algeria. Her assignments began in 1996 covering the ATA 3rd Ecotourism Symposium in Marrakech, followed by two weeks in Haiti, a prominent country in the African Diaspora.
When did you first visit Africa?
Jerry: My big moment came in May, 1997 when Muguette, myself and Karen Hoffman brought the full force of Africa Travel Magazine to the ATA 22 Annual Congress in Cotonou, Benin. Enroute we had an overnight stay in Dakar, Senegal, courtesy of Air Afrique. That was my first taste of African culture and hospitality on the continent.

What were some of your first impressions?
Jerry: We went directly from Cotonou Airport to the Benin Sheraton Hotel's outdoor patio, where a welcoming party was going strong. Wow! It really blew me away, with the wild, whirling Dervish-type tribal dances, continuous drumbeats - and people coming from all corners, most of whom already knew who we were from reading the magazine.
Later in the week at the gala dinners, I was overwhelmed by the splashes of color and outstanding design of African clothing, from turbans, kangas, bangles and beads to Ali Baba slippers. This initial impression has carried on in our magazine today - as we continue to Google #1 for African Fashions and Designers.

What do you remember most from that visit?

We had an unforgettable experience getting to know Benin as well as our colleagues in the Africa Travel Association, including the late Eunice Rawlings and Ellen Posell of California, Theo Abediaye of Top Tours in Cotonou and Fred Fuller of Ohio, plus Elyse White of Harlem, who lived well into her 90s. I will always remember Elyse at the voodoo forest and Theo during our visit Ganvie, a village on stilts, in the middle of the delta, reachable only by pirogue. Most recently we were saddened by the loss of Ambassador Daudi Mwakawago of Tanzania. Those stalwarts will always shine brightly in our memories.
What else happened?
Jerry: Following the ATA Congress in Benin, Muguette Goufrani suggested we fly to Cote d'Ivoire to visit tour operator Therese Haury, hotelier Roger Kacou and other friends from the years she and her Mother Suzanne were employed by Citroen Automobiles and the United States Embassy respectively.
The highlight of that week was our stay on the beach as a gift of Mr. Gakpo, the Lobster Man of Abidjan, plus an educational, inspirational journey to Yamoussoukro, home of Africa's grand Roman Catholic Basilica. I must admit, those first precious weeks in Africa whet my appetite for many more visits to come.


What African destinations have you visited since you launched the magazine?

Jerry: In terms of the ATA Annual Congress, starting at the most recent: Cairo, Egypt, Arusha, Tanzania, Addis Ababa, Ethiopia, Accra, Ghana, Nairobi, Kenya, Douala, Cameroon, Lusaka and Livingstone, Zambia, Conakry, Guinea, Cape Town, South Africa, Addis Ababa, Ethiopia, Accra, Ghana, Arusha, Tanzania, Cotonou, Benin. In terms of the ATA Ecotourism Symposium, starting at the most recent: Djibouti City, Djibouti, Calabar, Nigeria, Luanda, Angola, Kampala, Uganda, Zanzibar, Tanzania, Fez, Morocco, Yaounde, Cameroon, Marrakech, Morocco. We have since returned to several countries by special invitation of tourism ministries and carriers. Our travels also brought us to Johannesburg, Pretoria, Dar es Salaam, Abuja, Rabat and other African cities.

What have you done personally to promote Africa Tourism?

Jerry: We believe face to face marketing at meetings and conferences is the ideal way to introduce a travel magazine. In addition to seminars. road shows and events we stage on behalf of my ATA Chapter, our editors take every opportunity to personally cover major travel shows in the USA, Canada and Europe, as far as our travel budget will allow.

Our offices provide magazines in bulk at no charge for ATA and African Tourism Ministries exhibits at any events we cannot attend. To read about the success of these marketing opportunities in New York, Las Vegas, Houston, Vancouver and Whistler, BC, Calgary, Alberta, Berlin, Paris and many African cities, download a copy of our Venues World Edition from http://www.africa-ata.org/venues.pdf

What is your company's purpose and function?

Jerry: In addition to producing global magazines and learning resources, we represent African Business targeting North America. We are pleased to support African exhibitors on location at travel trade shows and conferences. Decades of experience and a successful record as publishers, trade show managers, audio visual producers and public relations professionals.

Our credentials include ATA Founders Award, TTB Annual Awards, U.S. Creative Excellence Awards. Our website is #1 on Google and Yahoo for travel, trade and tourism marketing and other Africa topics.

Who are some of your magazine's advertisers?

Jerry: A major client group is Airlines and Transportation, which includes South African Airways, Ethiopian Airlines, Ghana Airways, Kenya Airways, Royal Air Maroc, Gabon Airlines, Mauritius Airlines, Brussels Airlines, TAP Portugal Airlines, Daalo Airlines, North American Airlines, Trans Nation Airways, Mombassa Air Services, Rovos Rail of South Africa.

Another is Hotels and Resorts, including Sheraton Addis, InterContinental, Moevenpick, Meridien, Corinthian, Kempinski, Serena Hotels, Nairobi Safari Club Hotel, Sunset Hotels, Caesar's Johannesburg, RAS Hotels, Axum Hotels, Ghion Hotels, Nyali Beach Resort, Manta Reef Resort, Comfort Inns, New Stanley Hotel, Hilton Hotels, Kijani House, Golden Tulip Hotels, Riads of Morocco, TV5 Hotels Group.

Do African countries support your media?

Jerry: African Tourism Ministries and Boards are our key partners. As ATA Host Countries, Angola, Benin, Cameroon. Djibouti, Egypt, Ethiopia, Ghana, Guinea, Kenya, Morocco, Namibia, Nigeria, South Africa, Tanzania, The Gambia, Uganda and Zambia appear regularly in print and online.

What other advertisers?

Jerry: We deal with a wide range of travel services, from national parks and conglomerates, such as Midroc Technology Group and Coca Cola, to tour operators, travel agencies and auto rental. Other advertisers include banks and financial institutions, universities and training schools, shipping companies and couriers. We generate results for them through active participation in major events plus global reach and influence.

Does Africa Travel Magazine appear only in print?

Jerry: Thanks to the Internet, our magazine is multidimensional and reminds me of my exciting years in audio visual and radio tv production. Several projects won awards for creative excellence in the USA. Our website allows us great flexibility along with global reach and influence. We also work closely with Sandy Dhuyvetter and her team from TravelTalk Radio in San Francisco. They cover the whole wide world and have a great affinity for Africa. Mister Africa, Ogo Sow, who broadcasts from Atlanta, Ga. interviews me regularly and invites me to be his co-host. We have been guests of print and broadcast media in many of the African countries we visit.

Has Multimedia changed your direction?

Jerry: Most definitely. Since founding the Africa Travel and Nature Library, all future issues will be World Editions, produced in both print and digital (electronic) format. We call them our Green and Gold Editions. Examples of pages from our Big 5 Regional Editions may be downloaded from the website, especially our Faces of Africa page - www.africa-ata.org/faces1.htm

Where else in Africa you going?

Jerry: Since we opened an office in Morocco, we've relished the opportunity to discover more of that wonderful country's delights than in previous tours. We will return there in March following ITB Berlin and Salon de Tourisme, Paris. We plan to visit West Africa again in May 2010 for the ATA 35th Annual Congress in Banjul, The Gambia.

Key marketing information is online at htttp://www.africa-ata.org/advert.htm - and http://www.africa-ata.org/webads.htm

To be continued.