FIONA JEFFERY, CHAIRMAN, WORLD TRAVEL MARKET WINS PRESTIGIOUS "SHINE WOMEN OF THE YEAR 2008" LEADERSHIP AWARD IN LONDON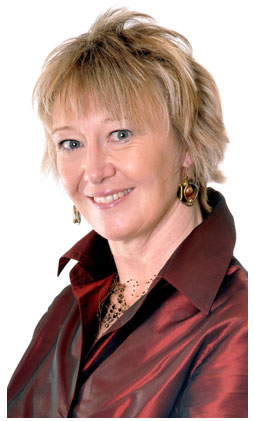 PRESS RELEASE
December 2, 2008, New York, NY: Fiona Jeffery, chairman of World Travel Market has won a prestigious UK award dedicated to women working in the travel industry. She is the recipient of the SHINE Women of the Year 2008 &endash; Leadership Award.
Jeffery was recognized for her outstanding leadership of World Travel Market for over nearly 20 years. She was also praised for her development of the event into a world-class brand, as well as managing difficult decisions such as the controversial move to ExCeL London in 2002 and its response to 9/11, when much of the global industry was in trauma.
In addition, Jeffery has pioneered key international initiatives such as WTM World Responsible Tourism Day and the founding of water-aid charity Just a Drop ten years ago on behalf of the international travel industry.
The news comes just days after World Travel Market announced it had had its largest record-breaking show, with an increase of 12% on visitors and 4% rise in participants.
Since their inception in 2004, the SHINE Awards have recognised the increasingly important role played by women in travel, tourism and hospitality by celebrating their success, professionalism and care.
"I was absolutely delighted to receive the award which is a tribute, not just to me, but the entire World Travel Market team", said Jeffery. "Together we have tried to make World Travel Market new, fresh and exciting every year, but always with the aim of pushing the barriers addressing and tackling industry issues while at the same time helping the industry to expand business opportunities and improve profitability."
Jeffery said she was especially pleased with the success of WTM World Responsible Tourism Day in association with the UNWTO, the first global day of action of its kind, now in its second year.
Just a Drop, which has provided clean water to more than 900,000 children and families in 28 countries, attracts support and fund raising from travel companies and individuals worldwide.
PHOTO ATTACHED:
FIONA JEFFERY, CHAIRMAN, WORLD TRAVEL MARKET AND
CHIARMAN, JUST A DROP WATER-AID CHARITY
For further press information please contact Katy Kenyon on +44 (0)20 8910 7020 email: katy.kenyon@reedexpo.co.uk
NOTES TO EDITORS
World Travel Market &endash; New Admissions Policy
World Travel Market (WTM), the global trade event for the travel industry announces a new admission policy, designed to benefit both exhibitors and visitors alike. The new WTM policy includes changes to the structure of the daily format, with WTM Opening Day on Monday 10 November, open to Exhibitors, Exhibitor Invitees, Ministers, and press. The following three days, Tuesday 11 November &endash; Thursday 13 November, will be accessible to all Meridian Club members, Travel Trade professionals, Ministers and press, giving participants more flexibility to choose the days they wish to visit the exhibition.
Students will be invited to attend WTM on Wednesday 12 November and Thursday 13 November, where they will participate in a structured education programme. Individuals from the retail arm of the travel industry including travel agents, homeworkers and call centre staff will be invited to attend WTM on Thursday 13 November.
WTM remains a trade only exhibition. A full programme of conferences, seminars, B2B meetings, and industry initiatives will run across three days, Tuesday 11 November &endash; Thursday 13 November and includes the UNWTO Minister's Summit, WTM World Responsible Tourism Day (WTM WRTD), along with a number of new initiatives on Thursday 13 November, such as an extended Responsible Tourism programme and exhibitor to exhibitor networking initiatives.
For further details visit www.wtmlondon.com
Reed Exhibitions
Reed Exhibitions is the world's leading events organiser. In 2007 Reed brought together over six million industry professionals from around the world generating billions of dollars in business. Today Reed events are held in 38 countries throughout the Americas, Europe, the Middle East and Asia Pacific, and organised by 39 fully staffed offices.
Reed organises a wide range of events, including exhibitions, conferences, congresses and meetings. Its portfolio of over 500 events serves 47 industry sectors, including:
Aerospace & aviation, automobiles, building & construction, electronics, energy, engineering, entertainment, environment, food & hospitality, gifts, healthcare, IT, jewellery, life sciences & pharmaceuticals, property, manufacturing, medical education, packaging & converting, printing & visual communication, security, sports & recreation, travel.
Working closely with professional bodies, trade associations and government departments Reed ensures that each and every event is targeted and relevant to industry needs. As a result, many Reed events are market leaders in their field.
Reed Exhibitions is part of Reed Elsevier Group plc, a FTSE-100 company and world-leading publisher and information provider. In 2006, Reed Elsevier made adjusted profit before taxation of £1,052 million on turnover of £5,398 million.
WTM/INT/SHINE
Editorial Contact in US:
Karen Hoffman
The Bradford Group
Tel: (212) 447-0027
Fax: (212) 725 8253
E-mail: bradfordmktg@aol.com