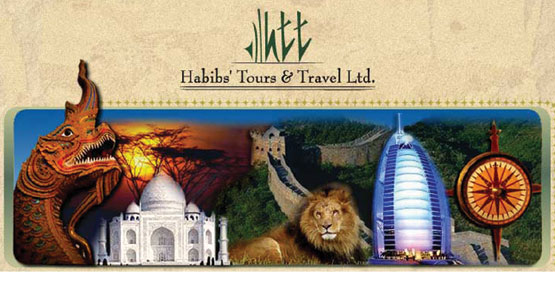 "WELCOME TO OUR WORLD OF TRAVEL"
FOR ALL YOUR TRAVEL REQUIREMENTS INTO: KENYA, TANZANIA, UGANDA, S. AFRICA, ZIMBABWE, ZAMBIA, DUBAI, INDIA AND THE INDIAN OCEAN ISLANDS OF SEYCHELLES & MAURITIUS!
Habib's Tours and Travel is constantly expanding into emerging markets and exciting destinations around the world. Currently we conduct incentives, package tours, holidays and conferences in Kenya, South Africa, Uganda, Tanzania, Egypt, Mauritius, Seychelles, India, Dubai and Malaysia to name a few.
No matter what you are looking for, whether it be time at luxurious resorts on pristine beaches, challenging adventure packages, corporate branded incentives that go above and beyond the norm, shopping holidays, desert or African safaris, HTT can organise anything you can dream of or desire. HTT organises your itineraries in ways that allow you to experience diverse elements of the people, culture, cuisine, unique properties, history, arts and music of an area to make you fly away with a sense of truly having seen the destination in it's entirety! If there is a destination or any activities you are particularly interested in please email us at habibtours@habibtours.com with your inquiry and we will be more than happy to organize a custom package for you.
Currently we are developing our product to include Mexico and areas of Latin America, so look out for that on our list of destinations in the near future!
No matter where you choose to go or what you aspire to do, we assure you that HTT will make your experience one of a lifetime.
HABIB'S TOURS & TRAVEL LTD.
P O BOX 5424 00200,
NAIROBI - KENYA.
FAX: 254 20 576812
TEL: 254 20 578096, 570258, 570259, 560786
MOBILE: 254 722 644128
254 733 718074
Email: habibtours@habibtours.com
Website: www.habibtours.com