MOROCCO, NORTH AFRICA SECTION PAGE

Return to Mogador
By Jerry W. Bird
Impressions after seven years.More->

Berber Wedding Fair at Imilchil
by Muguette Goufrani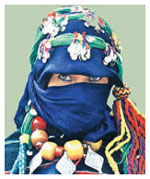 My father, who owned and operated a tour company based in Morocco for many years, took me along with a German tour group to visit a traditional "Wedding Fair" at Hadiddou Imilchil, a Berber village in southern Morocco. While I knew that many Berber Fairs combine a local Saint's Day with a regional market event, only at September's 'moussem' (pilgrimage) of Imilchil, have I seen such a colorful pageant, with instant engagement, and a mass exchange of marriage vows. Berbers have inhabited North Africa for centuries, some being of Caucasian ancestry, with fair complexions and blue eyes. Visitors may think of Berbers as exotic outsiders, yet they preceded the Arabs in settling Morocco, and they remain the country's main culture. This is expressed by the phrase, "Morocco is Berber - the roots and the leaves of freedom." More->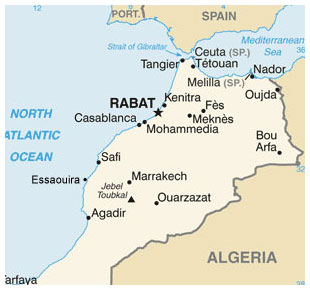 History and Culture
Most Moroccans are Berbers, Arabs or Moors (people of mixed Berber and Arab descent), whose ancestors built the mighty Moorish empire that once ruled Spain, Portugal and most of Northern Africa. Most Berbers dwell in the mountains, while the Arabs and Moors live on the plain and desert. Most cities have a European section a Jewish enclave, and a Medina (Arab-Moorish section). Over the past 3,000 years, its geographic location has given Morocco a strategic importance far beyond its small size. The country has taken the best from the Phoenicians, Romans, Arabs, Berbers, Portuguese, Spanish and French.
About Royal Air Maroc
by Muguette Goufrani

Early in my career as a Travel industry professional and travel agent, I had the pleasure of working for Royal Air Maroc and flew on many of their routes. that's why it was great news for me that ATA is holding its next big event in Morocco and that Royal air Marco is the official airline. Here is some information about this quality air carrier. For more than 40 years, the airline has built an international network covering 37 countries and 58 destinations, to make the world increasingly accessible to you. (continued)

The Splendid Handicrafts of Morocco
by Habeeb Salloum
In this rushed 20th century there are not many of us who know that in Morocco there still exists a medieval world of craftsmen who are creating, with their hands, masterpieces of art. Incorporating a synthesis of the Libyco-Berber, Mediterranean, Middle Eastern, African and Andalusian artistic traditions, these artisans have a long and honored history. (continued)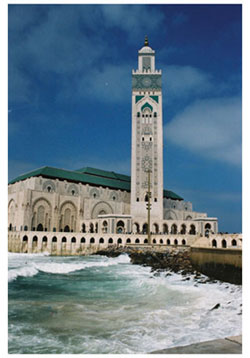 The Great Cities of Morocco
This series, which appears in Africa Travel Magazine's Northern Africa World Edition, features photos and excerpts from our editors' Grand tour, including: Casablanca, Essaouira, Fès, Agadir, Marrakech and Rabat. Muguette is adding a current profile on Tangiers.
Discovering Marrakech
A destination where one may enjoy the customs, culture and pleasures of laid back tourism, Marrakech is loaded with outstanding attractions, events and accommodation . Its conference facilities are a magnet for international events, trade missions and summits. Continued
Tourism Attractions in Abundance
by Helen C. Broadus

Morocco, North Africa is home of the continent's oldest monarchy and is one of Africa's main tourist destinations, bringing in more than 3.3 million tourist representing an estimated 1.8 billion in foreign currency in the year 2000. In 1996, I had the pleasure of visiting Marrakech, Morocco as a delegate to a travel and tourism conference. It was truly a fantastic experience Continued
Majestic Mountains, Romantic Kasbahs and Deserts
by Habeeb Salloum

For two days we had explored Fez, Morocco's historic city, glorifying in its ancient section which remains enclosed within its ancient ramparts. Inside no auto is allowed. Only donkeys contest with humans the few feet wide medieval streets. Seemingly, we had traveled back a thousand years in time. It was a fabulous beginning for the trip we intended to take across the Atlas Mountains to the land of kasbahs (mud castles) and deserts. Continued
Moroccan Culture
by Karen Hoffman

Our one-day adventure began in Marrakech; an enchanting walled city at the foot of the Atlas Mountains. We drove about 48 km into the mountain foothills to Imlil, a charming hamlet which was the starting point of our trek. We were welcomed by the villagers with mint tea and a delicious array of Moroccan pastries. The mountain guides gave a briefing on the area, and on the culture and tradition of its inhabitants, the Berbers ("Chleuhs"). (continued)
Happy Returns to Mogador
Rediscovering Essaouira and other popular destinations in Morocco. More

View our Northern Africa World Edition Now in Progress
Download a pdf copy of this new magazine edition which will feature Algeria, Egypt, Libya, Morocco, Sudan, Tunisia, Western Sahara. More.

Link to "The Travel Source" for Morocco:
The comprehensive website has background on all of Morocco, its great cities, cultural attractions, travel options and a variety of tours. More
Background on Morocco
The Kingdom of Morocco is located in Northern Africa, bordering the Atlantic Ocean and the Mediterranean Sea. Slightly larger than California, with a similar lengthy coastline (3,500 km) and separated from Europe by the strait of Gibraltar, Morocco is one of Africa's top five travel destinations. The country has a population of over 30,600,000, and while Arabic is the official language, French is often the language of business, government and diplomacy. (continued)
Great Cities and Grand Tour of Morocco
Africa Travel Magazine will launch its Grand Tour Of Morocco Edition soon On this page are some brief capsules, with links to stories and items about Morocco. Above is an index with links to our photo gallery, with images by our editorial team and the Morocco National Tourist Board.More->
Great Cities and Grand Tour of Morocco
Africa Travel Magazine will launch its Grand Tour Of Morocco Edition soon On this page are some brief capsules, with links to stories and items about Morocco. Above is an index with links to our photo gallery, with images by our editorial team and the Morocco National Tourist Board.More->