Googled Us Lately?
Millions of hits and visits to this website from all continents are proof of Africa Travel Magazine's expanded global reach and influence.

Source: Webtrends Inc. statistics for top 40 countries visiting this site. July 1, 2010


.
---
Mira Berman: A Passion for Africa
by Jerry W. Bird, Editor of Africa Travel Magazine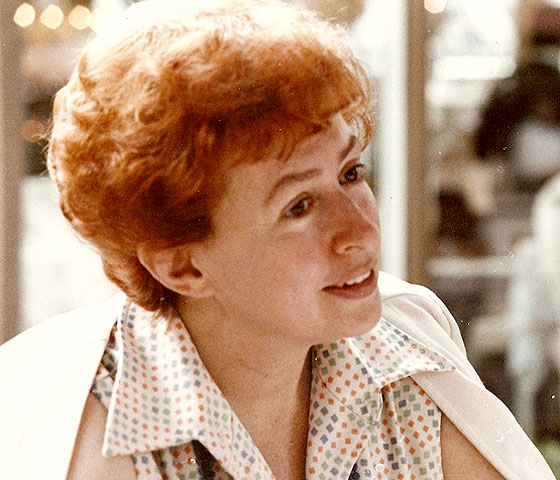 Mira Berman, Founder and President of The Bradford Group, and former Executive Director of the
Africa Travel Association, passed away on Tuesday, June 29, 2010. We welcome your letters.
Our keynote feature "Angels on my Shoulder" is dedicated to her memory.

Mira's passion for Africa inspired countless others to greater achievements during her 16 year term as Executive Director of the Africa Travel Association (ATA). She entered my life in 1995, turning it in an entirely new direction by providing a positive way to bring the good news about Africa, Africans and ATA to the world. Our avenue of communication was Africa Travel Magazine in print and online. Thanks to her guidance and support, we made giant strides towards changing perceptions about Africa; presenting a far different picture from the negative news reports by the mainstream media. Through Mira, I received the "gift of a lifetime" - an opportunity to learn about Africa first-hand, from the inside, with personal introductions to tourism ministers, heads of state and hundreds of African travel and tourism professionals from across the continent and diaspora. Many of those I met at ATA Congresses, Symposia and Media Tours have become life-long friends and supporters.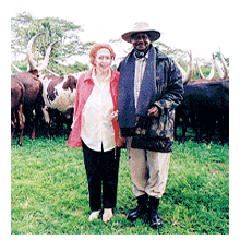 "Respected ATA member and well known hotelier, Roger Kacou, provides a fitting capsule of Mira's contribution with the following statement, "Mira was one of these persons that you would think, would be with us forever. Life has decided otherwise, but she will be remembered as THE ONE that has put the African continent on the map. Her dedication to the Africa promotion was unique and she will be difficult to replace. Our mandate is now to honor her memory by fighting for the same causes that she did, and try to further develop Africa tourism."

Photo (right): Mira with Uganda President Museveni at his cattle ranch, following a helicopter trip from Kampala by Mira Berman, Jerry W. Bird and Muguette Goufrani. 2004.

Peter Muiruri of Kenya- an ATA Founder: "Margaret and I send our sincere condolences to Mira Berman family on the passing away of our dear friend, Mira. Mira's great knowledge and experience in the travel trade and particularly Kenya was a source of honest and dedicated advice to many who knew her. She will be sadly missed."
Tony Potter, CEO, CHI Hotels & Resorts: "There is much testimony to Mira's tremendous contribution to Africa, the hotel and travel industry and global PR. My memories and admiration all go to upholding these same tributes but my personal memories are far simpler and personally essential for life's journey. They are the fact that whenever I met Mira or was in her company, she always filled me with the sense of can do, will do and no matter how tough it gets I am here for you and to support you. She in fact filled me with so much confidence that I was left with a tremendous warm feeling that anything could be achieved. In many respects that is how I think of the Bradford Group and it is consoling to know that she has left so much behind in you all and that you have such a sense of loyalty and belief that there is nothing more sure that Mira's spirit will live on in you all. I hope these genuine words assist in your great pain but let us all give thanks for a great life and a great contribution from Mira."
IIbrahima Diallo, former Director General, National Office of Tourism, Guinea had these kind words: "In Guinea and in all of Africa this brave and dynamic woman will always live and keep her place in our memories. She will inspire our actions for the emergence and development of tourism. Mira has done for Africa much more than many Africans. She is African in her heart. Her Guinean friends surely hold a ceremony in her memory. The ATA Congress in Guinea is still alive. My condolences to the team and all friends of the ATA.."
Doors to Opportunity
Her efforts with the Africa Travel Association opened the doors to developing new business opportunities between American and African enterprises. Another main achievement was attracting corporate sponsorships from Revlon, AT&T, American Express, Engen and others. She renewed and forged cooperation with the World Tourism Organization (WTO,) American Society of Travel Agents (ASTA), Association of Retail Travel Agents (ARTA) and the United States Tour Operators Association (USTOA).
Hon. Shamsa S. Mwangunga, Tanzania: "On behalf of the Ministry and myself, and also on behalf of the Tanzania tourism business community, I am writing to convey our condolences on the death of Ms. Berman. Mira was a long-standing partner in Tanzania's tourism promotion in the United States and worldwide and will be sorely missed by us all. I am glad that I was able to work with her since my appointment as Minister of Natural Resources and Tourism.
Louis D'Amore, IIPT Founder and President:"It is my great honor to have known and worked with Mira for the past 15 years, and to have presented Mira the first IIPT Lifetime Achievement Award in recognition of her illustrious career and particularly for promoting the magnificent lands, cultures and peoples of Africa to the world, and for building the Africa Travel Association into a robust organization that will continue nurturing the growth of peace and sustainable tourism development on the African continent."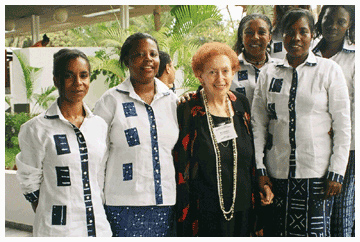 Transportation and Routes
Mira was a supporter of improved and enhanced transportation to, from and throughout Africa, as expressed by the following statement, "In evaluating Africa's transportation scene, ATA members can be considered among the most astute judges of all. Since our launch in 1976 at a Congress in Nairobi, Kenya, ATA members have flown on every airline serving the continent and its offshore islands, and have boarded regional carriers that crisscross, this vast expanse of geography, linking dozens of emerging cities and towns. Some have gone by train, or enjoyed waterborne adventures along the coastline of two oceans, plus the majestic Mediterranean, or on Africa's historic canals, lakes and rivers."
Mira is listed in Who's Who in America, Who's Who in American Women, Who's Who in Advertising, The Financial Publicists Directory and Foremost Women in Communications. She served on the National Advertising Review Board of the American Association of Advertising Agencies. She taught Public Relations, Advertising and Radio and Television at the ASTA Congress and workshops. She served as President of SATH ( Society for the Advancement of Travel for the Handicapped), Executive Director of North American Travel Association and Women Executive International Tourism Association. She was a past director of The National Council of Women of the USA.
Karen Hoffman: "Mira's loss will leave a big vacuum in our professional and personal lives. We know that Mira will be remembered by all those in Africa whose lives she has touched for her passion and love for Africa and its people and her commitment to pushing an agenda of increasing tourism and investment to the continent in a sustainable and meaningful way. All of us at The Bradford Group will continue our dedication to the work she has done with the same commitment and passion that she taught us to have, and that is her enduring legacy she left for all of us."

Eddie Bergman: "As Executive Director of ATA for sixteen years, Mira was instrumental in building the foundation for our organization, committing her time, passion, resources and energy to ATA from 1990 to 2006. Mira devoted her life to making the world a better place and will be remembered as one of the amazing women of our times." Eddie Bergman, Executive Director, Africa Travel Association,

Muguette Goufrani: "The very first ATA event I attended following the launch of Africa Travel Magazine was at the Kempinski Hotel in Marrakech, Morocco. From day one, I was overwhelmed by this grand lady's presence, unlimited energy and radiant personality. . She had the ability to walk with kings. I am proud to have been a member of Mira's "good news" communications team for so many years"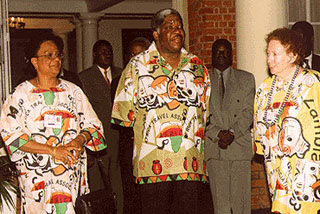 Mira Berman: Miracle Worker
Speaking of life's "miracles," it was a blessing that Mira was not among those lost in the 1940s Holocaust, having escaped with her mother and sister to begin a new life in New York City, where she was a child prodigy on the violin, a sign of her blossoming creative gifts and destiny for greater things to come.
Mira Berman was active on many fronts, serving as Executive Director of The Academy of Tourism Organizations (ATO) and its NOAH Awards Luncheon; Project Director for the Society for the Advancement of Travel for the Handicapped (SATH) and its Travelers With Disabilities Awareness Week. She served as: Vice Chair, Organization Committee for the 50th Anniversary Gala Dinner for the United Nations, and on the Executive Committee of the Celebrity Gala Ball to benefit the United Negro College Fund.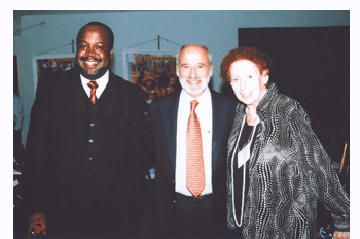 Photo (above) Zakia Menghi, former ATA President and Tourism Minister, Tanzania (left), Mira Berman (right).
Photo (left) Dino Chingungi, former Tourism Minister, Angola, Louis D' Amore, Founder International Institure for Peace Through Tourism; Mira Berman.
A wide variety of talents
She drew on a diversity of talents in directing successful advertising and public relations programs for national, international and regional accounts. A writer, musician, author and marketing expert, Ms. Berman demonstrated outstanding talent in marketing communications, being elected Advertising Woman of the year in 1971. In both 1971 and 1972, The International Film and TV Festival awarded her Television's Gold Medal; and in 1973, she was recipient of the International Film & TV Festival's Grand Award for the production "Israel 25 -- a Celebration", a two-hour special, which was aired on the ABC Network and subsequently syndicated.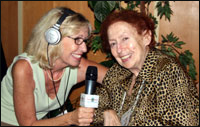 Sandy Dhuyvetter, President TravelTalk Radio: "This year we have said goodbye to too many great people in our travel industry and again this month, we feel the loss of long time friend, mentor and leader in all things Africa, Ms. Mira Berman. Mira was a long time friend of ours and she was passionate about tourism in Africa. The African Tourism sector advanced tremendously while Mira was at the helm of the Africa Travel Association and her colleagues from around the world will miss her bright light. The Africa Travel Magazine has done a beautiful job in celebrating Mira's life "
Photo: Sandy interviewing Mira, Angola, 2005.
E.A.Aziz Gueye, Director, Senegal Tourist Office, USA: "We will definitely miss Mira a lot. I could not make it to New York early enough to attend her funeral that thursday.Instead I headed to her office one of the following days, and Karen let me in: I wanted to feel her spirit..That was the least I thought I could do for that great lady who devoted her life to getting the african destinations greater exposure.I felt her spirit, and with Karen we revisited a few among her many useful undertakings in her life. She lived a life fully committed to the good cause of promoting tourism and travel, i.e promoting a better understanding among human beings, irrespective of race, geographical location or social condition. Mira will be remembered. Forever."
Cam McLeay, Adrift, Uganda : "I am very saddened to hear of Mira's passing. She was a wonderful advocate for Africa and promoted the continent with dedication and passion. We owe her a depth of gratitude for helping to put Uganda on the tourist map."
Chi Jamma, Bro Sheikh Tejan: "She was the mother of all Africans and cared and shared her thinking on the way. African tourism should be managed and directed. She has been at the forefront of making Gambia a destination that will ever be remembered as "The Smiling Coast " and yes she did. May her soul rest in perfect peace. "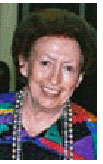 Mira lived Lfe to the Fullest
A regular lecturer for the American Management Association, Mira Berman was cochairman with Malcolm P. McNair, then Lincoln Filene Professor of Retailing at Harvard's Graduate School of Business, of the Conference on Marketing through Retailing which AMA sponsored. The book, Marketing Through Retailers, edited by Professor McNair and Ms. Berman, was published in the U.S., Mexico and Japan. She was cochairman with Walter H. Johnson, vice-chairman of Saturday Review/World, of the AMA Conference on Managing Profit and Growth in World Travel and Tourism. Ms. Berman served on the faculty of The New School for Social Research, teaching in the Master Degree program in Tourism & Travel Administration.
With all of the preceeding accolades. awards and achievements in American business, Mira Berman will be best loved and best known for her outstanding success in "Bringing the World to Africa - and Africa to the World."
Mira has truly become an Angel on my shoulder.
Jerry W. Bird
More Condolences

Benachir Akli, Olive Branch Tours, Morocco:: "It was with a great sense of personal loss when you told me of Mira's untimely death. Words cannot express how shoxked and deeply sorry I am. Truly she will be sorely missed. I simply want to let you know that you all - and especially Mira's close relations, colleagues and friends - have my deepest sympathy, for my heart is truly saddened. Mira was more than just a wonderful person and close friend; throughout the years she was always a staunch promoter of Morocco &endash; and of Olive Branch Tours, so kind, thoughtful, professional and considerate to us that we always welcomed hearing from her at every opportunity. I know that her passing will leave a void in all our lives and in the hearts of all those who really knew her. Whilst I shall unfortunately not be able to attend her funeral, I include Mira in my daily prayers, for her memory will be held deeply in my heart. May Allah give strength to all those whose hearts and minds she touched so deeply and remind us of how life should be lived. My sincere thoughts and prayers are with you all. "
Maria Mmari Director of Tourism, Tanzania: "My tears keep on flowing and my heart still aches.I fell in love with the dynamic, energetic, inspiring and loving lady the moment I met her on a site inspection mission when Tanzania was preparing to host the 23rd ATA Annual Congress in Arusha in 1998. She inspired me and I secretly made her my mentor. I was amazed by her sharp mind, determination and care. Mira's sweet smile still lingers in my mind. She was a darling to everybody she met. Mira has left an everlasting footprint in the development of tourism not only in Tanzania but in the whole of Africa. Her legacy will live forever."
Gifty Kwansa, Ghana Tourist Board: "We have received with sadness the news of Mira Berman's demise. She will be remembered for her courage, steadfastness and passion for Africa. May her ideals live on and we wish her eternal rest "
Enzio Rossi, Garen Group Hotels, Zambia: "It is with deep regret that we heard of the passing of Mira,Mira was very special and made friends everywhere, she was a grand Lady, she will be irreplaceble. She was a close friend and I am pleased to have met her. She embraced tourism in Africa as she would embrace a child. Go well dear Friend till we meet again."
Therese Haury, Abidjan, Cote d'Ivoire: "Mira knew how to be African. It was a great loss for our people, Africa and ATA. I will say a mass for her at the Basilica of Yamossoukro."

Marlene Melton, African Ventures Inc., New York: "I was able to attend the services for Mira last week. What a great loss; what wonderful and tireless contributions she made on Africa's behalf; what wonderful memories of her work. And indeed, what wonderful contributions to the travel industry overall. I met her at the first Eco-tourism symposium held in Saly, Senegal in 1992. I was totally impressed with her work and the goals of ATA and immediately became a member of ATA. I appreciated her commitment and ongoing efforts toward the promotion of tourism to Africa. She has, indeed, left a wonderful legacy. I also congratulate you and thank you for passing on these comments from others who knew her."
Sylvia Frommer-Mracky, Travel Editor The African Times and owner of Production Travel & Tours: "It's still such a shock that I can't bring myself to say the right words. I hope that she did not suffer and I hope she went knowing how many people around the world, especially in Africa, respected her intelligence and her passion for the future of all African countries."..
Xen E Vlahakis, Lusaka, Zambia: "I am shocked and saddened at the passing of a pillar in African travel circles, as Mira Berman, whom I had personally known from ATA's foundation in Montego Bay, Jamaica in May 1974, to the last ATA Congress I had attended in Nairobi, Kenya was a vibrant dynamo and genuinely lovely and gracious personality. I had never once seen her speak in anger or entertain any negative comment about anyone. Together with late Murray Vidockler and Peter Muiruri and others, she made very substantial contributions to African tourism."
Wolfgang Thome., Uganda Tourism Association: "Thank you and God bless her soul"
Mariama Ludovic de Lys, Bamako, Mali: "So Sad indeed. All my sincere condolences to all of you."

Elimbi Ebénézer, Ministry of Tourism, Yaounde, Cameroon: "Thank you for informing me.It's a BIG loss for ATA and for African destinations.May her soul rest in peace."

Sam Okungu, Former Deputy Director of Tourism Kenya: "I have learnt with deep sorrow the passing on of my and our great friend and supporter of the Tourism industry worlwide, Dr. Mira Berman. Mira was a real pillar and advocate of Tourism as a tool for promoting peace to all Nations. She was my mentor in many ways and i have and will miss her courage and love for the African Continent, Mira and yourself built a good foundation for tourism promotion for Kenya. I remember the days when we used to run in the cold in the early 80's marketing Kenya in all the states in the US. Yes those of us who knew her love and passion will miss her a great deal. The consolation is that the Lord loved her more and had her calendar. Let Mira, our friend rest in peace and please convey my condolences and best wishes to her family. HER LEGACY WILL NEVER DIE."
Ogo Sow, Atlanta: " Karen Hoffman introduced me to Mira in 1999 at the occasion of the State and official visit of the former President of Tanzania in America and after that day Mira opened the doors of the mother continent Africa to me to learn about my own continent in terms of culture tourism,safari tourism,beach tourism, sports tourism,history tourism and business tourism ...to show the world that Africa is ready for business ....and ATA lost a great Leader in terms of helping Africans to work-together in terms of intra Africa tourism development and investment ."
Rev. Margaret Bolanle Idowu Fabiyi, Lagos, Nigeria: "Sister Mira has left a good legacy - the African-American Tourism Vision of opening gateway to Africa in which many countries are benefiting today, by influx of tourists and increase in their foreign exchange earnings, friendship, happiness at ATA Congresses".
Francoise Kameni Lele, Cameroon: "The whole ATA cameroon chapter members are very saddened to learn of the death of MIRA BERMAN ATA former Executive Director who passed away in New York.She was highly regarded in Cameroon , in particular, in Africa and world touism; and was known as the rock of AFRICA TRAVEL ASSOCIATION . She was a good woman and a wonderfull leader."