NAMIBIA SAFARI BY BIKE AND TRAIN August 8 to 20, 2016
A safari from BikeTours.com will offer travelers an opportunity to see Namibia's wildlife from two perches: the saddle of a bicycle and a chartered train.
The 13-day, 12-night journey, which debuts next summer, departs fromWindhoek and includes the Fish River Canyon in the south as well as Etosha National Park in the north. Adventurers will pedal through the Namib Desert, where "dunes can reach as high as several hundred feet," said Jim Johnson, the founder of BikeToursDirect. A popular stop is Dune 45, a 525-foot-tall formation from five-million-year-old sand blown from the Kalahari Desert.
The biking component will vary between 19 and 25 miles each day, after which participants will board the Desert Express for overnighters or stay in lodges along the way. The train journey covers 90 percent of Namibia's available rail route and will feature local game as well as cuisine that reflects the country's German colonial and Dutch heritage, such as "braaivleis" or barbecue-style cooking. Travelers will also get to talk with one of the country's major conservation leaders, John Kasaona.
Kalahari Desert Bushmen
by Karen B. Hoffman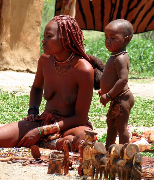 Ecotourism: Intu Afrika. A rare opportunity to learn from the Bushmen themselves about their hunter-gatherer traditions and the ecosystem of the Kalahari desert awaits travelers to INTU AFRIKA'S Kalahari Game Reserve in Namibia. For thousands of years, Bushmen were an integral part of the ecosystem of the Kalahari. As the area was colonized, the Bushmen were driven out and forced to live outside their traditional hunting areas. No longer able to hunt, the Bushmen were reduced to living on government handouts.
In January, 1996, INTU AFRIKA, under the direction of two South African anthropologists, Michael and Bets Daibar, invited 40 !Kung Bushmen to reestablish a self-sustainable community on the company's Kalahari Game Reserve. These families now are working successfully in a variety of income generating projects such as game guiding, camp site supervision and the making and selling of traditional handicrafts. Although the Bushmen have built a typical !Kung village where visitors come to learn about their traditions, they actually live in the privacy of their own village.
INTU AFRIKA offers a choice of accommodations, the luxurious Kalahari Game Lodge, and for the more adventurous, the fully equipped !Kung campsite managed by the Bushmen. The beautifully appointed lodge, designed to be in tune with the desert environment, has 8 double rooms and 5 freestanding chalets. The complex contains a full range of facilities including a restaurant, lounge, bar, curio shop, swimming pool and boma.
The highlights of the INTU AFRIKA program are an early morning desert walk, where the Bushmen demonstrate tracking skills and share their desert survival secrets and an afternoon visit to the!kung village. It is here that one witnesses the characteristic playfulness and spontaneity of these traditionally nomadic people.
The magical red dunes of the Kalahari serve as a dramatic setting for the roller coaster-like game drives, evening desert sundowners and sunrise bush breakfast. The night drives are topped-off with a hearty braii (barbecue) served under a star-filled sky. Visitors staying at the !Kung camp have choice of two hiking trails that wind through the rolling red dunes of the Western Kalahari. Both hikes are led by Bushmen who introduce the hikers to the secrets of the desert !Kung camp facilities feature fully equipped tents, "open air" flush toilets, hot showers and basic cooking facilities.
INTU AFRIKA, 011-264-61-248741, Fax 011-264-61-226535.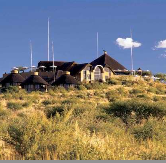 AFRICAN TRAVEL LAUNCHES ACTION AND ADVENTURE TOUR TO NAMIBIA
African Travel Inc, who have been operating African safaris since 1976 and are based in Glendale CA, have launched a new action and adventure tour to Namibia 'Roaring Dunes & Silent Skies'. This tour is one of the recently created collection of specialty safaris, Exclusively Yours Africa, geared to the independent traveler who wants to experience unique aspects of Africa that are not available on group
'Roaring Dunes & Silent Skies' is a luxury 13-day journey through Namibia that culminates with 3 nights in Cape Town. The cost is from US$ 10,890 per person sharing. This rare adventure brings together the roaring sand dunes, the thundering Atlantic Ocean and the endless skies of the Namib Desert with activities that focus on Namibia's extreme environments.
Action and adventure feature prominently on this trip of a lifetime: dune boarding and walking, quad biking, sea kayaking, rhino and elephant tracking on foot, night game drives, hot air ballooning, abseiling, fly fishing, river boating and walking with the nomadic Himba tribe.
For the Exclusively Yours Africa collection, African Travel have selected intimate and exclusive accommodations, often with 15 rooms or less: private retreats, elegant bush homes, regal manors and off-the-beaten track safari lodges not typically found on most Africa itineraries. Personal service, attention to detail and flexibility at these elite properties guarantees a stay tailored to each guest's needs. Many are award winning and all are chosen because of their unique qualities.
On this 'Roaring Dunes & Silent Skies' itinerary, guests will stay at Gache Ganas Nature Reserve, where a 60-minute marula oil massage, as well as morning and afternoon game drives, is included in their stay. In the Namib Desert they will stay at Kulala Tented Camp in one of only six tents, enjoying a hot air balloon ride at sunrise over the incredible sand dunes of Sossusvlei and experiencing the excitement of night game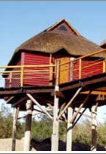 Bungalows on stilts overlooking the Atlantic Ocean and the Swakop River are the accommodations for two days of adventure and excitement that include dune boarding and a lunch of fresh oysters and champagne on the beach. The Swakop River and Walvis Bay are teeming with bird life: thousands of flamingoes, pelicans and other water fowl can be observed from sea kayaks and from the beach. On a quad bike excursion, guests will explore the river bed, gravel plains and the mystifying dune field, all arranged for the maximum enjoyment of both the sightseers and the thrill-seekers.
Highlights of a stay in the rocky desert area of Damaraland are excursions to track the rare and endangered desert elephant and rhino. Wildlife in this area includes lion, cheetah, leopard, hyena, black rhino, mountain zebra, giraffe, ostrich and the desert-adapted elephant. A maximum of 12 guests at one time can explore this wild and remote area, staying in Palmwag Rhino camp, a luxury tented camp run in conjunction with the Save The Rhino Trust. The large tents all have ensuite facilities that include bucket showers with hot water on call.
A chartered light aircraft takes guests to the extreme north west of Namibia and what is probably the most remote camp in Southern Africa, Serra Cafema. Here guests will take a boat trip on the Kunene River. This river creates a lush oasis surrounded by rugged mountains and sand dunes and the boat trip provides opportunities to observe the many unique birds as well as basking crocodiles. Guests will also enjoy a tour in a 4x4 vehicle, walking trails and quad biking.
Cape Town is the final destination on this 'Roaring Dunes & Silent Skies' itinerary, where guests will stay at the luxurious eight-room Kensington Place for three nights. Two days of private sightseeing encompass visits to Table Mountain, Cape Point and the wine areas of Paarl and Constantia. Transport options include combinations of private vehicle, cable car, bicycles, hiking and abseiling. A sumptuous picnic lunch will be arranged for guests on the beach at Cape Point Nature Reserve, as well as lunch on the top of Table Mountain.
African Travel Inc is a member of USTOA and is covered by a $10 million consumer protection plan. For more information and a copy of the Exclusively Yours Africa brochure, contact African Travel Inc, The Safari Building, 1100 East Broadway, Glendale CA 91205, telephone 800-421-8907 or 818-507-7893. Email: ati@africantravelinc.com. Web site: www.africantravelinc.com.
---
NAMIBIA KEY CONTACT:
Elena Group of Companies Namibia
P.O. Box 3127 Windhoek, Namibia
Tel/Answering machine: +264 61 244443
Fax: +264 61 244558
Cellphone: +264 811 246286
Web site: http://www.NamibWeb.com
The online guide to Namibia

Namibia to Market @ Akwaaba African Travel Market
One of Africa's most unique destinations Namibia is set to expand it's appeal to more Travellers this time in West Africa. The Namibian Ministry of Tourism and Environment and the Namibian Film commission will be showcasing at the only international Tourism Expo in West Africa that takes place in Lagos annually. Namibia with its wild Skeleton beach, the famed national parks and picturesque city of Windhoek offers a composite blend of attractions that appeal to the adventurous, the sedentary and the urbane shopaholic the types that have been flying out of Nigeria in huge numbers recently.
West Africa with a population of over 270million people have 2 of the fastest growing Economies in the world in Ghana and Nigeria. Nigeria with over 6 million international passengers generates over $1.25b from flight tickets annually. Today almost all the leading African and Middle east airlines are increasing flights into Nigeria with the rapid rise in Passenger figures. Ethiopian Airlines is the king over the Nigerian skies with daily flights into Lagos,Abuja and now Enugu. Its sister airline Asky has flights into Lagos and Abuja. Kenya Airways flies twice into Lagos and is about to start Abuja flights. Emirates flies twice a day to Lagos and soon to Abuja, Etihad and Qatar are all hauling huge figures from the ever growing travellers. Nigeria with 167million people have only 15million passengers annually which is less than 10% of its population. So the trend will be upward in the coming years.
Air Namibia flies to Ghana and will soon start flights to Lagos and Akwaaba provides a huge opportunity for Namibia to reap from the huge West African travelling public who patronise South Africa and Dubai as first choice of regional destinations.
Namibia now joins The Gambia in planning big for Nigerian Travellers at Akwaaba." As you are aware the Gambia Day has always been a very important activity for the Gambia on Akwaaba " this is according to Adama Njie the Director of Marketing for the Gambia Tourism Board. The Gambia celebrates the Gambian Day at Akwaaba African Travel market that takes place in Lagos,Nigeria annually. The preparations for this years edition is in high gear.The Gambian High Commissioner to Nigeria Her Excellency Mrs Angela Colley-Iheme is a permanent fixture at all major tourism event in Nigeria winning friends for the country. She was the special guest of Honour at The Abuja Bantaba event early July.
The Gambia as part of its strategic plans had planned a study tour of Nigeria by its tourism technocrats to further understand the market.. According to a position paper by the Gambian authorities, the Nigerian market is important to the growth of Travel and Tourism in the Gambia. In the Gambian context, tourism is considered a strategic sector and the engine that drives the economy. Therefore, to increase the arrival numbers during the green season the adopted strategy is to promote sub regional tourism where Nigeria is identified as an important market. This decision was as a consequence of a strong participation in and attendance to Nigerian travel shows, increased travel industry, increase in Nigerian Banks and collaboration with Nigerian regional airlines and media. Today Nigeria is the fastest growing market for the Gambia, having registered over 8000 arrivals by air alone in 2011. The Nigerian market is a "high end" and "high spending" visitors (higher than most of our traditional European Markets), with only 3 hours flying time (far less than travelling from Lagos to Victoria Island).
There is therefore a huge opportunity to increase the local economy exponentially through the half million of not only the visitors who cross the border (Nigerians included) but also for those who come by the available daily flights from Nigeria. The growing demand of the Nigerian Visitors for the Gambia as a tourism destination, venue for meetings and conferences, weddings and honey mooning, must be an opportunity for the Gambia to not only increase the length of the tourism period but also provide the much needed employment and incomes during this lean economic period of May to October.
Recently The Tough Operators Union of Ghana TOUGHA inked an agreement with Akwaaba African Travel Market to participate as a group in the 2013 edition of the leading travel fair in West Africa taking place in Lagos,Nigeria.
Tougha is the organisation that brings all tour operators in Ghana together. It encompasses both inbound and outbound Operators and is one of the strong pillars of tourism in Ghana
The president of Tougha Mr. Gordon Adoboe announced that the agreement with Akwaaba was reached To enable Ghanaian tour operators interact with their counterparts from other Countries and meet directly the huge Nigerian traveling Public as Nigeria generates a huge part of Ghana's inbound tourists.
Most of the leading hospitality groups in Ghana have made Akwaaba the major marketing platform for face to face sales in Africa. the event has hosted past minister of Tourism from Ghana and ghana tourism board is a regular exhibitor with a dedicated Ghana day celebrated at Akwaaba.
Tougha will be joining The National Association of Nigerian Travel Agents NANTA at Akwaaba. Nanta is already a partner with akwaaba hosting a stand for its over 1000 members. NATOP the Nigerian association for tour operators also partners Akwaaba, along with New York based Africa Travel Asssociation ATA.
This comes as One of the biggest names in Travel and Tourism research in the World,German based Dr. Auliana Poon was announced as the guest speaker at this years African Travel Market taking place in Lagos from the 27th to 29th of October 2013. Dr. Poon will be speaking on the topic"The Paradigm shift in Travel and Tourism and it's Implication for Africa". her Presentation will be on the 27th during the opening ceremony and the Africa Travel Award Dinner.
The paper will be taken from her recent research on the paradigm shift in Tourism. According to Dr. Poon the new research throws more light on travel and Tourism trends. "Do you know that there is a paradigm shift taking place in travel and tourism?Do you understand the opportunities, uncertainties and challenges that this shift is creating?Would you like to discover strategies that could help you to weather the storm?Would you like to be even more competitive in these challenging times?To answer all of these questions and more, Tourism Intelligence International has launched a comprehensive report entitled, "The Paradigm Shift in Travel and Tourism". The report is almost 3 decades in the making. It brings together, for the first time, all of the key trends and analyses in one comprehensive, must-read report for decision-makers.The Paradigm Shift in Travel and Tourism examines the key drivers and facilitators of the paradigm shift in travel and tourism. It identifies the implications for industry players and provides the 'new Alphabet' of competitiveness for the industry. A total of 26 strategies for success (from A to Z) is explained in The Paradigm Shift in Travel and Tourism. Learn from the leaders like Accor, Carnival and Starbucks. Follow examples of Australia, Costa Rica and South Africa. Don't make mistakes like Disney and Club Med. Brand like Bennetton."
• Akwaaba: African Travel Market also announced her partnership with Kwanza Trade Marketing, Dubai in preparation for the upcoming 9th African Travel Market Kwanza will serve as the official representative of Akwaaba in the Emirates.
Kwanza Trade Marketing is a boutique Marketing Agency that promotes trade between the Gulf and Sub-Saharan Africa. A representative of Dubai World Trade centre in Sub-Saharan Africa, the agency's goal is ensuring that the best and value added products and services from Africa reach this market and encourage investments and skills transfer from the region to Africa. Kwanza are also the Co/Publisher of The Destination Dubai Guestbook a lifestyle guestbook about Dubai as well as promoting Entertainment, Film Afro-Fashion and practical Educational Workshops, Seminars and Guest Speaking.
• Africa Travel Association Renew Tourism Partnership with Akwaaba
The Africa Travel Association, the world's leading travel industry trade association promoting tourism to Africa, announced that it will renew its partnership with Akwaaba, the only annual international travel fair in West Africa, to market and promote tourism to West Africa.
"ATA is excited to partner with Akwaaba in its ninth year to increase arrivals to and tourism receipts in West Africa, particularly from North America and from across Africa, said Edward Bergman, ATA Executive Director. "As one of the world's fastest growing regional markets that is benefiting from a growing middle class and increase in business travel, West Africa offers a wide range of investment and growth opportunities. ATA is committed to helping grow this marketplace through partnership."
Company Profile: Just Namibia Tours a classical African Adventure with style and quality or for the more discerning, a hands on expedition of real adventure, all within the parameters of Eco friendly and sustainable tourism activities across Namibia.
Our lodging Safaris are done in comfort under the guidance of fully qualified bi- and trilingual Namibian tourist guides. Join us for a truly out of Africa safari with the comfort, classic style and quality service Just Namibia Tours is known to have, and is proud to offer you. Just Namibia Tours offers a wide range of scheduled departure tours within Namibia. These tours are operated in a fleet of modern mini buses and all all- terrain vehicles.
We combine all our safaris and tours with action activities wherever possible so that you get to experience all there is to offer. These include parasailing, sand boarding, stand up boarding, quad biking, hot air ballooning, micro lighting, big game tracking, shark and tiger fishing. Special interest safaris are also offered with a Namibian specialist in their various fields, and include ornithological, geological, fauna and flora based expeditions.
For more information on itinerary's and general information on Namibia, contact Just Namibia Tours at: e-mail: ondulisafaris@yahoo.com
---
Photo Credits: Africa Travel Association 21st International Congress Guide,
Windhoek, Namibia, May 1996. Images by Naimibia Tourist Office.