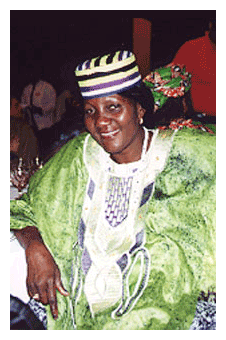 Photo: Chief Margaret Fabiyi
Webisco Travel, Lagos, Nigeria
(1) It's Black History Month (BHM) Festival 2006:
February 26th - March 6th 2006 for Phase -1 Route
2006
Lagos- Abuja- Bauchi Ynakari - Jos - Nasarawa - Abia-Osun
(2) ATA Post Tour to Badagry Nigeria:
(Slave relics/cultural) May 20 - 24th 2006 (4 days
and 3 nights)
(3) Osun Festival Cultural Tour (Pre & Post Tour)
commence on July 30 - August 8th, 2006:
Route: Lagos- Ogun (Olumo Rock) - Osogbo
- Ekiti (Ikogosi
Hot & Cold Spring) - Ondo (Idanre Hills)
Nine days and 8 nights
(4) Pilgrimage Tours to Abia October to November
date will be announced.
Please sign in for any of above events for 2006 to
Nigeria. The Evergreen land of Culture and
Tourism.
(Our job is to make sure you get where you need to
go,
at the best price and the most pleasant way
possible).
Be part of the celebration. We serve you best.
Contact: Webisco Travels & Tours (President/CEO)
e-mail: webiscocare@yahoo.com

Ph:234-1-5851966
Mobile: 234-080-33113167; Fax:234-1-2640979 to 80r
Nigeria: Quick Travel Facts
Nigeria is located in Western Africa, bordering the Gulf of Guinea, between Benin and Cameroon. Northwards with Chad and Niger. It is slightly more than twice the size of California, has 932,968 square kilometers and a population of over 120 million people. & Coastline is 853 km. with diverse culture, extensive tourism products & environmental resources Southern Lands merge into central hills & Plateau; mountains in southeast, plans in the north. Nigerian climate varies; it is equatorial in south, tropical in center, arid in North. Its southern lowlands merge into central hills and plateaus; mountains in southeast, plains in north.
The ethnic groups in Nigeria are Hausa, Fulani, Yoruba, Ibo, Kanuri, Ibibio, Tiv, Ijaw.
National capital: Abuja,
Largest city - Lagos
Languages: English (official), Hausa, Yoruba, Ibo, Fulani
Religions: Muslim 50%, Christian 40%, indigenous beliefs 10%
Independence: October 1st, 1960.Natural resources are petroleum, tin, columbite, iron ore, coal, lime, lead,
zinc, kaoline, forest products and ntrual gas.
Transportation
Airports: 72 (36 with paved runways) Heliports: 1
Highways: total: 32,105 km (including 2,044 km of expressways)
Railways: total: 3,557 km
Waterways: 8,575 km including the Niger and Benue .
Pipelines: crude oil 2,042 km; petroleum products
3,000 km; natural gas 500 km
Ports and harbors: Calabar, Lagos, Onne, Port Harcourt, Sapele
Government: 36 states and Federal Capital. Others are
Abia, Abuja Federal Capital Territory*, Adamawa, Akwa
Ibom, Anambra, Bauchi, Benue, Borno, Cross River,
Delta, Edo, Enugu, Imo, Jigawa, Kaduna, Kano, Katsina,
Kebbi, Kogi, Kwara, Lagos, Niger, Ogun, Ondo, Osun,
Oyo, Plateau, Rivers, Sokoto, Taraba, Yobe etc
Legal system: based on English common law, Islamic law, and tribal law
Media: Radio stations: AM 35, FM 17. TV broadcast stations: 28.