---

Uganda: Miss Tourism More Promising This Year
By Samson Baranga
Unlike normal pageants, Miss Tourism 2014 is looking for that beautiful ambassador who is also knowledgeable when it comes to all things nature and wildlife.
This year the contestants have been tasked to make an impact on conservation to promote tourism. A lot of emphasis has been put on domestic tourism and they spent part of the boot camp at Uganda Wildlife Education Centre (UWEC), getting up close and personal with creatures that would normally make them squeal with trepidation.
Not only were the girls trained in snake-handling - pulling off a photo-shoot while holding the python - they also got to experience domestic tourism at its best by being put in shared accommodation different from last year's banda arrangement.
This year, organisers - the Tourism, Wildlife and Antiquities ministry - decided to get contestants according to tourism clusters. Each of the clusters, namely, Tooro, Ankole, Bunyoro, Buganda, Teso, Busoga, Eastern, Kigezi and Northern, all have attractions and hence the need for tourism ambassadors.
"The girls are being trained to become tourism ambassadors whether they win or not," said Belinda Atim, the UWEC public relations officer. "Miss Tourism is not just for fame and glamour; the main purpose is to get people who can spearhead conservation issues in the country."
She also revealed that the contestants were well-versed with conservation issues and how they can play a part in boosting tourism. James Musinguzi the executive director UWEC said Miss Tourism is aiming at putting a human face to the cause of domestic tourism.
"We think by identifying tourism with a human face, we are able to send the message to a typical Ugandan on the ground that tourism is your business as well."
The boot camp
Being in the boot camp is all work with little time to play. The girls wake up at 5am and, depending on the day's programme, they may be occupied the whole day. The morning kicks off with exercise and dance routine (cheza) headed by In Motion dance studio's Andrew Mawejje.
This goes on for a gruelling three hours. After freshening up, it is time to rejuvenate with breakfast at 8am. Then it is time for more training in etiquette or catwalk or sitting in for a presentation from a guest speaker. Depending on the day, the girls have photo shoots, appearances at events or long hours in a recording studio to come up with a theme song.
All this happens under the watchful eye of Sarah Nyamwenge, who is in charge of turning ordinary girls into the tourism queens at the end of the contest.
She expects more from them this year, given the fact that the programme is more organized and she has had more time with them. The grand finale for Miss Tourism 2014 is slated for October 17 at Serena hotel.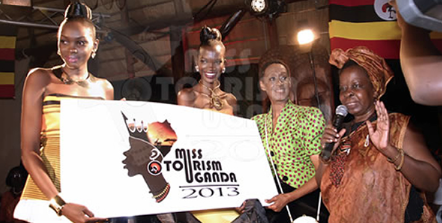 July 2013
AFRICAN ROYALS AT THE MISS AFRICA USA PAGEANT 2013
The Miss Africa USA Pageant Organization appreciates the efforts made by all the African Royals who graced the pageant this year. Special thanks to King Peggy of Ghana who was accompanied by the Author of the book 'KING PEGGY' Mrs Eleonor Herman and her husband.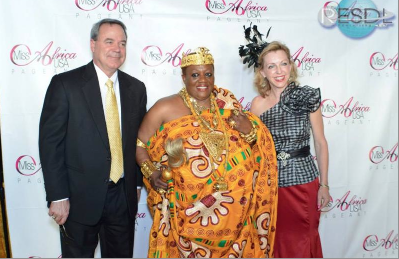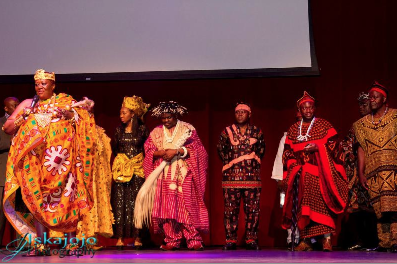 Special thanks to the USA North West Fon's Council, an organization of Cameroonian Royals mostly based in Maryland and the Washington DC metropolitan area. They are called Fons and they resident in the US but are able to control their constituencies in Cameroon and take care of their Royal obligations from the United States.

It is a unique situation but the royals do a great job with building their communities back home through various efforts generated in the US. The Pageant organization remain very proud and grateful for their support and hope to continue this effort in highlighting African culture so that the younger generation will stay grounded in their African heritage.

MISS UNIVERSE 2011-2012
LEILA LOPES
TO BE HONORED
AT THE MISS AFRICA USA PAGEA
NT JUNE 29 2013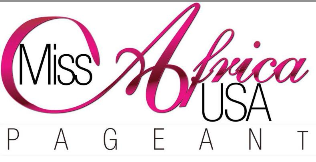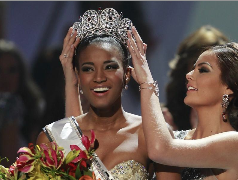 Miss Africa USA Pageant Organization is proud to announce : Miss Leila Lopes, Miss Universe 2011-2012 will receive An Award in Recognition of her Successful Reign as Miss Universe. Miss Leila in responding to our invitation says she is very humbled and very excited at the same time. She has confirmed her attendance and will join us June 29 2013 to receive her Award in Person and to cheer all finalists of the the Miss Africa USA Pageant.

Miss Leila who is from Angola made the entire world proud when she was pronounced Miss Universe 2011. The African Community was doubly proud of her, making history as the 2nd Black African Girl to win the Pageant in its 66 year history. Leila has become not only an Iconic household name in the world of beauty and Pageantry but most importantly she is a role model for young women today. Her achievements and good heart continues to inspire women all over the world. It is for this reason that Miss Africa USA Pageant will honor her. We do so on behalf of the African Community in The United States of America and all friends of Africa. Lets come together and say a big Thank you to Leila Lopes.
During her reign as Miss Universe, Leila was able to tour 5 African Countries, giving love to under privileged children. We invite you to watch her below on tour in Africa.
First Ever Ms. Africa International Pageant Draws Thousands

The Nation's Capitol Becomes Center Stage as Eighteen African Countries Celebrate History and Culture

WASHINGTON, D.C: Thousands cheered as women from eighteen African countries showcased their talents, brains, beauty and culture in the inaugural Miss Africa International Pageant on November 1, 2003 at the Washington Convention Center in D.C. Pageant founder and executive producer Ellen Dunbar declared the program a success, stating that the pageant's purpose of promoting the African culture had been served.

A panel of six celebrities including Rockmond Dunbar (who plays Kenny Chadway in the popular Showtime series Soul Food) judged women from Liberia,Nigeria, Eritrea, Angola, Ethiopia, Tanzania, Kenya, Gambia, Ghana, Senegal, Guinea, DRC Congo, Rwanda, Burundi, Cameroon, Zimbabwe and Sierra Leone in a colorful display of cultural heritage. Nigerian candidate Adenike Taiwo Ariyo was crowned Miss Africa International 2004 after a stiff competition.

Each contestant introduced herself stating an issue confronting Africa that she would be advocating. Miss Democratic Republic of Congo International stole the hearts of her listeners as she told of her parents dying of HIV/AIDS when she was only thirteen. Unlikely to escape attention was the absence of swimsuits, a traditional essential in other pageants, setting Miss Africa International apart from other pageants around the world. Instead, the contestants performed a unity dance wearing halters and sarongs of rich, colorful fabrics hand woven in Africa. Pageant organizers and contestants were advised by elders. Outstanding contestants received awards such as the Maya Angelou Congeniality Award and the Mamadi Diane Industrial Award. The honorary chairlady of the event, Her Excellency Mme Aude Ndayizeye, First Lady of Burundi, was unable to attend the pageant.

During her reign as Miss Africa International, Ariyo will serve as international spokesperson for hunger and HIV/AIDS in Africa. The other queens will also promote issues relevant to Africa.

Dunbar expressed her hope that the pageant, to be held annually, will inspire a renewed interest in a continent greatly affected by war, hunger, disease and poverty, problems wreaking havoc in many of the countries represented(Miss Democratic Republic of Congo lost both parents to HIV/AIDS at age 13; Miss Rwanda International is an orphan of the Rwandan genocide; Liberia has been in turmoil for over a decade.)

Produced by Mokoli Productions, Inc., the Miss Africa International Pageant is a springboard for the Miss Africa Diaspora Pageant, open to all women of African ancestry regardless of citizenship. The Miss Africa International Organization sponsors charity organizations that benefit Africa. The next Miss Africa International Pageant will be held on November 13, 2004. For more information visit www.missafricainternational.com or contact:

Busola Grillo 240-603-6720 Toutou Abraha 202-415-2641

Ellen Dunbar 240-462-4645 or 301-603-9262