VANCOUVER WELCOMES AFRICAN VISITORS, EXHIBITORS AND SPEAKERS. Rick Antonson, CEO of Tourism Vancouver and author of a popular new book on West Africa, extends a personal invitation to one of the major events taking place in his city this year.
View the video.
OUR ATA CANADA CHAPTER WILL ASSIST YOU IN ADVANCE, DURING AND FOLLOWING EACH EVENT: GLOBE 2010 ENVIRO BUSINESS - WORLD CULINARY EXPO - WORLD AIRLINES ROUTES FORUM - CRUISE 3 SIXTY CONFERENCE - WORLD WINTER OLYMPICS - AND MORE TO BE ANNOUNCED. E-MAIL OUR PUBLISHER
Place de la Francophonie 2010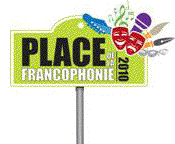 Place de la Francophonie, which will run from February 11 to 28 on Granville Island during the 2010 Winter Olympics in Vancouver, will offer visitors an unparalleled experience. The entire program, unveiled today, reflects the desire to make it an unforgettable and must-see event. Big names in French music, previously unseen performances, exhibition venues and a host of special events await -- Place de la Francophonie is an entire program of festivities that will dazzle guests.
The launch, held at Performance Works on Granville Island, has illustrated the excellence and diversity of the programming. On our stages, more than 100 free shows will spotlight artists from across Canada and the international French-speaking world.
The Air Canada Stage and Performance Works
Place de la Francophonie, this great artistic showcase, will take off with the opening show "Salut Vancouver!". This large scale show attracts artists from British Columbia and has been designed to welcome visitors in a very special way.
Follow the daily program of pop acts including Gregory Charles, Yelo Molo, Angélique Kidjo, Garou, Éric Lapointe, Mes Aïeux, Les Cowboys Fringants, Édith Butler, Zachary Richard and more.
With artists from across Canada present, including Pascal Lejeune, Damien Robitaille, Andrea Lindsay, Pierre Lapointe, Karkwa, Grand Dérangement, Geneviève Toupin, Daniel Roa, Anique Granger, Mary Barry, Saint-Pierre, Malajube and Mighty Popo, every authentic accent from Canada's French-speaking communities will be heard at Place de la Francophonie.
Humour will also be a big ingredient at the Just for Laughs Evening Gala and performances by major comedy stars such as François Massicotte, Louis-José Houde, Rachid Badouri, Mike Ward, Alexandre Barrette, Charly Pop. And the hilarious impressionist André-Philippe Gagnon will blow you away.
Several of these shows are presented in collaboration with the 2010 Cultural Olympiad.
Club Adrénaline
Sports fans won't be bored - they can go to the Club Adrénaline every day to watch the Olympic competitions in French on big screens and meet the heroes of these Games while enjoying delicious dishes. After the competition, people will be partying! Artists like Alpha Yaya Diallo, Lennie Gallant, Lise Leblanc and several DJs will get you dancing and singing the night away.
Events Not To Be Missed
Young and old alike will be captivated and amazed at the colourful parades and strange creatures of Big Nazo, the unusual performances of the mime artists, or the breathtaking boldness of the percussionists of Transe Express. Winning young artists from the 2009 Games of La Francophonie in Beirut (2009) in the musical, storytelling and visual arts categories will enrich this program. Through presentations at the Waterfront Theatre, stories and legends of storytellers from France, Burkina Faso and Canada will keep you spellbound! Meanwhile, at the Arts Umbrella, you can witness directly the creation and development of new visual works inspired by Canadian, Cameroonian, Lebanese, French, Romanian and Macedonian artists.
And on top of all this, there's our great special event Coup de coeur (Fall in love) on Valentine's Day. Get ready to come in large numbers to embrace the French language. The organizers are proud to present a program as varied as it is exciting, bringing together an extraordinary mix of talent from French-speaking British Columbia, French-speaking Canada and the French-speaking international world. "We hope the public responds enthusiastically to this invitation to come and experience the excitement of the Games in a festive atmosphere and that many people will enjoy this programming," said the Vice President of the Board of Directors, Serge Corbeil.
"Our Government is committed to ensuring that the French language and culture enjoy a real presence at the Games," said the Honourable James Moore, Minister of Canadian Heritage and Official Languages. "Our investment in the Place de la Francophonie 2010 is a testament to our support for Canada's two official languages. The Place de la Francophonie's rich programming will be an extraordinary means of promoting the excellence of our French-speaking artists to visitors from Canada and the world."
Place de la Francophonie 2010 has benefited from the financial support of many partners including: the Government of Canada, provincial governments of New Brunswick, Ontario, Manitoba, Quebec, Prince Edward Island and Nova Scotia, the Ministerial Conference on French-speaking Canada and the International Organization of French-Speaking Communities. It can also count on the considerable contribution of dozens of community partners and hundreds of volunteers to ensure the success of this initiative.
Place de la Francophonie 2010 emanated from the joint will of the Canadian Foundation for the Dialogue of Cultures and the Federation of Francophones of British Columbia.
Media Contact:
Suzanne Gauthier
Communications Officer
Place de la Francophonie 2010
604.569.3586