by David Fick
Author of two published books concerning entrepreneurs creating jobs and improving the quality of life in all 53 countries of Africa: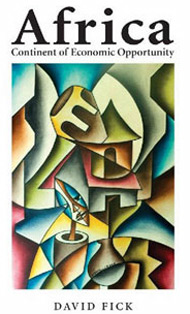 The 2008 Pioneers of Prosperity Africa Awards
www.pioneersofprosperity.org_
The awards recognize and reward six business leaders of Africa who serve as role models to Africa⤙s aspiring entrepreneurs and demonstrate business excellence, innovation and profitability. Leaders of small and medium enterprises have the opportunity to participate until 31 August 2008. This year, submissions will be accepted from Botswana, Cameroon, Cote d'Ivoire, Ghana, Kenya, Namibia, Nigeria, Rwanda, South Africa and Uganda.
A total of USD 350,000 will be awarded to the winners, and the funds directed towards growth and strategic re-investment in the business. Winners will be selected based on a rigorous and transparent selection process by an international panel of leading business experts. Successful and innovative entrepreneurs are abounding in Africa. The 2008 Pioneers of Prosperity Africa Awards will identify and reward business leaders of Africa in 2008. These businesses will serve as role models to the next generation of entrepreneurs in Africa.
Business is a key driver of development, providing scalable and sustainable
solutions for economies. The Pioneers of Prosperity Africa Awards are an
investment that will deliver exceptional returns by paving the way for increased
investment in Africa and the development of capital markets�
The 2008 Award program builds on the success of the inaugural Pioneers of
Prosperity Africa Award in 2007 which attracted firms from five countries in
East Africa. Six winners â¤"AAA Growers (Grand Prize Winner), Good African
Coffee, Entreprise Urwibutso, KenCall, Tele-10 and Virtual City were recognized
during the Award Ceremony hosted by His Excellency President Paul Kagame, in
Kigali on November 30, 2007.
These winners have been profiled in the documentary ⤜Unlocking Africaâ¤?,
directed by award-winning filmmaker Jeff Zimbalist.
2008 Winners will be selected on their ability to operate truly sustainable
and innovative businesses.
Winners will be chosen based on their ability to:
⤢ Create unique value for customers through innovative products and/or
services.
⤢ Generate sustainable profit for owners/shareholders commensurate with the
risks taken by investing in them.
⤢ Invest in their employees through training, safe working conditions, and
high and rising salaries.
⤢ Protect the future by strengthening local and global environments and
communities.
This competition is open to all businesses in participating nations meeting
the following eligibility criteria:
⤢ For profit entity in existence for three years or more
⤢ Should be located in Botswana, Cameroon, Cote d⤙Ivoire, Ghana, Kenya,
Namibia, Nigeria, Rwanda, South Africa and Uganda
⤢ Annual revenues of below or equal to $US 25,000,000.
To register, companies should visit _www.pioneersofprosperity.org_
and fill in the application form online.
The deadline for submission applications is August 31, 2008.
For any information on the competition, please do not hesitate to contact
Jeremy Kahn by email at _jkahn@otfgroup.com
Contact Details
Jeremy Kahn, Associate
OTF Group, Polisi Building, 2nd Floor, B.P.6974, Kigali, Rwanda
Rwanda Mobile +250 0830 4337
Skype kahnjeremy
E-Mail: _jkahn@otfgroup.com_ (mailto:jkahn@otfgroup.com)
Best Regards,
David Fick
Please also E-Mail me at _whlgeagle@aol.com_ (mailto:whlgeagle@aol.com) with
your suggestions for entrepreneurs in Africa and their success stories to
feature in my proposed third book, African Entrepreneurs in the 21st Century,
Their Stories of Success (STE Publishers, Johannesburg SA, proposed
publication, August 2009)dave fick pioners