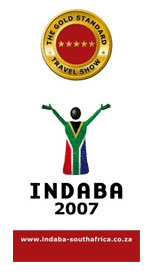 I N D A B A - 2 0 0 7
May 12-15, 2007
http://www.indaba-southafrica.co.za/
Exhibitor Profile
INDABA brings together a showcase of Southern African tourism products and services for the international travel trade. Exhibitors in the DEC (Durban Exhibition Centre) include provincial authorities and provincial products. In the ICC (International Convention Centre), exhibitor categories include accommodation, tour operators, game lodges, transport, online travel, media publications and industry associations. Outdoor exhibitors include transport, camping and safari companies.
Visitor Profile

The profile of the INDABA visitor is made up of the following groups:
Tour Operators
Business Travel Agencies
Retail Travel Agencies
Incentive Agencies
Group Travel Agencies
Ground Handlers
Consulting Companies
Conference Organisers
Marketing Services
Adventure Travel
Sports Tourism
Eco Tourism
Online Travel
Media Profile
INDABA has a dedicated following of local and international media who provide extensive coverage of the exhibition for the local and international markets through radio, television, newspaper and dedicated travel publications.