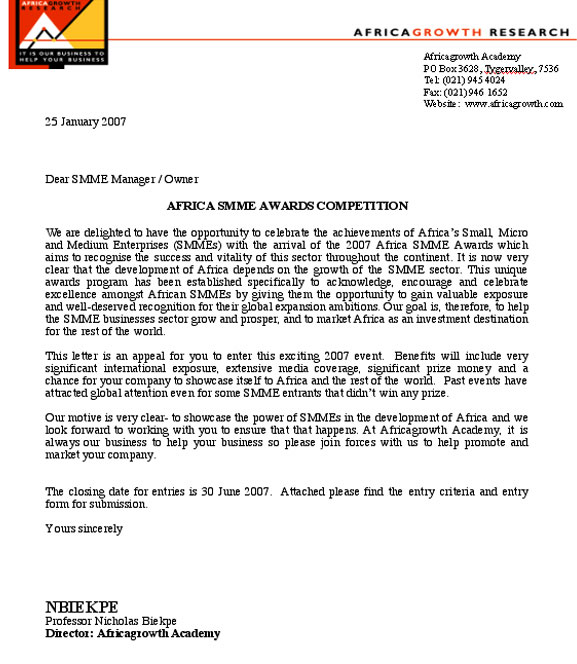 2007 AFRICA SMME CONFERENCE AND AWARDS
In line with the NEPAD's drive to support and profile the role that SMMEs play in promoting economic growth and job creation, the Africagrowth Academy in partnership with African governments and institutions including Banks, Print media, Academic and private sector institutions and other enterprise support agencies will be organising the 2007 Africa SMME Annual Conference and Awards Ceremony on the 25th of October 2007, at the Grown Reef Convention Centre, Gold Reef City Hotel, Ormonde, Johannesburg, South Africa.
The Conference and Awards ceremony will be aimed at presenting latest trends in SMME development in the continent and recognising and presenting awards to successful SMMEs by sector. The main aim is to support and showcase Africa's finest entrepreneurial achievements in the SMMEs sector were the winners of each category will be announced at a gala dinner the evening of the 25th of October 2007.
IS YOUR BUSINESS THE BEST IN AFRICA?
Your small, medium or micro enterprise (SMME) may be recognised as the Africa SMME of the Year.
If your business has grown in a responsible and sustainable manner over the last few years and is furthermore contributing to the African and local economy, we feel you need recognition.
Businesses from all sectors, with a turnover ranging between R40 000 and R100 million, may compete for this awards and the ultimate honour will be to achieve the overall award for the SMME of the Year.
Winners will take the spotlight at a gala awards evening in Johannesburg on the 25th of October 2007.
Enter now for this very exciting competition and your company might be the 2007 AFRICA SMME of the year.
Closing date for entries: 30 June 2007
Attached please find the entry form and criteria for your kind attention.
Hope to hear from you soon.
Dina Potgieter
Administrator : Africagrowth Research
PO Box 3628, Tygervalley, 7536
Tel: (021) 946 1791
Fax: (021) 946 1652
Visit our website for future events: www.africagrowth.com
"All the technology in the world will never replace a positive attitude!"