International Golf Travel Market will celebrate a decade of success
International Golf Travel Market ('IGTM'), the world's premier event focused on the golf travel market, Spain, Nov. 17-20, 2008
Details
Paris-Dakar by Bike

Who are Africa's Footbal Stars, and who will be in the 2010 World Cup? Our Website is a Google Search Leader for Africa Topics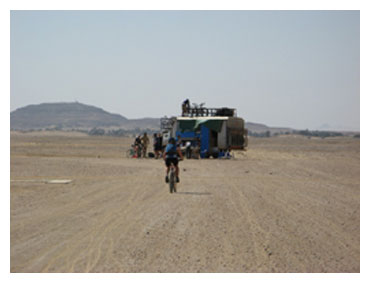 Tour d'Afrique Race News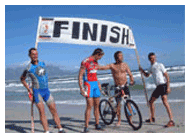 LOFTY-EATON'S FIRST STAGE WIN, AND INTO THE HIGHLANDS THEY RIDE
South African John Lofty-Eaton gets his first stage win as the Tour enters Ethiopia. One more stage before the rider's rest in Gonder as they now climb into the highlands and edge closer to the infamous Blue Nile Gorge stage. Last year's top Canadian racer, David Houghton had this to say about the Gorge &endash; "It's known as the toughest day on the entire Tour d'Afrique. And this week we found out why. The earth seemed to drop away and the other side of the gorge was just a faint, misty ridge.h. CONTINUED

World Cup 2010 in South Africa
By Helen Broadus
The FIFA World Cup is the football (soccer) world championship, contested by men's national football teams, and organized by FIFA, the international governing body for football. The championship cycle culminates every four years in a finals tournament to decide which country's men's football team will be awarded the FIFA World Cup title. The 2010 FIFA World Cup will take place in South Africa. FIFA decided to award an African nation the opportunity to host the World Cup as a recognition of the development of football on this continent. South Africa will become the sixteenth country, and the first-ever African country, to host World Cup matches. Only the host nation is given an automatic berth and all other teams, including the defending champion, have to qualify. There will be ten venues in South Africa to be used for the World Cup include: Bloemfontein, Cape Town, Durban, Johannesburg (two), Nelspruit, Polokwane, Port Elizabeth, Pretoria, and Rustenburg. More->
Soccer Dictionary
Learn more about the world's greatest game.
Details

Africa Travel Magazine Interviews a Member of Kenya's Olympic Royalty
Read about Kenya's famous Olympic Athletes of the Centurty from our interview with Dr. Kipchoge Keino, head of the National Olympic committee of Kenya (left), and visits with many others. These include those in the preceding pages, plus the CEO of Kenya Airlines, African Airlines Association, the Kenya chamber of Commerce, Kenya Tour Operators Association, Utalii College, the East Africa Wildlife Society, Kenya Travel Agents Association, the Standard Group, Grreat East Africa Auto Rally, Alliance Hotels and Resort, the Mombasa and Coast Tourist Association. > -> -> Excerpts from our Grand Tours of Kenya
World Cup Fever in the Air
In Johannesburg and througout South Africa the excitement mounts as the big day draws nearer - now only four years to go. The 2010 Soccer World Cup preaprations are well under way as a mayoral sub-committee was appointed to oversee the world cup projects
---
WORLD CUP FEVER.WATCH FOR SPECIAL SUPPLEMENT IN AFRICA TRAVEL MAGAZINE'S WORLD EDITIONS
WORLD'S LONGEST, TOUGHEST BICYCLE EVENT ACROSS AFRICA. Details
Ghana hosts 26th edition of the Africa Cup of Nations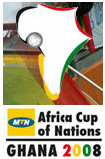 Ghana has been engulfed with an understandable excitement with barely forty-eight hours to the main draw of the 26th edition of the Africa Cup of Nations. The huge euphoria, a reminder of what Ghana went through when the senior national team, Black Stars glittered at the 2006 FIFA World Cup in Germany where they reached the last sixteen as debutants is basically because of the balloting slated for the plush Accra International Conference Centre (AICC) between the hours of 15:00 and 17:00 GMT. Soccer administrators and fans across the world are thronging the beautiful and serene city of Accra, Ghana's capital to catch a glimpse of the envisaged glamorous event that precedes the continent's biggest football party. More->
2010 FIFA Soccer World Cup
By Edwin Rihlamvu

The 2010 FIFA World Cup will have a greater impact on the South African economy than previously thought, with consulting firm Grant Thornton estimating the event will contribute at least R51.1 billion to the country's gross domestic product (GDP). This is against the original estimate of R21.3 billion, which was presented in a financial impact report by Grant Thornton's tourism, hospitality and leisure division for South Africa's World Cup bid committee in 2004.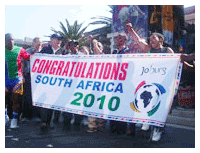 Business Report reported that R15.6 billion of this new estimate will be brought in by foreign tourists. The revised estimates of the impact of the World Cup on the economy include direct expenditure of R30.4 billion, up from R12.7 billion initially. According to the paper, this additional GDP contribution will sustain the equivalent of 196 400 annual jobs, some of which already exist.
According to Grant Thornton, the economic impact was based on 289 000 overseas visitors watching three to four matches each and 48 000 African visitors watching three matches each. About 115 000 domestic tourists will watch two matches each. Calculations are based on a stay of 15 days because foreign tourists are not expected to stay for the month-long tournament.
Standard Bank economist Goolam Ballim said that "There will be a big direct injection for the economy. But the indirect impact may be more meaningful for a sustainable economic lift in subsequent years ... it will help change the perceptions that a large number of foreign investors hold of Africa and South Africa".
On his visit to South Africa in June 2007, FIFA president Sepp Blatter told local media that "nothing, nothing can be against a World Cup in South Africa, nothing but God."
At the forty fifth meeting of the United Nations World Tourism Organization's Commission for Africa in May 2007 in Addis Ababa, Ethiopia South Africa was unanimously elected as the Chair of the UNWTO / FIFA 2010 Soccer World Cup Steering Committee.
"This is indeed confirmation of expectations to see South Africa playing a leading role towards the successful hosting of the 2010 Soccer World Cup" said Patience Molokoza, Director, International Tourism Relations at DEAT.
"As a consequence we have been communicating with citizens of the world that the "Win in Africa with Africa" slogan that was presented and adopted in Ethiopia is itself an affirmation that the 2010 Soccer World Cup should be a collaborative project which is to be led by Africans" concluded Molokoza.
While leading a delegation to South Africa in June 2007 to strengthen relations that are aimed at promoting the country in the United States of America, Agrippa Ezozo, president of the US-based African Diaspora Foundation pronounced that "special emphasis would be placed on prospects for tourism development and sports related businesses in anticipation of the 2010 FIFA Soccer World Cup".
"We are confident that the 2010 Soccer World Cup will do the same to consolidate our self-respect and dignity, gained when we attained our freedom and democracy in 1994 and, in a unique way, help our own nation and the continent of Africa, also to bask in the 'miracle of South Africa'," said Thabo Mbeki, President of the Republic of South Africa. "Every day we take important steps to unite what was a divided nation," he concluded.
East African Safari Rally

COLLINGE TAKES SECOND VICTORY IN EAST AFRICAN SAFARI RALLY
After 1,602.88 kilometres of competition over some of the most gruelling and challenging roads in Kenya and Tanzania, the all-Kenyan crew of Rob Collinge and Anton Levitan claimed their second consecutive victory in the East African Safari Rally, the world's most historic rally. The Datsun 260Z crew took the lead after the third leg and finished the event back in Mombasa with nearly 26 minutes in hand. Former World Rally Champion Stig Blomqvist, the early leader, finished second in the Historic Motorsport Escort RS1600, with Frederic Dor, in the Tuthill-prepared Porsche 911, third overall. "I'm totally delighted that everyone has enjoyed themselves so much. They've seen our beautiful country and everyone is saying they want to come back on holiday. To have all these happy people in Kenya means a great deal to everyone involved; Kenya has been delighted to host everyone and looks forward to welcoming everyone back again soon." Mike Kirkland - Event Director. Watch for 2006 dates CONTINUED
http://www.eastafricansafarirally.com/index.html