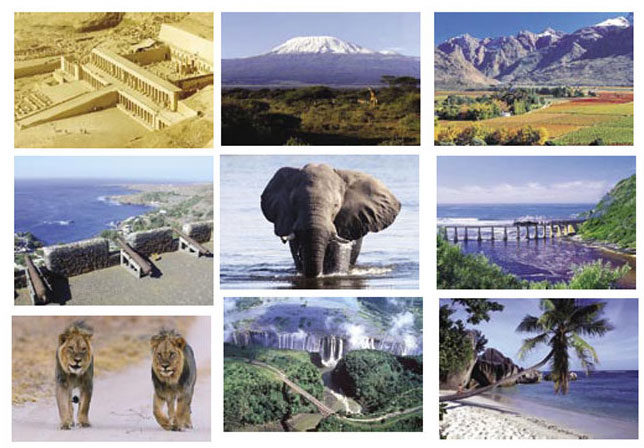 Click here or on above poster for link to website. The above series by Terry Jenkins on Africa's Top 10 Vacations will be an exciting part of the action. His most recent selection includes Egypt - The Garden Route - Botswana - Cape Verde Islands - KwaZulu-Natal - Ethiopia - Kilimanjaro - Seychelles - Zanzibar - Namibia. By the way, Terry Jenkins had some kind words to say about our website- see them on the above animated testimonials.
Here are more features to watch =for online, on air and in print. Our greatest Ecotourism Edition ever debuts in December, 2010. To advertise e-mail airhwy@smartt.com
1. Showcase of ATA Ecotourism Symposia Host Countries
"Learn why the Ecotourism Symposium has been such a winner since 1992. Our Yearbook archive includes photos, commentary and interviews from key persons in countries that have hosted this popular event: Dakar, Senegal,; Johannesburg, South Africa; Marrakech, Morocco; Abuja, Nigeria; Yaounde, Cameroon; Fez, Morocco; Zanzibar, Tanzania; Kampala, Uganda; Luanda, Angola and Calabar, Nigeria." Jerry W. Bird, Editor.

2. African Leaders in the Spotlight
A key to the Africa Travel Association's success of the as a global force for sustainable tourism is the active, "hands-on" role performed by leaders from African governments and industry on our board. This issue will be the first to feature in-depth profiles and interviews with African Presidents, Tourism Ministers, Deputy Ministers, State Governors, Mayors and CEOs.
3. Key Organizations in Ecotourism
Profiles include The International Ecotourism Society and the United States Tour Operators Association, among others. Our magazine's first in-depth photo profile of several far-reaching organization that impact on Global Ecotourism and travel to Africa,
. ATA Ecotourism Manifesto. While the Africa Travel Association has made giant strides in the fostering and support of Ecotourism, many members may have forgotten our humble beginnings. Some of these earlier efforts resulted in drafting , approving and implementing a series of important documents to be published in this issue, such as the original Manifesto and Fez Declaration.
. Long Term Investment in Ecotourism. Interviews with leaders of financial institutions, the Corporate Council for Africa and foundations from the USA, Europe and beyond.
. ATA Fez Declaration. Since its pioneering initiatives in the Casablanca Ecotourism Manifesto of 1990 and the Responsible Traveler Guidelines, Nairobi, 1995, the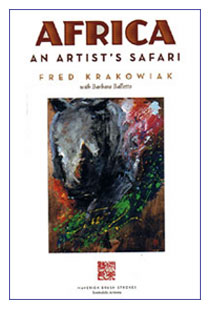 e African Travel Association has demonstrated a commitment to the global awareness of culture.
4. Africa Shines in Beijing, China
Our editors report following the World Tourism Marketing Summit is part of our "China Supplement" in this issue. Tanzania President Kikwete is honorary Global Chair of this landmark event for Africa. Preview of COTTM China Outbound Conference/
5. The African Diaspora Heritage Trail
Our editor's report includes interviews with leaders at the 3rd International African Diaspora, Heritage Trail Conference.
6. ATA 35th Annual Congress Review and 36th Congress Preview
Pre and Post Tours. Photo profiles of The Gambia, Tanzania, Ghana, Ethiopia, Guinea, Benin, Kenya, Cameroon, Zambia and other host countries since 1976.
7. Ethiopia Supplement
This insert includes highlights and photos from our highly successful Calendar of Events, Homecoming Festivities and Millennium Tours.
Heritage and Ecotourism needs. This declaration guarantees the continuity of that commitment.