A fresh look at Travel
and Healthy Lifestyles
Radio Broadcast and
Live Streaming Online
EVERY SUNDAY
ARCHIVES AVAILABLE

RSS Feed of
Daily Breaking Travel News
TravelTalkMEDIA Newsletter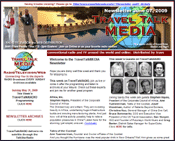 Sign up for Newsletter HERE
Sandy named One of the top 20 travel bloggers by
USA Today. Here is her Blog
| Sign up for Newsletter |
| Newsletter Archives |
| Contact us |
| All Archives! |

Center for Disease
Control and Prevention
and contributor to TravelTalkRADIO
and BusinessTravelRADIO


Dhuyvetter began her career in tourism in 1993, when known as a pioneer in technology in Silicon Valley, she began introducing the World Wide Web to audiences around the world.
In 2001 Sandy moved her platform to radio and TV and became the executive producer and host ofTravelTalkRADIO, BusinessTravelRADIO and Breaking Travel News. Sandy also publishes the TravelTalkMEDIA newsletter, 3 minutes of daily breaking travel news and an award winning blog.
Sandy has lobbied to change laws in cruising and human trafficking and was recently named one of the top 20 travel bloggers by USA Today. Sandy is now working actively with CECTV in China and Ghana, which allows her the opportunity to build more cultural bridges. Sandy is on the board of directors of Airline Ambassadors.
WELCOME to the News at TravelTalkMEDIA
My name is Sandy Dhuyvetter, I founded the TravelTalk companies of TravelTalkRADIO, TravelTalkMEDIA, TravelTalkTV. I am an Artist, Musician and a Journalist who has traveled the world the past 22 years producing radio and videos for TV and online distribution. I have highlighted stories of travel, art, music and sung the praises of peace in connection with tourism. It's a big beautiful world.
I hope you will enjoy the news that is being published by our friends at PR News Wire. They have shown leadership in the travel media arena and we are proud to serve you their news feed.
Thank you for joining me for the many years of great stories, travels and most importantly, great friendship.
Sandy Dhuyvetter
AKA Momma Fett
sandy@traveltalkmedia.com



Sandy Dhuyvetter reveals her past as a film artist


Established 2001