Marketing Africa Tourism in the USA and Canada
Houston, Texas. Out of Africa 2008 is OUT-STANDING,
I-Fest, (photos above) attracts over 450,000 visitors annually. Africa Travel Magazine's Ethiopia Millennium Edition

was distributed from a variety of exhibits in the Africa Section of this exciting, two week long extravaganza. Across town, Lucy's Legacy from Ethiopia draws crowds year round News Release . Photo Galleries . Promotion . Our #1 Google Score . Directory
Adventures in Travel Expo Comes to Seattle, Washington,
Sept. 13-14, 2008. Marketing Africa Business & Tourism? V

isit the home of Boeing Aircraft Company and Microsoft. Join us at the ATA - Africa Travel Magazine Exhibit. Capitalize on the Seattle-Tacoma DMA, one of the largest markets in the USA with a highly effective buying income, keen interest in outdoor and leisure activities. Seattle is the main gateway to the Asia/Pacific region and Western Canada, including Vancouver , Victoria and Calgasry. Continued . Our #1 Google Score . Directory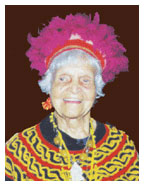 Elyse White: In Loving Memory
While your news was not unexpected, it saddens us greatly. Elyse White was such an inspiration to us from the time we first met her during our first ATA Congress experience in Benin. She continued to be in our hearts throughout the years. when we looked forward to the many welcome letters received from "Mama Safari" and the opportunity to visit her at her home in Harlem, whenever we were in the New York area. We were her house guests on several occasions. A beacon of light and a shining example for many in ATA, Elyse is with the angels, joining other stalwarts of the Africa Travel Association we have had the pleasure of knowing and loving. The Publishers. More ATA Member letters

T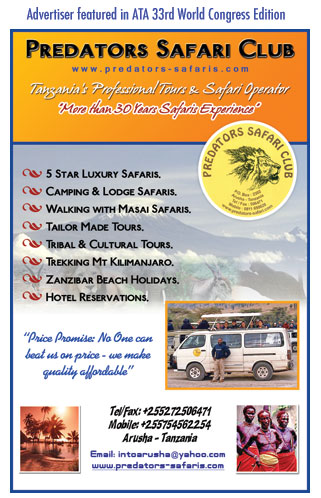 RAVEL AGENT UNIVERSITY
Learn & Earn at your convenience with home-study courses designed by the staff of Travel Agent Magazine. You'll earn diplomas and educational credits plus qualify for bonuses, prizes, fam trips, exclusive discounts, promotions and insider newsletters.. Details
The Sullivan Summit in Tanzania. The Leon H. Sullivan Summits bring together the world's political and business leaders, delegates representing national and international civil and multinational organizations, and members of academic institutions in order to focus attention and resources on Africa's economic and social development. Their mission was inspired by Rev. Leon H. Sullivan's belief that the development of Africa is a matter of global partnerships. more
White Nile and Rwenzori Mountains
Articles by Cam McLeay of Adrift Adventures in Kampala, Uganda. More
Uganda and East Africa Hot News
Weekly report by Prof. Wolfgang Thome from Kampala. More . Tour Operators .

VIVIENNE WILLISON, SALES DIRECTOR, CORINTHIA HOTELS
Vivienne Willison, Sales Director for the Malta-based Corinthia Hotels International (CHI) was appointed to fill Corinthia's seat on the Africa Travel Association's (ATA) International Board of Directors. ATA, based in New York, is the premier professional travel industry association promoting tourism to the continent of Africa. Willison will participate in her first ATA Board meeting at the upcoming 33rd International Congress of the Africa Travel Association, which will take place May 19-23, 2008 in Arusha, Tanzania. More->

Africa Travel at Globe 2008 Vancouver, World's Largest Enviro Business Expo we interviewed exhibitors from countries working in Africa on eco projects. More
.

Quick Now! What are the Digital Myths?
Learn how to make more effective and productive use of computers and the Internet.

TOURISTS ARE MEETING REAL PEOPLE
The African mother slipped the infant off her back at a rural clinic in Limpopo and offered the baby to the woman who had been admiring the tiny girl. Patty McCarthy, an Irish tourist keen to meet the local people, remembers the incident as a defining moment of her holiday. Article provided by Pat Walker


ATA World Congress Edition:
Adventure Festivals. Advertise. Agenda

Apples for Africa. Join Africa Travel Project

Why Come to Ride Horses in Ethiopia? Answer

Silverjet: British Exclusively Business ClassAirline

ATA Premier Partner Program Dubai World Africa

Air Highways to Africa / Cruises in and Around Africa
By Jerry W. Bird, Editor. Who flies where and when? With our biggest aviation edition now underway, serendipity played its familiar role when I received The World's Major Airlines. by David Wragg. "Today there are so many airlines operating throughout the world that even the most knowledgeable enthusiast can soon become confused about which airline flies from where to where." Updates on Boeing Dreamliner, Airbus, African Airports. More-> Imagine a cruise around Africa, via the Suez Canal, stopping at exotic ports on the Mediterranean, Atlantic and Indian Ocean. Or if that's not enough, Africa's rivers and lakes offer an abundance of opportunity for everything from high adventure to luxury. More-> How to get more sales leads from your advertising. Save Money on Phone Card

PHILANTHROPY CONFERENCE . Arusha, Tanzania, Dec. 3-5, 200

Internet could soon be made obsolete.
Coming soon: superfast Internet. The scientists who pioneered it have now built a lightning-fast replacement capable of downloading entire feature films within seconds. Continued,

Libya Hotel Project in Benghazi. .
The hotel is being constructed on a 7,000 square meter footprint on the waterfront in central Benghazi. Part of the present site housed the former, historic, Al Jazira Hotel. More

Ethiopian Airlines to Strengthen its Presence in the Middle East
Ethiopian Airlines, the fastest growing African carrier, has announced its plan to launch flight services to Kuwait and Riyadh starting June 2, 2008. The flights will operate Addis Ababa-Riyadh-Kuwait-Addis Ababa twice weekly on Mondays and Thursdays with the return flights on Tuesdays and Fridays. More-

Expand and Enhance your Africa Visit. Combine several countries for a more complete holiday. Examples: Kenya and Tanzania are a natural - or you might include nearby Uganda. Consider adding Victoria Falls at Livingstone, Zambia to any tour of Southern Africa. West Africa offers even wider opportunities for two or more destinations per vis

Final Event Edition of Africa Travel Magazine -
Published following the ATA 33rd World Congress and featuring:
• Photo highlights of May 19-23 Congress in Arusha, Tanzania
* Photo highlights of ATA 11th Eco Cultural Tourism Symposium in Djibouti
• Photos of Africa Travel promotions in USA.
• Preview of ATA 12th Eco Cultural Symposium and other events in Africa.

List of advertisers in this coming edition

.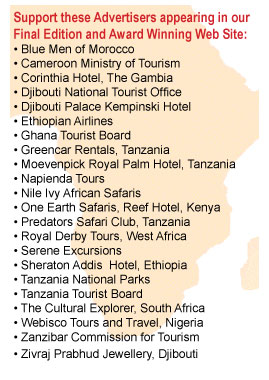 Africa Travel Association.
166 Madison Avenue, 5th Floor,, New York, NY 10016, Tel. 1-212-447-1357
E-mail: Info@africatravelassociation.org

Africa Travel Magazine
Webmaster: aftrav@dowco.com . Fax: 604 681 6595
E -Mail Rules Business Directory . Editorial Contributors Volunteers
© 2008 ATA Media, all rights reserved. Please contact Webmaster for any link that does not connect.