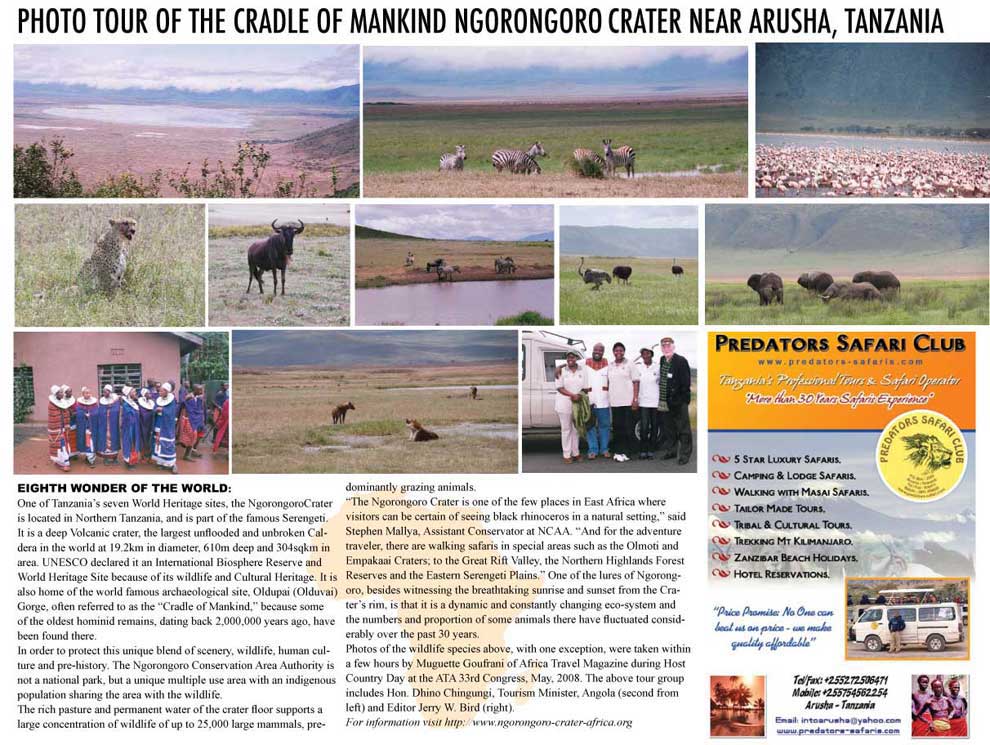 Asilia to open The Highlands, Ngorongoro Tanzania
ARUSHA, Tanzania - Asilia Africa is delighted to announce that their newest property, The Highlands, will open in Ngorongoro in March 2016.
The Highlands redefines the Ngorongoro experience. Set high on the slopes of Olmoti volcano, with sweeping views all the way to the Serengeti, you can be at the famous Ngorongoro Crater floor at dawn but still far from any other camp.
The eight luxurious tented suites offer king size beds with large windows so you can feel immersed in the endless views from the comfort of your bed. Wood burning stoves will keep your domed suite warm throughout the night.
The main area has been designed with the classic camp fire experience in mind; even when it is too cold to go outside, sit around a roaring fire at the inside fireplace, the perfect place to unwind at the end of an adventurous day exploring.

From your stylish base at The Highlands you can enjoy the iconic Ngorongoro Crater safari. Ngorongoro is the largest un flooded and unbroken caldera in the world and home to the highest density of lion anywhere in Africa, as well as the other members of the Big 5. From camp you can explore the wild highlands which surround the camp – home to leopard, buffalo and elephant and the Maasai people whose pastoral way of life has remained unchanged for centuries.
SNAP UP THE LATEST TREND FOR SAFARI

By Melissa kay
The New York Times rated Tanzania at number 7 of 45 must-see destinations last year, billing the country as 'coming into its own as an upscale safari destination'. Well the New York Times was absolutely right.
The wonders of Tanzania are barely discovered by comparison with other African safari destinations, (statistics for annual visitors still only hover at an estimated 900,000), but innovative companies that take time to really understand the attractions and to build holidays to suit specific markets are stealing a march on the East African tourist market, and it's fantastic for tourists prepared to come to Tanzania to see for themselves.

One fantastic example

My most recent adventure took me to the Ngorongoro Conservation Area with Capture Safaris, a company that specializes in photo workshop safaris. These 'learning holidays' are a fashionable phenomenon amongst the millions of digital camera owners who are keen to learn more about how to make the most of their investments, and are an ideal way to see the landmarks and expand your skills at the same time.
In order to please this particular target market, the photo workshop safari must deliver a great deal of content and this means that itineraries need to be designed extremely carefully so as to catch the action; drivers must be excellent trackers, spotters and animal behaviour analysts as well as being aware of photographers needs; and accommodation needs to be high end so that equipment can be maintained and workshops can take place. This means holidaymakers are getting the very best of upscale safari, if it's done right.
My safari with Capture delivered exactly that. It took place during the Calving Season - a period of just a few weeks which happens every year in one particular spot (just where the edge of the Ngorongoro Conservation Area meets the southern plains of the Serengeti) and marks the gathering before the Great Migration begins. During this time over 500,000 calves are born and this attracts the largest ever recorded concentration of predators to the area. The green season also provides a spectacular backdrop of vibrant colours against which to learn photography. Add to this the experience and expertise of Paul Joynson-Hicks, the famous African wildlife photographer (recently placed in the top twenty by Professional Photographer of the Year Awards judges), who was our tutor for the week and we really did have every opportunity to learn. We witnessed calving, chases, even kills and saw some of the rarer wildlife, including Bat Eared Foxes and Honey Badgers, to boot.
In addition, Capture Safaris partners with the famous Nomad Tanzania, a company with a wealth of experience and an excellent reputation. That meant that after long days out on shoots we were returning to well-located camps that were near the action, good hot food, and very comfortable accommodation – all crucial to be able to bounce out of bed with enthusiasm at 5am each day ready for the next adventure!

A little bit of what we learned
Of course the workshops are taught at the level of the participants so never be put off by thinking it will too complex or too basic for you. The range of discussions, workshops and lessons was as broad as the people who had signed up to the trip and the range of situations we found ourselves in so to share all the tips and techniques would be impossible. But here are just a couple of ideas you might want to try out with your own travel photography.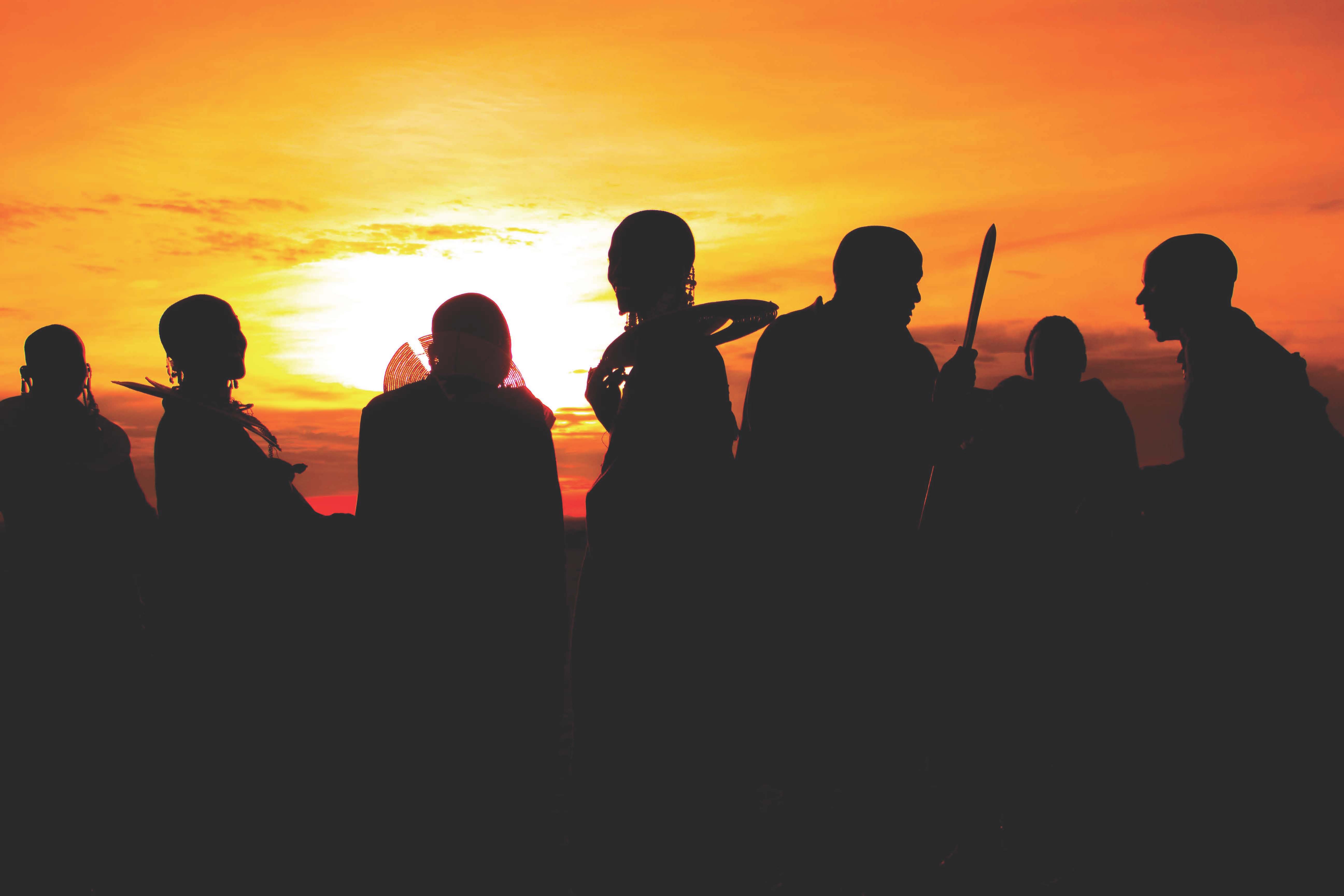 1. Silhouettes can create striking images. By allowing the camera to meter whilst pointed at a bright sky, then keeping your shutter half depressed and refocusing on foreground objects before taking the photo, you can ensure that the foreground is deliberately underexposed and achieve some powerful shapes.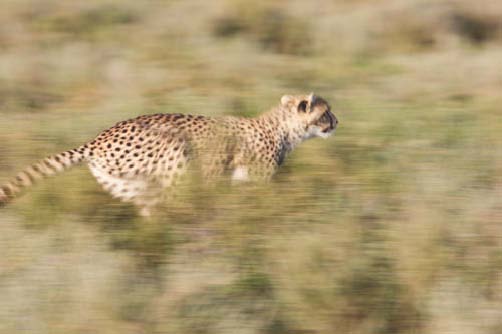 2. Paul's panning technique uses the movement of an animal to create a sense of it's speed aggression. Rather than freezing them in their movement it deliberately creates blur whilst maintaining a clear view of what the animal is and what it's doing. Use Aperture priority setting and a low f stop number (so the aperture is wide open), then experiment with how you hold the camera – either tracking the movement of the animal or holding still and allowing the animal to move.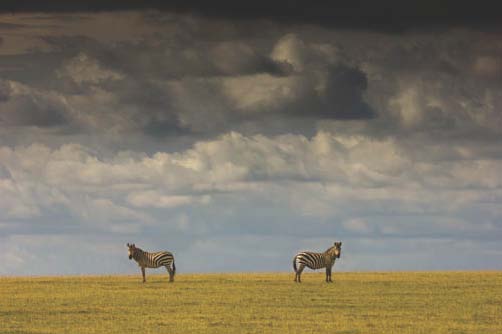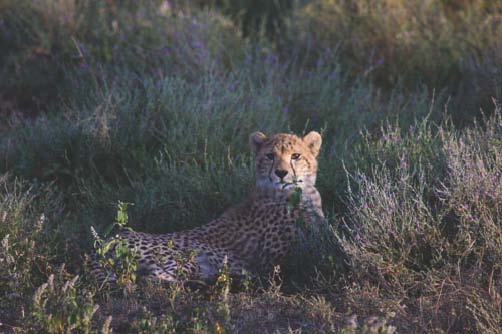 3. For the ideal times of day to get that magical golden light, head out at sunrise and sunset and then keep a close eye on your settings as they will need to be adjusted minute to minute as the light changes. (Sorry, you'll have to come on a safari to really learn how!)

In conclusion

If you want to take better travel photographs then a hands-on, on-location course like this could provide some excellent subject matter and lessons than will go with you wherever you travel next. There's a reason why Tanzania is increasingly being recognised as a top destination, and it's not only down to the fantastically rich selection of wonders to see, it's also down to the quality available. Get the right package for you, with the right company, and there is genuinely the trip of a lifetime waiting within these borders.
Details for my safari: Visit

www.capturesafaris.com

, email info@capturesafaris.com or call +44 (0)207 183 2607 and get an itinerary together to suit your needs. Capture Safaris specializes in photo tours offering the highest level of guiding and accommodation to support photographers of all skills levels in making the most of the scenery, wildlife and action. The package price for this Calving Season Photographic Workshop Safari was GBP3,750 pp.

What's involved in a photo workshop safari? [bullet points to include as a click through – optional]
These sorts of holiday might appear in many guises, but there are some elements it is well worth looking out for:
A well planned itinerary which offers plenty of great landscapes, wildlife and cultural sights – without good material to shoot it's not nearly so inspiring to practice and try out new techniques.

Ensure it includes shoots at varied times of day – in Africa the key hours are sunrise and sunset for the 'golden hours' but these are not the only times to learn, for example star shoots are always interesting.

A professional photographer with wildlife experience and a personality – you're going to be stuck in a vehicle with them for at least a few days so both are important!

Workshop sessions with the professional who will clearly explain ideas and techniques to try out when you're out on shoots.

Instruction during the shoot and plenty of opportunities to ask questions and not feel silly.

Review sessions where you are able to show your work to the tutor and discuss what works and what you need to work on.

Accommodation that A/ puts you right in the thick of the action so you are not having to drive far to get back there during those crucial morning and evening hours B/ provides some level of genuine comfort – those long days of shooting mean you are tired, dusty and hungry when you get back and you need a comfortable bed, hot shower and good food C/ ensure you have enough power to charge all your equipment.
Also here are my top tips for additional things to ask about before you book:
Vehicle – find out what vehicle you will be in. Of course you want to be safe and comfortable, but after that I believe the key is in the roof! Whilst the pop-up roof is a pretty good option – allowing you to stand and see almost 360 degrees, and affording you some shade – there will be bars in the way and wielding large lenses overhead will be difficult. For me a flip-top is better. It means you can sit right up on top if you want to and that there are no restrictions to your view. These are rare on the safari circuit so it's worth asking about.

Guide – make sure you have a guide who not only understands animal behaviour, but also knows how to anticipate what might come next and communicate that to you. This can be invaluable in being ready to capture that critical moment.

Driver – request one who recognises the needs of a photographer. That's likely to involve details such as parking at appropriate angles, and being aware of the light as key basics.

And finally get the company's advice about what to bring. They should have a good equipment list to suit the itinerary and environment you're heading into. As much as the courses do cater for people of all levels of skill, there's no point spending money on a safari like this and then turning up without the basics (I should know, I went on my first one without a spare battery and missed half a day's shoot while it charged!).
Melissa Kay Valente (writing as Melissa Kay)

freelance writer & photographer

+255 786031253

Mwanza, Tanzania