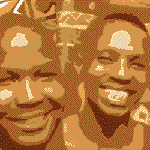 Karibu Fair!
In early June, 2008 our editors had an opportunity to visit the 4-day Karibu Fair in Arusha, Tanzania. We were impressed by the variety and quality of exhibitors, many of whom we have met in past visits to this exciting country that leads the world in wildlife safaris. It was our second visit to ARUSHA in ten years and what a transition has occurred in that short decade.
Karibu has emerged as the leading travel trade event in East Africa. Originally created to promote Tanzania, it's now a regional event that also features many products and delegates. Photos and more information on Karibu to come.
Preview of Next Printed Edition.
..