Photo of the Prof. Wolfgang Thome of Kampala with Forest Whitaker, recent winner of the Golden Globe Award and leading nominee for best actor for the Oscar awards 2007 in connection with one of the column items.

Comment from the Media.

Whitaker thanks Ugandans for their role in film

Forest Whitaker said Saturday his portrayal of Idi Aminin the award-winning movie The Last King of Scotland was made stronger by filming in Uganda, where more than 500.000 people disappeared during the brutal dictator's rule.

Whitaker, who has been nominated for an Academy Award, returned to the country for the East Africa premiere of the Film at a Kampala cineplex Saturday night.

The cast and crew were welcomed by traditional drummers wearing black and white monkey-skin headdresses and members of the country's elite, many dressed in tartan.

Whitaker said making the film in Uganda allowed him to be surrounded by people who have experienced Amin, who knew the situation emotionally and internally.All the people were helful in trying to guide us to the truth, he added. The Last King of Scotland is the first Hollywood movie to be fimed on location in Uganda and won best British film at this year's British Academy Film Awards. It deals with the fictional relationship between Amin and his Socoish doctor during he darkest years of the dictator's rule in the 1970s

Amin's secret police force was notorious for torturing and killing Ugandans they believed to be political opponents. The death toll from Amin's regime will nevr be accurately known but rights groups estimate a half-million people disappeared.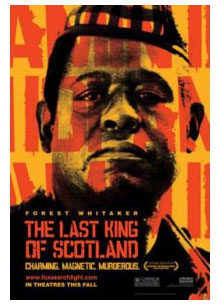 The Last King of Scotland is an Academy Award-nominated 2006 British film based on Giles Foden's award-winning debut novel of the same name. It was adapted by screenwriters Peter Morgan and Jeremy Brock, and directed by Kevin Macdonald.
It received a limited release in the United States on September 27, 2006, with a UK release set for January 12, 2007 and German release for May 17, 2007.
Forest Whitaker, who won more critics' awards for his performance than any other leading actor from 2006 (including the Golden Globe for Best Actor in a Movie Drama) [1], stars as the Ugandan dictator Idi Amin and Kerry Washington plays Kay, one of Amin's wives. As fictional characters, James McAvoy portrays Dr. Nicholas Garrigan (loosely based on Amin's English-born associate Bob Astles); Gillian Anderson plays the health-aide wife of the doctor (Adam Kotz) with whom Garrigan first works in Uganda; and Simon McBurney plays a British diplomat.
'LAST KING OF SCOTLAND' PREMIERS IN AFRICA
Last Saturday saw the African launch of this acclaimed film in the presence of Oscar nominee Forest Whitaker and his film director Kevin McDonald at Cineplex, Kampala's premier movie theatre at the Garden City Shopping Mall. The upped security at the venue however disturbed and kept away many regular shoppers throughout Saturday (probably causing a substantial revenue loss to the businesses located there) prompting amongst others this correspondent to skip his usual Saturday routine in favour of other shops, when encountering long lines at the complex entrance.
Wildcat copies of this film were circulating in Kampala already for the past several weeks through hawkers peddling illegal DVD's, which are featuring several brand new films including 'Last King of Scotland' at a fraction of the normal DVD cost.
Complaints were also voiced by several Ugandan extras for not being invited to the launch and having a chance to once again interact with the star of the movie. Questions in this regard, but also about the illegal copies, posed to the handlers of Forest and McDonald at their hotel in Nakasero were not responded to, as repeated phone messages left for them went unanswered. Barbs all round for these inexplicable lapses.
Dr. Wolfgang Thome