Join Pat Walker
Member of the Africa Travel Association
from San Francisco, CA

For bookings visit: http://www.theculturalexplorer.com
The Cultural Explorer, featuring cultural and philanthropic travel into South Africa, announces an exclusive tour especially for art and animals lovers. Travelers will stay in one-of-kind hotels, visit mystical regions few tourists see, get to know local artists, and view South Africa's big game animals in luxurious, eco-friendly safari camps.
Animals and Art - VENDA INDIGENOUS ART TOUR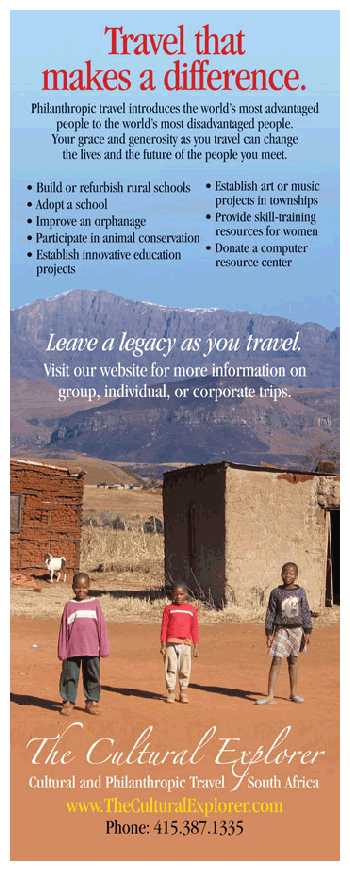 March 7-21, 2009 and May 16-30, 2009
South Africa is home to some of the most ancient and beautiful art in the world - the rock art of the ancestors of today's Bushman or San. It is also the scene of a host of vibrant and exciting contemporary artists producing new and important work in a post apartheid era.
On this trip, Cultural Explorer travelers will have the opportunity to view fine and experimental art by both black and white artists from various South African communities. In Johannesburg travelers will explore the top national and commercial galleries and will meet with many of the artists in their studios. In the rural areas, travelers will meet with eccentric, well known local artists like Jackson Hlungwani and Noria Mbasa, both who sculpt in wood, as well as select craft makers.
Travelers will begin the VENDA INDIGENOUS ART TOUR staying at an upscale Afro-chic hotel in Johannesburg. Visitors will visit the Apartheid Museum, and Constitution Hill, and the vibrant township of Soweto, before two full days of touring Johannesburg's world-class art galleries and museums.
Next stop is a lovely lakeside lodge in the Limpopo province. The lodge was one of the first establishments to gain Fair Trade in Tourism South Africa certification. It is co-owned by a family descended from Swiss missionaries, and a local entrepreneur whose main goal is to promote the local artists and crafters in the area.
Then it is on to Lesheba, an authentic Venda village re-created by artist Noria Mabasa. This artistic wonderland of sculpted walls, seating areas, figures and entrances, breathes the mystical spirit of old Venda. A highly creative people, the Venda produce many fascinating arts and crafts, with sculpture being particularly well represented. Whether using wood or stone, the artist carves away the surplus material to reveal the true form or spirit of the object hidden underneath. Collectives have been established featuring pottery, sculpture and weaving, and Venda artists have been commissioned for major works of art across South Africa. Travelers will meet with Venda and Shangaan artists, including visits to Mukondeni Pottery Village and Mogalakwena Arts Centre. Lesheba is also a unique game reserve with an abundance of wildlife, including white rhino, the rare brown hyena, and giraffe.
The next stop is a private safari lodge situated between the Limpopo and the Luvuvhu Rivers in the northern part of famed Kruger National park. The area is the ancestral home of the Makuleke people, and is one of the most scenic areas in the Kruger. The region is considered one of Kruger's biodiversity hotspots, with large herds of elephants, buffalos, leopards and lions, and extremely prolific birdlife.
The last day of the trip is spent in Johannesburg for travelers to want to go back and get that great piece of art they may have passed up the first day!
This 14-day trip is an immersion into South Africa art with safari, also includes optional cultural excursions to local villages and philanthropic projects.
Only The Cultural Explorer offers this itinerary.
For more information please contact:
Pat Walker
Founder
The Cultural Explorer
211 27th Avenue, Suite 301
San Francisco, CA 94121
Phone: 415-387-1335
Fax: 415-386-8334
Cell: 415-994-0019
For bookings visit: http://www.theculturalexplorer.com