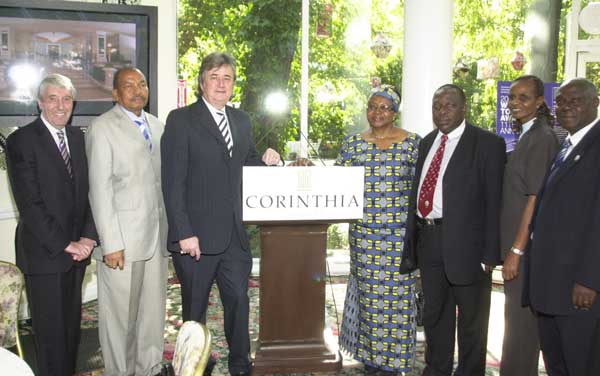 UNESCO WORLD HERITAGE CENTRE AND EGYPT'S DR. ZAHI HAWASS NAMED 2008 WORLD TOURISM AWARD HONOREES AT CORINTHIA HOTELS PRESS BREAKFAST
Tony Potter, CEO and managing director, CHI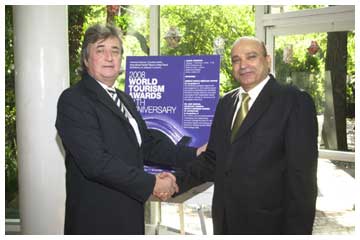 Hotels & Resorts, the management company for Corinthia Hotels, announced that UNESCO World Heritage Centre and Dr. Zahi Hawass, Secretary General, Egypt's Supreme Council on Antiquities, are the 2008 World Tourism Award Honorees. Corinthia Hotels, together with American Express, International Herald Tribune and Reed Travel Exhibitions, co-sponsor this prestigious Award presented annually at World Travel Market in London. This announcement was made at a Corinthia Hotels Press Breakfast at Tavern on the Green in New York City.
The World Tourism Award inaugurated in 1997 and celebrating its 11th Anniversary, was established to recognize "the extraordinary initiatives by individuals, companies, organizations, destinations and attractions for outstanding accomplishments in the travel industry." The Ceremony itself will take place on Tuesday, November 11, 2008 at Excel Centre, London.
The 2008 Honorees are being recognized for their dedication to the preservation of natural and cultural heritage, one as an organization and the other as an individual. The first Award will honour UNESCO World Heritage Centre, in rrecognition of "its outstanding guidance, support and encouragement to 185 countries around the world by establishing and monitoring 878 World Heritage Sites that will protect and preserve their irreplaceable natural and cultural heritage for the future of all the people of the world."
The Second Award will honour Dr. Zahi Hawass, Secretary General, Egypt's Supreme Council of Antiquities, in recognition of "his dynamic and committed leadership, in developing and implementing, innovative management plans to care for and protect Egypt's world famous ancient attractions, including several UNESCO World Heritage Sites."
Past World Tourism Award Recipients
1997 Award: "World Peace Through Tourism"
Honorees: Member countries of MEMTTA (Middle East Mediterranean Travel & Tourism Association): Cyprus, Egypt, Israel, Jordan, Malta, Morocco, the Palestinian Authority, Tunisia and Turkey.
1998 Award: "Outstanding Economic Development Through Tourism"
Honorees: "The new emerging Europe - Croatia, the Czech Republic, Hungary and Poland"
1999 Award: "Outstanding Impact of Travel and Tourism on Generating Employment Growth"
Honorees: China National Tourism Administration and the Hong Kong Tourist Association
2001 Award: "The newly forged public / private sector partnership and the dramatic increase in tourism."
Honorees: the Mexico Ministry of Tourism and the Mexico Tourism Board
2002 Award: "Training the Next Generation in Travel & Tourism"
Honorees: The New York Academy of Travel & Tourism, Virtual Enterprises, International™ (career programs within the New York City Department of Education) and the Institute for Virtual Enterprise at Kingsborough Community College of the City University of New York.
2003 Award: "In recognition of its leadership role in the rescue and preservation of imperiled works of art and architecture, and its devotion to onsite conservation of monuments and sites worldwide, crossing geographic, cultural, and national boundaries to preserve the world's diverse and rich heritage for generations to come."
Honoree: World Monuments Fund
2004 Award: "Its extraordinary vision and pioneering work in opening the door to 'the world" for travelers with disabilities, the mature and elderly, through educational programs for all sectors of the travel industry on how to cater to the special needs of this lucrative and rapidly expanding niche market."
Honoree: Society for Accessible Travel & Hospitality (SATH)
2005 Award: "Their extraordinary vision in forging a historic Asia-Africa Bridge of Tourism, Friendship and Collaboration", announced at the 3rd IIPT Global Summit on Peace Through Tourism in Pattaya, Thailand, Oct. 2005.
Honorees: Africa Travel Association (ATA) and Pacific Asia Travel Association (PATA)
2006 Award: In recognition of Travel Guard International's value-based approach to business and its philanthropic mission to give back to both the global and local communities it serves, and to encourage its employees to both raise/donate money for these global projects through its Make a Mark Foundation.
Honorees: John Noel, President and CEO of Make a Mark Foundation.
2007 Award: The 2007 Award recognized the leaders of the American Tourism Society (ATS): ATS, Alex Harris, CTC Honorary Chairman, and member of the Board of Directors, ATS and Chairman General Tours, and one of the Co-Founders of ATS; Michael Stolowitzky, Immediate Past President & CEO and member of the Board of Directors, ATS; and H.E. Senator Akel Biltaji, of the Hashemite Kingdom of Jordan, Chair, Red/Mediterranean Sea Council and Member of the Board of Directors, ATS. They were recognized for "their extraordinary vision and inspiring leadership in their respective roles as leaders in the American Tourism Society, through which they have fostered the establishment of emerging destinations into the main stream of tourism; supported the training and development of local tourism companies and organizations; and have contributed to tourism becoming a vital factor in the fast-paced growth of employment in local economies."
.
ABOUT CORINTHIA HOTELS
Corinthia Hotels is an internationally acclaimed Brand of luxury hotels in the Czech Republic, Hungary, Libya, Malta, Portugal and Russia. Founded by the Pisani family of Malta in the 1960s, the Corinthia brand stands in that proud tradition of Mediterranean hospitality and its signature services communicate the 'Warm smiles, Inspired Flavours and Pleasant Surprises' of its Maltese heritage. All Corinthia hotels feature state-of-the art conference areas, extensive leisure and business traveller facilities, and are each renowned for their uniqueness of character. Corinthia Hotels' portfolio includes two award-winning properties: The Corinthia Grand Hotel Royal In Budapest, Hungary - winner of Europe's 'Best Hotel Architecture Award' and member of 'The Most Famous Hotels in the World' and The Corinthia Hotel Prague in the Czech Republic - the first hotel ever to win Best Gastronomy Concept in the Czech Republic and a recipient of the '5 stars and 6 stripes' designation from renowned US reviewer Seven Stars and Stripes. The Corinthia Hotels portfolio also features the elegant Corinthia Palace Hotel and Spa and the splendid Corinthia Hotel St Georges Bay in Malta, The superior five-star Corinthia Bab Africa Hotel in Tripoli, Libya, the modern Corinthia Hotel Lisbon in Portugal and the renowned Corinthia Nevskij Palace Hotel in St Petersburg, Russia. The Corinthia Hotels brand is associated with the 'Wyndham Grand Collection' tier of upscale hotels worldwide.
ABOUT CHI HOTELS & RESORTS
Based in Malta, CHI Hotels & Resorts (CHI) is a leading hands-on hotel management company that provides the full range of technical assistance and management services to hotel owners worldwide. CHI is the exclusive operator and developer for the luxury Corinthia Hotels brand as well as the Wyndham and Ramada Plaza brands in Europe, Africa and The Middle East.
CHI draws on a heritage of over 45 years in delivering high quality services to hotel guests and an optimum rate of return to owners and investors in diverse business environments. Our experience across our three brands extends to management of luxury and upscale properties in city and resort locations and products ranging from boutique to conference and Spa hotels. CHI also operates various restaurants under brands such as 'Rickshaw' and has its own Spa division.
CHI Hotels & Resorts is a joint venture between International Hotel Investments plc (IHI) &endash; 70% and The Wyndham Hotel Group (WHG) &endash; 30%.
For more information on Corinthia Hotels visit: www.corinthiahotels.com
For more information about the World Travel Market: www.wtmlondon.com
1 . From Left: Tony Potter, CEO and Managing Director, CHI Hotels & Resorts, and Mr. Sayed Khalifa, Director, Egyptian Tourist Authority, USA and Latin America based in New York, who represented Dr. Zahi Hawass, Director General, Egypt's Supreme Council of Antiquities, one of the 2008 World Tourism Award Honorees, at the Press Announcement in New York City.
2. Tanzania, which has seven UNESCO World Heritage Sites, was represented at the Corinthia Hotels press breakfast in New York where the announcement of the 2008 World Tourism Awards Honorees was made and UNESCO World Heritage Centre was one of the 2008 World Tourism Award Honorees. From Left: Paul Underhill, CHI Hotels & Resorts USA; Peter Mwenguo, Managing Director, Tanzania Tourist Board; Tony Potter, CEO and Managing Director, CHI Hotels & Resorts; Blandina Nyoni, Permanent Secretary, Tanzania's Ministry of Natural Resources & Tourism (MNRT); Bernard Murunya, Conservator, Ngorongoro Conservation Area Authority (a World Heritage Site); Mary Mmari, Director of Tourism, MNRT; and Gerald Bigurube, Director General, Tanzania National Parks (two World Heritage Sites).
Editorial Contact in US:
Karen Hoffman/Fran Levine
The Bradford Group
Tel: (212) 447-0027
Fax: (212) 725 8253
E-mail: bradfordmktg@aol.com