ERNEX EMBROIDERIES|
By Sola Jolaoso & Vivian Asamoah
Making laces for Africa
It was the Canadian writer Muguette Goufrani who once said, "Africans are painting the world in a kaleidoscope of bold colours and patterns". She was referring to the uniqueness of African fashion.
African aesthetic sensibilities are reflected in the modern traditional clothing styles, which are independent of international fashion trend. In fact, the corporal modesty of African dresses are in sharp contrast to the body exhibitionism in today's Western haute couture.
Uniquely-African vibrant colour combinations, dazzling patterns, rich fabrics and fabulous headgear make many a ceremonious event colourful and enliven the atmosphere.
Modern African dresses reflect the personality of their wearer, a practice that is firmly rooted in African tradition, where fashion is an expression of individuality and pride. And the trend is trendier design that is up to date in its functionality and which appeals even more to non-Africans.
The self-confidence with which Africans now wear their traditional clothing in Europe and North America is increasing the international visibility of African fashion.
At official functions, be it diplomatic receptions or international conferences, wherever Africans are, there is also African fashion. African dresses are no longer that exotic apparel reserved for that special occasion or evening.
Walking through the streets of London, Berlin, Cologne and Paris in friendly summer weather, one cannot miss the many Africans proudly wearing their dresses, joined by a small, but increasing numbers of Europeans.
African fashion is truly an international business. Some of the major textile materials used in African fashion, such as Dutch wax, Guinea brocade and laces are made in Europe; foreign manufactured fabrics that are a cultural good in Africa!
Though of foreign origin, laces have held their own as the textiles of choice in West Africa since the early 1960s and have proved to be fabrics that do not go out of fashion.
A lace is a lightweight, open-work fabric, patterned with open holes in the work. The fabric is of different types, defined by how it is made and what it is made of. The major types of lace are voile lace, satin lace, cotton lace, organza lace etc.
However evergreen laces are, the designs in which they come are ever changing. In fact, designs are what make laces stand out, and hence, those who can afford it order their laces in special designs that are exclusive to them. Such designs are referred to in Nigeria as "one in town".
One of the major makers of lace is the Austrian family company Ernex Embroideries. Based in the town of Lustenau – in the traditional textile-making region of the Alpine country, Ernex has built a solid reputation as producers of finest laces and other textiles, which are used in traditional African clothing.
Founded in 1963, the Austrian company is, in fact, one of the most advanced manufacturers of laces worldwide and its cutting edge technology enables it to produce laces of the best quality. No wonder, Africans place a very high value on the products of Ernex Embroideries, a trademark that has become a household name among the fashion conscious in West Africa today.
Ernex's modern and expansive showroom in Lustenau receives daily many African visitors from all over Europe and of course from Africa who come to buy their products or order special lace designs.
The company whose excellent customer service has endeared it to its numerous African customers has indeed earned its good reputation.
Website: http://www.ernex.at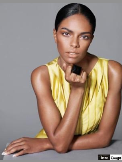 FASHION: NOELLA MUSUNKA COURSARIS
Born in Lubumbashi, December 25,1982, the young Lady lost her father at
the age of 5 years and joined her paternal aunt in Belgium.
A few years later Noella live in Switzerland with one of her aunts where she obtained her accounting degree in a High School of Commerce.
Wishing to improve her English, the young lady moved again to England, and start a modelling career.
In 2004, she participated in a contest organized by the lingerie brand Agent Provocateur (teaches personal Sherry Blair Tony Blair's wife, former first minister English) and won the prize from among over 15,000 competitors.
Today Noella continues to shine in Paris, Rome, London or New York where she works with agencies such as Model Mgt Group, Oxygen Models, Model Mgt Id or Up Models. She also appears in the Music Video clip by artists such as Craig David and Nelly … and also made ​​the cover of several magazines including Mimi, Essence, GQ, Vixen, Black Beauty, Black Hair Hot Hair and ...
In 2007, Noella created a foundation "The George Foundation Malaika" (GMF), name given to her late father. This foundation aims to provide opportunities in education for Congolese girls.
Currently, the foundation is currently completing the construction of a school in the village of Jakebuka. The foundation is also working on a group of abandoned girls to build an orphanage.
CNN followed Noëlla during his last visit to the DRC (see story in 'Inzo Sidewalk'). Besides that, our Top Model tries on the one hand, to convince other organizations to come and work in the Congo, and secondly, to attract foreign students and teachers to change the system's education of the DRC .
Source: inzocongo