A Rising Continent! Four Emerging Cities! 16 Magnificent Teams! Over 4.5 Billion TV Audience Worldwide
Sharing Passions at the Centre of the Earth Jan. 20- Feb. 10, 2008

Ghana hosts 26th edition of the Africa Cup of Nations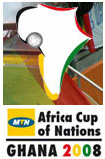 Ghana has been engulfed with an understandable excitement with barely forty-eight hours to the main draw of the 26th edition of the Africa Cup of Nations.
The huge euphoria, a reminder of what Ghana went through when the senior national team, Black Stars glittered at the 2006 FIFA World Cup in Germany where they reached the last sixteen as debutants is basically because of the balloting slated for the plush Accra International Conference Centre (AICC) between the hours of 15:00 and 17:00 GMT.
Soccer administrators and fans across the world are thronging the beautiful and serene city of Accra, Ghana's capital to catch a glimpse of the envisaged glamorous event that precedes the continent's biggest football party.
With the lights and lenses focused on the West Africans, a huge representation of the Confederation of African Football's (CAF) hierarchy led by President, Issa Hayatou and his Executive Committee Members, Sponsors, and representatives of the sixteen qualified teams are all expectant of what the Local Organising Committee (LOC) have up their sleeves to make the two-hour event a memorable one.
The usual feeling across Ghana is one of excitement derived from the fact that Ghana as host would finally know who they meet as the days roll close to the commencement of the tourney that pieces Africa's finest 16 teams together.
For many, the draw is yet another opportunity for the continent to showcase her rich culture amidst football ahead of the competition that spans January 20 - February 20, 2008.
For vendors on the street of Accra and its environs, business could boom for dealers of team paraphernalia after the draw.
The fever has been no different with the critical Ghanaian media. With both the print and electronic media putting the spotlight on the draw, it is obvious that the country is one that is ready to receive the world to live the tournament's dream of "Shearing Passions at the centre of the earth."
The sixteen qualified teams, Ghana (hosts), Egypt, Cameroon, Nigeria, Mali, Guinea, Sudan, Tunisia, Morocco, Zambia, South Africa, Namibia, Cote d'Ivoire, Senegal, Benin and Angola should all know their opponents soon.