MRS FLORENCE OBOSHIE ADJOA SAI COFIE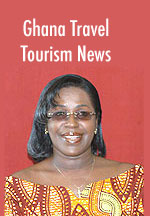 The Hon Minister for Tourism & Diaporan Relations Mrs FLORENCE OBOSHIE ADJOA SAI COFIE (Nee SAI) was born on the 6th APRIL 1953 to PROF. FREDERICK TORGBOR SAI and MRS.FLORENCE ALEENO SAI (Nee DZANI).
Mrs. Oboshie Sai Cofie graduated from the University of Ghana in 1974, with a Degree in Sociology. Since graduating, she has acquired working experience in media related institutions, in Marketing and Advertising, on a cross-cultural and international level and also as an administrator. In the various positions she held, she was able to build upon and put to great use, her creativity, writing and presentational skills.
In 1992, in partnership with another individual, Oboshie Sai Cofie set up Mediatouch Productions &endash; an Advertising and Production company. Mediatouch created and developed the first Ghanaian participation TV Talk Show through which she, in the role of presenter, educated the public on topical, sensitive and current issues. She was a member of the campaign teams of the NPP/President J.A. Kufuor, where her creative skills were used to great effect in the campaign themes and slogans that were used in both the 2000 and 2004 campaigns.
Oboshie Sai Cofie has since 2001, been one of the key persons in the Office of the President, with responsibility at various times for managing the estate, public relations, and speechwriting. She has also worked with the Public Relations and Information Team (PRIM) to provide a link between the Office of the President and the Ministry of Information.
She is currently the Minister for Tourism & Diasporan Relations.
Oboshie Sai Cofie is a team player and success oriented. The rich experience she has gained over the years, together with the network of contacts developed, give her entrée and access to institutions, persons and information that make her efficient and enrich the quality of her work.
Oboshie Sai Cofie is literate in English and Ga and is fluent in Twi. She is also computer literate.
Photos on this page by Muguette Goufrani.
GRAND TOUR OF GHANA- A GOLDEN EXPERIENCE!
By Jerry W. Bird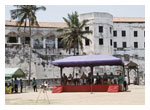 What was my impression of Ghana on our first visit since 1999? Upon landing at Accra's Kotoka International Airport my eyes were fixed like lasers on a banner newspaper headline that shouted its bold, positive message across the arrivals area - "Ghana is Safe." What a confidence builder -- and nothing in two exciting weeks of ATA 31st Congress activities, colorful galas and an educational, fun-packed, cross country tour gave us any reason to doubt the authenticity of that challenging statement.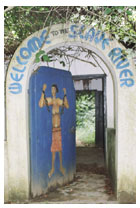 Our 2006 Grand Tour can easily be described as a "Photo Safari," and over 10 new gallery pages are available for online viewing from hundreds of images captured by Muguette Goufrani, featuring Cape Castles, Kente Weavers, Slave River, Bead Making Art, Ceremonies and Festivities, Roadside Commerce, Tour Sites, Ghana Fashions, Gala Events and the ATA Trade Show. Combined with superb photography by Robert Eilets and selections from Sandy Dhuyvetter of TravelTalk Radio, we are able to showcase Ghana like never before. Being non profit, we seek no financial benefit from sharing the sights and sounds of Ghana with a worldwide audience - and with other approved media upon request.
Advertise Online. New York Times Travel Show . USA Canada Air Link
Roadside Commerce
This tour, with its focus on roadside commerce, creative crafts and cottage industries, was an eye opener to the amazing entrepreneurial spirit that is so dominant in Ghana. It is reflected in the latest book by Dave Fick entitled ""Africa: Continent of Economic Opportunities." The experiences enroute during this week long, dawn to dusk tour left a profound impression Starting with the Lake Volta Region near the Togo border, our journey took us to the provincial capital of Ho; then to the Kumasi area, home of the Ashanti Empire. Our agenda included Senchi Riverside Resort, Liate Wote, Afadjato Mountain, Wli Waterfalls, Tafi Monkey Sanctuary, Abenyinase Kente Weavers, Cedi Beads, Oumasi, Shai Hills Game Reserve, Bunsu Arboretum, the Bobiri Butterfly Sanctuary, Ejisu Bease, Bonwire Village, home of the Kente Weavers, Ntoso, the Adinkra Printing Village, plus Ahwiaa, the Carving Village. We visited the the Ghana Tourism Board's Kumasi office and Crafts Center, plus a new luxury resort at Lake Bosomtwe. One of the most meaningful sites was NNonkonsuo, the Slave River Memorial Center. Enroute to Kakum National Forest, with its famous rope bridges, we stopped to watch a family operation producing palm oil. The final leg of our journey involved Elmina and Cape Coast Castles. Continued