Tracking Safaris in Uganda, Emerald of Africa
We left Kampala heading southwest through Masaka and Mbarara, and crossing the equator line. Three countries in the entire world have the equator and snow on the mountains at the same time, namely Uganda, Kenya and Equador in South America More->
Free Roaming with Gorillas and Chimps
Gorilla - the very word is exciting. Still living in the heart of the impenetrable forests of Central Africa are families of these gentle giants. With expert local guides, and pre-arranged viewing permits, G.A.P Traveller can take you to 'meet' the Mountain Gorillas of Uganda. It is a wildlife experience like no other. Uganda offers a collage of bright colours, beautiful scenery, busy towns and possibly the friendliest people in Africa. More->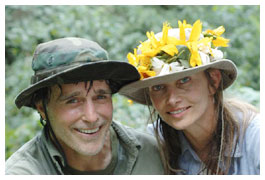 Gorillas Witness Wedding in Uganda
March 2005: Chris DeRose and Cindy Beal of Los Angeles CA were married on January 7, 2005, in Bwindi Impenetrable Forest in Uganda in front of a family of mountain gorillas. The trip and the wedding ceremony were arranged by African Travel Inc, based in Glendale CA, who have been operating individual and group safari tours to Africa since 1976. "This wedding ceremony was a first for African Travel and, as far as I know, a first for Uganda," said African Travel's President, Anne Bellamy. "Knowing that each client is an individual, we are extremely flexible: nothing is too unusual or impossible. We started planning this trip for Chris and Cindy 6 months ago, with the assistance of Volcanoes Safaris in Uganda."
Chris DeRose has been involved in the saving of animal lives for the past 27 years and is well known in many countries. He is the president and founder of an international organization called Last Chance for Animals or LCA. They involve themselves with animal issues such as stolen pets, placing circus and zoo elephants into sanctuaries and the preservation of wildlife. When he met Cindy three years ago he knew he was going to marry her. He knew he had met a very special and unique lady so he wanted a special and unique wedding. What could be more appropriate than getting married with mountain gorillas as your only wedding guests?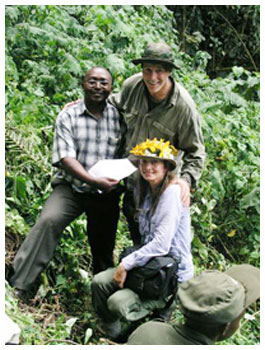 Chris was not sure that Cindy would go for it but she did. "I have been all over the world and seen many interesting places," Chris said "but I have never experienced anything like this African adventure, especially the gorillas. What an awe-inspiring feeling to have been this close to one of the most majestic animals on earth and to know that only about 600 of these magnificent shy creatures exist. We took five individual gorilla treks and each one was a totally different experience. We are already planning our next trip there."
"The country is incredibly scenic," said Cindy. "The people that we met were all very warm and kindhearted and the wildlife was breathtaking. In addition to the gorillas, we saw tree-climbing lions, huge crocodiles, forest elephants and many exotic and rare birds. As a photographer I can only say that the photographic opportunities are nothing short of spectacular."
The marriage was celebrated that evening with a candlelight dinner at Bwindi Lodge. The couple also visited Murchison Falls where they took a scenic boat trip on the River Nile; Kibale National Park where they tracked chimpanzees; and Sipi Falls where they spent the most interesting and spectacular New Year's Eve. Tree climbing lions were seen in Queen Elizabeth National Park.
Chimpanzees and over 300 mountain gorillas, half of the world's population, inhabit Bwindi Impenetrable National Park, a tropical forest of enormous trees, giant ferns and hanging vines. It is the only park that contains both chimpanzees and gorillas. The gorillas can be visited by small groups of tourists, accompanied by guides, trackers, guards and porters. Typically, guests hike for one to four hours, spend one hour quietly observing the gorillas and then hike back to the park headquarters.
African Travel Inc is a member of United States Tour Operators Association (USTOA) and is covered by a $10 million consumer protection plan.
For more information on customized trips to Africa, contact African Travel Inc, The Safari Building, 1100 East Broadway, Glendale CA 91205, telephone 800-421-8907 or 818-507-7893. Email: ati@africantravelinc.com. Web site: www.africantravelinc.com.