There are a variety of Excursions and Activities catering for all travelers. Our Tours are designed for all ages and are accompanied by well trained guides who are very knowledgeable to the terrain and ecology of the country. Our Tours are suited for the Traveler with interest in Leisure, Adventure, Wildlife, History and Culture of the people of Sierra Leone. Our Tour Guides are bilingual (English and French). We offer the following tours and excursions in Sierra Leone which you choose from one or more:

Western Area Peninsula Forest

Tacugama Chimps Sanctuary

Outamba-Kilimi National Park and other Game Reserve

Mamunata Mayosso Wildlife Sanctuary

Loma Mountains

Tiwai Island

Gola Forest Reserve

Sula Mountains

Tingi Hills

Interior City of Bo and Environ

Kenema and Kono Diamond Capital Cities

Heritage and Cultural Sites

Historical Bunce Island

Banana Island

Peninsular Beaches and Resorts

Bonthe Island – Game Fishing

Tasso Island

Kambia Africana Village see Sierra Leone map
Discovery Tour to Sierra Leone: An emerging tourism destination in West Africa
By Helen C. Broadus
At the conclusion of the Africa Travel Association's Annual Congress held in Conakry, Guinea in May 2002, a very good friend and colleague, Patricia Brown, invited me to visit her homeland of Sierra Leone. Patricia is the Owner and President of Kambi Travel International (KTI) which is a full-service international travel and tourism company, based in the Washington Metropolitan Area. She was born in Sierra Leone, West Africa. In the year 2000, she achieved her dream of opening a travel and tourism office in her homeland, Freetown, Sierra Leone. I was definitely interested in having the opportunity to visit Sierra Leone and learn more about its connection with African-Americans, especially with the Gullah people of South Carolina. Hopefully, at the conclusion of your reading this article you will be convinced of the immense tourism potential that Sierra Leone has to offer and will hopefully consider joining us when we return to Sierra Leone later this year.
BACKGROUND. Sierra Leone derives its name from Portuguese explorers who, when first sighting the land in the year 1405 during a fierce storm, mistakenly interpreted the sound of thunder coming from the mountains as roaring lions. Other folklore tradition states that the Portuguese sailors said that the shape of the mountains "looked liked lions". Hence, they proclaimed it the land of "Sierra Leone" which literally translated means "mountain lions". This name stuck despite the fact that Sierra Leone eventually became a British colony. Sierra Leone gained commercial importance during the heyday of the rice plantation industry in the American colonies of South Carolina and Georgia.
European settlers had little experience with rice cultivation and were not suited for the climate. The demand for slaves with rice growing skills increased significantly and the ethnic groups in the surrounding areas of Sierra Leone were known to possess this agricultural knowledge. Thus the volume of slaves from the "windward coast" or "rice coast" of West Africa increased to keep up with the demand. As a result, many South Carolinian and Georgian African-Americans can trace their African ancestry through the slave trading period in Sierra Leone.
Sierra Leone was also the first African country to resettle former American slaves. In the early 1800s, abolitionists in America and England raised money and solicited missionaries and teachers to bring back freed slaves from North America to West Africa. Due to their familiarity with and support from Great Britain's more liberal society, they decided to resettle in the territories under the colonial protection of England. In fact, Cinque, the leader of the Amistad's liberated African slaves was eventually returned to Sierra Leone in search of his village amongst the Mendes ethnic group. In addition, Sierra Leone boast Old Fourahbay College which was the first university in West Africa that was modeled after western teachings and most of the future African leaders of the Pan-African Movement of the 20th century received their formal education at this university.
Sierra Leone received its independence from British colonial rule and became a republic on April 27, 1961.
Sierra Leone is located in West Africa with Guinea as its neighbor on the north and east, Liberia as its neighbor to the south and the Atlantic Ocean on its west. It is a very friendly country, with smiling faces and a hospitable environment. The country has substantial mineral reserves and agricultural products but was unfortunately devastated by an economic crisis, followed by a civil war that lasted ten years. Freetown, the capital city, has the third largest natural harbor in the world and is a major commercial shipping port. The population of Sierra Leone is about 5 million with about 500,000 inhabitants in Freetown. The population is about forty-seven percent Christian and forty-seven percent are Muslims with the remaining six percent belonging to traditional African religions.
Sierra Leone recently held a successful presidential and parliament election campaign with Dr. Alhaji Ahmed Tejan Kabbah elected as President for another six year term and the ruling Sierra Leone People's Party (SLPP) gaining a ajority in parliament as well. The official currency is the Leone which is very similar to the American dollar system. The official language is English but most people speak other local languages such as Krio, Temne, Mende, and Limba. More importantly, everyone also speaks a "national" language which closely resembles the fascinating language of the Gullah people from South Carolina and Georgia in the United States.
GEOGRAPHY AND CLIMATE. Sierra Leone has a surface land area of 72,325 kilometers with marshy coastal areas that rise to a plateau in the north and east and the highest elevation point of Mount Durukonko at 11,948 meters. The country has a humid tropical climate, tending towards equatorial conditions due to the exposure of the coast to winds from the south. Moving northwards, vegetation changes from mangroves to open woodlands and finally to savannahs.
GETTING THERE. Lungi International Airport is located across the harbor from Freetown. Upon arrival into Sierra Leone it is highly recommended that you take an exciting helicopter transfer from Lungi International Airport to Lumley Beach Heliport in Freetown which is about twenty minutes away by air. Or you can opt for the one hour ferry boat ride to Freetown. International flights into Sierra Leone are just beginning to return and for now the best way to arrive there is to fly into Conakry, Guinea and then take West Coast Airlines into Sierra Leone. This inter-country flight is about forty minutes in duration. There is also a VISA entry requirement for U.S. citizens.
While in Freetown, I stayed at the Cape Sierra Hotel, which in its heyday must have been a very beautiful hotel. It is currently the only major hotel operational, but smaller guest houses and a few bed and breakfast inns are also available for use by tourists. There is an excellent restaurant overlooking the bay and a discotheque in close walking distance to the Cape Sierra Hotel. Recent renovations are underway to restore several other hotels to their former state.
PLACES OF INTEREST. The real attractions of Sierra Leone are its beautiful beaches along the Atlantic coastline as well as the spectacular views from its mountainous terrain. Tourist will definitely appreciate the multitude of water sports and recreation available including windsurfing, fishing, canoeing, water skiing, speed boating, and sunbathing. One can even take a boat cruise and enjoy a picnic on several remote islands along the coast. There is also lively nightlife and entertainment with discos, casinos, and fine dining in Freetown. While Sierra Leone is still recovering from its decade long civil war, in my opinion, it is quickly re-emerging as a trendy and affordable tourism hotspot for the sophisticated traveler.
HISTORICAL ATTRACTIONS. Freetown has an abundance of historically significant landmarks that link the legacy of West Africans with African-Americans. A truly famous landmark in the center of downtown Freetown is the "Cotton Tree" which is a treasured symbol of the city. It was originally planted by the resettled American slaves with the founding of Freetown. Also in downtown Freetown is the Con Naught Hospital which was the first hospital modeled after western medical practices in West Africa. Nearby is "King's Gate" which was erected in stone with a statement inscribed which reads "any slave who passes through this gate is declared a free man" hence the name of Freetown was derived. Down by the Naval Wharf are slave steps carved out of stone. It was here that the Portuguese slave traders bought and sold many Africans and from which their last footsteps on African soil were made.
High up on the hills overlooking the city of Freetown is the restored Fourahbay College campus where the current Prime Minister of England Tony Blair spent his early childhood and also went to primary school. Because of the elevation from sea level, it was determined to be a strategic place to locate the campus due to the cooler climate and location of a natural spring. Another little known history fact is that during the darkest moments of World War II when England was under siege by Germany, the Queen of England was secretly hidden for "safe keeping" in Cort Right House on the campus of Fourahbay College. It was believed that the Germans would never think of finding her in Africa!
CULTURAL ATTRACTIONS. The highlight of my visit to Freetown, Sierra Leone was my tour of the Cape Peninsula area and up into the hillsides to see the Mountain and Creole Villages. These villages were built in the early 1800s by resettled American slaves. It is believed that upon first trying to integrate themselves with the local people of Sierra Leone there was too much fighting amongst the people and fierce competition for available land to grow crops. Eventually, to escape this ongoing struggle for survival, many of the resettled American slaves decided to inhabit the higher hills of Freetown. These settlements became replicas of the type of life that they had in America from the style of farming to the architecture of their homes. In fact, this is where many of the first homes constructed with a brick foundation and a second level were built in Africa. Another fascinating feature of these villages is that they are named after British cities such as Lancaster, Kent and York. In addition, many of the first churches were built in these villages. St. Charles Parish Methodist Church in the Village of Regent is believed to be the oldest stone built and continuously worshiped church in Sub-Saharan Africa. Refer to the insert box for more information about the historical and cultural significance of churches in Sierra Leone.
Also along the Cape Peninsula are many fishing villages such as Waterloo and Tembo. Waterloo was the first place that the Portuguese arrived at because of its safe harbor. It is now a refugee area and the people are known for making cassava bread and fishing. Tembo is a main fishing village which supplies most of the fresh seafood that is sold and eaten in Freetown. Close to Tembo is Mama Beach which was a waterfront resort area frequented by French tourists. It has clear white sandy beaches and pristine waters. Regrettably, many years of neglect due to the civil unrest in the country has damaged the tourism attractions that this area was famous for. A major tourism investment strategy by the Government of Sierra Leone is underway to restore the tourism infrastructure and invite potential investors to come and rebuild these resort areas which provided a stable economy for the local people.
During my visit to Sierra Leone, I also had the opportunity to meet the President, H.E. Dr. Alhaji Ahmad Tejan Kabbah during the official commissioning of Phase One of the Development Project at Lungi International Airport. I also witnessed the inaugural arrival of a new Pan-African airline, Africa One which is a DC-10 aircraft with a capacity for 250 passengers. According to the Lungi Airport Authority representatives, there will be two flights weekly (Mondays and Thursdays) from Freetown, Sierra Leone to Banjul, Gambia. There are also future plans to transport passengers from London, England and eventually JFK International Airport in America.
This redevelopment of Lungi International Airport was made possible by a 1995 World Bank infrastructure and rehabilitation project to upgrade Sierra Leone's aviation standards for commercial purposes. This was a vital step in the resurgence of the travel and tourism industry for Sierra Leone and since 2001 the airport authority has received approval to operate international services. President Kabbah escorted the guests on a tour of the newly renovated airport which consisted of a Phase One World Bank Loan in the amount of $2.5 million dollars to construct a modern terminal facility and departure hall at the airport. Phase Two, to be completed by early August of 2002, includes the completion of the arrival hall and cargo facilities.
I was quite impressed with the enthusiasm of President Kabbah who proudly proclaimed that this was truly a milestone moment in the re-emergence of Sierra Leone as a viable travel and tourism destination for North American and European visitors as well as a potential transportation hub for West African travelers. He stated that the World Banks' approval of the project and subsequent enhancement of the airport's navigation standards will ensure the comfort, security and safety for all potential travelers. He also stated that this industry will greatly aid in the recovery of related industries such as agri-business, construction and telecommunications. He closed out by stating that plans were underway to also link a fast ferry service between the airport authority and the maritime authority.
FOOD AND ENTERTAINMENT. Tourist will find a wide assortment of attractive traditional gifts to take home, including colorful hand-woven baskets, great woodcarvings of furniture and sculpture at very affordable prices. Also, don't forget to sample the local cuisine of which the favorite is seafood of any type, especially shrimp and lobster! In fact, the local cuisine of the people in Freetown resembles that of the Gullah people from South Carolina and Georgia. The language spoken by Sierra Leoneans is also quite familiar to the Gullah people who can trace their ancestry back to Sierra Leone. For more information about this African connection, refer to the insert box on Great Thanksgiving and Descendant's Day Celebration in Freetown, Sierra Leone.
Overall, I thoroughly enjoyed my brief visit to Freetown in Sierra Leone and truly look forward to returning again in the near future. Sierra Leone is a country that is quickly re-emerging as a tourism destination in West Africa full of bright sunshine, pristine beaches, spectacular scenery, diverse recreational activities and warm and friendly people. All of the above combine to make a perfectly relaxing holiday destination. For more information about familiarization (FAM) trips to Sierra Leone, West Africa please contact Patricia Brown at Tel: (301) 925-9012/Fax: (301) 925-921/e-mail: kambitravel@aol.com.
Sierra Leone becomes a tourist hotspot and the country is set to reclaim its crown again as the Athens of West Africa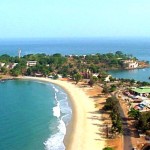 2012 -The West African country of Sierra Leone is witnessing a dramatic change of fortune. Tourists from the UK, US, European and Asian countries are making the capital Freetown their prime holiday destination after tour operators recently discovered the huge tourist potential this small African country has to offer. Thousands of tourists are booking flights long in advance for upcoming holidays as news begin to filter around the tourist world about this little holiday gem that is poised to take the world by storm.
The Sierra Leone government is taking steps to meet the sudden rise in demand for hotel rooms and resorts that are geared for an overwhelming influx of visitors this summer. This government has worked very hard to showcase the potential of its country and recently held an investment conference where the world's leading investors were presented with a showcase of what this country has to offer
Little did the world knew that the most beautiful beaches with pure white sands and untouched coastline were located on this Portuguese discovered land of beauty. The immaculately trimmed natural harbour is one of the most visible landmark of the country's beauty as one enters the coastline of this small paradise. Sierra Leone's beauty was first discovered by a Portuguese explorer, Pedro Da Cinta, by accident. And the country's history documented how this explorer thought he had taken the wrong route to another part of Europe. He had to contend with the geographical position of his compass and come to terms with the fact that he must be witnessing a miracle. He was face to face with one of the most beautiful discoveries of his navigational tour around the world.
Not only does the country provide an unprecedented natural beauty to its visitors, it matches it's amazing scenery with an untapped precious mineral deposit that boasts some of the finest Diamonds ever mined in the world. The Star of Sierra Leone is one of the largest and most beautiful diamond the world has ever seen. In fact oil has just been discovered in a country that is already a leading exporter of Bauxite and Iron Ore.
5 star hotels employ a tantalizing scenery as one tours the blue-sea coated sandy beaches. The sudden calmness that greets the visitor would leave an awesome temptation to make you think you have accidentally landed in paradise. Visitors might be tempted to overstay their visas and are highly advised to make proper consular arrangements. Sierra leone has some of the most beautiful women in the world with curvelines that make models at the New York Fashion show look like a joke!
This dramatic transformation the world is witnessing has been largely due to the unflinching commitment by the country's Head of State who has identified the key benefits of an overhaul in the country's tourist industry. The government's commitment to tourism cannot be over-emphasised. President Ernest Bai Koroma is ensuring that tourism plays a significant part in his Agenda for Change and is lobbying very hard that stakeholders make the development of the country's tourism industry a priority.
Sierra Leone's President Koroma has backed plans to make the 75,000-hectare Gola Forest his country's second national park, and thus protecting more than 50 mammal species including leopards, chimps and forest elephants, 2,000 different plants and 274 species of bird of which 14 are close to extinction. The area, close to the Liberian border, will become the flagship site in a new national park network with local communities paid annually to replace royalties linked to logging and diamond mining in the forest.
The European Commission and French government are both contributing more than £3 million towards the training of more than 100 staff to patrol Gola's boundaries, monitor wildlife and run education programmes. Scientists will be encouraged to study the wildlife of the area which is expected to become a hub for eco-tourism in the country. President Koroma is planning to establish six more national parks in Sierra Leone to develop tourism as the country prepares to fully embrace eco-tourism.
Visitors are assured of a pleasant trip and a beautiful stay as the infectious warmth and kindness of the people will surely leave an indelible impression that will see the return of many in holydays to come.
By Kamara
---