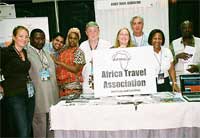 Congress Edition Venues (pdf)
Promoting Africa in Seattle
Promoting Africa in Vancouver
Promoting Africa in Texas
Photos from above event
Promoting Africa in Montréal
Promoting Africa in Toronto
Promoting Africa in Ottawa
Karibu Fair, Sullivan Summit, ATA Congress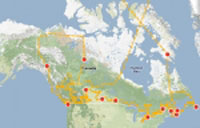 Olympic Torch in Canada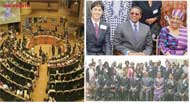 ATA Congresses
ATA's 34th Annual Congress will be held in Cairo, Egypt from May 17-22, 2009. Details and registration information to follow.
Past Congresses
2008: Arusha, Tanzania
2007: Addis Ababa, Ethiopia
2006: Accra, Ghana
2005: Nairobi, Kenya
2004: Douala, Cameroon
2003: Lusaka and Livingstone, Zambia
2002: Conakry, Guinea
2001: Cape Town, South Africa
2000: Addis Ababa, Ethiopia
1999: Accra, Ghana
1998: Arusha, Tanzania
1997: Cotonou, Benin
1996: Windhoek, Namibia
1995: Nairobi, Kenya
1994: Accra, Ghana
1993: Lusaka, Zambia
1992: Ivory Coast
1991: Cairo, Egypt
1990: Casablanca, Morocco
1989: New York, New York, USA
1988: Harare, Zimbabwe
1987: Douala, Cameroon
1986: Atlanta, Georgia, USA
1985: Nairobi, Kenya
1984: Banjul, The Gambia
1983: Cairo, Egypt
1982: Lome, Togo
1981: Lusaka, Zambia
1980: Libreville, Gabon
1979: Tangier, Morocco
1978: Sousse/Monastir, Tunisia
1977: Abidjan, Ivory Coast
1976: Nairobi, Kenya
ATA Syposia
The next Symposium will be held in Lomé, Togo in November 2009. Details and registration information to follow.
Past Symposiums
2007: Djibouti City, Djibouti
2006: Calabar, Nigeria
2005: Luanda, Angola
2004: Kampala, Uganda
2003: Zanzibar, Tanzania
2002: Fez, Morocco
2001: Yaounde, Cameroon
2000: Abuja, Nigeria
1996: Marrakech, Morocco
1994: Cape Town, South Africa
1992: Saly/Dakar, Senegal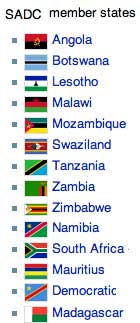 ---

AFRICA TRAVEL ASSOCIATION (ATA) LAUNCHES ONLINE REGISTRATION FOR THE 2nd U.S.-AFRICA TOURISM SEMINAR IN WASHINGTON, D.C., FEBRUARY 19-20
Tourism Experts and Industry Professionals from the U.S. and Africa to Explore Africa's Sports, Adventure, and Diaspora Tourism Promotion and Investment Opportunities in Fast-Growing Tourism Industry
NEW YORK, NY: he Africa Travel Association (ATA) announced today that it has launched online registration for the Second Annual U.S.-Africa Tourism Seminar, which will take place at the Washington Convention Center from February 19-20, two days prior to the Adventures Travel Expo (ATE) travel mart.
Focusing on Sports, Adventure and Diaspora Travel and Tourism, the two-day event will showcase Africa as a top tourism destination from the U.S. and as a site for investment and business exploration in one of the world's fastest growing tourism markets.
"In addition to some of the world's most spectacular natural wonders, Africa offers some of the most unique and exciting travel products," said Eddie Bergman, ATA Executive Director. "With Africa's improving infrastructures, a growing private sector and an increasing awareness of the role the travel industry can play in a country's socio-economic development, Africa is poised to increase its global marketshare in tourism."
Global representatives from the public and private sectors and travel industry will convene in Washington, D.C. to discuss Africa as a leading travel destination and hear from expert panelists about Africa's travel products, particularly in the areas of sports tourism, adventure travel, tourism infrastructure development, responsible and sustainable tourism, business and investment opportunities, airline access, and travel trends.
Travel agents and tour operators, who market, sell and specialize in Africa, are encouraged to attend the seminar, which will include a workshop on marketing and branding Destination Africa with leading industry experts. In addition, a number of speakers on other workshops panels will also address these topics in their presentations.
The seminar will also feature two workshops on African diaspora tourism. One will focus on the role of the diaspora in changing perceptions of Africa in the U.S. and another will focus on the emerging African diaspora tourism products, such as cultural and heritage tours, as well as investment opportunities.
"As a native of Senegal now living in Atlanta, I think its important for émigrés to invest in Africa, either by visiting the continent or, if they can't go back physically, by 'going back' economically and culturally," said Ogo Sow, ATA Diaspora Affairs Advisor. "The African Diaspora is a logical bridge between the USA and Africa and ATA can help build this bridge."
To register and to find more information on the seminar, as well as sponsorship opportunities, visit http://www.africatravelassociation.org/ata/events/uats.html.
About the Africa Travel Association (ATA) The Africa Travel Association, a U.S.-based non-profit, is the world's premier travel industry trade association promoting tourism to Africa and intra-Africa travel and partnership since 1975. ATA members include ministries of tourism and culture, national tourism boards, airlines, hoteliers, travel agents, tour operators, travel trade media, public relations firms, NGOs, and SME's. For more information on ATA, visit ATA online at www.africatravelassociation.org.

LET'S ACCENTUATE THE POSITIVE!
Active Travelers Still Buying Vacations! Chicago's Adventures in Travel Expo Draws Record Crowds Despite Stormy Weather and Economy
Milford, CT: In an ever-increasing negative news cycle about the sour economy and despite a major winter storm that dropped a foot of snow in a 30-hour period, thousands of active travelers turned out to the Adventures in Travel Expo held January 10-11 in Chicago.
In the first 2009 show of the world's leading series of active and adventure travel shows, more than 13,000 consumers, media and travel agents braved the elements to attend the show, many looking to book their next vacation.
More than 500 top experiential travel experts from around the globe exhibited on the Expo's two-acre show floor to showcase a wide range of travel options, including: cultural vacations, eco-travel, wilderness treks, safaris, island getaways, adventure trips, volunteer vacations, luxury train journeys and itineraries for sports and outdoor enthusiasts. Sales were reported to be strong across all categories.
"The robust attendance and sales at Adventures in Travel Expo surpassed our and our exhibitors' expectations, especially amid rampant reports of a tourism downturn," noted John Golicz, CEO of Unicomm, producers of the Expo. "This event illustrates that now more than ever, travel providers need to tune their marketing programs to reach qualified active travelers if they want to sustain growth in 2009."
Commenting on the Expo, Tourism Tasmanian's North American Representative Karen Stolz said, "I've been at this show for five or six years and consumer interest in Tasmania was probably the strongest it has ever been." She added that her colleagues from Qantas Vacations, which specializes in vacations to Australia, New Zealand and the South Pacific, concurred that it was the best consumer show that they had been to in a very long time.
Lisa Greyhill, representing the Adventure Travelers Society, commented: "As a tour operator, we were especially pleased with the turnout at the Chicago Adventures in Travel Expo. Despite challenging weather, the show was very well attended by members of the press, agent community and consumers of all ages and demographics. Our programs were enthusiastically attended and our booth staff was busy the entire show with travelers planning for 2009 and 2010 departures."
Keynote speakers Andrew Zimmern, host of Travel Channel's "Bizarre Foods" and Patricia Shultz, bestselling author of 1,000 Places to See Before You Die, spoke to captivated, standing-room-only audiences. Hundreds of attendees tried their hands at scuba diving in the dive pool, took camel rides, examined wild animals and took in a wide array of cultural performances.
Mr. Golicz observed: "Value and authenticity were the buzz words many attendees spoke of. Even with so many high-tech ways to explore travel destinations and options, people still need confirmation that only comes from talking with experts about the travel experiences they offer."
The next Adventures in Travel Expo will be held in conjunction with the Los Angeles Times Travel & Adventure Show at the Los Angeles Convention Center on February 14 -15. As the largest travel show in the United States, the LA Times Travel & Adventure Show will host over 2,000 exhibitor personnel from around the planet. Travel experts Rick Steves, Arthur and Pauline Frommer and Samantha Brown will join world renowned explorers from National Geographic Adventure to deliver fascinating seminars.
For details, visit www.adventureexpo.com.
About Adventures in Travel Expo:
Adventures in Travel Expo is the world's leading active and adventure travel show for trade and consumers. In 2009, the remaining schedule of events will take place in four U.S. cities: Los Angeles, Calif., February 14-15, Washington D.C., February 21-22; New York City, October 10-11; and Seattle, December 5-6. The events highlight responsible, experiential, active, adventurous, cultural and heritage travel with exhibitors, presentations, hands-on adventure opportunities and cultural performances. For more information, visit the website at www.adventureexpo. com.