ZIMBABWE FASHION WEEK RANKED AMONG THE TOP FIVE IN AFRICA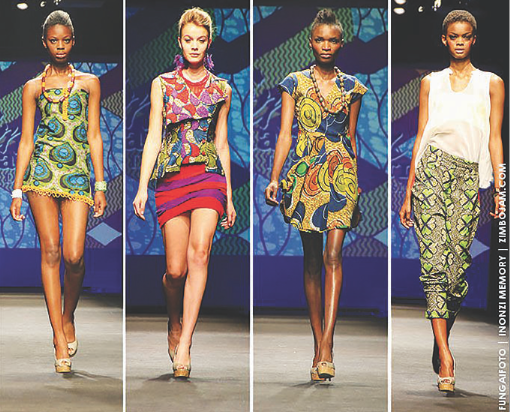 Problem Masau -
Zimbabwe 'Fashion Week' has been ranked among the top five African Fashion Shows by the prestigious 'Africa Fashion Week' New York.
Describing the fashion weeks in Africa, the New York based organisation said: "The continent of Africa is a fashion hub of distinct apparel and design. Its designers are not limited to what the world expects African design to look like, and they never cease to amaze."
"Some of these designers have partaken in some of Africa's finest fashion displays, and we're going to throw out a few that you should always keep an eye on."
Here is the 'Africa Fashion Week New York' analysis of the fashion shows in Africa.
1. Mercedes-Benz Fashion Week JOBURG
Created by African Fashion International, Mercedes-Benz Fashion Week JOBURG is an event that takes place in February/March that exposes the best local talent for the Autumn/Winter season. It took place this year from March 7 March 9th, showing well-known designers such as Fabiani, Gavin Rajah, and David Tlale.
2. Mercedes-Benz Fashion Week AFRICA
Also created by AFI, MBFWA is the virtuoso of fashion weeks in Africa. Taking place in October/November, MBFWA features over (20) designers who get the chance to enter their designs into the global market; Alexandra Liss, Thula Sindi, and KLUK CGDT just to name a few.
3. Lagos Fashion & Design Week
Besides the consistency of amazing exhibitions, we listed LFDW because of their tactics. They strive to have fashion buyers and media fill their front-row seats to encourage commerce and the celebration of African brands. LFDW is powered by Guaranty Trust Bank and takes place in October; it has included designers such as Wiezdhum Frankly, Re Bahia, and Iconic Invanity.
4. Zimbabwe Fashion Week
In August, for the fourth time, Priscilla Chigariro-Gessen put on another successful Zimbabwe Fashion Week. ZFW continues to shine the spotlight on local designers. Last year's theme was "Fashion Through the Ages" and featured designers like Zuvva, Estelle Mantle, and JB Couture.
5. Nigeria Fashion Week
'Nigeria Fashion Week' reminds us that Lagos is not the only vibrant city in Nigeria. For the third time, Legendary Gold Limited went green during the week of November 7th. Their fashion week is essential because it serves as window diverse cultures within Nigeria.
The city of Dallas embraces African fashions and cultural heritage

On May 16th, 2014, the City of Dallas and Trendy Africa Magazine co-hosted the second Dallas International Fashion Event to spotlight global fashion and the cultural heritage of Africa, including a mix of Asian and European cultures. The event was a platform for international relations. Held at the Dallas City Performance Hall, the evenings lineup featured dancers, entertainers, dignitaries, and international fashion designers.

The event was presented by Trendy Africa Magazine to benefit the Dallas Youth Council. Nigerian Senator Florence Ita Giwa, Dallas Councilwoman Vonciel Jones-Hill, Hon. Abike Dabiri Erewa and Publisher May Olusola were among the honorees to receive the distinguished Tammae Award. TAMMAE is an annual mothers appreciation concept by Trendy Africa Magazine to honor women who have impacted their communities through personal and professional efforts.

The presenting fashion designers were Afua Sam - Studio DMaxsi (Ghana), Aphropolitan (USA), Teddy Legredion - Blokes-N-Divas (Nigeria), Nick Rose - Bose Trendy Beads (Nigeria), Eefy Ike Style Is Innate (Nigeria), Wumi Oluwadafe - Wumi O Collection (Nigeria), Cassidy Elizabeth Mae Brown - Elizabeth Mae (USA), Lucas Escalada LNE (Equatorial Guinea), and Kimma Wreh - TeKay Designs (Liberia).

I am pleased to be chosen as one of the key fashion presenters during this showcase. explains Kimma Wreh of TeKay Designs. I create the type of African-inspired dresses and ethnic bridal gowns that many people dont get to see. Dallas Texas is recognized as the ninth-largest city and a highly culturally diverse city in the U.S. This fashion platform provided the Dallas community an opportunity to experience alternative fashion styles that are accessible here in Texas. Thats why this showcase is so important! Fashion design and styling is a good example of how people can generate the best ideas when we embrace our cultural differences.

The Dallas Int'l Fashion event was attended by special guests including: Dwaine Caraway (Dallas City Councilman), Karl Z. (City of Dallas), Lee McKinney (Assistant Director, office of Economic Development, City of Dallas), Honorable Abike Dabiri Erewa (Chairman, Diaspora committee and Federal House of Representatives in Nigeria), Ime Udo (member National Council for Arts and Culture, in Nigeria), Bob Brunner (Vice President - Arik Air Int'l), Eeefy Ike (Int'l Motivational Speaker and Fashion Designer), Regina Onyeibe (The City of Dallas, Africa liaison officer), and Chinwe Isaac (Nigerian Actress and Film Producer).
Africans are painting the world in a kaleidoscope of bold, vibrant colour combinations and dazzling patterns. The rich fabrics and virtually unlimited selection of turbans and other festive headgear, bright scarves, colourful wraps, wearable art and elegant gowns that brightened our days and lit up our evenings in Morocco, Kenya, Ethiopia, Cameroon, Cote d'Ivoire Uganda, Benin, Ghana, Tanzania, Guinea and other African destinations, were simply outstanding. What's more, so were the creators. During the past decade as publishers, we've had the privilege of meeting several of the brightest stars in Africa's fashion galaxy, and thanks to the magic of serendipity, more will surely appear in the near future. As I've learned, in many African societies, the choice of colours and textiles has special significance to the wearer. For example, hats often tell stories of everyday life, with its struggles, spiced by uplifting periods of joie de vivre.
More->