Muguette Goufrani: Portrait of a Globetrotter
Award in Africa: Born in Casablanca, Morocco, Muguette is a member of Vancouver Canada's Francophone Community. She prompted the decision to make our travel magazines bilingual, extending their worldwide reach and influence Aside from our own publications and web sites, Muguette has been featured on African television, radio and print media, both English and French. Her first assignment was the 1996 ATA Ecotourism Symposium in Marrakech, Morocco. This was followed by a National Geographic - American Airlines sponsored project in Haiti, plus ATA Congresses in Benin, Tanzania, Ghana, Ethiopia, Zanzibar, Guinea, Zambia, Morocco, South Africa, Cameroon, Kenya, Nigeria, Djibouti and Egypt (several locations more than once).. Travel Agents wishing to join her are invited to e-mail airhwy@smartt.com
Muguette's background as an airline agent, tour guide and travel agent has been the key to her media success, resulting in an ATA Travel Industry Founders Award in Cape Town, South Africa. As a "career globetrotter," Muguette's articles for Africa Travel Magazine have an authentic, multicultural flavor, thanks to painstaking research and the confidence of having lived the experience (walked the walk). Her career positions have included Royal Air Maroc, Cica Citroen Automobiles, UTA Airlines, Air Afrique, Matson Lines, Palm Springs Resorts, Club Med, Tahiti Tours, Messageries Maritimes (Shipping) and Noumea Tours. Upon graduating from College du Paris, she launched her career in Casablanca, Morocco, where the Goufrani family operated a tour company for generations.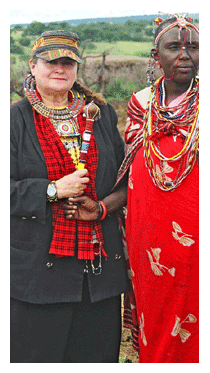 Quick Now? Why is Africa Magazine always at the top of the list when readers do a search for Africa Fashion or Africa Travel Fashion on North America's leading search engines? Much has to do with the magazine's Associate Editor, Muguette Goufrani, her determination, imagination, perseverance and sparkling personality. Thanks to her effort, we're #1 for Africa Fashions on Google, MSN and Yahoo
Muguette's latest two page spread appears in Africa Travel Magazine's Best of Africa Edition on Tanzania and Zanzibar. It features Art, Design and Fashion in Arusha, World's Safari Capital. .
The World Scene: Muguette's travels have included Europe, the Americas, Vietnam, Laos, Cambodia, China, Japan, Russia, Australia the Caribbean, and most of Europe. Active with the Africa Travel Association and PATA, she focuses her efforts on tourism to and from the world's Francophone community. Muguette has lived and worked in seven African countries - Morocco, Algeria, Gabon, Cote d'Ivoire, Senegal, Madagascar and Seychelles. She has also worked in Guadeloupe, Tahiti, New Caledonia, Cambodia, India, France, Canada, Alaska, California, New York and Nevada. Other travels have included Western Europe, South America,x Vietnam, Laos, Cambodia, Japan, Russia, Greece and Australia
Associations: Active with (ATA) Africa Travel Association and (PATA) Pacific Asia Tourist Association, Muguette provides translations for all media. A keen observer of current affairs, she is anxious to receive and pass on news of trade and tourism developments and events in any part of the world. E-mail airhwy@dowco.com
Photos:(a) Muguette at historic monument in New York. (b) Muguette with children in West Africa (c) Muguertte at Expo, Vancouver, BC. (d) With Maes tribesmen in Kenya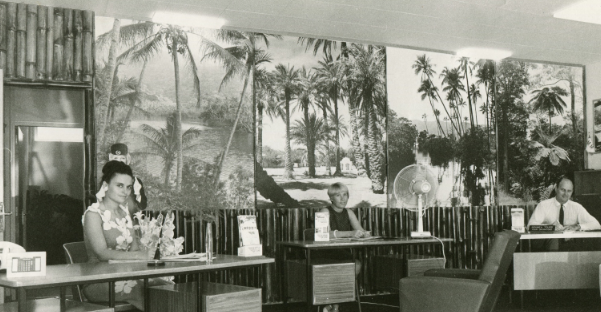 Articles by Muguette: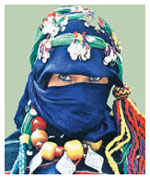 Berber Wedding in Morocco: My father, who operated a tour company in Casablanca, Morocco and France for many years, took me along with a German tour group to visit a traditional "Wedding Fair" at Hadiddou Imilchil, a Berber village in southern Morocco. While I knew that many Berber Fairs combine a local Saint's Day with a regional market event, only at September's 'moussem' (pilgrimage) of Imilchil, have I seen such a colorful pageant, with instant engagement, and a mass exchange of marriage vows. Berbers have inhabited North Africa for centuries, some being of Caucasian ancestry, with fair complexions and blue eyes. Visitors may think of Berbers as exotic outsiders, yet they preceded the Arabs in settling Morocco, and they remain the country's main culture. This is expressed by the phrase, "Morocco is Berber - the roots and the leaves of freedom." More - >
African Fashions Win World Acclaim: Africans are painting the world in a kaleidoscope of bold colors and patterns. Africa Travel Magazine features fashion in every issue, and searches on MSN, Google and Yahoo score our magazine's website #1 on "Africa Fashion" consistently, Vibrant color combinations, dazzling patterns, rich fabrics, fabulous headgear and elegant gowns we saw in Conakry and traveling through Guinea were outstanding. While returning to Paris from Cameroon, we spent some quality time with Seidnaly Alphadi, (right) whose African- inspired creations are taking Europe by storm. It seemed like half the plane was filled with models from a Fashion Show he had just staged. At a garden party near Mount Cameroon and Limbe Botanical Gardens, our travel agent group was treated to an outstanding fashion show by ' Esterella' one of Cameroon's top designers. More->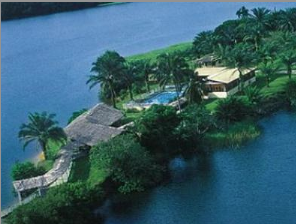 Guinea: The Switzerland of Africa: The story of my journey from the Gulf of Guinea on Africa's Atlantic Coast to historic Mali Ville in the northern highlands appears in our bilingual Africa Travel Magazine. With that in mind, please consider this online version as an hors d'oeuvre - the full course banquet will come when you visit Guinea. I guarantee that your travel experience will be a feast - and like one of Nat King Cole' s most famous songs ... Unforgettable! Or as the immortal Maurice Chevalier would say ... C'est Magnifique! More->

About Gabon: As part of my decade living on Africa's West Coast, our family spent a memorable year in the Republic of Gabon, which hugs the Atlantic, straddles the equator and is roughly the size of France. Being health fanatics and outdoor types, my mother Suzanne, brother Jean Pierre and I thrived in the hot, humid climate - and in 12 months, managed to visit much of the countryside. This gave us an intimate connection with the Gabonaise culture and was valuable in my future career in tourism. We enjoyed a laid back, tropical lifestyle; food was delicious and varied, the shops and stalls were full of interesting items and tempting snacks. What's more, to our delight, the traditional West African culture had in no way disappeared with the oil boom."
Pearl of West Africa: Where do many West Africans go for an extended holiday or weekend fun? Chances are better than average that Togo tops many of their agendas. While we were living in West Africa, my family and I will never forget the Togolese hospitality we enjoyed during our visits to that friendly country. Some say, should a popularity contest be held today, amongst all West African countries, Togo-"Pearl of West Africa" would come first. More->