---
ty Audit) registration, which means that an airline meets all IOSA standards and confirms its commitment to safety.
Flight News from East Africa by Prof. Wolfgang Thome

(scroll for more regular news)

DELTA'S NAIROBI FLIGHTS PUSHED TO 2009

Delta Airlines, a partner of Kenya Airways through their mutual Sky Team membership, has now reportedly moved their intended flights to Nairobi further into the future. Prior to the post election violence in Kenya, the inaugural flight was due to have taken place already, but owing to the market down turn in the wake of the violence, Delta then decided to launch a few months later than initially planned. This however has now, according to aviation sources in Nairobi, been postponed once more and the launch of the much expected flights, said to be initially three a week between a yet to be confirmed gateway in the US and Nairobi, will now not take place before some time well into 2009. Watch this space. Flight News Continued
---
Hotnews . Flight News from Prof. Thome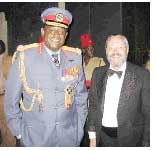 News from 'Uganda - Gifted by Nature'
By Prof. Dr. Wolfgang H. Thome
AFRICA MOURNS ZAMBIAN PRESIDENT
African and world leaders expressed their condolences upon the passing of President Mwanawasa of Zambia, who died earlier in the week in Paris. He had suffered a stroke during the AU Summit in Sharm el Sheikh some weeks ago and was airlifted from Egypt to Paris for treatment. The late President Mwanawasa was hailed by amongst others President Bush for his relentless fight against corruption but more recently also about his outspoken criticism of Mr. Mugabe for stealing the elections in Zimbabwe and for the violence unleashed against the Zimbabwean people by his goon squads.
Zambia has in recent years firmly established a reputation as a leading African adventure and wildlife tourism destination with the Victoria Falls of the Zambezi River arguably the best known attraction. National mourning is now underway in Zambia for a week but tourist visitors are able to conduct their safaris without any hindrance or problems, it has been pointed out to this correspondent by contacts in Lusaka.
UGANDA TO HOST AU SUMMIT
A special summit of the African Union was called for March 2009 and Kampala has been selected as the venue for the continental meeting. It is understood that the African heads of state and government will deal with the growing crisis in Africa over displaced people and raging conflicts, which has brought misery to millions of innocent young, adult and aged persons. UNHCR reports attribute over 1.5 million refugees and well over 4 million internally displaced people to Eastern Africa alone. The Entebbe &endash; Kampala sector hotels and conference venues expect to be fully booked during the still to be confirmed final dates of the summit and would be visitors to Uganda in March next year do well to get early confirmations from their selected hotels and book their flights with airlines of their choice, as there too the fully booked signs are expected to go up soon.
This latest major conference coming to Kampala is thought to be a direct result of the job well done in preparing and hosting CHOGM last year, proving eternal critics of the major investments undertaken by government and the private sector in infrastructure and hospitality businesses once again wrong.
SHERATON TO INVEST A FURTHER 10 MIO US DOLLARS
Information received last week indicates that the hotel has in the run up of CHOGM already spent 27 million US Dollars in rehabilitations, remodelling and refurbishments. It was now confirmed by the General Manager Jawaid Akhtar that a further 10 million US Dollars will be spent in the coming year to ensure the hotel retains its top level ranking in the country. The UAE based owning company Midroc, which also owns the Sheraton hotels in Addis Ababa and Djibouti as well as resorts and hotels elsewhere, has apparently approved the expenditure and availed the funds. Part of the work expected to be done will be a remodelling of the 'Lion Centre' set in the gardens of the hotel as a conference and function venue cum restaurant.
CONFLICTING REPORTS ON CONSERVATION SUPPORT FOR OIL VENTURES
During the last week some contradictory reports emerged in the local media over the level of opposition or support to oil exploration and the construction of a mini refinery and thermal power plant in the Kaiso-Tonya wildlife reserve, which adjoins the Murchisons Falls National Park. What is clear is that public consultations were held and many submissions were made during the consultations in Hoima and also directly to NEMA about the plans. It is also clear that a full environmental impact assessment will soon go underway. Some conservation bodies asked to widen the EIA scope to include the entire Albertine Rift area to create a better understanding for the impact of the ongoing drilling, exploration and eventual production and processing of crude oil. Adds this correspondent: 'as long as global best practise is employed by the oil companies, and sustainably ensured and transparently monitored, Uganda has no choice but to exploit these resources in the interest of developing the nation. Oil companies involved in drilling, exploration, production and processing must however make lasting contributions towards the conservation of wildlife and towards the protection ob biodiversity in the Albertine Rift to allow not only for the use of the new oil resource but also the long term protection of wildlife and nature based tourism. Business, conservation and tourism need to learn to coexist and show mutual respect for each other in the national interest. That does include foregoing quick fix solutions and carefully balancing the pro's and con's in each and every case'.
UGANDA AND SOUTH SUDAN DISCUSS RAILWAY LINK
A meeting between the representatives of the two governments took place earlier in the week, discussing the joint infrastructure project. The existing railway heads at Gulu and Pakwach are to be linked by a new railway line initially to Juba, Southern Sudan's capital, and then on to Wau, a town further North but still within the Southern Sudan's territory. The project has been on the drawing board for some time now and will, once complete, offer a strategically important rail link for the South Sudan to the Indian Ocean ports of Mombasa and Dar es Salaam, allowing for imports and exports through friendly countries and avoiding transiting the rather more hostile Arabic North of the Sudan. A referendum on the future of the Southern Sudan, presently an autonomous region with its own government structure under the CPA &endash; Comprehensive Peace Agreement &endash; of 2005, will be held in 2011, deciding if the South will become independent or remain, possibly with an even stronger status, within a united Sudan.
GREED AND ENVY ISSUES TAKEN TO COURT
Sad news have reached that, as repeatedly reported in this column in past months over the pending dispute about gorilla tracking permits linked to the NCDTF, Uganda Wildlife Authority has now been taken to court. The aim of the suit is to overturn a contract signed with the Nkuringo Community Development Trust Fund which is supported by USAID and the African Wildlife Foundation. UWA has so far stood firm in the face of thinly concealed intimidation, political lobbying and a foul mouthing campaign against the promoters of the deal by those opposed to the signed contracts for their own motives. It speaks volumes about the mindset of the plaintiffs that they waited for the new 'Clouds' eco lodge to near completion and open its doors, after an investment of over 1.2 million US Dollars was sank into the project, before they went to court. Such actions, according to a leading investor in the safari lodge sector also at times in the crosshairs of the same agitators, may make it more difficult in the future to attract funds for investments in new lodges and resorts, if anyone could then go to court and attempt to carve out a 'piece of the cake'.
The Uganda Wildlife Authority has according to usually well informed sources already filed their defence in the High Court and stands firmly by the contract. Once the case reaches the hearing stages this column will report further developments.
DELTA AIRLINES OPENS NAIROBI OFFICE
Ahead of the expected start of their flights, now expected in early 2009, Delta Airlines has now opened offices in Nairobi. The move is expected to allow for cultivating ties with the business community and the travel agents in order to generate enough bookings, once the flights commence. Only recently did Kenya and the US sign a new bilateral open skies air services agreement, which caters for flights between the two countries by designated carrier. Presently this will be Delta and of course Kenya Airways from the Kenyan side, once they have received more of their ordered Boeing aircraft to serve such a route.
The office in Kenya will also oversee the neighbouring markets of Uganda, Tanzania, Rwanda, Burundi and Ethiopia for the time being, with connecting flights offered by Kenya Airways. Both Delta and KQ are members of Sky Team and are expected to cooperate closely in developing traffic for passengers and cargo on the planned route.
Flights were initially due to commence much earlier but the post election violence following the disputed elections in Kenya threw the timetable into disarray. Subsequently even a late 2008 start was pushed further into 2009, to allow the market stabilise first. Delta is said to be planning 4 flights a week, via Dakar in Senegal and there is some anticipation that Kenya Airways may eventually under a code share offer the additional three flights to make for daily direct connections between the US and Kenya. Tourism and trade will both benefit as it will allow swifter access for American tourists to the East African game parks while also facilitating cargo uplift capacity for exports from Eastern Africa to the US without having to go through Europe.
NAKURU SET FOR NEW AERODROME
Information was received from Kenya that the construction of a terminal / office building and a bituminized landing strip will go underway soon just outside Nakuru. The construction should be completed within the next two years. Although there is a small airstrip inside Nakuru national park the new facility should allow for larger light and turboprop aircraft to land near the park and cater for more tourist visitors to arrive by air from other parts of the country. Air safaris across the Eastern African national parks and game reserves have gained in popularity in recent years as it substantially cuts the time tourists spend on the road and hugely increases the time visitors can actually spend in the game parks watching wildlife.
KISUMU AIRPORT EXPANSION THREATENED BY CLAIMS
As was reported previously in this column, the expansion of Kisumu airport has taken a serious knock on the time table following sections of the surrounding community continuing to demand some financial compensation from the Kenya Airports Authority. The land in question was allotted in the twilight days of colonialism to build the airport and the handful of people living there or nearby were resettled at the time. However, the enormous demands now vented by the descendents and few originally affected people have spiralled beyond the billion Kenya Shilling mark, supported and egged on by 'community and clan leaders'. While KAA seems willing to make some payments the sheer magnitude of the demands may still put the proverbial spanner in the works and this important infrastructural project is now hanging by a thread. Watch this space.
KENYA SAFARI DRIVER AND GUIDE ASSOCIATION BLASTS ITALIAN CONTRACTOR
The association of the safari drivers and guides has protested sharply over delays in completing one of the major roads into the Masai Mara Game Reserve by an Italian contractor, mirroring the Ugandan experience with an Italian firm over the completion of the Northern bypass. Drivers and tourists suffer from often impassable or very difficult to drive on roads in and out of the reserve, where the annual migration of the wildebeest from the Serengeti into the Masai Mara can be seen every year around this time. Major roads and tracks inside the reserve too are said to be in a bad state and after heavy rains often impassable, as seen early in the year. While those who can afford it now rather fly into the parks and reserves and use lodge or camp based transportation and their local guides, the road safari segment is nevertheless still the largest in the safari sector and needs decent roads connecting the key parks on the safari circuit.
AIR TANZANIA TO PARTNER WITH CHINESE AIRLINE
As indicated some time ago in this column, it has now finally been confirmed that Air Tanzania will indeed invite a Chinese airline to acquire 49 percent of their shares and inject much needed extra capital into the Tanzanian national airline. According to further information available the China Development Bank will make loans available for the purchase of additional new planes in coming months, probably of both Airbus and Boeing make, to allow the airline resume traffic on international, continental and regional routes which it could not serve due to lack of suitable aircraft. The airline already operates a recently acquired A320 and two recently acquired Q300, with two Q400 turboprop aircraft due to join the fleet in 2009. While this development means good news for Air Tanzania and Tanzanians and the country in general other airlines in the region will have to take a hard look at their own business strategies, in particular smaller one or two plane and upstart airlines, to be ready when Air Tanzania will eventually unleash quality competition on them.
AIR ZARA JOINS THE THRONG
A family owned airline has now reportedly started operations from Dar es Salaam with a Boeing 737-200, not the best of credentials these days for an upstart company, as this type of aircraft &endash; while cheap to lease or buy &endash; burns substantially more fuel compared to more modern jets and is more expensive to maintain. The aircraft is reportedly fitted with 14 business class and 96 economy class seats, again considered large for the Nairobi route they intend to fly regularly on scheduled services. The aircraft will also be available for charters according to the promoters. The airline headquarters will be based at the international airport in Dar es Salaam. Best of luck to the newcomers, safe landings and time will tell just how well they will eventually do.
SMALL FERRY SINKS IN LAKE VICTORIA
An apparently privately owned Tanzanian ferry ship sank with about 250 tons of cargo but luckily no loss of live, as the ship went down near Bukasa Island. All 15 crew and passengers on board of the vessel, which was enroute from Mwanza to Port Bell, were rescued by Ugandan fishermen and an emergency response team dispatched from the Entebbe pier, after the news of the accident reached the shores. Demands for a more comprehensive search and rescue capacity between the three countries bordering the lake however re-emerged promptly, as calls also grew louder to crack down on the overloading of vessels and lack of ship inspections which are to ensure safety equipment is on board, is working and the crew is trained to respond to emergencies of this kind. Demands for better regulation, oversight and enforcement of existing rules were also voiced in the Ugandan parliament after the story reached the legislators.
RWANDA SET FOR PARLIAMENTARY POLLS
Last week parliament in Kigali was dissolved by President Paul Kagame at the end of its elected term. A general election for parliament is now taking place on 15th of September this year. This will be another milestone in the process of growing deeper roots for democracy in Rwanda, which has risen like the proverbial phoenix from the ashes of the 1994 genocide under the leadership of the RPF. Presidential elections are however not due for some more years.
CHINESE TO INVEST IN RWANDA HOTEL SECTOR
The Rwanda Investment and Export Promotion Agency this week announced that a major Chinese firm had signed a Memorandum of Understanding with the Kigali City Council to acquire and develop 2 hectares of prime land around the 'Jali Club' and Rwanda Television. The Chinese are said to be investing some 40 million US Dollars into the project. Rwanda &endash; China relations have strengthened since the China &endash; Africa Summit earlier in the year and investments by Chinese companies are on the rise, not just in Rwanda but the region and the continent at large.
BURUNDI HOTELIERS PROTEST TAX RISES
The recent budget in Burundi has seen the tax burden for hotels and restaurants increased to a whopping 22 percent, a measure the fledgling Burundi tourism sector says will cripple their efforts to promote the country as a destination due to the high cost on visitors. This constitutes an increase of 5 percent and does not include provision for service charge or any type of a levy for the promotion of tourism or support for hospitality training yet. After peace returned to the country following the agreement by the former government and rebel groups, Burundi is now emerging from the political and economic doldrums and has become an integral part of the East African Community.
SOUTH AFRICAN AIRWAYS WRESTLES HONOURS FROM KQ
The South African national airline has resumed the continental top ranking according to the findings of Skytrax, when the latest annual best airline details were released last week. The position had in past years changed hands between KQ and SAA at regular intervals, spurring service improvement at both airlines to recapture the 'lost' position the following year. Ethiopian Airlines this year came second and KQ slipped to third most favourite airline in Africa but remains the firm favourite in the East African region..
AND FROM GILL STADEN IN LIVINGSTONE / ZAMBIA THE SECOND PART OF HER SAFARI REPORT ACROSS THE BORDER TO THE HWANGE AND KAZUMA PAN NATIONAL PARKS IN ZIMBABWE IN EARLY AUGUST:
Continuing our Trip to Hwange and beyond
We left Sinamatella after packing up the camp. It always takes ages to pack up a camp &endash; breakfast on the fire, washing up under a cold tap, taking down the tent and then packing the car. We never manage to get away early and this day was no exception …
Finally, though, we were off into the Park again and on towards Robins Camp. To be honest, the trip was a bit disappointing. We didn't see much game and the road was through mopane forest. Mopane trees are lovely but they tend to grow on poor soil and therefore are not inhabited by heaps of game.
Finally we arrived at Robins Camp … and it was empty. We decided to take one of the cottages so that we could get some electricity and charge batteries, etc. The cottage was fine &endash; and, in fact, was cheaper than camping &endash; US$20 for the night. (We had paid US$24 per night at Sinamatella). Robins Camp is dull. It was like a village surrounded by bush. No view. No charm.
The camp used to be a farm owned by a man called H G Robins. There was a small museum with some photos of him and other of his bits and bobs. The museum is in a tower of three storeys and you can go to the top to look over the surrounding bush. Even that view was uninspiring.
The night was noiseless &endash; I suppose because we were in a cottage and not a tent. We heard nothing during the night. I woke early and ventured outside &endash; gosh, it was cold. I struggled to work on the computer organising photographs and even the numerous cups of tea I drank did not help. Finally though, the sun came up and the temperature rose slightly. We decided not to do a tour around the park near Robins &endash; this was probably a mistake as it is supposed to be a great place for lions.
Instead we packed up and headed off towards Kazuma Pan. We took the road out, following instructions from the Game Scouts to head north to the Matetsi Park HQ. We arrived there only to be told that we had come the wrong way and needed to go back to the border at Pandamatenga and follow the border road. Grunt, moan &endash; the road was stony and horrible … and we had to go back along it … Oh, well … what could we do …
Back along the road and finally we reached Pandamatenga and were shown through the fence and onto a road which runs parallel to the Botswana border. This was weird … Next to the road was a wide cut-line and on the other side of that cut-line was Botswana … in the meantime, we were travelling in Zimbabwe …
Finally we came to a sign which told us that we were in Kazuma Pan NP. On our left was a large pan covered in wavy yellow grass. Some roan and wildebeest were wandering through the grass. There were baboons scratching in the ground. We were looking for Insiza camp site which was at the top of the Park. The sun would soon be going down so we decided to find a spot to camp in the tree-line along the northern edge of the pan.
We found a nice spot by the edge of the pan, collected some firewood, lit the fire, pitched the tent and wondered what we were going to cook with no water except bottled drinking water. It was a one-pot meal of macaroni cheese with some Vienna sausages thrown in. Not very exciting but it was food. We watched the pan expecting all the time to see herds of animals wandering across but we only saw a small herd of elephant wandering over the pan in the far distance.
The morning too was quiet &endash; nothing in sight. We packed the dirty dishes and pots along with all the other gear and climbed in the car again. Although we had paid for two nights in Kazuma (US$5 per person per night), we decided that we were 'bushed' out and to head for home through the Park via the southern route. It seemed like a good idea …
Firstly we came to a hunting camp &endash; Kazuma Camp &endash; the road had taken us out of the Park. It was a well-maintained camp and the man there said that they were expecting clients the following day. This must have been the camp that another group of tourists had stumbled across, thinking that it was a camp used for poaching. It definitely was not. This whole area around Matetsi is well-known for hunting.
We continued on from the camp and … got lost. It seemed as though we were going in the right direction, judging by the GPS and the map, but then the road we were on did a U-turn and we found ourselves heading back towards Panda. We did an about turn and finally came to a crossroads and took a turn to the right … this seemed better
We found Kasetsheti Camp Site and were glad that we hadn't camped there for the night. It was a bit barren and run down.
Then we found a river and the road went through a narrow channel which had been covered with stones. My heart was in my mouth as we headed down the incline to the ford … During all our other trips we had got stuck in water and this, I felt, was going to be our end again … However, it wasn't, the car bumped over the stones, slid a bit and then we climbed back up the other side of the riverbank and onto safe road again. Whe
And then we came to another river &endash; the same scenario &endash; we got through … and then again &endash; we got through … We must have broken the jinx …
After travelling through masses of villages which had once been a farm, the people looking totally miserable and not at all friendly, seeing the head of a wildebeest on a wheelbarrow … we finally came out onto the new runway of the Vic Falls Airport. And I felt a bit safe …
We were dirty and tired and it was great to get home to a hot bath … And to plan the next trip …
So … if you want a holiday in Hwange, please go. We had a great time. We didn't see heaps of game after leaving the area around Main Camp, but there was still a lot of water around and, I expect, the game is still scattered. Although the camps are a little rundown, all the facilities are there and the staff are very welcoming.
Just remember that you have to take everything with you because nothing is available to buy. You can pay in US dollars throughout at the camps. We paid US$45 for the entrance to the park &endash; for two of us and the vehicle. Camping cost us US$10-12.
Kazuma Pan needs another visit sometime. We were tired by the time we reached there and we had not planned properly and taken a container of water for washing, etc. We had been told that we could get water from a Forestry Camp nearby but the camp was deserted and there was no water &endash; the tanks were empty.
I am told that you can get to Kazuma from the north &endash; from the Kazungula Road &endash; so next time we go we will take that route. At least we won't get lost on all the Matetsi Hunting Areas.
'CLOUDS' OPENING GETS 'MAGIC TOUCH'
The latest addition to the stable of Wild Places Africa / Uganda commenced operations last weekend, when 'Clouds' opened the doors for the public. The first weekend was graced by the presence of two 'magicians' and their parties, when guests named 'Merlin' and 'Prospero' checked in to the delight of management and the reception staff. The guests however did not need to wave their magic wands to have their every need attended to, as all the staff were at their Sunday best, according to reports from another visitor, and treated their first guests to excellent meals and perfect service. The lodge is providing access to both the Nkuringo gorillas as well as to a nearby group of chimpanzees in a rare combination of tracking both primates from one place. Clouds joins the sister operations Semliki Safari Lodge, Apoka Safari Lodge and of course the 5 star boutique hotel Emin Pasha in Kampala's fashionable Nakasero suburb.
The new upmarket ecolodge is located high up in the hills, surrounded by rainforest on land provided by the Nkuringo community, who are the major stakeholder in the venture. The venture was supported by USAID's 'Prime West' project in a deal put together between the African Wildlife Foundation, USAID, the Uganda Wildlife Authority and the Nkuringo Community Development Trust Fund in a ground breaking agreement aimed to empower communities living near protected areas in exchange for good will, conservation participation and a sustainable income plus employment opportunities. Visit the 'Clouds' website at www.wildplacesafrica.com or write to zara@safariuganda.com for more information and bookings.
FLY540 SET FOR EARLY UGANDA OPERATIONS
Information was received that the region's first true low cost airline will be starting operations from Uganda by the end of next month, after obtaining their AOC (air operator certificate) from the CAA.
The airline was licensed at the last CAA public hearing earlier in the year. The news created excitement amongst travel agents and travellers, as a range of additional destinations may be offered for them from Entebbe, besides the twice daily service already in place between Entebbe and Nairobi. Already there is intense speculation which routes they will be flying from Entebbe in anticipation of taking advantage of their generally much lower fares while the charges of other airlines remain often out of reach for a whole new market segment Fly540 is targeting. The airline is expected to register at least two ATR 42 planes in Uganda and is presently putting final touches on their operations set up at the airport. The Fly540 downtown sales and reservations office is strategically located opposite the main entrance of 'Garden City', currently Kampala's most prestigious shopping, entertainment and hospitality centre, which makes access for would be travellers easy. The airline also offers a state of the art booking engine via their website www.fly540.com to allow for direct web accessed bookings.
Since commencing operations to Entebbe earlier in the year the airline has already transported over 7.000 passengers on the route with marked load increases in the more recent past, thought to be at the primary expense of Air Uganda, which was forced to suspend their morning flight to Nairobi recently, by their own admission due to lack of sufficient load factors and the high operational cost of their aged MD87 aircraft.
All indicators now are that Fly540 is indeed not only here to stay but bound to expand and bringing new choices and destinations to Uganda. The next planned new operations, after Kenya and Uganda, are likely to take off in Tanzania and Angola before moving to other parts of Western Africa, where Lonrho Africa also has extensive business interests. Final confirmation is also expected soon about a partnership agreement with Rwandair, which would further boost Fly540's standing in the region. Watch this space.
UGANDA TOURISM EXHIBITS IN JAPAN
Information has been received that Uganda will participate in the World Tourism Congress in Tokyo in September this year. The tourism trade show is organized by the Japan Association of Travel Agents and participants from Uganda will be trying hard to promote the country's tourism attractions and bio diversity. Enquiries or requests for meetings with the Tourist Board personnel or private sector participants can be made in advance through the Uganda Tourist Board office in Kampala via utb@starcom.co.ug
The country will later in the year also participate once again at the World Travel Market in London and enquiries can be made through the Uganda Tourist Board for meeting appointments or for details of expected participants.
PRESIDENT DECLINES PLEA FOR FOREST REDUCTION
During a recent visit to the East of the country as part of his nationwide poverty reduction policy the President denied a request passed to him by the Minister for Tourism, Trade and Industry to use 7.500 hectares of Mt. Elgon forest land for resettlement purposes. The President however demanded to know first what impact the forest reduction would have on the environment and how it would affect the ecological balance in this important water catchment area. NEMA was instructed to prepare a scientific study to that effect and no decision will now be taken by the Minister until those studies have been produced and checked out. The President also directed that human resettlement could in the meantime be done in other more suitable areas. Mt. Elgon National Park was long a hot spot for UWA in trying to evict illegal settlers and the top level support will be most welcome news for conservationists.
Political groups in the area also joined the growing chorus of political, business and civic leaders across the entire country, for President Museveni to seek another term of office come election time in 2011, leaving opposition groups squabbling and trailing in the wake of the ruling NRM party. President Museveni came to power in January 1986 when driving out the dictatorships of old as then head of the National Resistance Army and has since then won general elections in 1996, 2001 and 2006. 'Da Capo Ekisanja'
MORE CREDITORS CHASE ENTEBBE ROAD HOTEL DEBTS
While Barclays Bank Uganda now has to wait until the main case is heard and determined by court in a few months over a massive debt incurred by the owners of the infamous Entebbe road hotel, and was temporarily restrained from selling off the assets of the owners given as loan security, more woes just crept across the horizon. A kitchen and furniture supplier has now also gone to court over large sums of outstanding money, which were not paid after the botched (non)opening of the hotel prior to the Commonwealth Summit last year. The extensive office and shop arcades along the main road to Entebbe are also still glaringly empty and a number of buildings which can be seen from the main road are lingering in limbo, without roofs or any visible signs of building work.
MIHINGO LODGE UPDATE
More work was done in recent weeks at Mihingo Lodge, located just outside the Lake Mburo National Park. 5 ponies have now been acclimatised to the area, while a further three are due to be brought on location later in the year. This will allow the lodge to offer regular horse back safaris, making it the second location in Uganda for such adventurous activities after Nile Horseback Safaris near Jinja along the upper Nile. All riding trips will of course be accompanied by experienced guides who know the area and are conversant with the challenges of riding across the African savannah.
Mihingo has now also launched their self funded 'leopard and hyena conservation project' which compensates ranchers for the loss of livestock caused by the predators in exchange of not snaring, trapping or poisoning them. This is a most laudable activity and may well ensure the survival of the species in the area, where lions were in the past all but wiped out for the same reasons by cattle and goat herdsmen under the pretext of 'protecting' their herds. Not much is known about any prosecutorial action having been taken against the perpetrators at the time or until now.
Five new rooms for drivers and guides were also completed recently and a fresh menu put into place to ensure the comfort for the staff of safari operators after an exhausting day of driving and spotting game.
The lodge's owner Ralph Schenk also informed about the appearance of additional game such as the 'silver coloured greater galago' and of a previously not spotted black bushbaby species, making visits to Mihingo even more interesting for visitors.
The very posh property has carved out market share from both the domestic residents market but also through overseas visitors who have come to appreciate the small luxurious lodge with a highly personalised service.
The rates for the year 2009 were also published during the week and are available through their website www.mihingolodge.com or via lakemburo@mihingolodge.com
ETHIOPIAN ANNOUNCES CODE SHARE WITH LUFTHANSA
The Kampala office of Ethiopia's Pan African airline has earlier in the week released a statement that their head office had entered into a code share agreement with Germany's number one carrier Lufthansa for flights from and to Addis Ababa. This will be good news for passengers opting to fly on the daily ET service between Entebbe and Addis Ababa with onward connections to Germany as they now have a wider choice and can opt to fly with Lufthansa from Addis to Frankfurt under a code shared flight number. The arrangement reportedly also covers Lufthansa operated flights beyond Frankfurt, giving even greater options to travellers from now on.
It was also learned that the two airlines signed a wider agreement towards strategic cooperation in the future and that a joint venture in West Africa was to be started in Togo.
This development positions both Lufthansa and Star Alliance better in the region as the global battle for airline survival and domination of markets rages on. East Africa already has three Star Alliance partner airlines on the roster, with Swiss, Egypt Air and South African serving several of the key airports in the region. Should this latest development lead to an entry of Ethiopian into Star Alliance at some time in the future, a new round of competitive pressures would come to the region, where Kenya Airways has earlier in the year also joined the KLM / Air France led Sky Team. Third contender One World is at the moment only present in the region through flights by British Airways, leaving this particular alliance trailing in the wake of the other two giants here in East Africa.
Meanwhile Lufthansa was again crowned best European airline according to the findings of Skytrax in the UK, after polling some 15 million passengers' world wide. Globally the index puts Singapore Airlines in pole position, followed by Cathay Pacific and Qantas. No European or North American airline made it into the top 10, which were entirely taken up by Asian and Middle Eastern airlines, which included Qatar Airways in 7th, Emirates in 9th and Etihad in 10th place. Watch this space.
OIL RESERVES INCREASE WITH NEW FINDS
Tullow Oil has just announced a new major producing well they drilled in one of the designated oil exploration areas along the Albertine rift. Conservative estimates put Uganda's oil wealth to an assured 300 million barrels but present exploration activities could raise this figure multifold in coming months and years. A mini refinery is presently being planned to process around 4.000 barrels of crude oil a day, initially for the production of heavy fuel oil needed to power a thermal power plant in the area. The news were greeted with relief by the business community in Uganda which has been suffering of exorbitant fuel cost and high electricity prices, all of which in the medium term should be contained once oil production starts some time in 2009. Government too will be relieved at the prospect of seeing a sustainable income enter the budget equation from next year onwards, which can be used to fund health, education and infrastructure projects and developments, amongst many other urgent needs the country has. In a related development it was also announced during the week that the construction of the pipeline extension from Eldoret in Western Kenya to Kampala would commence in September. The 350 KM pipeline extension will bring relief to Uganda and the hinterland nations as the new fuel pick up point will save an arduous journey by road and reduce heavy traffic considerably from the Kenyan border into Uganda. The pipeline, to be built by Libya's Tamoil, is expected to cost about 200 million US Dollars.
Upon completion of the project attention will turn to the existing pipeline from Mombasa's main oil depot at Kilindini Harbour to Eldoret, which is already running at full capacity and requires a substantial expansion in order to serve both Kenya and the African hinterland for years to come
UWEC TURNS CHIMP BIRTHDAY INTO PROMOTIONAL EVENT
The birthday today of Zakayo, UWEC's oldest chimpanzee with now 44 years on his back, has been turned into a major event to promote more visitors to the wildlife education centre. Zakayo was kept at the Entebbe Zoo, which in the mid 90's turned into the Wildlife Education Centre with support from the World Bank's PAMSU programme and from the EU, besides generous assistance from the Ugandan corporate sector.
KENYA AIRWAYS WANTS MORE FLIGHTS ON ENTEBBE ROUTE
Following the recent withdrawal of Air Uganda's morning flight to Nairobi, Kenya Airways has now through the usual diplomatic channels requested to up their own frequencies from presently 4 a day to 5 a day, just as soon as the bureaucratic steps have been taken and a new schedule been approved. This will be good news to the KQ faithful, who can earn mileage credits on their frequent flyer programme with every flight, either between Entebbe and Nairobi but more importantly beyond, when using KQ's extensive network. Information was also received that KQ might for some of their flights permanently substitute the present B737NG aircraft with the larger B767 to allow for more passengers but also facilitate the shipping of palletized cargo between the two airports.
Kenya Airways in the meantime has taken delivery of yet another brand new B737-800 (NG) when the aircraft arrived from the Boeing factory in Seattle / USA earlier in the week. This latest addition to the fleet will allow Kenya Airways, according to their press release, to resume flights to Madagascar and add more frequencies to Luanda / Angola in coming weeks and meet growing traffic expectations now that the economic recovery has taken full hold and passenger numbers on all routes are once again climbing.
KENYA HOTEL SALE ENQUIRY GETS MORE TIME
The Justice Abdul Majid Cockar led official enquiry into the circumstances of the highly controversial sale of the Grand Regency Hotel to the Libyan government got another month time to complete its report, after it was established that a complex net of allegations needed to be investigated and many more individuals may have to appear for interviews and to help with the investigations. In parallel a parliamentary committee is also scrutinizing the sale which has developed into a major scandal and already cost the former Finance Minister his job.
Libya has in the meantime also calmed down after an initial round of diplomatic broadsides and strongly worded comments trying to sweep the commissions aside, which included a message from Libyan leader Gadaffi delivered to the government in Kenya by a personal envoy.
AVIATION MEETING IN ARUSHA
A meeting of the East African civil aviation regulators took place during the week in Arusha, with observers from the EU, the American FAA and the World Bank also in attendance. Several other Eastern and Central African regulatory bodies had also been invited and were in attendance. One of the key agenda items was aviation safety, a matter of concern to the public and also some of the regulatory bodies in the region which suffered of late a spate of light aircraft crashes. Aviation on the African continent suffers of a nearly 5 percent accident margin, based on a million flights, while global average stands around 0.8 percent. This affects potentially a rich tourism industry across the continent and all efforts need to be made to reduce this margin to global average.
The meeting comes hot on the heels of the Kenyan aviation fraternity, and in particular members of general aviation and light aircraft charter and scheduled operators, dismissing the gazetted new regulations by the KCAA as 'fundamentally flawed' and subsequently rubbished by the aviators. The stakeholders also categorically dismissed the notion of 'consultations' as a mere 'gimmick' and accused the regulators of bad faith and welshing on verbal commitments made to the private sector. The meeting in Arusha was therefore largely ignored and boycotted by the Kenyan aviators from the general aviation and charter sectors to express their misgivings over the flawed process. As one aviator from Wilson Airport in Nairobi put it to this correspondent: 'we hope the FAA as main paymaster realises that not all is well when they see our absence. We participated in the past and this was then portrayed as consensus, which it was not. Several promises were broken by the regulators, like halting disputed items from becoming regulations, introducing a fast track arbitration mechanism, or bringing an ombudsman into play, and the regulator's attitude too is bad. How can a high ranking official tell us to comply or pack up and go when they went back on their own promises? It is very disrespectful and we interpret it as open arrogance. We are not being used again as window dresses. Our KCAA representative will deliver a very clear message to the overseas participants in Arusha to let them know what is really going on' and that they have been duped to belief only what the regulators want them to know, but not the entire truth.
A court decision on the legality of the new regulation is expected to take place on the 13th August and if the ruling is available at the time of going to print will be reflected in this or otherwise the next week's column.
It was also established that no representative of the Uganda Association of Air Operators had received an invitation to participate in the event, again supporting earlier suggestions that honest and meaningful participation of the private sector did not feature in the minds of the regulators and that the much hyped public private partnership was in fact dead in the water.
In a related development it was learned that the Tanzania Airports Authority is to become a fully autonomous body, a marked change from the semi-autonomous status TAA presently has.
And news just in from the Kenya Association of Air Operators:
COURT RULING ON KCARS: FIRST ROUND TO KCAA
The much awaited ruling by the High Court to have the implementation date of the new Kenya Civil Aviation Regulations delayed until the main case is heard, was read out today. The Court in its Ruling declined to vary its initially issued orders and grant the prayers sought of staying the implementation of the Kenya Civil Aviation Regulations pending the hearing and final determination of the suit, on the basis that such a variation of the orders might be detrimental to the interests of the public. So, the KCARS are now in force, with all its consequences for air operators and pilots.
KENYAN LIGHT AIRCRAFT CRASHES INSIDE SOMALIA
A Kenya registered aircraft, carrying 'miraa' or 'khat' to Somalia, reportedly crashed yesterday not far from Mogadishu, while attempting to land. Early reports from the scene indicate that there were no survivors and the crew on board died at the scene. Miraa is a major export item from Kenya's Meru area and consumed in large quantities in Somalia. No cause for the accident was available.
RWANDAIR RESTORING JOHANNESBURG FLIGHTS
When the Rwandan national airline returned their ACMI leased B737-500 to Air Malawi a few months ago, their regular flights between Kigali and JNB had to be suspended due to lack of suitable aircraft. However, it was now learned that the airline has last week concluded a fresh lease arrangement for a B737-300 which &endash; once commencing operations &endash; will allow the resumption of the South Africa flights. To cover the gap which the returned B737 left in the fleet, Rwandair then leased a CRJ100ER from Kenyan airline Jetlink and another Bombardier Dash 8 to maintain at least their regional schedule. The newly leased B737-300 is due in mid / late September according to usually well informed sources. Other contacts within the airline also confirmed that they were planning to acquire additional aircraft in coming years to widen their network.
In confirmation of information published in this column in recent weeks the airline's executive chairman also made reference earlier in the week to the planned cooperation with Fly540 / Lonrho Aviation, indicating that negotiations are well near complete and a fully fledged partnership was now imminent. This will ultimately result in selling a 49 percent shareholding to the new investors and constitute a further stepping stone in establishing Fly540 as a regional force to reckon with.
It would also appear that the acrimonious suspension of the code share agreement between Kenya Airways and Rwandair on the Nairobi route over the use of the leased CRJ100 may have put to rest any last opportunity for KQ to step into the fray after Brussels Airlines failed to submit the required financial proposals and effectively dropped their bid for a partnership with Rwandair two weeks ago.
RWANDA ADDS NEARLY 40 PERCENT MORE ROOMS
Over the past 5 years the number of hotel, lodge and resort rooms across Rwanda has grown by an impressive 37 percent, adding more choices for the ever increasing number of visitors to the country. The figures were released by ORTPN, the Rwanda National Office for Tourism and National Parks during the week. The development speaks volumes about Rwanda's determined effort to promote investments and tourism in the country and their ability to attract major foreign investments, besides encouraging domestic investment in the sector. The anticipated arrival of Dubai World's new 250 million US Dollar investment package in the hospitality sector, i.e. a new true 5 star hotel in Kigali &endash; cum golf course &endash; and new lodges in the Virunga and Nyungwe National Parks, will add further rooms on the safari circuit and the city while their planned rehabilitation of the existing Akagera Lodge in the centre of the Akagera National Park will add renewed vigour and quality to that part of the country.
CONGO SEEKS BELGIAN HELP FOR CONSERVATION
Considering the recent outbursts of regime leader Joseph Kabila against Belgian 'meddling' in the region, Kinshasa has now in a surprise move appointed a Belgian citizen to assist them in reducing poaching and corruption in the country's wildlife management service. Earlier in the year was the head of the Virunga National Park &endash; Parc de Virunga &endash; arrested for his alleged involvement in the killing of more than half a dozen of the endangered mountain gorillas, illegal tree cutting and other illegal activities. Emmanuel de Merode, reportedly a descendant of Belgian royalty, was recently appointed a the new head of the park, bringing some hope of restored sanity and true conservation efforts to the region, where national parks in the border triangle and along the frontiers from Congo, Rwanda and Uganda meet. Said the current Minister of Environment reportedly: 'we do not have any hang ups in that respect' and 'Congo wants to preserve its protected areas. It needs best expertise'. Says this correspondent: what a remarkable turn about but too late to save the now extinct Northern White Rhinos in Garamba National Park, where an ignorant and arrogant predecessor in the same portfolio in a last moment change of heart had halted an airlift which was lined up to evacuate the few surviving rhinos to a safe location in Kenya a few years ago.
AND AFTER A BRIEF INTERVAL, OWING TO A COMPUTER GLITCH TWO WEEKS AGO, AGAIN MORE TOURISM NEWS FROM GILL STADEN IN LIVINGSTONE / ZAMBIA:
This is a personal travel report by Gill who recently visited two national parks in Zimbabwe:
I have just returned from a trip to Hwange and Kazuma Pan National Parks in Zimbabwe. Josh and I decided that we needed to see for ourselves what it was like now … and although it was not a surprise to see no tourists there, it was still a bit of a shock …
It is many years since I have been to Hwange NP &endash; probably about 15 years. I could remember the campsites full of happy campers, the bars and restaurants full of people in holiday mode, the waterholes within the park being viewed by many awed eyes … but it is different now …
These are some notes that I wrote while at Sinamatella Campsite ….
We arrived late at Sinamatella in Hwange National Park, Zimbabwe. It was 5.30pm and the gates closed at 6. So the Parks Officer just organised us quickly onto the campsite, brought us firewood, opened up the toilet block and left us alone. And we were alone &endash; we were the only people on the whole site.
We had come that day from Main Camp, Hwange, where again we had been the only tourists. The last lot of people to come and stay there had been a week ago. It was such a weird experience to be camping there (and here) and be the only ones. It is very special, though. To have the whole of Hwange National Park virtually to ourselves &endash; an awesome thought. We did, to be honest, see one other tourist group in the Park &endash; they were camping at one of the dam sites &endash; Masumu Dam.
Let me get back to the beginning … We had arrived at Main Camp after a mad rush from Livingstone. I had been busy finishing off some work and it was touch and go whether we would actually be able to get away at all that day. Finally we left at around 2.30pm and we had at least a 3-hour journey ahead.
Firstly we crossed the bridge at the zim-zam border. Not too much of a problem &endash; US$50 for 3 months insurance for the car (it costs US$30 for one month), US$25 for carbon tax and Zimra (not quite sure what for). We then called in at the National Parks offices in Victoria Falls just to check that it was OK to travel to Hwange and then on to Kazuma Pan &endash; I had been told that it was necessary to book before going to Kazuma and I just needed to check. The officer there was quite shocked that we were going to Hwange/Kazuma and said definitely that we had to book … and then he changed his mind and said we can book Kazuma at Robins Camp, Hwange.
The drive to Hwange was uneventful except for the meeting with one police officer at a roadblock. He looked at all my documents and then told me that my driving licence was out of date. I had a look and he was right &endash; it was out by about 4 days &endash; I had forgotten to have it stamped with an extension. The police officer was determined to take us back to Hwange and stay at the police station overnight and then appear in court the following day … because it was a serious offence. I tried every argument in the book to try to persuade him to let us go &endash; I was on holiday, I was tired, I was an old lady, couldn't he just give me a fine … Finally his colleagues who had been loafing under a tree wandered over to see what was going on … and my documents were handed over to me and he said &endash; you can go … And we did, very quickly … before he changed his mind.
As we came down the road towards Hwange NP it was dark and it was late. We stopped off at the Hwange Safari Lodge to see how much it was to stay there &endash; it seemed an easy option &endash; as it was so late. The hotel was empty, or so it seemed, no-one in the restaurant, no-one in the bar or foyer. The receptionist told us that it was US$100 per person to stay the night so we got back in our car and headed towards Main Camp.
There was no-one at the gate at Main Camp and no-one at the office so we headed towards the campsite where we could also see some lights. We stopped to see if there was anyone around the lights, and there was, so I asked them if it was OK to camp … after a while they said yes and that we could use the ablution block nearby. There was no-one else there. We quickly put up the tent and sat in a tired haze thinking that we should cook something to eat, but we were far too tired and decided that sleep was more important than food.
I had been suffering from toothache all day and my jaw was quite swollen. I thought that a good sleep would help. It didn't. I was awake most of the night listening to hyenas and other bush noises. When, finally, the light started to seep through the tent I got up to rummage through the first aid kit. I found some antibiotics &endash; my face was all out of proportion with a swollen right jaw. And I felt terrible. Now the question had to be asked &endash; do we go home or do we continue. After a couple of hours, the antibiotic started to kick in and I felt OK to continue on our trip.
In the meantime we had been entertained wonderfully by some mongoose and the birds. The mongoose were totally unbothered by us and, in fact, came up to take bread and then some bacon rinds from our hands. The birds, too, were running around us picking up scraps.
The staff were so happy to look after us, bringing us firewood and coming over to chat. And everything was in much better condition than I had anticipated. There was hot and cold water in the showers. The ablution block was clean. There was electricity. There are no power-points at the campsites but I took my battery recharger to the office and the staff happily plugged it in for me. I had already taken the fridge to the laundry to plug in &endash; the car battery that I normally use for charging was dead.
We set off from Main Camp at about 2pm and headed towards Sinamatella. Sinamatella is about an 80km drive through the park. The road is good although there were a couple of bad patches, so high clearance is required ('in the old days' it was easy to do the journey in an ordinary saloon car).
Our first stop off was at Nyamandlovu Pan. A great photo opportunity with giraffe, ostrich, kudu, hippo, zebra and crocs all there for our entertainment. The 'hide' on stilts by the pan is still in good condition so we sat for about half an hour taking in the ambiance. Next stop was at Guvalala Pan &endash; more zebra and giraffe with some ground hornbills. There were also some glossy blue-eared starlings who sat on the bench near us chirping in an anticipatory way … so I went to the car and got them some bread which they pecked at, picked up and finally flew away with.
We continued the journey stopping now and again to allow elephants to cross the road or just to watch some game. At Shumba picnic site we stopped and chatted to the wildlife staff who were stationed there. They said that it was too quiet; that they had little to do. Their wage, they said, was enough to buy three loaves of bread or a bar of soap and they didn't know how the situation was going to end. They commented on poaching in the area. According to them there was a group of Zambian poachers who had recently been chased from the park &endash; they had come to get rhino but would take out an elephant if that was all they could find. I don't know how he knew that they were Zambians but he seemed quite adamant that it was. We asked him about the ele skeleton we had seen by the roadside and he said that it had died because it was sick; it was not poached.
Sinamatella is on a ridge overlooking miles of Africa. We pitched the tent on the edge of the ridge next to a shelter which had benches and a fire-site nearby. Tent up, supper cooked and bed.
The following morning I woke before the sun and got out to scan the vista below. There was nothing there &endash; all those miles of bush and not a thing to see. But it is an amazing view. We decided that we would stay for two nights at Sinamatella. It would give us a break from rushing around and the view was one to enjoy leisurely. Robins Camp could stay until the next day.
So here I am now, sitting under the shelter with miles of Africa in front of me &endash; still not an animal in sight &endash; and I am working … what a way to work. Later we are going on a short trip around the area to see what we can see and to take some photos, but today is a lazy day …
UWA OPENS UP NEW RWENZORI TRAILS
As recently reported in this column, the Uganda Wildlife Authority has made good of promises to add more trails up the famous Mountains of the Moon, to cater for a growing influx of visitors to the park. New facilities were added to several huts and new meteorological stations commissioned recently, while rangers and support staff like porters were receiving additional training. UWA has now released information that three new hiking trains are being opened up at present while expressing satisfaction with demand for mountain climbing and hiking by overseas tourists.
NORTHERN BYPASS IN TWO MONTHS
Clearly stung by the acid criticism from the public and pending action from government and the EU, Salini Construction has now released a statement promising to have the long overdue bypass ready and open within two months. Once completed the new highway will keep transit traffic into the West and North of the country out of the city centre, hopefully decongesting traffic substantially. However, in view of previous statements to the same effect it is 'wait and see' this time.
Meanwhile, central government has now formally discontinued maintaining city roads, which it has started ahead of the CHOGM summit last year and handed all the city roads back to the Kampala City Council. Expect more potholes, says this correspondent, whose own access road off the main road leading to the Commonwealth Resort and the Speke Resort in Munyonyo now resembles a ravine rather than a track or road.
ELEPHANTS DRIVEN BACK INTO PARK
UWA rangers with support from other government organs have now successfully driven a sizeable herd of elephant back into Murchisons Falls National Park, following complaints from residents in the area that their crop are being savaged and their safety in the farms compromised. A similar situation happened a few weeks ago, as reported in this column, when a group of elephants also left Queen Elizabeth National Park near Kihihi, prompting an outcry from the affected residents. That situation too has since been brought under control.
OIL INTERESTS AND CONSERVATIONISTS CLASH
Heated arguments were evolving between the sections of the conservation fraternity and oil company executives over plans to build a mini refinery at the Kaiso-Tonya Wildlife Reserve, which adjoins Murchisons Falls National Park. The head of NEMA, Dr. A. Mugisha, declared that his organization was working hand in hand with the oil companies to minimise environmental impact of the facility on the fragile ecosystems found in the area, but leading conservationists, including Achilles Byaruhanga, head of Nature Uganda, insisted that more harm than good would come from the plans. The developers, Tullow Oil of the UK, was also accused of putting greater emphasis on the commercial and economic argument than making meaningful amends towards the environmental impact and to mitigate in a comprehensive and sustained manner the effects of the proposed refinery.
It was also disheartening to the conservation fraternity to hear from Tullow Oil managers, that 'like it or not' the refinery would be built next year even before the hearing concluded and all the arguments were presented, a move widely considered as pure corporate arrogance. Existing law requires that any commercial use of protected areas needs to be first facilitated by a change of use of the area in question by an act of parliament to set aside a particular gazetted area for other uses than conservation. Watch this space.
KAMPALA SERENA REHAB COST TO BE VERIFIED
It is understood that the cost of rebuilding and modernizing the former Nile Hotel International and turning it into the Kampala Serena Hotel is now to be verified on request of the government's 'Privatisation Unit'. Frontrunner for the job, out of several shortlisted companies seems to be KPMG, a global auditing and business consultancy firm. The aim of the exercise is understood to be verification of figures released by the hotel's management in the past and confirm compliance with the privatisation terms and conditions set by government in 2004.
KENYA AIRWAYS HALTS SOME FLIGHTS OVER ASECNA STRIKE
It was learned just before going to press that several airlines on the continent, including Kenya Airways and Ethiopian Airlines, had to delay or cancel flights into West Africa due to a strike of air traffic controllers in Francophone countries. ASECNA, the agency responsible for handling and administering air traffic control across the continent, could not be reached for comment in regard of when the situation would normalise. It is understood however that many passengers suffered inconvenience and are stranded while awaiting onward transportation to Western Africa or being able to return home to Eastern Africa.
MORE FUEL SHORTAGES HIT KENYA AVIATION
The previous news come on the same day as domestic flights in Kenya also suffered some problems again over the availability of jet fuel at Malindi and Wilson airports, which caused cancellation and re-routings of flights. Some airlines had to fly from Malindi via Mombasa for fuelling, adding substantial extra cost for the operators. It is understood that air operators blame the aviation fuel companies for the insufficient deliveries of fuel to both airports, incidentally a recurring problem in recent weeks are previously reported in this column. However, fuel companies in turn blame the Kenya Revenue Authority for lack of understanding the aviation fuel market and the ridiculous restrictions placed on the distribution of fuel to few 'gazetted' airport, leaving other aerodromes often dry. This issue was also mentioned in past columns over events for which KRA too had to bear full responsibility, but they have obviously not learned any lessons.
Some operators at Wilson Airport halted flights altogether while scheduled airlines to and from Malindi are considering their options in view of the added cost, while no fuel is available.
GADDAFI CRIES: 'IT'S MINE'
The heated controversy in Kenya over the mystery sale of the Grand Regency Hotel to the Libyan Arab Africa Investment Company, and in particular the ongoing inquiry held by various governmental bodies and a select committee in parliament, has now brought the Libyan leader himself into the fray. Faced with the potential threat of loosing the hotel, should the deal be cancelled, if or rather once it be established that the sales price was indeed fixed well under market value, as it was promptly alleged, the Libyan leader sent a personal envoy to Kenya to protest in the strongest possible terms about 'the complications' and made it clear that under 'no circumstances' was the hotel to be given back to Kenya. However, as earlier reported in this column, the Ministry of Lands had immediately refused to record a change of ownership in the land registry, which means the sale and transfer was not formally completed. The message also constitutes outright contempt to the Kenyan parliamentary committee and the formal Commission of Enquiry headed by Justice Abdul Majid Cockar, both of which have the powers and discretion to overturn the sale if found to be as murky as it is believed by wide sections of the public and many members of government. By making such hasty and strong statements the Libyans may well find them eventually in a diplomatic corner from which it would be hard to emerge unscathed while at the same time raising some more serious questions what the true purpose and intended party of this intimidation attempt really is. The Finance Minister responsible for the shady deal has in the meantime been forced to resign but the focus is now on those others thought to be complicit and also responsible for robbing Kenya of possibly several billion of Shillings.
PRECISION AIR DOUBLES ARUSHA FLIGHTS
In a long awaited move has Precision Air, Tanzania's premier private airline, now added a second flight from Dar es Salaam to Arusha. The airline also announced extra flights to Zanzibar from Kilimanjaro International Airport and Dar es Salaam as well as more weekend flights to Nairobi. As Precision is preparing for the delivery of a second B737-300 they are now positioning themselves to aggressively compete in the market ahead of the expected market entry of new players and amid the ongoing revival of Air Tanzania.
MADHVANI OFFERS 3 US SCHOLARSHIPS
The Madhvani Foundation, the charitable, social and civic corporate responsibility arm of Uganda's leading industrial and hospitality conglomerate, has now partnered with the Zawadi Africa Educational Fund to provide 5 scholarships for gifted but economically disadvantaged young girls with strong leadership potential. The selected girls can after completing their studies in Uganda go to the United States and take courses of their choice in leading US universities, including Ivy League members.
In addition to the three US scholarships another two were offered at leading South African universities for ICT studies.
The Madhvani Foundation was set up already in 1962, underscoring the corporate responsibility the Madhvani family always had towards their communities. They now have an annual budget of several hundred million Uganda Shillings and are a leading provider of scholarships in the country.
The tourism arm of the family business owns and operates the prestigious lodges Mweya and Paraa and is presently engaged in a full rebuilding of the Chobi Safari Lodge, located in the upper section of Murchisons Falls National Park.
ANCIENT ROCK PAINTINGS UNDER THREAT
The Ngero rock paintings, located in Kumi district (Northern Uganda) are reportedly threatened by extensive quarrying in the immediate neighbourhood of the caves, where the paintings are located. The Museums and Monuments Department at the Ministry of Tourism, Trade and Industry has since swung into action and began to sensitize residents of the area to preserve the art, thought to be over 500 years old. The challenge will be to eventually produce sustainable revenue from the site by attracting tourist visitors to the area, so that value can be created for the local population.
GATELY IN ENTEBBE NOW OPEN
The much lauded Gately on Nile, a well sought after 'country inn home' near the Lake Victoria shores and within walking distance of the Jinja Sailing Club, now has a sister operation up and running in Entebbe. Strategically located near the turn off from the main airport road to the Uganda Wildlife Education Centre, the newly opened Gately Entebbe offers 9 en-suite twin rooms, a restaurant with a menu similar to the Jinja one, including their famous quiche de maison. The adjoining gift shop and a massage facility for tired guests are due to open shortly. The Gately in Entebbe is only 10 minutes from the international airport, which includes time spent at check points. Merryde Loosemore, the proprietoress, has for the time being moved from Jinja to Entebbe to ensure the personalised service the Jinja Gately has become renowned for. Contact them for more information via email: stay@gatelyinn.com or gatelyinn@utlonline.co.ug and do visit their website for the new Entebbe property at www.gatelyinn.com or the Jinja Gately site at www.gately-on-nile.com
SHERATON KAMPALA LAUNCHES SUMMER PACKAGES
As the traditional European holiday period takes many of the local expatriates back to their home turf, the Sheraton has now offered very special packages for weekends but also valid during the week, to attract visitors other than those coming for 'business'. Generous goodies are apparently thrown into the bargain to spice up the experience value. Visit www.sheraton.com/kampala or write to sales.kampala@sheraton.com
RESIDENTS ANGRY BUT WRONG
Some embittered residents living along the boundaries of the Tooro-Semliki Game Reserve recently had their crops destroyed by UWA enforcement personnel and promptly sought protection from other government organs, using however patently wrong arguments. The residents, many of whom had extended their small scale farms into the reserve, were given a year in mid 2007 during which to collect their harvests and move useable plants and roots but seemingly ignored the instructions. The Semliki reserve, described by this correspondent in a related article as a 'prime piece of African wilderness real estate' has attracted increasingly more tourists in past years due to its biodiversity and variety of landscapes, which reach from rainforests along the Albertine escarpment to lake flats towards Lake Albert itself, with riverine forests, savannah and wetlands thrown in for good measure. The residents did apparently not find much sympathy however and other parts of the adjoining communities have reached agreements with UWA over revenue sharing and other benefits. Communities in different parts of the country have successfully forged partnerships with UWA over the past years and made substantial strives towards turning the conservation efforts in their immediate neighbourhood into improvements in their infrastructure and lives in general, paid for by park entrance fee sharing schemes.
RIFT VALLEY RAILWAYS GETS NEW TOP MANAGEMENT
The beleaguered railway management company which took over the Kenyan and Ugandan railways a while ago seems in for another month of worries. Having just had to cope with a staff strike in Kenya, the two governments now appear to have given the company deadlines which will stretch their ability to the limit. The company, which recently admitted two shareholders from the region &endash; incidentally the same partners the main promoters had shut out over technicalities when the formal contracts had been signed &endash; now needs to raise some 40 million US Dollars within a month and at least 10 million US Dollars more or less immediately, and show evidence to this effect. It was learned earlier that KFW, the German Development Bank, had apparently halted the disbursal of loan funds over unspecified concerns to the company, causing more headache for the company's management. And a management change at the top was also on the demand list by the two governments, who clearly have lost enthusiasm and confidence for the RVR senior management and asked for a new CEO and Chairman of the Board of RVR to be put into place immediately. That move happened in fact earlier in the week when former CEO Roy Puffet was sent packing and a new Managing Director was appointed. Also new is the position of Executive Chairman, which is now held by Mr. Brown Ondego, a well known Mombasa personality who previously turned the fortunes of the Kenya Ports Authority around and set KPA on the road to becoming a modern and well managed authority. In earlier years Brown also represented cruise lines and handled the ocean liners when coming to Mombasa, amongst other key appointments. How this will affect the joint management of the Uganda and Kenya Railways in coming months will remain to be seen but the new team has given hope for RVR to stay 'on the job' while they re-organize the company, the finances and give the staff, shareholders and the two governments a new vision.
There were however also further misgivings expressed from the Ugandan side about the presence, or rather lack thereof, in Kampala of senior RVR management, as much of the visible management structures were located in Nairobi and enquiries were in the past frequently referred to there instead of dealing with issues about Uganda from Kampala. The new management will therefore also be challenged to appear more equitable in regard of locations and placement of senior staff and administration structures. Watch this space.
BYPASS CONTRACTOR NEAR THE END 'OF THE ROAD'
A sharp exchange ensued last week over the plans by the Ministry of Works and the EU Delegation office to possibly consider a termination of Salini's road construction contract and exclusion and blacklisting for future work in Uganda. One of the Salini managers was quoted in the media of telling the EU off, claiming they are mere 'financiers' of the project and had otherwise no standing nor competence in the matter. The same individual is also said to have been overheard using substantially sharper and fouler language towards the Ministry and EU officials in 'private', understandable when considering that he might just be about to loose his job.
An independents assessor's report compiled for the Ministry by a reputable engineering firm dismissed the contactor's claims of design flaws and a decision is now expected within weeks to have the contacts terminated and another contractor brought on site to finish the work which is now 2 ? years overdue, as well as massively over budget.
The development also brings clouds over the Bujagali hydro electric dam project, where Salini Construction is the main contractor and in the interest of the entire country it is hoped that Salini will perform the work -there in a more timely fashion.
The bypass is a crucial element in de-congesting traffic through the city centre, which has led to constant complaints by the business community and residents and the sooner government puts their collective foot down on the errant contractor the better for the city.
CELTEL BECOMES ZAIN
As mentioned in earlier editions of this column, the well known Celtel mobile communications brand has now been discontinued across the African continent to join their sister companies in the Gulf to become ZAIN. In Uganda alone a multi billion Uganda Shillings budget is now being spent to rebrand and publicise the new name, after also spending a fortune to rebrand Celtel over the past three years with new colours and logos. The big bang event took place last weekend when Wycleff Jean gave a one off performance in Kampala, signalling the kick off for the arguably richest marketing campaign seen so far on the African continent. ZAIN subscribers can now make seamless calls without roaming across 22 countries where Celtel / ZAIN now has operations, in Africa and the Middle East. Zain's management also announced at the time that the company was aiming to break into the top 10 mobile communications companies world wide by 2010, a feasible proposition when looking at the deep pockets of the main shareholders and its already existing operations.
Speculation is meanwhile mounting on the fate of HITS Telecom, which was licensed before WARID Telecom, made test calls in mid 2007 ahead of WARID and was then not heard of again. There is speculation that the Uganda Communications Commission may now cancel the licence given to HITS in 2006 for not observing time lines and fulfilling a range of other conditions, amongst them most importantly to begin operations.
INFLATION RUNS ON
Figures just released by leading economists indicate that inflation has now reached nearly 14 percent, with similar figures obtained from Tanzania while Kenya's inflation is said to be in the 30 percent region. Fuel prices continue to remain at near unaffordable levels for much of the population and food prices, including greens, have literally exploded in past months. The inflation trend hence added a whopping 3 percent since last month, but the economy is seemingly still powering on, fuelled by rising demand for Ugandan products from mainly Southern Sudan. Inflation in Eastern Africa is however nothing in comparison though to Zimbabwe where inspite of a recent currency reform, which turned 10 billion Zimbabwe Dollars into a new 1 Zimbabwe Dollar is still running at astronomic rates of nearly 3 million percent. Autsch …
KENYA AIRWAYS LAUNCHES AVIATION TRAINING CENTRE
In a move setting the Kenyan national carrier further apart from other airlines in the region, KQ has now opened its ground breaking aviation training centre. The facility is reportedly already being used for KQ staff but is said to go commercial next year. Courses on offer will cover ticketing, management skills, supervisory courses and importantly engineering courses which will be supported by KQ's own maintenance base facilities at Embakasi.
KENYA HOTELIERS FALL FOUL OF ELECTRICITY RATES
The recent near doubling of electricity tariffs in Kenya has driven the hotel sector to both vocal complaints but also desperate measures to save on their rocketing bills. Especially at the coast, where air conditioning and cooling are absolutely essential, hoteliers in a recent emergency meeting complained about having to find extra cash to pay for their bills, while occupancies &endash; slowly climbing back to pre-election violence levels &endash; are still not what they were a year ago. It is expected that more and more hotels will now turn to solar energy, in particular hot water production, which is already widely used in the safari camps across the country's national parks, to reduce on monthly electricity charges.
The airport management in Mombasa too has belatedly complained that their electricity bills have shot up by over 50 percent and having to find the money somewhere to pay for these extra charges while continuing to render reliable services.
Meanwhile in Uganda, the Speke Resort and Conference Centre and the Commonwealth Resort have both converted their hot water production to 100 percent solar systems while studying the viability to also install solar panels for electricity across their sprawling complex on the shores of Lake Victoria. Their sister hotels in the city, the Speke Hotel and the Tourist Hotel, have also fully converted to solar hot water production. The eco friendly measure will earn the properties valuable 'green points' in international hotel guides and also save the proprietors a great deal of money.
AIR TANZANIA NEWS UPDATE
A ministerial statement in parliament this week reaffirmed that Air Tanzania has indeed started operations to Dodoma and was about to serve four more domestic destinations across the country, such as Kigoma, Tabora, Songea and Shinyanga. The development is thought to stir up the domestic aviation market with competition, as ATC could not serve all domestic routes in past years due to lack of suitable aircraft. However, recent aircraft deliveries have turned the trend and the Tanzanian public will be keen to see improvements in service delivery and greater choice.
RWANDAIR PRIVATISATION REGROUPS
News were received from usually well informed sources in Rwanda, that the privatisation exercise was halted when Brussels Airlines did not submit the required financial proposals, after coming out on top of the applicants class. It appears that an Italian airline's proposal was lacking in substance and they eventually withdrew their bid, as their sister airline in Uganda continues to struggle in the face of adverse market conditions. This left expected frontrunner Brussels Airlines, but the latest development probably reflects the hard times airlines are falling on in the face of exploding fuel prices and other operational cost increases. Regrets have already been expressed over this development, which had raised many hopes and expectations that SN would establish a stronger foothold in the East African market.
A new player however is thought to have positioned itself to step in to the breach by the names of Fly540. The Lonrho Africa backed airline, which is already operating from Kenya into the region and has recently established a Ugandan operation too, is thought to have quietly made contact with Rwandair and there is speculation amongst aviation industry observers that a partnership with Rwandair or even an outright participation in the airline as the government in Kigali was initially seeking, may be on the drawing board or indeed near. Should indeed the information be correct it would be good news for Fly540 as well as for Rwandair, strengthening cooperation in the region and offering quality services albeit through a low cost operational model. Fly540's Uganda operation could upon start up even commence code shared flights between Entebbe and Kigali, where only recently Rwandair upped their once daily service to double daily.
RWANDA CONSERVATION GETS A BOOST
MTN Rwanda last week offered over 200 connected phones through ORTPN to volunteer groups along the Virunga Gorilla National Park, to facilitate a better flow of information aimed at greater protection of the prized animals. The donation was initially announced during the gorilla naming ceremony held last month in Rwanda, a now annual event drawing huge media and visitor attention to the 'land of a thousand hills'. The phones were given to community groups, NGO staff, park officials and other governmental and non governmental staff working in volunteer and other capacities for conservation. Well done indeed.
RWANDA SURPASSES TOURISM EARNING TARGETS
Statistics just availed indicate that Rwanda has earned 80 million US Dollars for the first six months of 2008, about 20 percent ahead of the target for this time of the year. The data were presented to the public by ORTPN Director General Rosette Rugamba and the Director of the National Institute of Statistics during the week in Kigali at Hotel Mille Colline. ORTPN attributed the success in part to the annual gorilla naming celebrations Kwita Izina, which has drawn much global attention to Rwanda and over the past years brought many celebrities to the country, all of which was used in a systematic and sustained marketing and PR campaign for the country.
It was also revealed at the time that six more revenue sharing projects are due to be launched in coming months, giving communities neighbouring national parks and reserves a share of the tourism proceeds in an effort to create ownership and draw support from the people living near parks for conservation measures.
TOURISM CHIEFS MEET IN KIGALI / COMMON VISA AS FAR AS EVER
During the meeting last week in Kigali of the East African tourist board CEO's the matter of the common Visa was again raised. Visitors from abroad pay dearly if they want to travel from one country into the region, as depending on their port of entry a family of four can run into nearly 1.000 US Dollars in fees when travelling across East Africa. Kenya has gone a step ahead in the right direction when granting re-entry free of extra cost when flying from Nairobi to say Entebbe, Kigali or Tanzania and then returning to Kenya. However, the other countries have not followed suit inspite of regular verbal commitments to the contrary. Uganda for a long time was the most visitor friendly country in the region with no fees at all for most visitors, but this was overturned some years ago. Efforts are however underway to review this decision so as to attract more visitors and reach the magical 1 million arrival figures sooner rather than later. Rwanda too exempts certain nationalities from having to pay for Visa, which has helped the country to drive visitor numbers up year after year. The region is also due for joint marketing of 'one region with many attractions' under EAC auspices but this too has not yet fully taken off. The region is thought to have attracted about 3.5 million visitors in 2006 and easing the bureaucracy will undoubtedly help to push these figures in coming years towards the 5 million mark. It is hoped that eventually Southern Sudan will join the efforts to open up and make the region yet more accessible and more attractive for visitors seeking this unique wildlife experience, meeting the colourful tribes of Eastern Africa and get acquainted with the cultural attractions East Africa has to offer.
CONGO IN FOR MORE BAD NEWS
Information received from Eastern Congo indicates that the regime in Kinshasa has engaged in some airborne re-supply of arms and ammunition to their troops based in the Goma area and their allied militias via the airport in Goma during past weeks. Some sources speak of at least half a dozen plane loads of war materials, causing concern over a renewed 'arms race' in the East of the sprawling jungle nation, where government friendly militias, including the dreaded genocide killers of 1994 in Rwanda, the 'Interahamwe', are still pitted against predominantly Tutsi self protection forces with but one objective, not to let another genocide happen to them ever again. Foreign officials expressed their concern over the developments, and MONUC, the UN peace keeping force, is also under scrutiny as they are alleged to have favoured one side of the militias over the others in the past. The BBC last week again published a lengthy report, an add on to previous stories filed about allegation of ineptitude and corruption amongst the MONUC troop contingents.
The peace agreement signed early this year no longer seems to bind the protagonists in seeking peaceful solutions through dialogue as the actions of the Kinshasa regime served clear and unmistakable notice to all that another round of armed conflict seems coming.
Meanwhile, reports emerged during the week that a very large number of lowland gorillas were found in Northern Congo, which had hitherto not been discovered by external researchers, but were apparently known to local populations and hunters. The discovery will raise attention levels on the Kinshasa regime, how they will respond to the find and protect the animals. Kinshasa's record on animal protection is rather poor so far, with a group of mountain gorillas poached last year in Eastern Congo and the last remaining Northern White Rhino population wiped out when the regime allowed the Ugandan terror group LRA to take refuge inside the Garamba National Park, where they slaughtered elephant, rhinos and other game for food and trade in animal products like rhino horn and ivory.
PARLIAMENT TO DECIDE ON MABIRA
In a rare interview with the NFA Executive Director of NFA Mr. Damian Akankwasa it was pointed out, that the final decision on the use of the Mabira Forest will rest with the country's parliament. The forest, like many others under NFA management, is a 'gazetted area' and it will take an act of parliament to change or alter its use, before a government proposal to convert a quarter, or over 7.200 hectares of the mature tropical rain forest, into a sugarcane plantation to be owned by the Mehta sugar barons. Meanwhile, the NFA has carried out an aerial survey of Mabira and the results are due to be presented to cabinet, the parliamentary committee on natural resources and the public at large in due course.
NEMA HOLDS REFINERY HEARING
The national environmental management authority will hold a public hearing on 29th July in Hoima over the recently signed agreement between government and Tullow Oil of Britain to construct a mini refinery and thermal heavy fuel oil plant near the upcoming production site. The refinery will initially process up to 4.000 barrels of crude oil per day and the thermal plant will have an initial capacity of 50 MW feeding into the national grid. Construction for both facilities is expected to go underway in early 2009 and preparations are reportedly in high gear to meet the deadline and prepare access to the proposed sites.
It was also learned during the week that work for the Karuma Falls hydro electric plant, incidentally a more environmentally friendly tunnel version as opposed to dam version of the Bujagali project, is due to start in 2009 with completion some three years later.
RWENZORI GETS TWO CLIMATE MONITORING STATIONS
Assisted by the Italian government, research institutions and alpine clubs two weather monitoring stations, one of which is already using GSM data transmission technology, are now active in capturing crucial data. In an earlier column item reference was made to the ongoing shrinkage of the ice caps covering the mountain range, and new data will help greatly to understand better what the changing climatic conditions mean to the mountainous region. One station is located some 4.000 metres high and was sponsored by the university of Brescia, while the second station sponsored by the Italian Alpine Clubs is located at an elevation of 4.600 metres near the 'Helena Hut' on Mt. Stanley. Italian researchers have recently completed field training for park staff to properly manage the environmental sensors and equipment at the higher station and regularly extract and transfer data, as no GSM transmission equipment is in range there, until some additional installations will be complete by late next year.
It is understood that some climatic changes have already been noted over the past two years but a longer period of data and indicators will be needed to draw conclusions and establish clear trends.
RAILWAY TRAFFIC REDUCES
Following a series of relentlessly critical articles and revelations in the local and regional media it was now alleged, that cargo rail traffic between Kenya's sea harbour of Mombasa and Uganda's capital city Kampala has halved since Rift Valley Railways has taken over the management some time ago. The details were revealed by a high ranking Kenya Ports Authority manager during a meeting of 'Seamless Transport Committee' in Kampala. Figures presented would suggest that now just over 8 percent of the entire cargo traffic between Mombasa and Uganda is transported by rail, compared with nearly 17 percent when RVR took over the management. High hopes were pinned on the privatisation of the Kenyan and Ugandan railways and the management by a private consortium, but these hopes have largely been disappointed. While there were mitigating factors like the violence in Kenya and the damage to installations and railway lines during those trying times, there are other underlying factors to be considered. Only recently has the consortium admitted two new partners to inject fresh capital and there is ongoing talk behind the scenes of a partial or full takeover of RVR by overseas investors with deeper pockets. A strike last week of railway workers in Kenya who were not paid in time has added to the woes of RVR, who are also facing a threat of being sanctioned by the Kenyan and Ugandan governments over not fulfilling certain clauses of the agreements, which could ultimately lead to the termination of the contracts by Kenya and Uganda.
Civil society in Uganda has also blamed the railway operator for failing to introduce passenger commuter transport into the main urban centres to bring relief to overcrowded roads and of course passenger traffic between Kenya and Uganda has still not been restored nor have any visible steps been taken towards its re-introduction. This also prevents tourists from taking in the most extraordinary sights along the railway, as it winds its way from Kenya to Uganda, considered a big loss for the range of tourism products the region could offer, especially when comparing the luxurious rail options available for tourists in Southern Africa like the world famous 'Blue Train'. The 'Lunatic Express' as the train between Mombasa, Nairobi and Uganda was called in the old days seems begging for a restoration.
Is it worth mentioning here that the RVR consortium is led by a South African company? Shy to create competition perhaps?
GEOLODGES ADD BWINDI PROPERTY
A recent press release informed the Ugandan tourism industry that GeoLodges Uganda, formerly known as Inns of Uganda, has now added a fourth property to their safari circuit. Their new SilverBack Lodge near Bwindi's main entrance gateway of Buhoma is making their presence in the key national parks even more comprehensive and will fulfil a long standing demand by their faithful clientele to also cover the country's biggest attraction &endash; gorilla tracking.
The lodge group, owned by the Alam family of manufacturing and construction fame, started operations in the early 1990's with their Nile Safari Lodge (initially Nile Safari Camp), located at the banks of the Nile right on the boundary of Murchisons Falls National Park, and has since added the Jacana Safari Lodge, located under a thick rainforest canapé on the shores of Lake Nyamusingire &endash; Queen Elizabeth National Park and more recently the award winning RainForest Lodge deep inside the (in)famous Mabira Forest. Visitors to the new SilverBack Lodge can expect the same professional and personal attention the group has become renowned for over the past one and a half decades.
Visit www.geolodgesafrica.com for more information about the company's operations and history in Uganda and their charming little properties or write to iou@africaonline.co.ug for room availability, rates and bookings.
UTA HOLDS AGM, SORT OF
The Uganda Tourism Association, the national tourism apex body, held their annual general meeting last week in Kampala. The leadership however disappointed their constituents, when they failed to present annual accounts, leave alone audited annual accounts, as the constitution of UTA demands. The association president also failed to submit a formal written annual report to the members, which caused consternation amongst the more sober attendees, who raised questions why an AGM was called without full reports and accountability submitted to the member associations together with the notice and agenda in violation of the association constitution.
Proposals to defer the meeting until accounts and accountability reports had been produced however were not allowed by the president, who then added to the association woes when declaring he was stepping down to concentrate on other matters, ostensibly to escape some level of censure. The shambles however did not end there, as the association also failed to invite past presidents to the meeting, thought to be an almost deliberate action to spare themselves further embarrassment and challenges to their feeble performance from more authoritative quarters. Former UTA vice president Amos Wekesa was eventually elected new UTA president in the absence of other willing candidates, but this may well be challenged by constituent members of UTA for proceeding to elections without first clearing and completing the agenda item accounts and failing to discharge, or not discharge for that matter, the previous executive from their financial and other obligations and liabilities. Observations from participants of the meeting were also passed to this columnist, when they complained that UTA in any case had apparently gone shtumm over the past year, was accused to have been largely absent from the national scene, missed out on industry coordination, were invisible during CHOGM last year and importantly failed to participate in the budget preparation process under the auspices of the Private Sector Foundation, where the tourism sector working group reportedly never met for the entire year. The association was also generally said to have been silent in public on the most pressing conservation and tourism issues which moved the sector and the nation during the past 12 months like the Mabira question, attempts to mine for lime stone in Queen Elizabeth National Park and the mowing down of a rare tree forest to construct a hydroelectric plant at the edge of the same park. Also mentioned by upset callers were the failure to speak up on the reconstitution of the Uganda Tourist Board and appointments for a new board of trustees and the implementation of crucial areas under the new tourism act. One participant with a long and sound standing in the sector in fact accused the now departed president and his committee to have rendered UTA nearly irrelevant and made it impotent as a major trade platform during their one year term of office.
When trying to make relevant enquiries with the former president it was then also discovered that his email address was no longer functional, leading to a dead end and leaving many questions unanswered.
NAIROBI'S WILSON AIRPORT HIT BY FUEL SHORTAGE
Kenya's busiest airport, mostly used for domestic flights and flights to the country's national parks, but also regional charter operations, was running short of JetA1 fuel last weekend, prompting concerns amongst air operators. Various fuels have been hit periodically by supply bottlenecks, and while it is often AVGAS running short or completely dry in Uganda in the past, it is somewhat more unusual and altogether more sinister that JetA1 should run short at Kenya's busiest airport. No explanation could be received for the suspected causes of the shortage although the international airport in Nairobi was said to be operating normally over the same period of time.
TANZANIA'S RULING PARTY STOPS ZANZIBAR AGITATORS
As reported recently some small agitative sections in the Tanzanian parliament once again raised the question of 'independence' for Zanzibar, prompting the Prime Minister to make an authoritative governmental statement in parliament in regard of the constitutional situation. However, when the agitation did not end there the ruling party of the United Republic of Tanzania, the CCM, decreed an end to the loose talk in the interest of the nation. Even the Court of Appeals had ruled in past instances along the lines that Zanzibar was part of the nation and the CCM statement pointed out that ongoing squabbling could affect the stability of the entire country. The Speaker of the Zanzibari representative chamber too halted the ill conceived debate, which had raised eyebrows across the region in an attempt to understand what this was all about.
VIETNAMESE LEARN FROM RWANDA'S TOURISM DEVELOPMENTS
A delegation of Vietnamese tourism operators visited Rwanda last week to study how the country rebuilt the sector following the devastating genocide in 1994 and become a role model across Africa. Rwanda has in recent years won a number of prizes for best exhibition stands and performances in international tourism trade fairs and established itself as a desirable ecotourism destination in the heart of Africa. The delegation also agreed on a reciprocal visit by a Rwandese delegation to explore market opportunities in one of South East Asia's fastest growing economies.
In a related development it was also learned, that former Kenya Airways CEO Brian Presbury is now deployed in Vietnam and active in building the aviation sector there as he did when at the helm of KQ for several years, during which the foundations for the airline's current success were laid.
CLINTON TO REVISIT RWANDA
It was learned during the week that former US President Bill Clinton will be visiting Rwanda again later this month as part of an African tour, which will also take him to Ethiopia, Liberia and Senegal. Clinton has been in Rwanda before some years ago and also visited the region, notably Uganda, while serving in the White House. This is another high profile visit to Rwanda, bound to give that extra bit of exposure to the country which then also reflects positively on it's standing as a tourism destination and supporting its newly found status as an emerging darling nation, setting positive standards and trends for the rest of Africa.
RWANDA &endash; UGANDA BORDER TO STAY OPEN 24/7
The main border crossing between Uganda and Rwanda is presently open for business from 6 a.m till 6 p.m. only, restricting traffic. From next month onwards the border will remain open initially until 10 p.m. and from January 2009 the border post will operate around the clock to facilitate the growing volume of cargo and visitor traffic between the two nations. It was also learned that he 'seamless transport committee', which sat in Kampala last week also agreed to add more manpower and extra daily shifts for the customs and immigration officials at the main border crossings between Kenya and Uganda at Busia and Malaba, to ensure uninterrupted 24/7 operations in the future and facilitate the ever increasing cargo traffic between Mombasa and the African hinterland nations of Rwanda, Burundi, Eastern Congo and Southern Sudan.
DARFUR MEDIATION ROLE FOR UGANDA
Proposals have been floated to have Ugandan President Yoweri Kaguta Museveni mediate in the present Darfur crisis to bring about a peaceful end to the armed struggle, which pinned Arabic militias and Khartoum troops against the African population and their self-protection forces. Following the ICC indictment of the Khartoum regime leader Bashir last week for alleged war crimes and crimes against humanity, things have turned from bad to worse in Darfur with what now appears coordinated attacks on UN peace keepers. Only recently were 7 Rwandese troops deployed under AU and UN auspices killed as was a more senior officer from Nigeria. Two Ugandan police officers deployed in Darfur were also killed over the past few weeks. Any mediation by the Ugandan president would however most likely seek broader involvement from the AU and the UN to widen the chances of success. Meanwhile, the UN has evacuated non essential staff from Darfur to their African logistics base in Entebbe / Uganda to minimise the growing risk to their staff deployed in the Darfur region. Southern Sudan's President Kiir, who is also First Vice President of the Sudan, was also in Kampala during the week, assumed to have discussed the ICC indictment and other matters of mutual concern.
CONGO AVIATION TO GET NEW PLAYER
It is understood from usually well informed sources in Kinshasa, that RAK Airways from the UAE has been in talks to take over a presently defunct airline in the Congo DR, in which it appears to have either already held or recently acquired shares. The sources confirmed that RAK Airways seems under the impression, that the non operational airline still holds traffic rights for domestic and African destinations and would be able to resume operations once new aircraft, other equipment and staffing and maintenance structures have been put into place. Conventional wisdom however tells that once an airline becomes non-operational, their AOC is due to lapse after 90 days and subsequently all traffic rights and designations vested into the airline also expire. As mentioned in last week's column, Congo's dismal aviation record was described as the worst on the continent by AFRAA and what is 'normal and usual' in aviation administration in other countries may of course not at all apply to Congo's haphazard aviation regulatory department. The airline, once and if revived, would reportedly be trading as 'Air Congo'.
Ras Al Khaimah is one of the emirates making up the United Arab Emirates and their government's state investment company appears to have a number of other including mining in Congo, possibly prompting their sudden interest in aviation in the sprawling central interests African jungle nation. RAK Airways is now operational after two sustained start up delays, which also cost tow ex CEO's their jobs.
ZIMBABWE &endash; A FIRST STEP INTO THE RIGHT DIRECTION
News, that an agreement to negotiate a solution of the problems besetting this long suffering nation has been reached, were broadly welcomed across Africa and the rest of the world. However, emphasis should be given to the fact that in itself the agreement does not provide much needed solutions to bring about an end to the endemic violence perpetrated against large sections of society for no other reason but opposing their brutal ruler and having wanted to vote him out of office. The agreement signed yesterday however does provide a roadmap for negotiations to solve the deadlock, which will likely include the writing of a new constitution, and provides for a tight timetable of only two weeks to get talks underway and make conclusive headway. Mugabe's goons will under the agreement have to hold their fire while generally both parties must refrain from making inflammatory statements in public.
Mr. Tsvangirai, the presumed winner of the first round of presidential elections, showed all the makings of statesmanship, when sounding conciliatory tones at the signing ceremony, inspite of him having been harassed, beaten to near death and repeatedly incarcerated by the regime in the past. In contrast Mugabe sounded more guarded over the prospect to major changes in the constitution, which would ensure that power keeps ebbing away even further from him and leading to his eventual retirement.
The presence at the signing of South African outgoing President Thabo Mbeki was largely considered ceremonial as he had in the past been accused of bias in favour of Mugabe and other African leaders are thought to have been closely involved behind the scenes in putting this deal together but letting Mbeki to the honours to save face. The MDC and her allies, with a majority in the Zimbabwean parliament, are seeking major changes in the constitution and fresh elections at an early stage under continental and international supervision to ensure a violence free environment which would allow the Zimbabwean people to elect a leader of their choice.
Zimbabwean tourism operators, presently almost unable to operate their businesses, have expressed quiet confidence that if pressure from African heads of state is kept up on Mugabe's regime to ensure substantive discussions over the next weeks, that there is then eventually hope to return the country to some degree of normality and start their ailing businesses again. Many of the tourism fraternity are presently also reported to be out of country with the source of this input camped across the border in Livingstone/Zambia. Comparisons were drawn to the post election developments in Kenya, where the disputed win of President Kibaki eventually led to the creation of the post of Prime Minister for his election rival and prompted a coalition government while a new constitution is being drawn up in Kenya too. Hope's rays are at last shining again on Zimbabwe's horizon which in recent weeks was covered in dark clouds.
And with many thanks to Gill Staden for her regular input, here are some more interesting tourism news from Livingstone/ Zambia:
The Yellow Rolls Royce
Peter Jones from the River Club has invested in a yellow Rolls Royce. It has been refurbished by Bryne Nel and looks a stunner. The Rolls Royce will be used to ferry tourists from Sun International to the Steam Train Safari.
I know there is a story behind the car… and I need to find out about it. Next time… meanwhile here are some pics while it was under repair:
It is finished now so expect to see it driving along our Livingstone roads soon …
LTA News
We are presently planning a SOUTHERN AFRICA TRAVEL EXPO to be held in Livingstone from 26th to 28th September 2008 as per the email from TCZ below. A vital part of the Expo is obviously accommodation availability during that period for delegates and buyers from all 14 SADC member states. As we are the hosts and subject to the other member states confirming participation we really need to put out best foot forward and offer accommodation as complimentary or discounted rates. Please can you urgently reply to the following;
1) 1) The availability of Rooms
2) 2) Type of Rooms available
3) 3) Special or discounted rates for Single/Double Rooms
4) 4) Pre/Post Tours you would be prepared to offer to enhance the destination Livingstone.
Please reply to Rachel Ward on email rachel@bushtracksafrica.com and myself with your availability. Your co-operation for this very important event would be greatly appreciated.
CRESTED CRANE NUMBERS SHRINK ALARMINGLY
The ongoing encroachment into the country's wetlands and their conversion into agricultural use land like flower farms is taking an ever increasing toll on the biodiversity, which had made Uganda hitherto a leading nation around the globe. Following earlier reports in this column it has now again been reiterated that Uganda's national bird, the crested crane, is facing near extinction and that established numbers have more than halved in recent years. Less than 20.000 of the species are now thought to be left, approximately a quarter of the bird population some 20 years ago.
This correspondent can vouch for this trend as breeding pairs of crested cranes, in the past regularly seen from his residence at Lake Victoria, have disappeared, as have other bird species like love birds, the African grey parrot and palm nut vultures while other species prevalence, including sunbirds, weavers and fish eagles, has greatly reduced. Having been able to identify some 150+ species of resident and migratory birds inside and from the property up to the late 90's, this number has now shrunk to only about 100 or so regular bird species sightings, a situation repeated across many areas of the country, where the fast growing human population has left its heavy footprints.
Poaching, capture for illegal export, egg collections and illegal keeping of birds in cages at upmarket expatriate residences are further causes for the loss in bird variety near urban areas, besides wetland encroachment. Nothing much appears to be done however right now by government to halt and reverse the situation, which can within years have a grave impact on bird tourism.
CENTRAL BANK INTERVENTION BOOSTS DOLLAR
The Uganda Shilling is now trading again in the low 1.600 range vis-à-vis the US Dollar after hitting a long time bottom last week, which at one stage threatened to breach the critical 1.500 level. Other foreign currencies traded in Uganda have also gained in value again. Banking experts attribute the relatively volatile fluctuations in recent weeks to a generally narrow market where a single major transfer, for instance of donor funds, can easily rock the proverbial boat and lead to substantial fluctuations of currency value. Travellers are advised to consult local contacts or visit leading Ugandan news websites like www.newvision.co.ug where they can get the daily average exchange rates prominently displayed on the front page of the web edition.
MABIRA FOREST NOT YET SAFE
Disturbing news were reported late last week that the intended give away of 7.200 hectares of prime rain forest to the Mehta sugar barons is not off the table after all, as members of government had publicly declared in the run up to the Commonwealth Summit late last year. There is now suspicion that these declarations were only made for PR purposes and to avoid candid questions being asked by members of the Commonwealth with a truer commitment to environmental protection and conservation. The news article, published in the Daily Monitor, can be sourced in full at the following web address:
http://www.monitor.co.ug/artman/publish/news/Cabinet_plots_fresh_Mabira_giveaway.shtml
Should the reports prove true, government is likely to generate fresh controversy and likely loose support amongst those of its supporters who are committed to conservation and the protection of natural resources. The plans to flatten a quarter of this ancient rain forest in favour of a sugarcane plantation have raised the heat of the debate and in fact cost lives, when demonstrations in Kampala against the plans in April last year turned rowdy. The greed of the Mehta family appears to know no bounds as alternative land has been offered to them at a cost, which they refused hoping for a free give away of the forest by government to them. Meanwhile, environmentalists and the conservation fraternity from Uganda, the region and further abroad are now already brainstorming what to do next to protect this priceless resource for future generations and not have it sacrificed for short-sighted and short-lived objectives.
KENYAN HOTELS TO BE GRADED AGAIN
Kenya's tourism minister Najib Balala has used a symposium held by the Kenya Association of Hotelkeepers and Caterers &endash; KAHC &endash; to express his dissatisfaction with the present grading system in place, which was hitherto carried out by the Hotel and Restaurant Authority. The minister as much accused HRA of lack of capacity to do the job, throwing serious doubts on their past judgements when awarding star rating to hotels, lodges and resorts. The minister further demanded that an independent and competent body be tasked with hotel grading in the country, a move which caused cautious reactions from the hotel body and its members, some of whom asked no changes to be affected without involving the industry body. International travellers and industry personnel have often wondered how some hotels were able to put 5 stars above their entrance, when international standards such as the one's used by the International Hotel and Restaurant Association, were suggesting a lesser rating.
Only recently had the same minister used a different forum to demand of Kenyan hotels to renovate and upgrade their hotels, some of which he blamed for not having invested for nearly 20 years, so that the country could match the quality other competing destinations now offer their international clientele.
The development comes hot on the heels of news emerging from Nairobi, that global hotel brands like Kempinski, Sheraton, Marriot and Accor are keen to enter the Kenyan hospitality market, which would be a welcome shake up of what is often described 'complacent' players in the market so far.
While Kenya is still considered in the region as the most advanced country in hotel grading, travellers to Uganda are often dumbstruck when arriving at a '5 star' hotel, only to discover that the reality is far from the expectations. This correspondent recalls comments made at opening of a certain hotel some years ago in Entebbe, when it was not only pronounced as 5 star but the owners then topped it with promises to raise the standard to '7 star' rating, something which by IHRA standards simply does not exist, nor was ever thought possible by this particular brand of hotel management and ownership.
The region over the past years developed classification and grading standards which are now applicable by all East African Community member states, but the implementation in Uganda (and some other countries) is lagging behind and clients will have to suffer the often misleading advertising of 'luxury' services, when the owners frankly have no concept at all what 'luxury' really entails and what a '5 star' hotel has to offer in terms of facilities and service levels, to be awarded this certification of quality.
KENYA GOVERNMENT GIFTS MAJOR HOTEL TO LIBYA FOR PEANUTS
In an apparent cloak and dagger action, shrouded by secrecy and leaks, the Kenyan government appears to have sold the prestigious Grand Regency Hotel for a pittance of less than three billion Kenya Shillings to the Libyan government under a 'private sale agreement'. Figures available right now vary between 2 billion and 2.9 billion Kenya Shillings. It also became evident that no public bidding or tendering was chosen by the promoters &endash; or should one say perpetrators &endash; of the deal to maximise the proceeds of the sale, in particular as a number of international hotel chains had of late expressed interest in coming to Kenya and may have wanted to make offers for the Grand Regency themselves.
Other and clearly larger sections of government, key players of the business community and society in general however condemned the sale as a give away and alleged fraud and corruption. Conventional wisdom puts the actual market value of the property at least between 6 and 7.5 billion Kenya Shillings, i.e. at least three times the 'sale price' while one leading realtor put the price to as high as 10 billion Kenya Shillings. The Grand Regency was also at the centre of the biggest Kenyan corruption scandal yet, the Goldenberg Affair, where some 150+ billion Kenya Shillings are said to have been swindled from public coffers through an 'export compensation scheme' for faked gold exports with connivance of senior most politicians, power brokers, bureaucrats and central bankers at the time.
The Grand Regency Hotel is located at the edge of the Nairobi central business district along Uhuru Highway and overlooks the city centre park. It has carved itself a sizeable slice of the upmarket hospitality business inspite of its problems on the financial side and being under receivership and under public scrutiny since the main architect of the Goldenberg Affair Kamlesh Pattni bought it with his ill-gotten wealth, incidentally for 4 billion Shillings at the time as his long time lawyer just confirmed. Pattni had not too long ago handed the hotel back to government when withdrawing his legal cases from court and now claims to have been granted amnesty for any other pending charges over the Goldenberg scandal in exchange for the handover of the hotel.
The Kenyan Finance Minister appears to have deliberately misled the public and parliament with his earlier statements, when he had insisted all along that the hotel had not been sold, only to change his tune now in the face of emerging evidence, compelled to finally admit to the dirty deal. He also evaded appearing before a parliamentary committee so far, which has demanded answers from him and has called for his sacking and censure, as did in fact some of his cabinet colleagues from the other side of the coalition. Speculation is now rife in Kenya over the true value of the transaction and what other favours or cash may have changed hands alongside the 'official' payment of 2+ billion, but in any case this latest development is only one in a long line of seemingly corrupt practices perpetrated against Kenya by politicians. The deal may also put more pressure on the fragile balance of the coalition government, as opposition members of parliament and back benchers of the coalition may now jointly resort to more investigations, so as to unearth the masterminds and beneficiaries of the deal and bring them to justice. Ultimately it may in fact become a crucial nail in the coffin of the power sharing agreement between President Kibaki's PNU and Odinga's ODM, if the fallout indeed spreads into the top corridor's of power as it is now alleged, since the Finance Minister is a close ally of President Kibaki. The affair may cause political heads to roll as it is expected and demanded by the Kenyan public. The Sunday newspapers were full of scathing criticism and minced no words as commentator after commentator and most published letters to the editors poured anger and scorn over the implicated politicians.
This is the second major corruption scandal hitting the Kibaki administration, after his first government was also saddled with a multi billion procurement scam, not resolved yet in any court of law and subject to ongoing bitter disputes amongst political factions.
That all said, Kenya continues to be a fundamentally strong country having survived all these corruption scandals, the looting of its public coffers and the recent politically inspired violence, giving hope for a better future for the Kenyan people.
SAFARICOM REPLACES TPS SERENA ON NAIROBI STOCK INDEX
Following the successful IPO of Safaricom, Kenya's leading telecommunications' company (nearly 600 percent oversubscribed) the management of the Nairobi Stock Exchange NSE has now decided to remove TPS Serena and introduce Safaricom instead and an index stock. Normally it takes at least a year to effect the introduction of a new listed company into the index, but Safaricom was fast tracked and granted an exemption by the NSE board of directors to 'pay heed to ensuring fair sectoral representation', quoting NSE chairman Jimnah Mbaru. 'It is in light of the significant impact it has occasioned in market capitalisation and trading activity at the bourse' he added.
The NSE stock index comprises 20 firms and provides a key daily indicator on the stock exchange development in Kenya for the rest of the world. It is of course hugely prestigious to be amongst the index listed companies as it reflects on market value, market standing and market appreciation of the selected company, and it is equally perceived rather negative to be removed from this elite club of index companies as is the case here.
Other new firms introduced were Athi River Mining, a leading cement manufacturer in Kenya, and East African Cables, which were replacing two other companies no longer judged to be representative or suitable to be included in the index listing. The companies removed from the index however still trade on the exchange it is understood but no longer in the premier position as an index company.
It is also understood from sources in Nairobi that long serving Serena marketing director Peter Mbogua has left the company at the end of June. Serena, as other hotels in Kenya, was financially hard hit during the post election violence between January and March this year through loss of occupancy in their hotels and lodges, which had also extended to their Tanzanian operation as the fall out spread into the region.
The NSE development has raised a number of questions across the region as to the real reasons why TPS Serena was removed from the top 20 list of index companies in Kenya and the subsequent implications for their shareholders but no answers have been forthcoming so far.
AVIATION FRATERNITY SPLIT OVER NEW AIR SERVICE REGULATIONS
The Kenyan aviation sector has apparently placed an injunction on the new regulations, which were developed in recent years. While sections of the industry appear to have no issues with the new regulations, mainly the scheduled airlines, the non-scheduled and charter operators engaged in safari flying do have major objections to the new regulations. The Kenya Association of Air Operators Executive Director Col. (rtd) Waithaka said: [the regulations are] 'fundamentally flawed in their current state and many operators will be affected if they are gazetted without exceptions.' He pointed out that once the new regulations are in force, flights to unmanned upcountry airfields and small air strips will be all but impossible, which would impact greatly on the ability to offer countrywide comprehensive air services.
Aviation authorities have been obstinate to a degree to listen to the private sector and employ some common sense, a rare commodity in those circles, often hiding behind obscure ICAO regulations for which however exemptions are possible in particular in countries where much of the traffic is operated on VFR and below certain flight levels. Both communications as well as navigations aids are also not in line with the more developed countries, preventing the provision of weather data and strip conditions to pilots prior to taking off for those 'unmanned' airstrips in parks and elsewhere. This is one of the prohibitive measures the new regulations demand and no consideration was given so far to the justified objections of the affected air operators.
Similar objections were also raised in Uganda and Tanzania, with one or two of the more outspoken Ugandan operators calling the regulators 'useless' &endash; in reflection not entirely justified however, as this correspondent can attest, having been part of the group developing the new regulations. It is also noteworthy however that verbal commitments made by the regulators to the private sector over dispute resolution have not taken root as yet, causing the friction between regulators and the aviators to deepen if not addressed soon.
Meanwhile EAC authorities and member states continue to decry the high cost of air travel without however addressing the exorbitant regulatory cost and fees levied on tickets, where the cost of the plain airfare can easily double to meet the regulatory add-ons. Memberstates have also placed non tariff barriers on the aviation sector by demanding unreasonable duplications of licences and operating permits and restricting airlines from one country to freely operate into any airfields or aerodromes in another memberstate or allow cabotage operations within a memberstate other than the one where the airline is registered and licensed.
AIR TANZANIA LAUNCHES DODOMA SERVICES
The recent arrival of two new turbo prop aircraft has now allowed Tanzania's national airline to resume services on domestic routes, which they could previously not serve due to equipment restrictions. Dodoma is Tanzania's political capital &endash; Dar es Salaam is the commercial capital &endash; and requires regular air connections between the two cities to facilitate easy travel of politicians, since many ministries are in fact located in Dar. At the same time of the announcement the airline also appointed a new general sales agent in Dodoma, Antelope Safaris Ltd., to represent their interests and facilitate ticket sales and bookings. Flying time between Dar and Dodoma will take approximately 1 ? hours on the Bombardier built Q 300.
Meanwhile, the Tanzanian government has expressed its displeasure over charging certain services in US Dollars, probably aimed at airlines, travel agencies and landlords, while the Tanzanian Shilling is the legal tender in the country.
Government sources were quoted to have vowed to 'stamp out the practise' which they termed 'illegal' in the face of market realities.
PRECISION AIR TRAINS STAFF FOR NEW ATR FLEET
It was reported during the week that Tanzania's premier private airline has welcomed back 4 staff who were deployed over the last year at the ATR factory to train in aircraft maintenance ahead of the delivery of more of the advanced turboprop aircraft. The airline is also sponsoring several more staff for the final stages in qualifying as ATR pilots, which is a commendable move looking at the massive cost involved to reach the stage for commercial flying on scheduled airlines. Inspite of the start of global lay off's of pilots due to fleet adjustments and the retirement of aged jets, there is still a looming pilot's shortage on the global stage, thought to worsen over the next years as in particular Middle Eastern airlines are enticing qualified pilots to join their growing fleets.
MORE DETAILS ON NEW MOEVENPICK RESORT ARUSHA
Information was released by the developers of the new Moevenpick Resort in Arusha about the location and concept of their planned project. A 100 acre estate between the international airport and Arusha, near Usa River, will be the location for the 200 suites and rooms resort and an 18 hole championship golf course is also due to be part of the construction and development. This will add much needed upmarket facilities to Arusha, as will the inclusion of a conference facility large enough for several hundred participants. Several restaurants, bars and an all inclusive state of the art Spa will also be part of the new hotel. Moevenpick expects to strengthen their standing in Tanzania with the new resort and has expressed interest to further expand in both Tanzania and the region.
PRIVATE HOTEL SCHOOL OPENS IN KIGALI
A joint venture hotel and tourism school opened last weekend in Kigali, owned by the Canadian based 'Consortium Canadien de Development Touristique et Hotelier en Afrique (CCDTHA) and the Rwandese Ministry of Education. Tourism in Rwanda has in recent years firmly established itself as a leading economic sector and the Rwandan government was keen to establish its own tourism and hospitality training institution to train qualified manpower instead of sending students abroad at a high cost.
EAC SUMMIT ENDS IN KIGALI
The East African Community member states met in Kigali / Rwanda for their annual summit, at the end of which President Kagame assumed the chairmanship of the regional body for the next year. Uganda, Kenya, Tanzania, Burundi and of course Rwanda are the present 5 member states making up the EAC. The political meeting also coincided with a major investment conference held in Kigali, during which Rwanda showcased itself as a democratic nation with a legislative and regulatory framework and an enabling business environment conducive to overseas and regional investments.
It was also learned from summit sources that the much hoped for regional tourist visa was delayed once again as the respective ministers had apparently neither done their homework nor taken the challenges of the tourism sectors in Eastern Africa, following the Kenya crisis earlier in the year, into account. A common Visa is thought to open up the entire region by making multi country visits more affordable and enticing visitors to stay longer in East Africa. The idea of such a common Visa was first formally submitted to the East African Community Committee on Tourism and Wildlife by this correspondent in 2001 in his then capacity as President of the Uganda Tourism Association, but 7 years of intense lobbying have not yet born any tangible results. This development prompted calls from the tourism private sectors for their respective ministries overseeing immigration to wake up and shape up.
SOUTHERN SUDAN TO TRAIN 14.000 GAME RANGERS
It was now revealed in Juba, that training is underway for as many as 14.000 game rangers in locations spread across the Southern Sudan from Nimule over Bor to Torit, Wau and Rumbek. Many of those selected for these training courses are former SPLA troops, who are now being demobilised under the Comprehensive Peace Agreement the South signed with the regime in Khartoum.
The Permanent Secretary (in Southern Sudan called 'Under Secretary') in the Ministry of Environment, Wildlife Conservation and Tourism, Maj. Gen. Alfred Akwoch Omoli, has confirmed these figures in a recent interview with the media in Juba, while adding that external forces are increasingly engaging in commercial scale poaching of wildlife, something the new ranger force will decisively battle to protect the parks, reserves and its game, much needed for the revival of tourism in coming years. Maj. Gen Omoli said such poaching groups came into the South on camels and donkeys with sophisticated weapons, slaughtered the game and carried trophies, hides and meat off to their bases outside the South for onward transportation and sale, either domestically or further abroad, where wildlife trophies and ivory are in great demand.
Some 40 officers, also sourced from the SPLA, are presently undergoing leadership training at the Boma Wildlife Training Centre, located inside the Boma National Park along the border with Ethiopia who will upon completion of their courses be deployed across the Southern region.
Southern Sudan's Ministry of Environment, Wildlife Conservation and Tourism has also now joined the African Elephant Coalition, which comprises 19 African countries vehemently opposed to even limited trade in ivory and other elephant products to prevent the spread of poaching into their own countries. The Southern Sudan has even during the war years managed to protect its wildlife by introducing a determined conservation policy to which all their troops had to adhere. This is now thought to be the main reason that the Southern Sudan's national parks and reserves still harbour substantial game numbers which could grow in relative peace while the Southern people suffered the war waged upon them by the Khartoum regime until early 2005.
During a meeting last week in Mombasa, where Uganda was conspicuously absent, the group hardened their stand against the mainly Southern African demands to restore the trade, which however in the past resulted in a sharp increase in poaching even in Eastern Africa.
In particular China and other Far and South Eastern nations came under fire for their unending hunger for animal products and many at the meeting held those countries directly responsible for the poaching menace in East Africa.
Uganda's Ministry of Tourism, being absent from the Mombasa meeting, sent a mixed signal to their erstwhile allies, as the Uganda Wildlife Authority is strictly opposed to the trade, while a certain official at the Ministry, who has in the past ruffled conservation feathers, continues to obstinately follow his own self appointed course of action. The same individual was incidentally personally blamed in the past for smuggling a leopard culling resolution into the last CITES meeting but demands for his sacking have so far not born any fruits.
ANOTHER AIRCRASH IN SUDAN CLAIMS MORE LIVES
Within weeks of a crash in Southern Sudan of a Beechcraft 1900 enroute from Wau to Juba, which claimed 20 lives including of the Minister of Defence in the Government of Southern Sudan and high ranking SPLA officers, and within days of the Airbus A310 crash of Sudan Airways upon landing in Khartoum, which claimed about 30 lives, news are just breaking about yet another air crash of a flight from Khartoum to Juba.
A plane, reportedly of former Soviet Union make and belonging to Juba Air Cargo, apparently crashed not too far from Malakal in the morning hours while enroute to Southern Sudan's capital of Juba, killing most of those on board, while a young man miraculously seems to have survived, according to the sketchy reports received so far. He is reportedly the one who alerted relatives in Khartoum by satellite phone who then in turn initiated a search and rescue mission. Weather at the time was reportedly bad with heavy thunderstorms sweeping the area.
It is not unusual for cargo planes in Africa to also carry some passengers on board, irrespective of the legality of such behaviour and irrespective whether such passengers are insured or the airline is even licensed to carry passengers. In fact, in Congo and Sudan - but also other parts of Africa - this seems rather common practice, something aviation regulators now urgently need to look into if they really want to clean up the aviation industry and halt the never ending series of air accidents.
AND YET ANOTHER CRASH IN SUDAN RAISES ALARM AMONGST AVIATORS
Within 4 days of reporting about an Antonov crash near Malakal, when the ancient Soviet built plane inexplicably crashed killing about 6 Ukrainian and Sudanese crew and passengers with only one lucky survivor, yet another air accident happened inside Sudan not far from the runway of Khartoum's main airport. Again an ageing and probably poorly maintained Soviet built plane crashed shortly after rotating off the runway and being airborne from Khartoum to Juba, this time killing all on board. There are sketchy reports of some injuries on the ground too at this time, but not yet confirmed by authoritative sources, when the plane came down across a road not far beyond the airport perimeter and in the process mowing down power and utility lines before burning. The owners, reportedly a company by the name of Ababeel, were contacted in their office in Juba and refused to make any comments other then lamenting the loss of the crew, plane and cargo.
With now four major crashes within two months, Sudan has become a dangerous country to fly in and is well nearly now matching the abysmal air safety record of the Congo, where the enforcement of international aviation safety standards is also still a long way off and where rumours of alleged bribery of aviation safety inspectors and regulatory staff emerge time and again after every crash. No ministerial or regulatory staff changes however were so far producing any tangible results towards improving their oversight and air safety. Calls for a complete ban of aged aircraft, in particular from the former Soviet Union, are now gathering momentum amongst the aviation fraternity across Eastern Africa to improve safety by using younger and more modern aircraft which however also need to be maintained according to manufacturer's specifications and agreed maintenance programmes between operators and regulators. These calls and demands are also in light of protecting their own reputation in regard of aviation safety and making sure that visitors from far abroad are not getting the wrong impression that all air travel in Africa is not safe.
KHARTOUM GOVERNMENT REACTION CALLED 'TOO LITTLE TOO LATE'
In an overnight development (Monday 30th June to Tuesday 01st July) it was learned that the Sudanese aviation regulatory department was ordered by President Bashir to immediately ban the use of ancient Antonov and Iljushin aircraft, after one each of them crashed within days last week while on domestic flights. It also appears that the head of the country's civil aviation department was sacked at the same time and more changes are expected to take place in coming days, a move thought to purely assort blame and remain largely cosmetic in nature. The ban however is likely two-faced, as the Sudanese military is also using a fleet of aged Antonov bomber aircraft for their raids in Darfur, the same aircraft which they used to terrorize the Southern Sudanese population during the war, and there is no indication at all that the Sudan Air Force will halt their use of those aircraft. According to reliable reports from Khartoum the Air Force planes were still operating yesterday.
This panic reaction is likely to bring to a halt much of Sudan's internal and external cargo flights, as many of the licensed cargo airlines in Sudan use former Soviet Union aircraft, both Antonovs' and Iljushins'. Most of these airlines are also not thought financially capable to immediately switch to more modern Western cargo aircraft, which up to the beginning of the global petrol crisis were anyway not available in a then tight market. However, the present plans of global cargo operators to retire prematurely some of the aged fuel guzzlers like first or second generation DC 8's, DC10's, B 707's and such veterans like the B747-100 and B747-200 may now provide an opening for Sudanese air cargo companies to lease or even acquire some of those aircraft as replacements, but this will take some time to achieve and then continue to cost them in operating expenses for high fuel consumption and other related expenses like pilot training or having to wet lease at even greater cost.
However, instead of strictly enforcing scheduled maintenance requirements and insisting on regular pilot training, including the twice annual use of an approved flight simulator facility, the Sudan aviation regulatory body clearly failed to insist on those basics of aviation oversight and now pays the price of being relegated to the ranks of the most incompetent authorities in the world. Watch this space.
ZIMBABWE &endash; THE KILLERS DON'T CARE, YET
It now appears that the electoral commission of Zimbabwe has rejected the letter from the MDC leader Morgan Tsvangirai, in which he announced his retirement from the sham election. Regime leader Mugabe and his cronies insisted that the run off election goes ahead to give themselves the resemblance of legitimacy, should they as expected now win. Meanwhile, the violence inflicted on the population seems to go on without any let up, creating a Stalinesque terror not seen in Africa since the Mengistu days in Ethiopia. All calls by neighbouring states and African leaders from further away fell on deaf ears however, and the swiftly arranged summit in Swaziland of SADC was shunned by one of the main players in the region, outgoing South African President Thabo Mbeki, whose role now appears ever more dubious and biased, unlike his ANC party which took a very strong line with the Zimbabwe regime.
Also commended here are other African leaders like Archbishop (rtd) Desmond Tutu, who called Mugabe a Frankenstein, President Kibaki of Kenya who refused to hold the COMESA Summit (as incumbent Chairman) in Harare, Presidents Wade of Senegal and Kagame of Rwanda and even Zimbabwe's erstwhile ally, Angola's President Dos Santos has now made it clear that enough is enough. The biggest blow yet came from African liberation icon Nelson Mandela, who minced no words either when condemning Mugabe's failures during his visit to Britain.
The regime however does not seem bothered at all and the pin prick of banning Zimbabwe's cricket team from playing in England or stripping Mugabe of his Honorary Knighthood in the UK will only make the killers bolder in their behaviour.
What is now called for are definitive travel bans against all regime members, leading ZANU-PF activists, security personnel and all their families, to travel abroad, hold foreign bank accounts or study in countries opposed to Mugabe's actions. Even banking transactions can be frozen, as was just recently enacted against the main Iranian commercial bank, to cut off Zimbabwe from access to the banking world and halt all efforts to transfer their ill gotten wealth, stolen from their own people to safer havens.
South Africa for instance could cut off electricity supplies and halt all fuel in transit to Zimbabwe, close her harbours for Zimbabwean imports and exports and other countries could deny the Zimbabwean state airline overflight rights. Should this not suffice, adjoining countries can even close their borders until the crisis comes to an end. With Zimbabwe's neighbours in agreement that Mugabe has to go, the regime will not hold for long in the face of no power, no fuel and no other way to deal in commerce or trade, once roads, rail and air connections are cut.
As a final resort, the African Union and SADC can still resort to an armed peacekeeping mission to keep the killer militias in check until some resemblance of law and order has been restored to the savaged country. Meanwhile, we are left with prayers and the hope that at last some decisive action will soon go underway, as neither talking nor Mbeki's 'quiet diplomacy' have shown any effect.
And again some interesting tourism news from Gill Staden, Livingstone, Zambia:
Kaza Park
The signing ceremony for the new Transfrontier Park was held in Livingstone on 17June. Many dignitaries came from Lusaka and South Africa to witness the signing of the document which could encourage the rise of tourism in this area of central/southern Africa.
The ceremony was well attended by Livingstone folk, especially from the Livingstone Tourism Association. It was held at the Golf Club.
There were a few speeches which were kept to a minimum and were also light-hearted at times. Then Professor Van Reit, from Peace Parks, handed over the document for signing. The document was signed by Michael Kaingu, the Minister of Tourism.
After all the formality, the National Dance Troupe performed a dance … all the dignitaries joining in.
After the ceremony in Livingstone, everyone moved to Sioma. The ceremony was repeated there. Unfortunately, I was told that the Litunga could not attend. Let us hope that this does not bode ill for the Kaza Park.
Lion Project
The Environmental Impact Assessment for the Lion Project in Dambwa Forest has been approved. Meanwhile we hear that Chief Mukuni has already started an operation of Walking with Lions near Mukuni Village.
Here is a comment from one Livingstonian:
The lion project has been adopted in spite of great opposition from Livingstone. I heard that about 99 percent of the members of the public at the EIA public hearing opposed the project strongly. But public opinion is not always important apparently. Neither is the opinion and advice of recognised scientists and lion experts.
The Chief does have some lion cubs and there has been no mention of the project requiring an EIA. Perhaps chiefs are exempt from such laws. Besides, we have been advised not to talk about it or more people might get deported. But there is an increased market for goats if anyone is interested.
I was also informed by ECZ a few days ago that Dambwa Forest has become part of Mosi-o-tunya National Park. That was news to all of us in Livingstone. None of this was mentioned or even suggested two years ago when ZAWA were drafting the management plan for the park or when they were gazetting and degazetting certain portions of the park to make adjustments for local community settlements. It is, meanwhile, rather in line with the KAZA Transfrontier Conservation Area development plan, (just launched), which encourages linking up of various protected areas within the region. Fencing of those areas, on the other hand, was discouraged.
From Zambian Ornithological Society Newsletter
Vultures at Risk from Veterinary Drug
A crash of over 99% in the Asian vulture population has occurred in recent years. This catastrophic drop was caused by an anti-inflammatory drug used to treat cattle in India. Vultures feed on the carcasses of dead cattle, get poisoned and die. The drug is called Diclofenac, which many of you will know as Voltaren. The further manufacture and distribution of the drug has now been banned in India, but sales of the drug still in stock continue. A safe alternative to Diclofenac has been found, which is called meloxicam.
It will take many years, if ever, for the vulture population in India to recover. The fact that there are so few vultures left in India means that their very important role as scavengers and garbage disposers has been taken over by feral dogs. The risk of rabies infections has increased greatly as a result.
If anyone has any information on the sale or use of Diclofenac in Zambia, please contact lizanne@coppernet.zm. While it is unlikely to be a problem when used for the treatment of horses, it could be problematic when used in the treatment of cattle or wild animals. It is mostly a drug used on larger animals.
Bird Collecting in Africa
A scandal over bird collecting was recently uncovered in Malawi, and there is concern that anything of the sort could also happen in Zambia. Various American Institutions have in recent years collected thousands of birds in a number of key reserves, including the Misukus, Nyika National Park, Ntichisi and Mulanje. In Malawi, and probably elsewhere, these Institutions are assembling vast collections without any consideration for the welfare or conservation of birds. The numbers of birds taken on a single trip are often excessive (up to 50, 70 or even 113 birds of individual forest species). We have also heard of Americans collecting in other "easy" countries, eg Ghana. Apparently the same people are planning a collecting trip to Zambia in September. There is certainly a need for local conservation bodies to be on the alert. Please inform ZOS if you hear of anything like this happening in Zambia.
US DOLLAR CONTINUES TO FALL
The value of the US Dollar against the Uganda Shilling has now dropped into the 1.550/1.560 bracket although it is understood that Central Bank intervention is now imminent to boost the dollar value once again. Exporters have been complaining bitterly about earning less in shillings, which makes meeting their production cost difficult if not impossible. Only weeks ago the currency still traded in the 1.700+ region and the change is hard to explain, as the US currency did not fall that sharply on the international market during that period. The drop in the dollar value may also have an influence on any safari packages quoted in US currency and would be travellers are well advised to check with their respective tour operators on any imminent changes in quotations. The Ugandan currency over the same period also appreciated notably against the Euro, the UK Pound, the Swiss Franc and the Japanese Yen, making visits to Uganda considerably more expensive should the trend not reverse in due course.
Hotels charging guests in US Dollar rates are also said to be considering a way out of the situation and maybe express rates in the future in Uganda Shillings, but going by the wild fluctuations in recent years we will probably then see another reversal again some way down the line.
AVIATION ON THE ABYSS
With aviation fuel prices in Entebbe now standing at US Dollars 1,17 per litre of JetA1 and an astonishing US Dollars 2,38 per litre of AVGAS, worries amongst aviation staff are spreading as the future of some airlines seems more than uncertain now.
MK Airlines, a cargo airline operating to and from Entebbe &endash; using B747-200F's and DC8F's &endash; in fact earlier in the month had all their flights halted by the administrators and managed as a last ditch stop gap measure to raise some more funds from investors. The extra money however is not primarily aimed at paying the ever increasing fuel bills and other outstandings, but mainly towards a fleet overhaul to expire the fuel guzzling 'oldtimers' presently dominating their fleet. MK is now operating many of the routes previously flown by DAS Air Cargo, which went into administration too last year and has since then not operated under its previous format. The same stark reality is now also roaming the executive offices of other airlines in the region, in particular smaller carriers with only one or two aged aircraft, where the cost of fuel has now reached such percentages in the overall airline cost, that it all but threatens their very financial existence and survival.
Charter flying for tourists to the national parks, in Uganda and across the entire region, is said to have become more and more expensive too, largely driven by the cost of AVGAS and safari- and tour operators have raised some vain complaints about the fuel prices, which will ultimately have no effect at all, as their own vehicle operations too are now facing petrol price increases. The cost of fuel is now exceeding Uganda Shillings 2.700 for the first time in non-crisis times (about US Dollars 1.72 per litre) while diesel prices are almost at par now. 2008 is now thought to pose the biggest challenges to aviation and tourism since 9/11 and if the prices for food, energy and fuels continue to rise at the present rate, it may well result in a recession induced sharp reduction in global travel.
UWA EXTENDS CONCESSION DEADLINE
The Uganda Wildlife Authority has now announced that the deadlines for applications / tenders for two of the recently advertised concessions opportunities were extended to the 11th July this year. One of those still available is for a fishing concession in the Karuma Wildlife Reserve along the river Nile while the other one is for the development and management of a tented camp in the Ntoroko area of the former Tooro WR, now called Semliki Wildlife Reserve. International bids are welcome but require some local assistance to obtain the hard copies of bid documents and to make the required cash payment of the prerequisite fees.
More information can be obtained via uwa@uwa.or.ug or by visiting the UWA website at www.uwa.or.ug
KINGDOM HOLDINGS ADDS AIRLINE TO ITS PORTFOLIO
The Saudi Arabian owned company, under which diversified interests' also fall Kingdom Hotels &endash; owners and operators of the prestigious Fairmont and Moevenpick brands &endash; has now bought into the Saudi kingdom's first private airline NAS Air, when taking over a 30 percent stake in their mother corporation NAS from Abraaj Capital, also of Saudi Arabia.
NAS Air, first licensed by the Saudi aviation authorities in late 2006, presently has some 5 aircraft operating but expects to have a fleet of at least 18 by 2010. NAS itself is said to have over 150 aircraft on order, most of them thought to be for leasing on to other Gulf carriers and airlines from around the world. No figures were available on the value of the acquisition as yet. Here in Uganda it is hoped, that this will not have a financial impact on their plans to build a luxury hotel in Kampala, where only recently &endash; after years of waiting &endash; their 17 acre site was fenced up in preparation for construction.
FALLOUT OF AIR CRASHES CONTINUES GO GROW
News have reached from Juba and Khartoum, that Sudan Airways' licence and AOC were suspended by the Sudanese aviation regulators for initially a month, following the crash of their A310 recently upon landing in Khartoum. While thankfully most of the passengers and crew survived the flaming inferno of the burning plane, some 30 passengers and at least one crew member lost their lives. This means that effective immediately Sudan's national airline cannot operate a single flight until the end of the suspension, which sources from Khartoum say may in fact be extended, if Sudan Airways cannot satisfy the regulators' directives. There is open speculation over the causes of the suspension but the crash has certainly not helped, if indeed other reasons caused the regulator's nearly unprecedented step.
Contacts known to this correspondent within Sudan Airways' circles have politely declined to be drawn into the debate and refused to make any comments.
Meanwhile in Kenya accusations are flying towards the KCAA for having licensed the crash pilot, whose records suddenly are made look dubious by latest revelations in the media and hushed talk within the aviation fraternity at Wilson Airport, how he could have obtained a CPL (commercial pilot's license) within an apparently very short period of time after completing his initial PPL (private pilot's license) course. It now appears that, inspite being on VFR operations mode (visual flight rules) the pilot was flying through thick clouds on the fateful day which is not permitted under VFR and air traffic control hence did not communicate as extensively with the pilot as would otherwise be the case under IFR operations. It could not be ascertained if the pilot was indeed even cleared for IFR operations or was only checked out for VFR's. The aircraft in question also seems to have suffered a previous accident while in Kenya and it is alleged that subsequently the registration was changed. The plane was initially imported from the United States and there are now also belated questions on discrepancies of data between what was in the American documents and what now appears in the Kenyan documentation.
Pressure on the Kenyan CAA meanwhile continues to grow and changes at the helm and across the organization are no longer ruled out in coming weeks and months.
RVR NOW SAYS RAILWAY OPEN
Rift Valley Railways has now belatedly clarified, that the forced line closure between Nakuru and Kisumu would not affect traffic to Uganda after all. While the Kisumu branch line remains closed due to theft of rails and sleepers, traffic to Kampala by rail is now possible again following the re-opening of the line in Uganda. Heavy rains had swept culverts away some weeks ago and repairs were concluded late last week. However, RVR's Kampala office had at the time failed to respond in a prompt manner regarding the impact of the Kenyan line closure, showing further evidence of their eroding relations with the media after being hammered by sections of the East African media houses over their performance since taking control of the Ugandan and Kenyan railway systems.
SOUTHERN SUDAN TO CARRY OUT GAME CENSUS
In the past two years some partial aerial game counts were carried out, one notably by renown conservationist Dr. Richard Lamprey &endash; whose father was the first Principal of the institute now known as Mweka Wildlife College near Moshi in Tanzania &endash; but no full count of all areas yet has been established todate. GoSS, the Government of Southern Sudan, has now decided it needs a comprehensive aerial and ground count to support their wildlife policy, under which some 5 national parks and 13 game reserves have already been restored, since the government was put in place in 2005. It is understood that IFAW, the international fund for animal welfare, has pledged nearly 100.000 US Dollars towards the exercise.
GoSS is also embarking on an ambitious target to train sufficient numbers of game rangers to guard its national resource base, which in time to come should be able to offer yet more options for wildlife safaris in Eastern Africa. GoSS is also seeking funds towards demarcating the parks and reserves while also restoring infrastructure like bridges, roads and tracks to allow increased tourism use of the areas. The biggest 'Southern National Park' at present is said to be over 23.000 square kilometres large and should form the back bone for the newly emerging tourism sector in coming years.
SUDAN AIRWAYS THROWN A LIFELINE
Information just (Monday evening 23Jun08) received from Khartoum and Juba indicates that following apparently extreme political pressure on the aviation ministry's regulatory department, they have now given Sudan Airways a 'reprieve' and halted their directive that the national carrier stop all flights immediately.
Some governmental and aviation sources indicated to this correspondent that the initial suspension was not at all due to the crash but over other unspecified 'administrative issues' which needed resolving, a weak excuse in the opinion of this correspondent and some of his sources to explain away the change of heart by the aviation regulators. Both Sudan Airways top management and also a number of influential people in the Khartoum government were reported to have put up their lobbying and following senior most intervention the regulators were counselled to lay off the airline and 'give them time' to sort out their issues while continuing to operate. Sudan Airways was apparently given at least two weeks to prepare for a safety audit and provide other documentary evidence as to compliance with Sudanese CAA regulations.
From different sources it was however learned, that other than passengers already booked to come back home on Sudan Airways from its international destinations there is now clear apprehension by would be travellers over the safety of the airline and many have opted to book their flights on other airlines. Watch this space.
GORILLA MONUMENT REVEALED IN KIGALI
As part of the Kwita Izina festival activities, ORTPN &endash; the Rwanda Office for Tourism and National Parks &endash; has unveiled a statue of two gorillas in the centre of Kigali near the City Council offices. Gorilla tracking is a key activity in Rwanda's tourism industry and the monument will be a permanent reminder for visitors and residents alike of what natural treasures Rwanda's mountain forests hold.
Elsewhere in the country other activities marked the festival celebrations, like bike races and football tournaments, involving the local communities in the conservation activities of the Rwandan government.
Most lodges and hotels in the country were fully booked during the festival which attracted thousands of Rwandese as well as hundreds of visitors from the region and from overseas. The festival itself was an overwhelming success. Since the inauguration of the festival four years ago 85 young and new born gorillas were 'named' and attracted major contributions towards wildlife conservation in general and gorilla protection in particular. Key guests at the main ceremony were the Rwandan First Lady and the country's prime minister, adding political high profile to the event. Details of the 2009 Kwita Izina festival will be available from ORTPN in due course for potential participants and sponsors.
ZIMBABWE &endash; THE END OF A DREAM (published first in eTN on 23/06/08)
As Zimbabwe was led down the road of ever increasing violence by its brutal rulers over the past few weeks, the patience of the MDC and of Morgan Tsvangirai and his fellow opposition supporters has finally run out. With more and more people being killed, mercilessly beaten up, maimed and tortured, they finally thought that enough was enough and the Zimbabwean people should not suffer any longer over an election campaign which had been perverted to the very core.
The results of the first election round were, by broad international consensus, clearly stolen by Mugabe's ZANU-PF in their desperate attempt to hang on to power, causing the run off to become necessary in the first place. The regime and their obviously demented leader then unleashed a barrage of violence, intimidation, threats and hunger on the population, nearly unprecedented in history, not only in Africa but anywhere in the world and threatened a civil war if the opposition would ever come to power.
The result of the pulling out of the MDC finally decided on Sunday after an agonizing period of deliberations and consultations now reverberates across democratic Africa and the rest of the world. Robert Mugabe, erstwhile liberator turned brutal dictator, has clung on to power in the face of his own people, whom he led to near total ruin over the past 8 years of his 28 years at the helm of his country. His own legacy of having defeated Ian Smiths apartheid regime inspite of ongoing murmurs since then about alleged war crimes and crimes against humanity would have been cast in iron and for eternity, had he stepped aside at the end of the 90s, but greed for power overcame the former liberation hero and he now has a place in the bad book of history not much different from other tyrants and despots like Bokassa, Taylor, Mobutu, Mengistu (incidentally in safe exile in Zimbabwe until now) or Banda, besides a few others.
The MDC decision today should also be a wake up call for those African countries, and China for that matter, which were and continue to be well near complicit with the illegal regime, having for years at end extended overt and covert support to Mugabe and ignored the desperate plight of the Zimbabwean people with complete disregard to the reality on the ground and open contempt for any democratic principles. China in fact, already under international pressure over their recent behaviour in Tibet and the acts of their goon platoons accompanying the international Olympic torch relays, has most recently been overtly adding to the situation in Zimbabwe by boosting the regimes weapon and ammunition supplies, aimed at inflicting further suffering upon the Zimbabwean people, as events of the past weeks show. South Africa's president Mbeki in fact excelled doing not only an apologetical and appeasing Chamberlain with Mugabe even during the last few weeks but by doing so bringing the entire capacity for reality judgement of African leaders into question when he first concluded there was no crisis in Zimbabwe and then looked the other way as violence and suffering reached new unprecedented heights in that poor country. He then allegedly played a key role to have the Chinese weapons and ammunition delivered to the regime boosting their capacity for violence, while some of his own misguided countrymen, probably encouraged by the attitude of their own president, unleashed another wave of terror on Zimbabwean refugees who had sought shelter in South Africa. This head in the sand approach in fact severely dented if not outright spoiled Mbeki's own legacy, while to the surprise of many his most likely successor Jacob Zuma repeatedly spoke out decisively and with evident force on the problem, making him as a result more electable and gaining stature abroad. Many of the present African leadership within the SADC region (Southern African Development Cooperation) and beyond however now have the proverbial egg all over their faces and they should hasten to help to put things right from here on. Notable exceptions here are Zambian President Mwanawasa who was most outspoken in condemning Mugabe and his uniformed hoodlums and the first to tighten the screws on the regime and just a few days ago Rwandan President Kagame, who condemned the Zimbabwean rulers without mincing words. It is time now that SADC and other African leaders tell Mugabe to get out of office and allow the winner of the first round of the elections some weeks ago, Morgan Tsvangirai, to be sworn in as duly elected new president, to lead his country out of the political and economic abyss and return Zimbabwe to the civilized family of nations.
Zimbabwe was an economic success story immediately after independence and even before, when inspite of harsh sanctions the country still maintained a positive balance of payments and exported plenty of food into the wider African neighbourhood, whenever draughts destroyed harvests in other countries. In fact, the first 20 years of Mugabe rule still maintained the resemblance of economic stability, inspite of the developing cleptocracy, but over the past eight years the country degenerated rapidly from bread basket to basket case.
Now considered a near failed state the country's currency is in accelerated free fall with inflation rates in the million plus percentage region, itself a dubious global record, foreign currency reserves have disappeared, shelves in shops are empty, petrol and diesel have all but run out, constant power outages keep much of the country in darkness, over 80 percent of the population are jobless, over a third of the adult people have become economic migrants and political refugees outside the country and life expectancy in average is now only about 37 years, with child deaths amongst the highest in the world. Hundreds of MDC supporters were killed, maimed, tortured and jailed since the first election round and the regime continued with absolute impunity to inflict terror on the voters to beat them into casting votes for Mugabe, while continuously harassing and arresting the opposition leaders to prevent election canvassing. If the pull out of the MDC is going to change these terror tactics by the country's security goons will much depend on what pressure is now being applied on the regime by its neighbours and what, if any sanctions in particular South Africa is going to impose to force a swift solution.
The so called land reform, which saw productive farms and ranches handed to Mugabe's cronies, only consequently turned them into unproductive waste lands, has starved the country of food and the once thriving tourism industry too has all but collapsed owing to lack of fuels, lack of other supplies, lack of foreign exchange for marketing and importation of equipment and most important a total pariah reputation as a country in the key producer markets for tourists around the world like the US, the UK and the EU mainland nations.
It is hoped however that once a new and democratic government has been formed at some time in the future, a new breed of politicians with renewed compassion for their compatriots will then swiftly reverse the grotesque actions taken in the twilight days of Mugabe's draconian dictatorial rule and restore sanity to a country relentlessly raped and savaged for years by its ZANU-PF overlords. I have all confidence that a future president Morgan Tsvangirai would be able to return Zimbabwe into the family of civilized nations, turn the economy around and make amends for the evils perpetrated against society at large in the final months and weeks of Mugabe's terror regime and mend fences with his neighbours. And should criminal charges against the perpetrators of crimes against humanity be preferred, in Zimbabwean courts or in The Hague, it would at least offer some late justice for those who suffered endlessly and lost their lives.
That all said, for now must all continue to pray for the innocent victims in Zimbabwe and hope for both divine as well as neighbourly intervention, to bring an end to the ongoing crisis.\
ENVIRONMENTAL ASSAULTS WILL COST EAST AFRICA DEARLY
A recent UN environmental report again casts grave doubts over the continued existence of the Rwenzori Mountain glaciers, which have already shrunk to a fraction of their previous size, since the Mountains of the Moon were first climbed 103 years ago. The past 20 &endash; 30 years in particular are said to have caused the most extensive shrinkage of the ice fields, when major portions melted away and no amount of fresh snow was able to keep them intact. Like the snow on Kilimanjaro, the Rwenzori glaciers are now also feared to disappear over the next 20 years, with potentially explosive and devastating consequences for the communities most relying on them. Much of the 'normal' melt off waters from the Mountains of the Moon feed streams and small rivers, from which surrounding farming communities draw their water for irrigation, for their livestock and their own use while the Kilimanjaro waters, in addition to farming use in Tanzania and Kenya, also constitute much of the Kenyan coast's water supply, pumped to Mombasa from as far as the Tsavo West National Park's Mzima Springs. The lack of snow and ice caps would therefore have devastating consequences for both agriculture and tourism (Kilimanjaro is a national park and surrounded by yet more national parks and reserves and the Rwenzori Mountains too are a national park and have several game reserves and parks in their immediate neighbourhood) and would pose further socioeconomic problems when the water pipelines, leading from the foothills of Kilimanjaro to (Kenyan town) Machakos and Mombasa would run dry.
The report alleges that between the late 1980's and early this decade up to 50 percent shrinkage alone was recorded through satellite image comparisons and that the trend was in fact accelerating. In the face of these alarming report however, coordinated assaults against the environment continue across Eastern Africa under the pretext of 'industrialisation' with little if any attention given to the impact of such decisions on the environment in the medium to long term.
Meanwhile, other environmental watchdog reports also warn of further desertification in Uganda &endash; and in fact also large parts of Africa &endash; where over the past 15 years the area under such threat is said to have grown from 40 percent to 50 percent, largely attributed to poor environmental practices, often indiscriminate cutting of trees and forested patches for firewood and charcoal and other environmentally degrading behaviour by fast growing human populations. Watch this space and watch your environment!
HUGE DIFFERENCES IN TOURISM BUDGETS
The tourism industry across Eastern Africa is undoubtedly a major, in some cases the biggest contributor towards foreign exchange earning, providing jobs and spreading income opportunities even to secondary and tertiary levels in the respective national economies. Yet, there is a marked difference in how governments across the region treat tourism within their annual budgets, a clear sign just how well some governments understand tourism and value it, beyond the usual verbal avalanches while others simply do not inspite of all efforts by the respective private sectors and tourism guru's to change this.
Kenya, emerging from some rough patches, after the post election violence all but wiped out the gains made in recent years, indeed put their money where their mouth is and allocated a nearly quadrupled budget to the tourism ministry for 2008/9. This comes after already devoting a 1.5 billion Kenya Shillings package to promote the country in core, emerging and new markets and return the sector to a steady growth path. A further 600 million Kenya Shillings were allocated for the next financial year to the Kenya Tourist Board to sustain the impact of its present marketing campaigns, a sum called inadequate by the Kenyan Tourism Minister who demanded an annual minimum funding of 1 billion Kenya Shillings for the tourist board. The Minister made the remarks while addressing the Annual General Meeting of the Mombasa and Coast Tourist Association earlier in the week. At the same time he asked the hotel sector to pull up their socks and renovate and upgrade their hotels to bring them in line with current international standards in competing destinations.
Also smiling in Kenya will be the national airline Kenya Airways, who seem to have gotten the tax relief they were asking for, i.e. zero rating of VAT on their services instead of 'exemption' as the airline can now claim their 'input taxes' back from KRA. This will boost the competitiveness of the airline on domestic and regional / international routes and add to their recovery programme put in place at the height of the country's post election violence during the first quarter of this year. Licensing of tourism businesses will also benefit as the previous number of up to 25 licenses was reduced to only two, easing the administrative cost and saving resources for investments and marketing.
In Uganda, tax and duty exemptions for construction in the hospitality sector were extended by at least another year, which will help developers offset some of the cost increases caused by steadily rising energy cost, soaring prices of building steel and cement and other inputs like transportation. However, the duty and tax refund facility on diesel used for generators with a capacity above 100 KVA will now be terminated, as government considers to have done enough to provide reliable electricity supplies through the introduction of thermal power plants. This will affect hotels to some extend whenever their power is off as they then have to pay for the full diesel price.
The airline industry was at the same time exempted from income tax while withholding tax on aircraft leases was also waived, the latter a point this correspondent in a different capacity had lobbied government for the past few years on behalf of the domestic aviation association UAAO. It is however unlikely that this will translate in lower ticket prices any time soon, as more fuel surcharges on tickets are imminent.
Substantially more money however will be poured into road construction and rehabilitation, while funds to complete a new rail ferry presently under construction have also been set aside in the budget. What was sadly missing though from the generally positive budget for the business and agricultural sectors, was the much hoped for sharp increase in funds allocation for the Uganda Tourist Board and neither did the Ministry of Tourism, Trade and Industry fare much better, as it remains one of the least facilitated government ministries for at least another year. The Ugandan 2008/9 budget reduced donor reliance to about 30 percent, compared with well over 50 percent just a few years ago and is expected to be the last budget without oil revenues featuring in the government income column, as production of crude oil is expected to go underway sometime in 2009.
GOOD BYE WINDSOR HOTEL, WELCOME LIBYAN HOTEL (?!?!?)
One of the best known brand names in Uganda's hospitality industry, the Windsor Lake Victoria Hotel in Entebbe, is now reported to have been changed to 'Libyan Hotel', possibly reflecting their new ownership vested in the Libyan Africa Investment Company 'LAICO'. However, marketing circles in Uganda have swiftly denounced the move blaming the new owners of 'knowing nothing about brands and tradition' and throwing out a well known age old brand name for self glorification.
It is expected that the general public will continue to refer to the hotel as the 'Lake Vic' irrespective to the new owners' desires, as it has been fondly nick-named by its many patrons over the decades. This is something the new owners may struggle to come to terms with as being the market reality in Uganda.
One other hotel operator in Entebbe was smiling with glee when talking to this correspondent about the development and said: 'if they want to mess up their name that is good with all the rest of us, we will exploit it. Just look at their renovations, they took over 10 years and still do not compare with new hotels in Entebbe, they changed so many managers and had many problems with strikes, let them learn their lesson the hard way if they do not know better, we others shall appreciate their mistakes'.
NEW EXECUTIVE FOR AUTO
The Association of Uganda Tour Operators during their recent Annual General Meeting elected new office bearers. New chairperson is Mr. Henry Okecho and vice chairperson none other than adventure travel guru Cam McLeay, proprietor of Adrift Uganda. Others on the board include well known safari and tour operator pundits like Jane Goldring, Amos Wekesa (who is also vice president of tourism apex body UTA), Mohit Advani and industry veteran Boniface Byamukama, amongst others. All the best to the new board for the many tasks ahead of them and in particular many thanks to former chairman Mel Gormley of Classic Africa Safaris, who steered the tour and safari operations sub sector from strength to strength in recent years.
MORE BUS SERVICES INTO THE REGION
In the face of rising fuel prices and escalating air fares cum fuel surcharges, another regional bus service from Kampala was launched recently with 12 busses seating 44 passengers each. The present destinations are Nairobi, Juba and Kigali but the company intends to add Bujumbura / Burundi in the near future as well as Gisenyi on the border between Rwanda and Congo. Fares are said to be competitive in comparison to other bus ticket prices of existing operators but as demand grows for affordable fares there seems no end at present to new operators entering the market or existing companies adding new busses to their fleets.
PARLIAMENTARY SPEAKER DEMAND KCAA SACKINGS
While meeting mourners at the Nairobi home of the late Home Affairs Assistant Minister Lorna Laboso, the Speaker of the Kenyan Parliament called for the sacking of senior KCAA officials and the overhaul of the Civil Aviation Authority. He blamed 'complacency' and demanded that KCAA immediately publish a register of air worthy aircraft while recalling the air accidents over the past years which cost the lives of several Ministers and Parliamentarians. Time and again was the competency level at KCAA questioned in the past when such major accident occurred and doubts continue to linger now that another air accident robbed Kenya of a senior and junior minister. His demands were also mirrored by similar sentiments being expressed from the aviation fraternity, one of whom told this correspondent under assurance not revealing his identity: 'aviation is not a matatu (accident prone commuter taxi) business and should not be run like one either, safety is absolutely paramount'.
DELTA'S NAIROBI FLIGHTS PUSHED TO 2009
Delta Airlines, a partner of Kenya Airways through their mutual Sky Team membership, has now reportedly moved their intended flights to Nairobi further into the future. Prior to the post election violence in Kenya, the inaugural flight was due to have taken place already, but owing to the market down turn in the wake of the violence, Delta then decided to launch a few months later than initially planned. This however has now, according to aviation sources in Nairobi, been postponed once more and the launch of the much expected flights, said to be initially three a week between a yet to be confirmed gateway in the US and Nairobi, will now not take place before some time well into 2009. Watch this space.
RAILWAY INTERRUPTED AGAIN
Acts of 'vandalism' are blamed by the Kenyan offices of Rift Valley Railways for the closure of the railway line between Nakuru and the Ugandan border, which took effect earlier in the week. Kenya's post election violence already cause the line to be interrupted twice, when political hooligans allegedly aligned with Raila Odinga's ODM party, uprooted the rails near Nairobi. Only last month was a section of the railway in Uganda swept away after torrential rains and the repairs were just concluded, allowing rail traffic to flow again earlier this week. The renewed disruption of services on the Kenyan side does not spell well for RVR or for Ugandan importers and exporters. All cargo will now again need to be hauled by road which, in light of record fuel price levels, had become more and more expensive in recent months and added to the already stiff transportation cost our landlocked country suffers from. The Ugandan government is said to be in fast tracking talks with Tanzania to increase the capacity of rail traffic on the route from Dar es Salaam via the Mwanza ferry port to Port Bell, the lake harbour of Kampala on Lake Victoria as an alternative rail route, but shifting major tonnages from one rail system to another will by any standards not be easy, as ferry capacity is said to be severely limited after one ferry sank two years ago and the other one involved in the collision is still under repair.
Whatever security measures RVR has presently in place is clearly not enough to protect the railway and its assets and installations. The company, already under scrutiny by the Kenyan and Ugandan government over their performance since taking control of the Ugandan and Kenyan railway system, will have a hard time to now live up to the concession agreement, which seems shakier than ever before.
CLICK FOR UGANDA NEWS ARCHIVES
Earlier items by Prof. Thome
been set for the middle of April but as the ICC warrants continue to hang over Kony and his co-killers &endash; the ICC has not lifted the indictments inspite of Kony's threats &endash; a true signing may still be way off. However, with the LRA ranks decimated and its remaining core camped in the CAR, at least peace has returned to Northern Uganda for now even without a formal deal.
KENYA PEACE DEAL STUCK IN MORE ARGUMENTS
While calm has returned to Kenya in recent weeks, following the Kofi Annan sponsored peace agreement between the main political foes and the amendment of the country's constitution to make way for the appointment of a Prime Minister, the final enactment still seems some time away. For the past weeks the two sides cannot seemingly agree on cabinet positions and distribution of jobs amongst their supporters, and Kofi Annan had to step in once again to get some movement back into the process. Outbreak of violence however is presently most unlikely and with Annan's efforts redoubled a positive outcome is expected in due course. Watch this space &endash; and visit Kenya now to take advantage of some extraordinary low season offers.
And just returned from her Easter break, here is Gill Staden again with some more tourism news from Zambia's side of the Victoria Falls &endash; Livingstone. Of particular interest here is the issue of the recently revised Visa fees for Zambia, which is already showing a severe impact on day visitor arrivals from across the border between Victoria Falls / Zimbabwe and Livingstone / Zambia and general tourist visits into Zambia. A comprehensive report compiled by the Tourism Council of Zambia is therefore featured here for the information of this column's readers.
Equally, if not more important however is her Easter safari report into Zimbabwe &endash; just ahead of the general election in that country &endash; spiced up with some pictures to raise some taste amongst the readers to visit, after the Visa fees have been re-visited I should add:
The Implications of Zambia's Revised Visa Fees in the Tourism Sector
Tourism Council of Zambia
March, 2008
1. Background
Business success, whether at the industry level, or the level of the individual entity, depends on the quality and competitiveness of a combination of: product, location, service delivery and price. A survey of international tour agents conducted during research for this paper suggest that Zambia's tourism sector is performing well on at least the first three of these four criteria - Zambia is seen as an expensive destination - at the national level (see the summarised results of the questionnaire in Annex 1).
However, two conditional statements on Zambia's tourism pricing are required to place this statement in context:
firstly, Livingstone and the south-western tourism circuit and some elements of the Lower Zambezi and South Luangwa tourism areas, are linked into cross-border tourism circuits and the South African supply chain and are more price sensitive than internal tours and are subject to some market resistance from Zambia's rising prices. This is now being emphasised with the apparent re-emergence of Zimbabwean tourism; and
the cost of carbon taxes, departures taxes, fuel levies, visas and the like is increasing the ancillary cost component of holidays to southern Africa to a level where clients are now aware of and sensitive to these additions (see comments from tour agents in Annex 1).
Tourism is now recognised as an important contributor to the economy and has been formally placed as one of four key pillars of growth driving the Fifth National Development Plan. In spite of recent economic skewing created by the exceptional price of Zambia's base and precious metal exports and associated mining investments, the tourism sector is performing quite competitively with critical regional tourism markets &endash; especially Botswana, Tanzania, Namibia and even Zimbabwe (which it is now starting to show signs of recovery) (see Figure 1).
The medium term (1999 to 2006) moving average for total visitor arrivals has increased from 8.2% to 9.4% per annum; following a significant 13.2% increase in 2006 to 756,860 visitor arrivals (2007 data are not yet available). The 2006 growth rate exceeds the World Tourism Organisation data for both sub-Saharan Africa and Africa as a whole. Perhaps even more important is the exceptional 17.7% increase in holiday tourist arrivals in 2006 (over 2005 arrivals), to 242,358, or 32% of all arrivals.
These figures should be seen in context &endash; they are more than three times higher than growth rates in the early 2000's &endash; and confirm that Zambia is now on the tourist map. Current arrivals trends suggest that Zambia will achieve between 1.4 million and 2.0 million arrivals by 2015 (see Figure 2). This will probably generate between 450,000 and 650,000 holiday tourist a year by then.
But to put Zambia's progress in perspective it is worth noting that Zimbabwe achieved in excess of 2 million visitor arrivals in the 1990's.
Figure 1 Tourist Arrivals to RETOSA Countries
Source: RETOSA, 2005
Figure 2 Projected Visitor Arrivals to Zambia to 2015.
Source: Ministry of Tourism, Environment and Natural Resources, 2006
Where do Zambia's tourists come from? In 2005 Southern Africa was the most important source area for holiday tourists, providing 38% of holiday arrivals, with Europe next with 31%, the Asia Pacific region providing 11%, the Americas 10%, and the rest of Africa another 10% (see Figure 3).
This changed dramatically in 2006 with the share of European tourist arrivals increasing by 39% to 37% of the market; American arrivals by 66% (to 14%) and Asian/Pacific arrivals by 13% (to retain 11% of the market). Simultaneously, and significantly, the southern African market share has fallen from 38% to 31% (with a reduction in approximately 3,000 tourists). What has changed?
Figure 3 Source Regions for Zambia's Tourists (2006)
Source: Ministry of Tourism, Environment and Natural Resources, 2008
These data all suggest that after many years of hard work Zambia's tourist industry is beginning to take off. It is at this critical point that the potentially damaging 2008 budget adjustments to the visa regime have been introduced.
2. Issues from the New Visa Measures
This paper examines the issues as an objective risk assessment of possible impacts on future tourist arrival patterns and revenue streams. And also possible constructive modifications to the visa measures. The paper is based on data from the Ministry of Tourism, Environment and Natural Resources, official publications from the Immigration Department and a Tourism Council of Zambia questionnaire that was circulated to principal tour agents around the world that serve the Zambian market.
The principal issues are threefold:
Zambia is on the brink of major tourism growth - and unnecessary regulatory, or other changes can interrupt, or even reverse, the momentum achieved;
the introduced visa fee increases apply to and directly affect Zambia's principal off-shore source of tourists &endash; the United Kingdom; as well as a large and rapidly growing market source &endash; the United States (10.6%) &endash; as well as business visitors from these countries; and
the removal of the visa waiver facility (that allowed bone fide tourists staying with licensed tourism operators to a waiver on visa fees), affects all non-African nationals visiting Zambia.
Table 1 shows the new Visa measures in a regional comparison.
Table 1 Zambian Visa Fees Compared with Regional Tourism Competitor Countries
Country
Other single entry*
Other
multiple
entry
Canada
single
entry
Canada multiple entry
UK single entry
UK multiple entry
US single entry
US multiple
entry
Zambia
US$ 50
US$ 160
US$ 55
US$ 160
US$ 140
US$ 442
US$ 135
US$ 135
Kenya
US$ 50
US$ 50
US$ 50
US$ 50
Tanzania
US$ 50
US$ 50
US$ 50
US$ 100
US$ 100
Mozambique
US$ 20
US$ 40
US$ 20
US$ 40
US$ 80
US$ 140
US$ 20
US$ 40
Botswana
0
0
0
0
0
0
0
0
Malawi
0
0
0
0
0
0
0
0
Namibia
0
0
0
0
0
0
0
0
South Africa
0
0
0
0
0
0
0
0
Zimbabwe**
US$ 30
US$ 55
US$ 30
US$ 55
US$ 55
US$ 70
US$ 30
US$ 55
Rates for visas in foreign countries obtained from embassies or websites for non-urgent delivery
* Generally for non-African nationals
** Rates at port of entry
3. International Tourist Responses
Responses to this tour agent questionnaire that was circulated widely in the United States, the United Kingdom, the rest of Europe, Australia and southern Africa are unequivocal about two issues. The top-end tourist market (logically), will be less affected by the visa increases than other market sectors. These clients pay significant amounts for a 6- to 14-day holiday to Zambia and the region and an additional US$140 per person is unlikely to deter them (however, even these tourists will be deterred). This is reinforced by another finding of the questionnaire; that many tourists (23% of responses) see Zambia as a "must visit" destination, with a further 23% of responses seeing Zambia as a more interesting destination. In short Zambia is a "new" tourist destination and as such is beginning to draw high-cost tourists who have not visited before.
On the other hand, the questionnaire response was equally definite that some top-end, as well as mid-range and budget holiday clients from at least the UK and USA will be deterred by the new visa measures. These clients made up approximately 40% of the 2006 arrivals to Zambia and probably increased in 2007.
4. Reasons for the 2008 Visa Measures
The 2008 changes to the visa regime are understood to be mainly a rationalisation of reciprocal visa charges with Canada, the United Kingdom and the United States of America. However, given Zambia's tourism sector objectives under the FNDP, the visa fee increases were presumably also introduced as a revenue-generating measure. It is also assumed that this was a calculated risk that increased fiscal contributions from the sector through the new visa fees would exceed any losses due to tourists diverting to other destinations. The validity of this assumption is discussed in section 7.
The United Kingdom contributes a full 14% of all holiday tourist arrivals to Zambia and the United States another 10.6% - the two largest tourist source countries after South Africa (22%) - who do not pay visas. Canada only contributes around 2% and is not significant to any arguments for or against visa changes. Thus if an increase in visa revenue is the overall objective, the countries chosen coincidentally also contribute a quarter of all holiday arrivals to Zambia &endash; and strongly support this government fiscal strategy.
As already noted, the 2008 visa schedule also removed the "visa waiver" facility, where tourists staying with a licensed tourism operation were not required to pay visa fees. Some argue that the visa waiver facility was ineffective as it was sometimes poorly administered &endash; leading to disgruntled tourists on day one of their holiday &endash; and was not readily accessible to those organising their own holidays.
5. 2008 Visa Fee Revenue Benefits
Assuming that 70% of all arriving holiday tourists were accessing the visa waiver facility, the 2008 visa measures overnight increased visa revenues by US$ 50 all "other national" tourists due to pay visas, possibly including Canadians, but otherwise US$ 55 for Canadian tourists, US$135 for United States tourists and US$ 140 for United Kingdom tourists &endash; a major windfall estimated at US$ 4.3 million from Canadian, UK and USA tourists alone (calculated on the basis of the available 2006 holiday tourist arrivals data).
6. Anticipated General Tourism Sector Impacts and Responses
Assuming this windfall tax revenue potential is sustained, are the medium-term financial and economic effects of the measures as beneficial as they look at first sight? And why does the tourism industry have major concerns about the new visa measures? The latter question is discussed first and falls into seven main categories.
Market Loyalty &endash; tour agent markets are reasonably robust, but events such as the Asian tsunami, the Zimbabwean situation (see further below) and recently Kenya, demonstrate that rapid re-orientations of tourist preference can happen in real time. Tour agents are now required to comply with significant international health and safety and holiday insurance requirements. Therefore, sudden shifts in their loyalties are understandable where factors increase their risk. The visa fee measures introduce two risks:
the visa fee increases were made practically immediately, thus forcing affected tourists who had already paid for their holidays to an unexpected increase of around US$ 280 per couple, or US$ 560 for a family of four. Our questionnaire indicates that 51% of all tourists to Zambia include other countries in the region in their packages. In many cases this requires a multiple-entry visa, so for a UK family of four an unexpected increase of US$ 1,768 has occurred where a visit to Botswana and or Namibia or Zimbabwe was included with a return through Zambia; and
Zambia is a relatively new destination, especially for USA and European tourists and sudden policy changes in this new market area is likely to have negative impacts on tour agents' confidence about the security of other issues;
Administrative Effectiveness &endash; regrettably the introduction of the new visa regime was made with immediate effect. As the tourism industry works a year ahead of actual arrivals (for brochure production, clarification on entry requirements, airline schedules and bookings and so on), and holidays are often booked at least 6 months in advance; this created an unnecessary negative impact. The Department of Immigration have recently reported the difference in visa fee collections for a 10-day period before the new measures and a 10-day period immediately following their introduction. Their report enthusiastically highlights a 200% increase in US$ visa fee receipts and a 1,000% plus increase in UK Sterling visa fees. It is of considerable concern that the report is numerically incorrect, but also that its authors are unaware that the obvious reason for the apparent absence of immediate resistance to the visa fee increases is that holidays are booked months in advance and late cancellations, or changes, result in significantly reduced refunds.
Of equal concern are four other issues:
in this crucial period of regulatory change, the Immigration website, the official statements from the Immigration Department and the practical interpretation of the new visa regulations at different ports of entry all varied;
it appears that tourists are now no longer unable to purchase multiple entry visas on arrival in Zambia;
the third issue is that the US$ 10 "day visitor" visa for relevant nationals visiting from neighbouring countries for day activity purposes &endash; crucially important especially to activity providers in Livingstone &endash; was halted and remains an area of confusion; and
the extreme cost (US$ 440) of the multiple entry visa for UK nationals introduces doubts that the reciprocity of this measure has been accurately applied &endash; and in any case when combined with application procedures is now a major deterrent to UK multiple entry tourists.
Visa Competitiveness &endash; although, as noted earlier, the new visa fees for UK and USA citizens are in themselves apparently insignificant in the context of a 10 to 14 day African holiday package, of more relevance to Zambian tourism is the cost in comparison to alternative regional destinations is big enough to create immediate consumer resistance. This is particularly so where tours are routed through South Africa, to Namibia and Botswana, with Zambia as a possible add-on destination. It is equally important for the rapidly growing American market where Zambia is not yet seen as a primary destination (see also Annex 1 for a cross section of brochure material from leading USA tour agents showing the absence of Zambian exposure);
Effects on Zambia's UK Tourist Base &endash; The UK has, since independence, been a main source area for Zambia's tourism industry &endash; its tourists often being more willing than most to explore new destinations and activity areas. At a personal level these tourists, many of whom are multiple-returning clients, or use the multiple-entry facility in planning their holiday, see being specifically penalised by a reciprocal immigration arrangement, however justified, as a holiday obstacle (see Annex 1). At the industry/tour agent level it is seen as strategically short-sighted in the context of probable negative impacts on the 14% of arrivals contributed by UK nationals and therefore also on future revenue streams; but also on the uninterrupted growth of tourism into Zambia;
Impacts on the Growing USA Market - In the 1980's USA clients represented a significant element of Zambia's foreign tourist traffic. This decreased with the economic decline of Zambia in the late 1980's and 1990's and culminated in the September 11th 2001 catastrophe. Since the mid-2000's the USA tourist numbers have slowly increased in spite of big global gains elsewhere (in part this reflects the ineffectiveness of Zambia's national marketing effort in that country - which is a separate but important issue). The 2006 data show that although many Americans are still woefully ignorant about Zambia's geographic location and tourism opportunities, the "new destination" driver has increased the number of USA tourists to nearly 11% of all arrivals. A sudden increase in visa fees to a client base that is often enticed into Zambia on the back of a South African, Namibian and Botswana tour, could immediately reverse these hard-won gains &endash; as many recent client and agent comments suggest;
Stimulus for the Recovering Zimbabwean Tourism Sector &endash; over the last five years Zambia has benefited from a notable diversion of tourism flows from Victoria Falls in Zimbabwe to Livingstone (as well as a migration of other Zimbabwean tourist clients and tour operators). The resulting 50% decline in tourist arrivals to Zimbabwe (see Figure 1 above), is now being reversed by aggressive strategic responses from the Zimbabwean tourism industry. The recent significant increase in Zambian visa fees will very likely strengthen the diversion of US and UK (as well as South African and other) tourists from Livingstone to Victoria Falls; as well as budget tourists travelling in southern African;
Charter Pilot and Crew Visas - unfortunately the 2008 visa increases come in the wake of an equally sudden and dramatic increase in light aircraft aviation charges that were levied by the National Airports Corporation in 2006. They were only reversed after serious industry consultation, but also involved many of the same tourism agents and operators now being impacted. Charter pilots and crew bringing tourists into Zambia are still required to pay visa fees.
Perhaps most telling is the strength of response received to the foreign tour agent questionnaire sent out in late-February to assess responses to the new visa scenario. In 2006 a World Bank-funded Tourism Supply-Side Study sent out a similar questionnaire to tour agents around the world. Only 28 responses were received from 166 questionnaires that were distributed. On this occasion more than 147 responses have been received at very short notice and without undue soliciting; including more than 49 UK agents; more than 32 USA agents; 50 Southern African agents and 16 "other country" (mainly European and Australian) agents &endash; a reasonable representation of the contribution of Zambia's main tourist origin regions. The summarised results of the survey are attached as Annex 1.
7. Anticipated Financial and Economic Impacts on the Tourism Sector
Our research suggests that the likely financial and economic impacts of the new visa measures reflect the disquiet that the above comments create.
Visa Fee Revenues
Analysis based on World Bank demand-side research of the Zambian tourism industry in 2006 (that calculated an average tourist spend in Zambia of US$ 1,100) and the disaggregated 2006 tourist arrival data, indicate that the 242,358 tourists that visited Zambia in 2006 will have contributed around US$ 269 million to the economy through payment for goods and services. If the 2008 visa regime had been applied at that time Zambia would have earned at around US$ 13 million in visa fees.
Sector Financial Losses
On the basis of comments received from tourists and agents while researching this paper (please refer to Annex 1), it is assumed conservatively that 1% of top-end tourists, 3% of middle bracket holiday makers and 15% of budget holiday makers will be diverted from Zambia as a tourism destination; or not come to Zambia. The financial impact of this loss in tourist earnings using a weighted expenditure pattern (US$ 1,500 for top-end; US$ 1,000 for middle bracket; and US$ 500 for budget holidays) on the reduced arrivals will be an estimated US$ 29 million &endash; more than double the visa earnings from the increased visa fees.
Negative Sector Economic Impacts
Placed in an economic context, and again referring to the 2006 World Bank tourism sector research that calculated a tourism sector economic multiplier of 2.1, the negative impact on GDP is conservatively estimated to be in the region of US$ 63 million.
Another important factor is that tourism earnings circulate within and contribute to the communities where they are spent. On the other hand fiscal revenues are returned to government accounts with limited returns to the tourism sector.
8. Conclusions - Big Picture Considerations
In calculating the financial and economic impacts of tourists being diverted to or remaining in alternative destinations by Zambia's new visa measures, one should not lose sight of the bigger picture. Four factors need consideration in an increasingly competitive world:
1) growth curves suggest that world tourist arrivals will grow to 1 billion by 2010 and that competition for a bigger slice will be intense in emerging markets such as Africa &endash; especially in the run-up to the 2010 World Cup in South Africa;
2) the negative perception impact of the new visa fees is widespread, but particularly evident in the recently growing USA market and in the South African budget market that still supports Zimbabwean tourism &endash; and is a principal sources of tourists to Zambia (especially Livingstone);
3) between 21% and an estimated 30% of tourists to Zambia stay in budget accommodation of one sort or another. Many of these facilities are newly created investments by Zambian entrepreneurs and will be the most heavily impacted by the removal of the visa waiver facility and the tourist visa increases. It is precisely this sub-sector that government committed to supporting; and
4) while Botswana, Malawi, Namibia and South Africa are well prepared for the SADC Tourism Protocol Univisa (with zero visa status for all tourists and free flows between the countries), Zambia may be perceived to be taking a separate approach by increasing its visas.
In an overall context, unless addressed, these circumstances will do much to damage the tourism sector objectives of the FNDP, but more seriously, Zambia's image in the international tourism world. With the conservatism of international tour agents the image factor could have effects long after the FNDP ends in two years' time. More unfortunately, this damage is likely to have a double effect.
Initially it is expected that there will be losses through disruption to the impetus achieved by Zambian tourism operators, their agents, the Tourism Council of Zambia and the Ministry of Tourism, Environment and Natural Resources and its statutory bodies (National Heritage Conservation Commission; National Museums; ZAWA; and ZNTB &endash; now ZTB), over the last five to ten years; but secondly there will be the loss of a proportional share of the markets that Zambia could have diverted from neighbouring countries (particularly Botswana &endash; Zambia's chief competitor &endash; Malawi and Namibia; but also Kenya and Tanzania &endash; another of Zambia's chief competitors).
The hasty introduction of the 2008 revised visa schedule and subsequent events bring to the fore a number of issues:
the long-acknowledged absence of a practical, medium-term tourism strategy that government is able to work towards;
the important implications that a tourism strategy would have for how tourism development could be nurtured in the cross-border Livingstone areas; compared with the centre and east of Zambia; and particularly Zambia's still undeveloped northern circuit;
the lack of consultation between elements of the public service and between the public and private sectors (tourism has been acknowledged by government to be a private-sector driven industry &endash; so why not consult them, however difficult this may seem at times). Zambia's tourism sector and its selected offshore agents have invested heavily in developing Zambian tourism and the visa measures indicate an unnecessary and possibly unwarranted disregard for their efforts;
that short-term, apparent financial windfalls are not always as real as they may seem and may have significant negative short-, and especially medium- and long-term financial and economic impacts; and
that although conditions have improved, the administration of tourism arrivals (and particularly the administration of changed circumstances), still leaves much to be desired in coherence, consistency and simplicity &endash; key factors that impact immediately on tourists at point of entry and their desire to visit, and return.
Comments received from tourists and tour agents have indicated a high level of criticism for the new visa measures. This having been said, it is believed that a positive and innovative response to the situation could reverse the damage done - but the strategy needs to be carefully choreographed.
Comments received suggest that the following factors that may be worth considering are:
the Livingstone area is unique in the tourism sense that with the new regional flight opportunities provided by the lengthened Livingstone Airport runway, it stands to gain considerable incoming traffic that will benefit the "Four Corners" area (Botswana, Namibia, Zambia and Zimbabwe) and also flows of tourists generated by the South African tourism supply chain. It also stands to lose significantly from two factors: a) the re-emergence of Zimbabwe as a significant and highly developed tourism destination; and b) the loss of traffic and revenue that will result from the high cost of single entry visas for UK and USA citizens and multiple-entry visas for UK citizens wishing to extend their Zambian stay with visits to neighbouring countries - and Zambia's non-competitive visa position relative to these neighbouring countries;
also in Livingstone, the continuation of the day-visit visa is critically important to supporting Zambia's competitive edge in adventure tourism, by drawing visitors from Zimbabwe, Botswana and Namibia wishing to fly over the Victoria Falls, white-water raft, bunji jump, or partake of Livingstone's numerous other cultural and physical activities. These tourists contribute an estimated 30% to the turnover for these entities &endash; income which may be critically reduced if the day visitor facility is removed, and/or the new visa costs equal or exceed the cost of the activity itself &endash; and possible lead to business closures;
the administration of visas would be infinitely simplified if a single visa fee was levied on non-African nationals and purchasable easily at the port of entry. In these circumstances standard visa application forms could be provided with arrivals forms on all incoming flights and at ports of entry; tour agents and tourists could be advised through the official web site to have a US$ bank note of the required denomination available to reduce the need for change and transaction time at entry points (poor port of entry facilities and management, particularly at Kazangula, are a common theme in complaints from tourists);
the tour agent questionnaire indicated that 51% of responding tour agents provide east and southern African holidays that include more than one country. In these circumstances the easy availability of multiple-entry visas at ports of entry (not requiring prior application), would encourage visits to and longer stays in Zambia (the holiday stay length in Zambia is of the order to 6 days compared to around 14 in Namibia). The 2006 World Bank Tourism Demand-Side Survey has demonstrated the significant financial and economic benefits to Zambia of increasing tourist stay length;
fixing the standard visa rate for all non-African nationals at reasonable levels would send a positive message to tourists that may wish to divert, or extend their holidays to Zambia from other regions. Zambia's main southern competitor countries have zero visa policies that Zambia could progressively work towards in the context of the SADC Tourism Protocol due for implementation by 2010. But most international tour agents indicated that a reasonable visa rate is not a present deterrent, even though Zambia's previous tourist visa waiver facility was generally seen as an innovative, if often inefficiently administered development;
removing the current need for visas for pilots and crew of charter operations bringing tourists to Zambia would have very little fiscal impact; bring this sector in line with the treatment of aircrew of scheduled services, and particularly for multiple destination air-chartered holidays, would make Zambia procedurally more attractive;
Government's further consideration of the current visa measures could be scored around two issues: firstly an honest appreciation that Zambia was listening to its valued tourist clients and their agents and had recognised the need, not to reduce visa fees (revenue was needed to fund the continual improvement of immigration services), but in response to visitor and agent comments, to re-arrange them in a simplified and rationalised format; and secondly that appreciation was being given to Zambia's commitment to the SADC Tourism Protocol and the need to start an early move towards the Univisa concept.
A smooth and tourist-aware response to the current visa measures is likely to permit the growth in tourist arrivals from the key UK and USA markets to resume with limited negative impacts. It would also minimise the possible diverting effect to Zimbabwe for South African tourists.
However, most importantly, the early application of a raft of appropriate tourist arrival incentive measures will: 1) place Zambia in an excellent position to challenge Zimbabwe's return to its previous apex position in regional tourism north of South Africa; and 2) to position Zambia to gain a major market share from the 2010 World Cup.
Four Corners
I have started researching for my book on travel in the region. Some of you may remember that I used to print the Zambezi Wonderland. It was an A5 publication which I printed at home. Everyone liked it but wanted it to be in colour. So I am biting the bullet and am going for commercial printing. I have not worked out the cost of advertising yet - as soon as I do, I will let you know.
The area to be covered in the book will be:
Zambia - Livingstone, Sinazongwe, southern section of Kafue National Park, Sesheke, Katima Mulilo and the west bank of the Zambezi to Sioma Falls.
Zimbabwe - Victoria Falls Town, Hwange National Park, Kazuma National Park, Chizarira National Park, Binga and Lake Kariba.
Botswana - Kasane, Nata, Chobe National Park, Makgadigadi and Sua Pans. (I would like to get to the Okavango)
Namibia - Katima Mulilo, Babwata National Park, Mamili National Park, Madumo National Park, Caprivi Strip to Popa Falls.
There is a chance that some of Angola will open up ... if it does, I shall be there.
I already have loads of stories ... but will be gathering more. If you want me to visit your lodge/operation let me know and I will get a story in about it.
As you know, last week I was away. I went travelling ... here is the story ...
Mlibizi and Chizarira National Park
21st March was the day to get out of Livingstone for a break from work and dull routine. There aren't many places to go at this time of year &endash; the roads are bad after the rains and many of the game parks are still water-logged. We had decided to go to Lake Kariba on the Zimbabwe side. The roads, I was told, were tar. I had never been there before … so it was going to be a new experience for me.
The border crossing at Victoria Falls, over the bridge, is a nightmare … as most of us know. The bridge is the favoured crossing for hundreds of trucks travelling from South Africa to the north. But first we had to negotiate the Customs on the Zambian side. The Customs officer did not seem inclined to assist; he knew I was there clutching my vehicle documents but continued to serve the marketeers on the incoming side of the counter. Finally, after I had been joined by another five people queueing up to be served, I shouted across the room "Can we have some help, please." The man did not move a muscle, but a lady heard me and came over and got out the forms and the rubber stamp … and finally we were leaving Zambia.
The road over the bridge is another Zambian eyesore. Trucks on both sides of the road with a narrow alley through the middle for vehicles to pass. A hold-up at the bridge itself &endash; about 10 vehicles backed up waiting for the boom gate to be lifted so that we could pass. After a while we were allowed through to the Zimbabwe side and there we found loads more trucks, some stuck in the mud, listing to one side as they had come off the road and dropped about a foot onto a verge that had subsided.
Finally the Zimbabwe border … US$55 for me &endash; visa. US$30 for insurance for the car; US$10 for carbon tax and US$15 for Road Access. A performance, but at least we were attended to efficiently and without the surly attitude of the man on the Zambian side.
As we had taken about an hour to get over the border we drove up to Victoria Falls Safari Lodge and had a drink on their veranda and learned to relax before our journey to Mlibizi. We left Vic Falls at about 3pm … a late start … but, we were on holiday and time was not important.
The journey to Mlibizi is not too interesting. 163km to the Kamativi turnoff on the Bulawayo Road; another 30km to the Mlibizi turnoff and finally, after a journey of around 250km we were in Mlibizi. There is one section of the road which passes through a range of hills; the road twisted and was steep in places; the views are lovely and it took all my concentration to keep my eyes on the road.
We arrived in Mlibizi in the dark but found the house we were staying in quite easily &endash; Mlibizi is not a big place. Food, bed … tired. The following day was another lazy day which ended with a trip on a boat around the bay. There were quite a few people out &endash; mostly, Zimbos, I would guess, who had come for the weekend away. They were fishing, don't know if they were catching &endash; fishing is not my idea of fun. We just enjoyed some sundowners and watched the sunset.
The following day, we decided to leave the Lake behind and head towards Chizarira National Park. Before leaving Mlibizi we called in to see Mlibizi Hotel. It was quiet, run down and very sad. There were no guests; the cracked swimming pool was being filled with muddy water and the staff looked dejected. There were a number of boats moored along the lakeshore and had probably not been used for some time. The hotel reminded me of those days in Zambia when we had no tourists and hotels looked just the same … The hotel staff were friendly and helpful giving me all their details. I did not have a look at one of the rooms but I am sure they would be clean, if a bit lacking in maintenance. Unfortunately, this will be the way of things until Zimbabwe comes right …
On the way to Binga we called in at a lodge &endash; Masumu River Lodge. There we found a group of family and friends who had just finished lunch. One of them was the new owner of the lodge and we heard about his plans to renovate the place and make it available for conferences as well as fishing. He expects the renovations to take about 6-9 months. So, if you want to go for a break in Zim, this is a place to consider. The bar is high up on the bank, with a refreshing breeze, and great views over the lake. Contact Masumu Lodge on resilient@mweb.co.zw … a very apt email address. The owner's name is Mike McAllister from Bulawayo.
We didn't manage to get into Binga because time was short … we headed out towards the National Park. After turning off the Binga road to the north we came onto a dirt road. It was OK. As we travelled we had the Chizarira Escarpment off to our right and we followed this for a long way &endash; about 60km. Then we took a turn towards the escarpment. The road is good and winds its way up the escarpment in easy stages, alongside a mountain stream which was still flowing &endash; Muchene River. We arrived at the Park entrance and were given directions to Chizarira Lodge which was about 8km away.
We had arrived a day early and were hoping that there would be space … we shouldn't have worried … the lodge was empty. The staff were only too happy to have some company. Samson, the cook and main man, quickly ran around to organise the rooms as we relaxed in the lounge area. We then gave Samson some of our food supplies and off he went to prepare supper. We also gave him some diesel which he used for the generator, and when it got dark we had lights. This, I am afraid, is the way of things in Zim these days. Fortunately I had been warned and we were very well prepared.
The chalets are all perched on the edge of the escarpment overlooking communal land. We could hear cows, donkeys, the occasional human noise and odd drumming. And, in the morning, I woke up to this sight:
This next day was a day for driving around the park to see what it was all about. We headed for the Park Office about 15km away. There, Michael, the Game Scout in charge of the office was as helpful as he could be but he was young and did not have much idea about giving travel tips … He didn't have any change either so when I gave him US$50 and needed US$25 in change, he didn't have it. I think he thought that we would leave it for him, but we said that he must give it to the staff at Chizarira Lodge … I hope he did.
We took potluck in our choice of roads taking a road south. It was a bad choice. We ended up travelling on a rocky road, down the escarpment. The grass was high on either side of the road so we couldn't see far. Had there been an elephant just off the road, I think we would have missed it … As it was, we saw one mongoose and two guinea fowl who felt that they could entertain us tourists. Of course, now is not the time to travel in any National Park, and I don't think that we thought that we would see much game.
Having decided that this road was a complete waste of time, we back-tracked and took another road to the north. I saw some impala … wow …
Not far down the road we came to Muchene View. This is a scenic spot and was lovely. We sat and enjoyed the view for about half an hour feeling how lucky we were to be able to see such an amazing sight. It made the memory of the lack of game and the awful roads fade … the trip was worth it just for this wonderful view.
Having had our kidneys rattled by all the bumpy roads we decided to head back to the lodge and relax. We had been out for about 7 hours, so it had not been a short day.
We enjoyed the sunset while Samson prepared another great meal.
We left Chizarira Lodge sadly &endash; I could have spent another day, but … that awful four-letter word 'WORK' was beckoning us home …
We left the staff at Chiz Lodge quite a lot of food from our boxes &endash; it would have been too terrible to take it home with us when we knew that their access to supplies was probably quite limited. We left them all grinning from ear to ear &endash; they were going to eat well that evening.
The journey home was completely uneventful &endash; just back the way we had come. The border was quiet as it had been Easter weekend and many of the trucks had disappeared for the holiday time. What a pleasure.
Would I recommend Zimbabwe for a holiday?? Yes, definitely. I know many people are saying that we should not support a regime that has impoverished its people. But, most of the money that we spend goes into the local pocket and we should not feel guilty about going there. Some people say that it is not safe. It is safe in the tourist areas. For us in the Southern African region we should not feel at all worried about travelling to Zimbabwe. In fact, I strongly feel that the Zimbabwean tour operators should be marketing a lot more within the region. They used to have international clients … it was easy … tourists used for flock there, more than anywhere else. Now, though, Zimbabweans have got to market themselves aggressively to people like us. OK, our income is not on a par with international clients but at least we keep the lodges going and help support the staff and other overheads … until, we hope, when things get better … maybe the elections today will mark a turning point … who knows …
LODGES REPORT 'FULL HOUSE' &endash; RAINS POUND THE COUNTRY AGAIN
Ugandan safari lodges and tented camps reported booming business over the Easter Holiday, when many of the expatriate community and Kampala residents took time out to visit the national parks, game reserves, the upper Nile valley near Jinja and the Lake Victoria islands like Bulago Island. Ugandans too were reportedly travelling upcountry in large numbers to visit their rural homes to see their families, filling up the available hotels, motels and inns across the country. This travel boom unfolded inspite of the seasonal rains which started just at the same time with a vengeance, unleashing some of the most violent rain- and thunderstorms experienced in the recent past on Kampala, its environs and other parts of the country. In Kampala, the crucial entry point into the CBD at the Clock Tower junction was again several feet under water, cutting off traffic in and out of the city centre for much of Easter Day and causing hardship for worshippers wanting to reach the main city churches.
The unusually wet and cool weather also prompted a number of outdoor concerts in Kampala and Entebbe planned for Easter Sunday and Monday to be cancelled or postponed, denying those Kampaleans who stayed in the city their post lent enjoyment. The failure of the events to take place also led to the potential loss of hundreds of millions of Shillings for the promoters.
The extremely heavy rains also caused further havoc on main traffic arteries, when a culvert collapsed along the main highway from Kampala to the Kenyan border near Mukono. Half of the road needed to be closed, as a hole several metres deep and wide suddenly opened up during the Easter weekend. Fortunately any possible accidents were avoided when police was deployed immediately to secure the site and divert traffic. An alternative route to Jinja via Kayunga &endash; incidentally also a very scenic route &endash; is however available for traffic, should a full road closure ahead of or during repairs become necessary.
The present rains have also raised the possibility again of renewed flooding in areas which already suffered last year extensively and bridges and roads are undergoing monitoring to allow swift counter action as and where required.
UWA SIGNS CONCESSIONS FOR BOAT AND LAUNCH SERVICES
During the week UWA reached another milestone in privatisation, when they at last signed agreements with private operators to provide boat services. Hitherto UWA provided these services themselves in Queen Elizabeth and Murchison Falls National Park but were under pressure for long to divest of the business activity and allow private operators to bid for contracts. Adrift, one of the leading white-water rafting and adventure companies, will shortly commence boat and launch trips along the Kazinga channel in Queen Elizabeth National Park, and G&C Tours &endash; local agents for Wild Frontiers in Uganda &endash; have won the right to operate tours in Murchisons Falls National Park from the Paraa river crossing to the falls and the river delta. A second company was also chosen to offer boat and launch trips in both locations, namely the owners of the main safari lodges Mweya and Paraa. Marasa Limited will be happy to now add these services to accommodation and game drives and their clients will have a one stop centre when booking safaris to Uganda's two main safari parks.
The initial concessions will run for 10 years but are subject to a performance review after 5 years to ensure compliance with UWA terms and conditions and take client feedback into consideration. Further negotiations are reportedly still underway with a fourth company, which had also been shortlisted in the bidding process but where no contract has yet been finalised. The development comes at a time when gate arrival figures in all of Uganda's national parks have been rising steadily over the past few years, requiring additional services to be provided.
MORE GOOD NEWS FROM EMIRATES
Ugandan passengers of Emirates have been given more good news from the airline office in Kampala. The award winning airline from Dubai has now given the green light for the use of mobile phones on board of their aircraft. Calls from on board phone systems, possible already for a long time on many airlines, proved quite expensive for most of the Ugandan passengers and also required the use of international credit cards, not common yet amongst Ugandans. After resolving the often overplayed safety issues, allegedly caused by the use of mobile phones on board of an airplane, and accepting the findings of many studies that mobile phone use does not endanger airplane operation and flight safety, Emirates is the first of the global big carriers to allow their use, after obtaining regulatory approvals. However, calls during night flights will be restricted. Calls made on board will also require 'roaming' enabled mobile phone connections and will still cost quite a bit more than calls made on the surface due to the expected 'roaming fee surcharges'.
Blackberry and other data services are due to follow the voice calls in due course once the Emirates' fleet has undergone the necessary modifications. The airline will however retain the seat-side and cabin mounted phones so far available to passengers. It is understood that phone calls will not be allowed during take off and landing.
AKON DUE IN KAMPALA
Celtel Uganda is sponsoring the next big concert in Kampala, when on April 26th this year Akon is expected to perform at the Lugogo Cricket Ground, scene of the recent UB40 concert. Inspite of some ruffled feathers with the top VIP's in the country over certain aspects of their Platinum Ticket Packages the concert and its management overall went well and, as expressed at the time in this column is now leading to yet another big bash for the music hungry crowds. Tickets can be purchased presently at Celtel's offices and corporate outlets. The concert is also due to be the highlight of a 1 billion+ Uganda Shilling promotion, which will see some of the winners to fly by helicopter from their residences &endash; or at least near them &endash; to the star's hotel cum limo rides to and from the concert.
The telecom sector has seen unprecedented growth in the recent past, with subscribers now standing at a reported 4.5 million mobile phone users, compared to the early 90's when less than 50.000 subscribers had access to the then state owned phone and post company UPTL's fixed network in the city and across the country.
Recent entrant Warid Telecom has found the going rough so far as the established operators UTL, MTN and Celtel have bombarded the market with promotions, tariff cuts, special tariffs and a range of other goodies for their faithful and new clients, which Warid was so far unable to match. Celtel is Uganda's first mobile operator (since 1995) and has of late also seen spectacular growth again, mostly spurred by their 'One Network' which allows calls at local rates across much of the African continent.
VISA OFFENDERS TO GET '10 YEARS'
The British High Commission has confirmed, that Visa applicants giving false information or using fake supporting documentation, will receive a 10 year application ban if found out. It can be expected that this information would then also be shared with other embassies and high commissions in Kampala, effectively barring 'fake applicants' from receiving any Visa from any Western country. Information received from usually well informed sources confirms that this move was a result of the large number of applications found deficient or information contained suspected to be false, adding another hurdle to the already &endash; often considered tilted, one sided and discriminatory &endash; hard road to obtaining a visitor Visa for the UK. Ugandans have often complained about what many consider excessive cost of such Visa, compared to average wages in the country, and about the way embassies regularly handle applicants. Suspicions are in fact running high amongst even successful applicants and raging rows emerge ever so often in the daily newspapers. This happens in particular when mistaken officials at the Visa office turn down prominent business people with an otherwise excellent record and then have to reverse their initial decisions or applicants complain of severe mishandling. Several applicants working in the tourism industry and known to this correspondent added that 'when you have to go in person for an interview it is almost like a police interrogation'. One such individual said further: 'I suspect they use voice stress analysers in some of those embassies to try and sort out people. They cannot of course openly use lie detectors but I am almost sure that they use other technology now. You get finger printed and all sorts of other things. We think that applicants are not really treated very civilly in some of those embassies. And their own citizens just pay a small fee, in fact much less than we have to pay, and when they arrive in Entebbe they not even fill one single form other than the normal arrival cards. Something is very wrong here. My parents could still travel without Visa and got a visitor pass on arrival in the UK or Europe. Maybe this is the price third world country citizens have to pay these days. Some of the countries now ask you to allow them contact your bank directly for information, this has become very intrusive and suspect'. It was also pointed out to this correspondent that Visa refusals are now stamped into applicants' passports, effectively black-marking them when applying for Visa elsewhere, a practise much criticized by Ugandans falling foul of such methods.
It was also established that the UK High Commission refuses about 30+ percent of all submitted applications, but &endash; needless to say &endash; retains the application fees already paid of course as to almost add insult to financial injury.
NEW NATIONAL MOSQUE OFFICIALLY OPENED
The Libyan funded newly built national mosque was last week officially opened by the Libyan leader Col. Gadaffi, in the presence of President Museveni and several other heads of state and government from the wider Eastern African region. Gadaffi visited Uganda to close the first Afro Arab Youth Summit which ended on 17th March. Initial potential for controversy was avoided, when the opening day was set for Wednesday, avoiding a possible argument with the Christian communities over rumoured other plans to do it on Palm Sunday, or worse on Good Friday, key dates in the Christian annual religious calendar.
Gadaffi in his address however was not shy of controversy, and quoting the headlines of the two main newspapers in the country, his utterances were quoted as: 'Bible a forgery' (New Vision) and 'Bible altered' (Daily Monitor). This incensed staunch Catholics and Protestants to no end of course and a prolonged argument is expected to unfold in coming days and weeks over these unfortunate remarks. Letter columns 'to the editor' are presently full of scathing counterattacks against Gadaffi and leading Muslim clerics have been called upon to disassociate themselves from the ill tempered, ill worded and ill considered remarks aimed at inciting religious division and hostility. The Catholic Archbishop of Kampala in his Easter address called Gadaffi's utterances 'provocative' while other Christian leaders and large sections of the public demanded an apology. Muslim leaders too waded into the argument over Gadaffi's invitation to Christians to visit Mecca. Government of Uganda refused to be drawn into the raging debate saying the comments were 'individual and government has no business with such'.
It is worth to note that Uganda is an overwhelmingly Christian country, where the minority Muslim communities have their rightful place, protected by the constitution and, more importantly, the accommodating spirit and religious tolerance of her people, who have always shunned religious fanaticism and Gadaffi's comments did little to enhance this spirit.
Gadaffi in his address also laid heavily into 'the Scandinavian countries' &endash; presumably referring to Denmark &endash; over the controversial cartoons the (free of government control) press published there two years ago and again more recently.
During the official opening security scuffles were also reported in the local media, first between the Ugandan presidential security detail and the unusually large security contingent &endash; reportedly some 200 of them &endash; Gadaffi brought for himself and then again when President Kagame arrived slightly late for the official opening ceremony. More details of constant scuffles and disputes between the details were also reported in the media after Gadaffi left, what seemed to have been 'suddenly' while he was still expected at another function.
There was also an unusually large number of worshippers who had come to the mosque without invitation cards and who were refused entry, while the dignitaries were in attendance, causing some angry arguments with police and other security surrounding the compound, but the crowd later on peacefully disbursed.
The new mosque however is an instant architectural landmark for Kampala and will undoubtedly be added to the city tours for tourists, who hitherto were able to see other primary places of worship like the Catholic cathedral in Rubaga, the Anglican cathedral in Namirembe, worship temples belonging to the Hindu and Sikh communities near the Clock Tower junction and of course the only Bahai temple in Africa near the Ntinda suburb.
The formal opening and subsequent security measures, which included key road closures, also led to massive traffic jams across Kampala on the day and traffic participants caught up in the situation took hours to get to their intended destinations. Traffic on Entebbe road was also affected when the presidential motorcades passed from and to the airport and some airline passengers are said to have missed their flights when arriving late at the terminal building, due to the delays caused by the road closures.
NEMA SHOWING TEETH AGAIN &endash; but will it bite?
The national environmental management authority has started threatening eviction of squatters once again from wetlands leading towards Lake Victoria &endash; and elsewhere in the country &endash; and has vowed to demolish illegal buildings. Most Kampala wetlands have been heavily encroached over the past 15 years and unauthorised damming, construction and farming have last year led to severe flooding in the city itself, as the drainage function of the swamps were severely impaired. Demarcation of one of the wetland boundaries went underway during the week. However, going by experience this may well be a short-lived publicity stunt again. This correspondent has in the past repeatedly pointed out the ongoing and quickening encroachment at a wetland on the way to his own residence and NEMA has not once acknowledged, responded to or acted on these reports.
NEMA Executive Director Dr. Mugisha has in the meantime in a sweeping statement before a parliamentary committee called mobile masts 'safe', probably basing his comments on pro telecommunication industry studies, while obviously ignoring the studies pointing out the inherent dangers associated with radio signals. In fact the off the cuff remarks would indicate that NEMA has not carried out substantial research on their own and is probably 'borrowing' studies from abroad. The authority head was also asked about the deficit in mast approvals across the country. This issue concerned the parliamentarians as less than 10 percent of the overall masts erected across the country seem to have NEMA clearance, with the authority standing by in idle mode and doing little if anything about this alarming trend. It could be established however that UTL is subjecting itself to an independent annual environmental audit, a most commendable circumstance were it not for the fact that NEMA seems to have taken no interest in this voluntary measure.
The following 'Sunday Vision' quote tells it all: "Scientific information available is that radiation from the masts is so low compared to other radiation received such as the one from mobile telephones," Dr. Aryamanya Mugisha told the parliamentary committee on Information and Communication Technology on Thursday. Hmmm ….
DELTA DEFERS NAIROBI LAUNCH
The American international carrier Delta Airlines has now announced that they will delay their planned Nairobi flights until at least December 2008, due to the prevailing market conditions. Delta was expected to commence direct flights between the United States and Nairobi via West Africa by June this year and it was generally expected to be a code shared operation with Kenya Airways, as both airlines belong to SkyTeam &endash; the KLM / Air France led global airline alliance.
The delay will be a blow to the Kenyan efforts of reviving the tourism industry on the fast track. The new flights were expected to make travel between the US and East African easier, as passengers do not need to transit via European airports nor have to change planes to reach Nairobi. The US is a major source market for safari visitors to Eastern Africa and the flights to Nairobi were also expected to benefit neighbouring countries like Tanzania, Uganda and Rwanda, all of which have seamless Kenya Airways onward connections.
There is however some speculation by industry analysts and observes that the delay may have something to do with the absence of the FAA Category 1 approval for Nairobi's Jomo Kenyatta International Airport, which presently is a prerequisite for direct flights into the United States.
This status was expected for Entebbe International Airport some time ago but may now take until some time in 2009, and the same may apply also for other airports in the region. Watch this space.
FLY 540 TO OFFER CARGO SERVICES
Kenyan low cost carrier Fly540 has now added an F27 freighter service to their domestic and regional passenger flights. The aircraft is reportedly capable of uplifting some 5.5 tons of 'loose' cargo, but will not be able to accept palletized cargo shipments. The airline will be offering the service to all destinations already served by them but also offer cargo charters in the entire region.
Meanwhile, local media in Uganda still permit themselves to be duped into making the public believe, that Air Uganda is a 'national carrier' for Uganda, while it is actually a 'designated' carrier. Former national carrier Uganda Airlines went defunct some years ago and is in the process of winding up. Claims to be a 'national' airline tend to impress the market in favour of competitors like Kenya Airways &endash; incidentally a true national airline &endash; or Fly 540, which is a designated airline on the routes assigned to them by the KCAA under bilateral air services agreements. Questions have also been raised on the 'nationality' status of the Ugandan upstart, which traditionally requires 51 percent of the shares being held by Ugandan owned corporate bodies or individuals, something which does not seem to be the case here. Other Ugandan airlines like Eagle Air or Royal Daisy Airlines incidentally never laid claim to being a 'national' airline although both are in fact owned by Ugandans. Watch this space.
AFRICAN SAFARI CLUB TO END OWN FLIGHTS
The crisis in Kenya during the post election violence of January and February has taken its toll not only on the hotel occupancies along the Kenyan coast but has now taken another victim. As mentioned in a previous column about the Kenyan tourism situation at the time, the African Safari Club closed several of their hotels at the time due to radically dropped occupancies at their beach resorts. Their flight operation was also reduced at the time, although they were the first ones to gradually move towards a full operations mode again, being one of the biggest operators from Europe to Kenya. They ordinarily use their own resorts and safari properties in an integrated operation from sales over airtransport to accommodation and transportation at the destination.
However, according to reports from Mombasa they have now apparently decided to end their own air operation from Europe to Mombasa, and from next season onwards use the services of other quality airlines like LTU, Edelweiss and Condor to fly their clients to Mombasa.
This will bring a long tradition to a premature end and Kenya coast aficionados will miss the zebra striped planes of African Safari Airways, which over the years brought many tens of thousands of tourists from Switzerland, Germany and other European countries to the sunny Indian Ocean beaches of Mombasa and Malindi. The aircraft used so far is reportedly due to be sold off.
African Safari Club's domestic flights from an airfield along the Bamburi beach of Mombasa to the safari parks will however continue as usual.
PRECISION AIR SEALS LOAN DEAL
The Tanzanian privately owned airline &endash; 49 percent of which is controlled by Kenya Airways &endash; has now finalised the loan arrangements for the purchase of their French manufactured ATR aircraft. The airline has 7 brand new ATR 42 and 72 models on order, due for deliveries starting soon. The nearly 130 million US Dollar loan facility has been underwritten by Citibank Tanzania and is due to run for 12 years.
In the meantime, the Tanzania government has pledged nearly 40 million US Dollars to upgrade and rehabilitate several primary and secondary airports across the country, including Dar es Salaam, Arusha, Bukoba, Kigoma, Mafia Island and others.
This infrastructural development will undoubtedly spur more domestic and regional air traffic at a time when both Air Tanzania and Precision Air are engaged in a major fleet overhaul and fleet expansion, setting the stage for further growth of the aviation sector in East Africa's largest country. Many tourists are in fact using air charters and domestic scheduled flights into the national parks and to several of the Indian Ocean Islands off the shore of the mainland. There are however persistent complaints about charters from Arusha having to use the international airport, which is some 50 KM from Arusha while there is an airfield at the vicinity of Arusha, which has to be maintained by the Tanzanian Airport Authority while generating little revenue. The Arusha field has often been mentioned to become a potential 'safari hub' &endash; similar to Nairobi's Wilson Airport &endash; for flights to and from the Northern circuit national parks and could also cater for regional flights with larger turboprop aircraft like the ATR's now commonly used across Eastern Africa. This would allow swifter access to the parks and also to Arusha itself for visitors, sparing them the long trips to and from JRO.
TANZANIAN VOLCANIC MOUNTAIN KEEPS RUMBLING
Ol Donyo Lengai, the no longer dormant volcano in Northern Tanzania, has settled down to a threatening routine since erupting and causing some major quakes last year. Fume and smoke clouds keep emerging from the volcano's crater and side vents, and earth tremors continue to be felt in the wider vicinity of the mountain. More and more of the population resident in the area have now voluntarily vacated the area, after initially resisting government directives to leave.
The mountain is located near Lake Natron, the annual breeding ground for the East African region's millions of lesser flamingos &endash; recently in the press over attempts by India's Tata group to begin mining of soda ash, which was thankfully stopped over grave environmental concerns. The area with one of the most hostile climates known to man, is however of touristic value, not only for the flamingo breeding but also to see other game transiting between Ngorongoro and the Serengeti across very sparsely populated land. The pastoralist Masai of the area, who consider Ol Donyo Lengai as the seat of the Gods, have also been affected by a long lasting draught besides the constant 'rain of ash' and 'breath of death' caused by floating toxic fumes emitted from the volcano and they have moved their families and livestock to other grazing grounds.
RWANDA &endash; UGANDA OIL PIPELINE CONTRACTS SIGNED
During bilateral talks between the two countries it was agreed last week to carry out a survey and look at the cost of such a project before embarking on construction. Transportation of fuel by road from Mombasa is prohibitively expensive and has a substantial impact on the prices of the commodity in both Uganda and Rwanda, but also other hinterland countries. Uganda will this year commence work for the pipeline extension from the present end-location in Eldoret / Western Kenya to Kampala. This is aimed to reduce accidents, reduce transport cost and secure regular uninterrupted supplies, which during the post election Kenya crisis were severely disrupted and caused the Uganda to temporarily run out of fuel.
Tamoil East Africa, locally incorporated but Libyan state owned company, is the main contractor for the Eldoret &endash; Kampala pipeline extension and is also expected to play a lead role in eventually linking Kampala with Kigali. A further extension between Kigali and Bujumbura/Burundi is an additional option, once the main works in Uganda and Rwanda have been completed. This development is good news for the East African hinterland as it will reduce reliance on expensive road transport of fuel products. It may very well also allow Uganda, once oil production has gone commercial in two year's time, to export their own fuel products to these neighbouring countries by using the new pipeline.
The contract was signed by Presidents Museveni and Kagame, while Presidents Kibaki (Kenya), Nkurunziza (Burundi), Yusuf (Somalia) and Gadaffi (Libya) were also present at the function. Watch this space.
CONGO'S DUBIOUS ROLE IN REBEL ESCAPE
The often vented sentiments by this correspondent about Congo's rogue regime's behaviour were once again proven correct, when news reached Kampala that rebel chief Kony had successfully left his jungle hideout in Garamba National Park and made his way unimpeded into the Central African Republic. There he is reported to have teamed up with a CAR rebel group, supposedly for joint operations after his own 'forces' suffered large scale defections in recent months. There are also unconfirmed reports from usually well informed sources that at their new location the Kony group has received new supplies, possibly from their erstwhile supporters in Khartoum and that the terror group may be used to ply there bloody handiwork as far as Darfur in the service of their masters. Kony along the way continued his killing, looting and abducting once again while enroute to his new hide out, and neither the UN forces stationed nearby nor the Congolese army tried to intercept, arrest or eliminate the rebels. Fork tongued talk, made easy to recognize … at least wildlife specialists may now have an early opportunity to return to Garamba and take stock of what other damage the rebels have done there besides eliminating the last freely roaming Northern White Rhinos.
The rebel group was due to sign a peace accord as early as this month but have not only failed to assemble at designated points but now staged an escape once again. Peace talks have been going on for nearly two years in Southern Sudan's capital Juba between the rebels and the Uganda government, funded by the EU and other well wishing organizations and countries. A positive outcome so far is that the rebel group is now no longer present in Northern Uganda and peace and development can at last take hold in that part of the country. There is now talk that sections of the LRA would sign the peace deal but that may mean nothing at all as long as the ICC indicted head goons are still at large.
In contrast to Kony's behaviour, the Ugandan government has put an amnesty programme into place of which many former rebels took advantage, deserting from Kony, coming out from the bush, renouncing violence and returning to civilian life with a substantial start up package of support measures.
Meanwhile, in another typical turnabout, existing mining contracts and concessions in the Congo, including and probably in particular in the East of the country, are to be cancelled by the regime in a 'review' process aimed at signing new agreements, ordinarily a pretext for another round of corruption, when trying to extract undue payments and considerations from holders of present contracts and applicants for new ones. International observer groups like 'Global Witnesses' have already decried the development as 'far from transparent' &endash; in other words expressing their own misgivings and suspicions in a more diplomatic language.
EMIRATES ANNOUNCES MORE US DESTINATIONS FOR UGANDANS
Soon after Emirates broke the news to the local market, that they will introduce A380 flights to New York from late this year for Ugandans connecting to the Big Apple in Dubai, they have now added another US destination. From September onwards Emirates' travellers can reach Los Angeles after the customary stopover in Dubai, before boarding a non stop flight to California. This is the airline's third US destination after New York and Houston. Travel agents expressed their delight over the new options, partly also because Emirates still pays a commission to travel agents for tickets sold as opposed to many other airlines, which have cut the agents out with zero commission for their work. Emirates' daily flights from Entebbe have been hugely popular for travellers to the Gulf, India, the South and Far East owing to convenient connections in Dubai, stopover 'goodies', decent inflight service and well placed pricing. The airline intends to use a Boeing 777-200LR (long range) for the service and will offer its traditional three class configuration, including its legendary first class suites and their acclaimed flat bed business class. Flight time from Dubai to LAX is estimated to be about 16 ? hours, plus about 5 hours from Entebbe to Dubai, allowing passengers to enjoy nearly a full day of award winning inflight service and on board entertainment to pass their time.
BRUSSELS AIRLINES ADDS BAGGAGE ALLOWANCES
Now that the fourth weekly flight between Brussels and Entebbe has taken root in the market, Brussels Airlines has granted increased baggage allowances for their passengers. Economy passengers can now carry up to 46 KG's without extra charge, while business class travellers have an allowance of 64 KG's for checked in luggage. In line with international standards this allowance applies to at least two checked pieces. Well done!
WEATHER RADAR BREAKDOWN
The parliamentary committee on transport has been told by engineers that the Entebbe based weather radar system has broken down. The system had been repaired and upgraded less than a year ago for the Commonwealth Summit in late November 2007 and is a key ingredient for safe air operations, providing important clues for aircraft landing at and leaving from Entebbe. The committee reportedly focused on projects and expenditure connected to CHOGM and how funds have been spent and what value the country got in return, when they heard from witnesses about the radar's faults. However, the main traffic radar facility in Entebbe is said to be working satisfactorily.
SHELL SAYS 'AVGAS ON THE WAY'
Following reports on the ongoing AVGAS shortage at the Kajjansi airfield and Entebbe International Airport, Shell Uganda has responded directly to questions from this correspondent and assured the aviation fraternity that new supplies would be available within days, after transit times from Mombasa to Uganda had 'normalised'. It was also revealed by Shell that a new storage facility at Kajjansi was nearing completion. This, they mentioned, would add extra storage capacity at an airfield where consumption of the fuel was substantial and relieve domestic airlines operating from Kajjansi to constantly stop over in Entebbe for refuelling or else having to transport the fuel in drums from the main tanks to the required locations. The aviation fraternity cautiously welcomed the announcement when informed about it but nevertheless remained in a 'wait and see' mode as similar past commitments came and went without results.
However, information received just before going to press confirmed that AVGAS has now been received in Entebbe's main aviation fuel storage tanks and that the new Kajjansi AVGAS fuel facility will be ready for use by April this year, bringing relief to the domestic air operators and private aircraft owners. Full charter services from the Kajjansi airfield's operators have now resumed, just in time for the annual Easter Holiday and seasonal peak demand.
CAA TO EXPAND CARGO AREA
As part of the long term development plan for Entebbe International Airport the CAA has now announced a new public-private venture to develop a new cargo centre at the airport and create sufficient new space in warehousing and cold storage to meet the growing requirements for exporters of fresh produce, cut flowers and chilled fish, but also for importers using airfreight. While the CAA will create roads, parking spaces for aircraft and links to existing taxiways, private investors are expected to add more facilities in the now designated areas away from the present cargo terminal, capable of handling some 100.000 tons of cargo per annum. The new buildings will also allow an expansion of the passenger facilities in a few years time, when the recent terminal expansion will have reached its limit again. The cost for the expansion was given at about 25 million US Dollars. It was also revealed during the week before a parliamentary select committee that government institutions owed the CAA some 70 billion shillings in various charges and fees, including rent. This prompted committee members to summon those responsible for not settling their bills to answer before them in due course, as the outstanding amounts could financially cripple the CAA severely.
POST ITB RUMBLES CONTINUE
More anger has been expressed by trade fair participants returning from ITB over government's handling of the financial side for the show. ITB this year set new records for attendance and exhibitors, making it without argument the most important and extensive tourism trade show across the world and the greatest opportunity to showcase a country and attract tourists.
As previously mentioned in this column, Uganda's Tourist Board has been notoriously shortfunded and the near disaster in Berlin, when the stand money only arrived after the opening of the show, is the latest mishap in this saga. Stakeholders and show participants now demanded a swift meeting with top officials of the Ministry of Tourism to conduct a 'post mortem' and identify those responsible for the unbearable situation. Some sections of the tourism industry have also vowed not to rest until fundamental change has come to the Ministry and the culprits been reprimanded or worse, including calls for resignations and sackings.
Several very negative press articles also appeared over the past two weeks from journalists who actually witnessed the Ugandan performance in Berlin and compared it with other East African exhibitors, while applauding Rwanda's performance which the same media called ' outstanding' and 'excellent'. No public statement in response however was given by the Minister of Tourism so far to the disappointment of the sector and the general public following the developments. Watch this space.
RWENZORI PARKS GETS NEW 'LOOS'
Rwenzori Mountain Services has at last responded to frequent visitors' complaints about the status of the pit latrines along the popular medium and high altitude hiking and climbing trails. In a concerted effort the concessionaire has now put up some 13 new ecofriendly 'Ecosan' compost latrines for use by visitors and their guides, making the trails finally more user friendly, while at the same time protecting the mountain's water sources and environment.
The park is slowly getting more popular again with alpine tourists from Europe and the rest of the world, after a closure in the mid 90's due to rebel activities from the other side of the border in Congo. The border between the two countries runs across the main peaks of the East African mountain range and have some time ago been disputed by Congolese officials against age old standing international agreements. Climbs and treks across the mountains, including the glaciers, are amongst the more difficult ones' due to the constant rainy and foggy weather conditions but are also considered as some of the most rewarding experiences for visiting alpinists.
Next on the list of urgent 'to do' things will be a full rehabilitation of the mountain huts as well as constructing more of them to open up new trails and hikes towards the main peaks as well as provide better comfort along the present routes.
For more information on Uganda's national parks and game reserves visit www.uwa.or.ug or the official Tourist Board website www.visituganda.com. More pertinent information on Uganda can also be found at www.caa.co.ug &endash; the official website of the Uganda Civil Aviation Authority.
LOADSHEDDING BITES HARD AGAIN
As power generation at the Jinja based Owen Falls and Kiira power stations again reduced to less than 140 MW, compared to an installed capacity of well over 300 MW, power shortages once more grip the country. The outflow of water in Jinja was reduced to comply with long term agreed (or should one say dictated) average water release rates, as is required under the present Nile Treaty. Egypt and the Sudan have a major say on this matter, as the East African countries are bound by the colonial treaties of 1929 and 1959 regarding the use of the Nile waters up to the original contributory rivers and lakes. At the same time diesel shortages and sharp price increases after the Kenya crisis took their toll, causing the reduction of thermal power output. Government too is struggling to find the funds for further subsidies of diesel used in thermal power stations and heavy duty industrial generators in view of the cost having risen beyond expectations.
Equipment for the new heavy fuel oil plants presently under construction was also delayed at the Mombasa port and in transit, as the roads at the time were not safe enough and the companies feared for the equipment &endash; mostly transported on very slow moving extra wide low-loaders &endash; to be vandalised or destroyed.
Hotel operators have already started complaining strongly again over having to use expensive in house generators, while the glut of hotel rooms in Kampala does not allow passing the extra cost on to their customers. The power transmission and distribution companies have gone back to the pre-CHOGM 12 hour load shedding schedules &endash; speak power cuts &endash; and the well known blame game is in full swing again. Meanwhile consumers, small scale industries and big industries again have to tighten their belts as they either have to sit in darkness and halt production or else use expensive generators to stay in business.
Charcoal has in the meantime become scarce and prices for the commodity have also shot up, proving the often vented opinion in this column right that lack of affordable electricity is accelerating deforestation across the country and leading to environmental degradation. Usage of charcoal and wood fuel has over the past two years increased many-fold, especially in the city and urban areas, following years of gradual decline, when electricity prices began to climb.
This happened when thermal energy production was injected to make up for the loss of hydro power generation in Jinja at the beginning of 2006 and once electricity prices had doubled and then some, much of the population began to return to wood based fuels for their kitchens and other domestic uses. Unless therefore hydro generated power and renewable sources of energy are once again taking the forefront, the assault on Uganda's forests is bound to continue and an environmental disaster for coming generations all but assured.
TULLOW OIL SIGNS POWER PLANT DEAL
A key step towards restoring full electricity supply for the country was taken this week, when Tullow Oil, one of the main exploration companies working towards crude oil production in the Lake Albert basin, signed a supply deal with Jacobsen Elektro. As a first step Tullow intends to build a mini refinery near their production sites to produce useable oil products. Concurrently an 85 MW heavy fuel oil and gas powered thermal powerplant is to be constructed by Jacobsen Elektro, which is already in the final phase of installing a 50 MW heavy fuel oil plant near Kampala, said to come on line within the next two months. Heavy fuel oil powered plants are cheaper to operate and will help to keep rising cost in check (see previous column item). Tullow also announced that they would invest at least US Dollars 200 million this year alone to advance further drilling and bring to production the already existing wells within their concession area.
This will be welcome news for the Uganda Government, the business community and civil society. Government has been struggling with a multitude of misfortunes in the energy sector over the past years, as supply of electricity has been lagging largely behind present consumption and against forecasts for coming years.
KENYA WILDLIFE SERVICE DELAYS TARIFF INCREASE
Following the crisis months after the end December elections in Kenya, KWS has now announced that they would defer the planned tariff increases due for July 2008 for 6 months until January 2009, in order to boost the tourism recovery in the country. This was announced by the Executive Director during the official re- opening of the Nakuru National Park airfield, which has been undergoing repairs and upgrades. It was also announced that KWS would advertise additional concession sites in Tsavo National Park (both East and West), the Aberdare's, Amboseli, Nakuru, Mt. Kenya and Nairobi. KWS gave assurances at the function that all parks would have their main airstrips rehabilitated to facilitate more visits by air, avoiding the often notoriously bad roads leading to the parks.
To spur domestic travel in the weeks ahead KWS also announced a waiver of park entrance fees for young Kenyans below 18 years from Easter until April, to make visits more affordable.
Wildlife authorities across the region however still need to implement a joint East African policy, to allow a common entrance rate across all the countries in the region for 'citizens of East Africa' (not just citizens of the respective country itself), registered 'residents' of East Africa and foreign non resident visitors to the parks, to make regional / domestic travel more affordable and therefore more attractive.
EASTER BRINGS RELIEF TO COASTAL RESORTS
Although the international tourists are still slow to return to Kenya's Indian Ocean beaches, Kenyans and visitors from the region have boosted hotel occupancies for the Easter season. Flights to Mombasa show marked signs of higher occupancies ahead of the holidays and some hotels and resorts along the coast are in fact fully booked for the long Easter weekend and the week afterwards. Once again, domestic tourism has come to the rescue of the industry in times of need and visitors numbers include between 80 to 90 percent of 'locals' in many of the hotels surveyed. Starting from the week after Easter very special offers are now also on the market with huge tariff reductions, giving the best value in years to visitors. In the process a good number of staff previously laid off or sent on leave have been recalled on duty, which is good news too. Kenya is once again ready and waiting to provide hospitality for tourists from far and near.
QATAR AIRWAYS OFFERS MORE DESTINATIONS
The daily flights of Qatar Airways between Nairobi to Doha now offer a wider choice of connections, with three destinations to China on offer and Houston coming on line soon. Travellers from around Eastern Africa can use their choice regional connections on Kenya Airways, Fly 540, Air Tanzania and Rwandair Express to link up with the carrier at Nairobi's Jomo Kenyatta International Airport. Qatar Airways presently offers over 80 destinations already for Nairobi passengers connecting in Doha.
The Gulf based airline has about 140 planes (80 Airbus and 60 Boeings) on order and expects from July 2008 onwards delivery of at least one new aircraft per month to meet its ambitious expansion drive towards more destinations and greater frequencies. This development will then match the launch of the new Doha International Airport, presently under construction.
KENYA VIOLENCE 'METICULOUSLY PLANNED'
A recently published report, compiled by the New York based Human Rights Watch, speaks of well planned post election violence against President Kibaki's Kikuyu tribe, once presidential election results did not go the opposition's way. This previously often mentioned, and equally often harshly criticised notion in this column now stands on solid grounds, with HRW's credible findings made public.
The Kenya Police was also severely criticised over the use of 'excessive force' against demonstrators, but this too can now be seen in a different light in hindsight, having had to deal with clearly organized mobs with a deadly agenda.
The report also speaks of planned counter reaction by Kikuyu tribesmen after the initial onslaught against them, mainly in Western Kenya and the Rift Valley, which however seems to have taken some time to set up, while the opposition sponsored violence was 'instant'.
Hard work will be needed therefore to reconcile the opposing sides, not just in parliament but across the country and Kenya deserves some special Easter prayers towards that end.
KENYAN PARLIAMENT AIDS RECOVERY AND RECONCILIATION
Following the political agreement, brokered by former UN supremo Kofi Annan &endash; assisted by eminent personalities from across Africa and the world &endash; in Nairobi last month, Kenya's parliament has now in record time passed a constitutional amendment to pave the way for the formal introduction of the office of Prime Minister and for two deputies. This was a core issue agreed upon by the political rival parties as part of their reconciliation. President Mwai Kibaki become also a history maker by being the first sitting Kenyan President to vote in parliament when the constitutional changes were put before the house, a sign of his personal commitment to make the deal work. The President however also left no doubt of his government's intent to unearth and prosecute all those involved in the mass violence inflicted upon the Kenyan population after elections results had been published, irrespective of which political side they belong to or who they individually are. (See previous column item about the Human Rights Watch report released during the week).
The Kenyan Ministry of Tourism Permanent Secretary Mrs. Rebecca Nabutola in the meantime decried the slow pace of lifting anti travel advisories against Kenya and noted that recovery even from those countries which lifted their warnings bye and large so far was still slow. She expressed her hope that by the start of the 2008/9 high season in late 2008 however international arrival numbers would have returned to the pre-election levels, an aspiration which has our all blessings.
CONGO'S WILDLIFE WOES CONTINUE
A senior gamekeeper turned apparent poacher was recently arrested in Goma / Eastern Congo and stands accused of having been involved in the slaughter last year of a group of habituated mountain gorillas. Some other staff of the Virunga National Park are also said to be under arrest. Sycophantic NGO's seeking the sympathy of the regime in Kinshasa promptly showered praise on the rogues for their 'decisive action', saying authorities have 'regained control' of the park. Reality in Congo however is that any type of authority is erratic at best, corruption is endemic and that this arrest may only be a scapegoat to cover up the colossal failures wildlife conservation in Congo has suffered of over the past, both recent and more distant. It should also be recalled that the same quarters some time last year accused the Tutsi self protection forces of General Nkunda for being responsible for the killing of the prized animals in th
UGANDA CIVIL AVIATION ANNOUNCES LICENSING HEARING
The Licensing Committee of the Civil Aviation Authority has just set April 10th for the next hearing of applications for air service licenses. At least 12 companies have applied for new licenses or a renewal of their existing licenses. These applications are for non-scheduled and scheduled passenger and cargo services cum aerial spraying and medical evacuation services / air ambulance operations.
Venue for the public hearing is the Imperial Royale Hotel in Kampala at 11 a.m. on the day. Members of the public as well as media representatives are welcome to attend the proceedings.
In the meantime, outgoing Managing Director of the UCAA, Mr. Ambrose Akandonda, has revealed the traffic figures for 2007, standing now at over 720.000 passengers, again a substantial improvement over the preceding year and largely attributed to the increase in international flights by such carriers as Brussels Airlines, KLM and South African Airlines and the going daily by Ethiopian Airlines.
FLY540 TO ESTABLISH UGANDAN OPERATION
Kenyan LCC Fly540 has been put on the top of the hearing schedule for the next CAA licensing meeting, giving the clearest indication yet that they intend to establish a locally incorporated Ugandan airline under the same name. This serves notice to other airlines in Uganda that competition is about to descend on them like the proverbial 'ton of bricks' and will undoubtedly compel several of them to either improve their service levels or face hard times. Operating cost effective modern ATR's, the Kenyan low cost carrier is expected to do financially well in Uganda, where high fares were perpetuated by the most recent upstart Air Uganda, instead of bringing fare levels down to more affordable levels as initially hoped for and making air travel available to larger sections of society.
Fly540 is also expected to establish other regional footholds, before the regulatory environment in Eastern Africa will eventually be harmonized and country specific air operations become once again subordinate to a joint East African aviation regulator.
In the meantime however Fly540 is intent to obtain a Ugandan ASL (air services licence) and an AOC (air operator's certificate) and will then base dedicated ATR aircraft at Entebbe International Airport. A similar development is anticipated for Tanzania too in due course. Lonrho Africa is the main shareholder in the Kenyan company but is also expected to be instrumental in the new companies now emerging across several, probably as many as eight Eastern, Southern and Western African countries, where Lonrho has substantial economic interests. Watch this space.
PILOT TRAINING PARTIALLY RESUMES
The Kampala Aero Club and Flight Training Centre in Kajjansi has now resumed limited training flights for aspiring pilots after managing to import some AVGAS via Mwanza / Tanzania. The main suppliers for aviation fuel in Uganda, Shell and Total, have however failed to restock this crucially important fuel type, which is used in most light, single and twin engined, aircraft presently used for 'safari flying' and other charters across the country and into the region. Sources from within the aviation fraternity speak of a 2 months supply gap for AVGAS by Shell, and while fresh deliveries have apparently reached Nairobi's Wilson Airport and other Kenyan airfields, the Entebbe depot for AVGAS is reportedly still empty. Aviation fuel company contacts confirmed that a delivery is now only expected in the second half of March, which is totally unsatisfactory for the air operators. KAFTC is the only licensed training private training facility of its kind in Uganda at present. The other training school is the publicly owned East African Aviation Academy in Soroti / Eastern Uganda. That school however is presently short of aircraft, until newly ordered training equipment is delivered, and has reportedly also been short of fuel, caused by the Kenyan crises in January and February as well as lack of sufficient funds to pay for the sharply increased prices.
No confirmation could be obtained from government sources about the main national fuel storage facility in Jinja keeping AVGAS stocks for emergencies, which could be released to air operators in times of need.
In fact press reports about the status of the national fuel reserves in Jinja, as published in the local media this week after a visit of the parliamentary sessional committee on energy, speak of 'empty tanks' as far as government reserves were concerned and that private companies were owning the present stocks. During the visit it was also discovered, that most of the about 40 fuel companies in Uganda, especially the smaller ones' apparently have no significant storage facilities of their own at all, depending entirely on the national reserves for supplies during crisis times. Watch this space for emerging news.
USE OF NEW AIRPORT FACILITIES CAUSES CONCERNED DEBATE
The newly build and refurbished facilities at the 'old' airport in Entebbe are now subject to some considerable wrangling behind the scenes over the use of the dedicated 'domestic departure' lounge and the entire area. Sources within CAA have quietly confirmed that there is a possibility to turn this area in to a specific VVIP terminal, which however would cause the CAA further expenditure, and loss of rent and advertising revenue for the time being, if a new domestic terminal would need to be constructed. Other sources however played down the question and pointed out that at this stage no decision had been made and a panel of experts was presently still looking into the matter. Recommendations would be expected in due course and the aviation fraternity is holding their breath until then. Watch this space for further developments on this emerging saga.
ITB SAGA ANGERS PRIVATE SECTOR
The failure by government to avail sufficient funding for the just concluded ITB participation of the Uganda Tourist Board and the country's private sector to put up a shining stand in Berlin has angered the private sector stakeholders to no end. An article in the Daily Monitor of today expressed the sentiments of participants fed up with the situation. Several efforts were made prior to the trade fair to convince government to release funds, and while top level intervention secured the stand rental cost, this was clearly not enough to perform as anticipated and expected. Said one participant in clearly a foul mood over his experience: '..this has to stop. We have embarrassed ourselves. For how long can we allow bureaucrats to mismanage these affairs? They have sabotaged our efforts to promote tourism efficiently. We will ask for those responsible to be sacked for messing with our country's good name abroad. There was a lot of interest in East Africa and Uganda and we have been let down, the country has been let down. How can we fill all these new hotel rooms and conference facilities which were built for CHOGM last year if we do not promote them strongly?'
Find the Monitor article by Joseph Olanyo through the following link:
http://www.monitor.co.ug/artman/publish/business/Uganda_fails_to_shine_at_Berlin_tourism_fair.shtml
UPCOMING GRADING WORRIES HOTEL PRETENDERS
Would be 'hoteliers', often people who found the money to get into the sector but lack qualifications to run hospitality establishments (and in addition often employ unqualified labour), are getting increasingly worried about the implications of the recently passed tourism bill. The new law is set to shift licensing, monitoring and enforcement from the Ministry of Tourism to a reconstituted Uganda Tourism Board, a new function besides the generic marketing of the country.
Under the auspices of the East African Community a catalogue of criteria for grading and classification, declared by the EAC as binding for member states, was developed in past years but implementation has been lacking. Although ahead of the Commonwealth Summit in 2007 some classification and a short-lived effort to impose grading on participating hotels were started, the full exercise is only going underway once the tourism bill enters the implementation phase.
Sections of the hotel owners have long been accused to exploit the absence of enforcement in the sector to award themselves utopia star ratings, which do not at all reflect the reality on the ground. Hence, several such hotels and lodges in Kampala and across the country mislead potential customers with words like 'luxurious' without understanding what it takes to actually create such an environment for guests.
Uganda's neighbours Kenya and Tanzania are more advanced in setting and controlling standards for hotels, resorts and safari lodges and Uganda will now have to catch up with them, in order to eventually offer matching descriptions and standards under the commonly accepted regional star rating. However, the present glut of hotel rooms in Kampala has already led to a general rate reduction across the board, offering customers now more value for money, besides more choices of where to stay.
ON OFF ON OFF &endash; YOUR GUESS IS AS GOOD AS MINE
Construction at the so called 'Hilton Kampala' construction site has apparently resumed, after the promoters reportedly secured another loan of US Dollars 20 million from a Southern African finance company. The notorious 'Aya' brothers promptly resumed their full mouthed statements, which had hitherto made them into a laughing stock amongst the hospitality fraternity with their often grotesque assurances, to have the hotel ready for last year's Commonwealth Summit. Far from being ready the construction had been halted several times in the past for more than just financial reasons, when architects, contractors and consultancy teams pulled out of the project. Completion cost, initially estimated at 90 million US Dollars, are now said to have risen to as much as 120 million US Dollars due to sharply increased energy costs but also heavy price increases for building steel and cement, amongst other construction items.
In a related development no one is holding any breath during March 2008, which several government officials had set for Kingdom Hotels commencing construction of their hotel project at the former Shimoni Primary School. The educational institution was hastily moved to another &endash; at the time incomplete and todate still too small site, to allow for demolition of the premises some 2 years ago. Inspite of the undue haste at the time Kingdom Hotels failed to make any headway so far. The company is however spending quite heavily in Kenya on a full rehabilitation of the former Lonrho Hotels properties, which they acquired a few years ago. They are also said to be interested in the Tanzanian market, but market confidence in Uganda will be measured on making progress in Kampala too. Watch this space.
MOBILE MAST CONTROVERSY INTENSIFIES
Following the launch of the 4th mobile operator in the country public complaints arose over the placement of Warid Telecom masts inside heavily populated residential areas, in some cases right next to houses. Media scrutiny subsequently unearthed the reality of mast installations, most of which were not approved and sanctioned by NEMA. This led to a further public outcry for action, prompting the Ministry of Information and Broadcasting to issue full page statements in the local print media, trying to defend the present situation and offering a consultative exercise to determine the safety and suitability of both masts and their electronic equipment as well as of locations chosen by the operators. Government also promised to develop and issue guidelines for mast placements in due course.
This announcement followed a swiftly arranged hearing conducted by the ICT parliamentary committee, trying to ascertain the health risks to the public by unapproved masts. All four telecoms providers in the country appear to have a substantial shortfall of approvals between the masts put up across the country and those sanctioned by NEMA. Warid alone claims to have put up some 400 masts prior to going operational but apparently less than 10 percent of those have been approved by NEMA. Existing companies too apparently have a low mast / approval ratio, although it has been confirmed that masts erected inside protected areas (national parks, game and forest reserves) have undergone the full process of NEMA's regulations and approval processes, where agreed mitigation measures had to be implemented by the applicant companies.
UGANDA TELECOM INTRODUCES 3G STANDARDS
The latest innovation in telecommunications was launched last week by Uganda Telecom, when it inaugurated its 3G network, the first of its kind in Uganda and Eastern Africa. Visitors to the country can at a very nominal cost acquire a local SIM card from UTL outlets or dealers, preload call credit and then are able to make video calls from suitable mobile handsets or receive television broadcasts from local stations. UTL is also offering Blackberry services for visitors from abroad using this facility in their home country. Latest entrant Warid Telecom however is still only offering conventional mobile call options, without even GPRS/EDGE or CDMA connections, leave alone the other high tech offers presently available from UTL, Celtel or MTN. Subsequently their market penetration is still low and the soon expected start of a 5th operator &endash; HITS Telecom &endash; is now thought to be only successful if launched immediately with a full product range instead of going piece meal like Warid. Warid has also been singled out for allegedly causing phone malfunctions through their use of a extra capacity 64 KB SIM cards, which seems to be too much for many of the commonly used phones in Uganda, overall not a good start for the newcomer. Consumers however presently have the last laugh as the cost for hand sets and for call rates have come down on a broad basis and more cuts and special offers are expected to flood the market just before HITS 'hits' the market.
UGANDA GOLF CLUB TURNS 100
The Uganda Golf Club, located in the very heart of Kampala, where it owns and operates the city's premier 18 hole golf course, just celebrated its centenary, having been launched in 1908. Along with the celebrations went substantial improvements to the course, the club house and the entire infrastructure. The course forms part of the 'green lung' of the capital city and is open for temporary membership of visiting golfers, with several hotels offering this facility to their guests, who then only have to pay, often reduced' green fees. Caddies are readily available for 'guest golfers' at the club house.
NAIL ON THE HEAD
The publisher of East Africa's premier travel and leisure magazine, TN &endash; Travel~Leisure~Life has in his monthly column 'Miscellaneous Ramblings' hit the nail on the head, when talking about the tourism recovery in Kenya. GO DOMESTIC! Many resorts, hotels and lodges took a while to rediscover the domestic market in this time of need (SOME IN FACT ARE STILL PONDERING) for which they normally only make special deals available during the annual off season, lasting from after Easter until the end of June (lodges) and up to middle or end July for some of the beach destinations.
With overseas traffic of tourists still down to a fraction of the pre-election usual, at least some tourism businesses have responded to the challenge and made special offers available to Kenyans and in fact East Africans. Yet, as mentioned before, East African governments &endash; and in particular the one most in need to revive tourism = Kenya &endash; ought to swiftly scrap Visa requirement for expatriates duly registered and living in one of the other East African countries to remove the Visa cost burden from a holiday within the region, rather than having this market segment fly off to the Gulf or Southern Africa, where NO Visa fees are due to them. Other than that, there are excellent packages on the market already between now and Easter and more so for the traditional low season. In fact, an insert in the latest TN edition from Cheli and Peacock (visit www.chelipeacock.com) is absolutely 'mouth-watering' and those in Uganda, Tanzania, Rwanda and Burundi who are not taking advantage to following the footsteps of the rich and famous &endash; while those are still hesitating to return to Kenya &endash; may miss a chance which may never come back again. Travelling to Kenya now is also a way of supporting a good neighbour and helping the tourism industry recover, something we in Eastern Africa will all benefit from in coming months and years. And with Fly540 now operating from Entebbe to Nairobi and on to Lamu, Malindi, Mombasa or even the Masai Mara at low affordable fares, there should be no stopping the Ugandan expat community to show that extra bit of solidarity &endash; and saving big time in the process.
NAIROBI HILTON POSTPONES REFURBISHMENT
Owing to the drop in occupancies over the past two months to an average of below 25 percent, the Nairobi Hilton has for the time being postponed the planned refurbishment and modernization. The city centre 5 star business hotel, which offers over 250 suites and rooms, has suffered along with the rest of Kenya's tourism sector, as it depends greatly on conference and business visitors, as well as tourist groups, most of which deserted the country over the political violence.
It is however understood, that the hotel has used the lesser occupancies and started with some 'soft' work on the floors presently closed. It was pointed out that the main refurbishment and upgrading exercise will only now commence, once a clearer picture emerges on the strength and speed of Kenya's tourism recovery.
CONGO GORILLAS UNDER CONTINUED THREAT
Congo's abominable record of wildlife conservation and protection has taken another hit when news emerged that the Kinshasa regime has failed to assert any control over the national park along the Rwanda and Uganda borders, where the prized mountain gorillas can be found. While the three wildlife management bodies of Congo, Rwanda and Uganda have signed agreements towards joint efforts to protect the animals, and the governments of Rwanda and Uganda have shown serious commitment towards this end, the Congo regime again seems intransigent about the situation at the Virunga National Park, where last year a number of the animals ended up dead. The game rangers at the time fled from marauding soldiers and Hutu militias terrorising the area, which at the time cause wide spread population displacements. Predictably the Kinshasa mouthpieces have blamed Tutsi dominated protection forces, which were formed to prevent yet another Hutu perpetrated genocide against their ethnic group, a convenient and regular excuse for all the regime's ills in Eastern Congo. However, with heavy UN forces present in the area and recent truce agreements between most of the militias and the regime, there should be no further excuses for again sitting on their hands.
The most notorious case of aiding and abetting wildlife extermination in Congo was found in Garamba National Park, where the Kinshasa regime tolerated &endash; some even say openly supported &endash; Ugandan rebel groups to pitch camp and in the process poach into extinction the remaining wild Northern White Rhino population, alongside dozens of killed elephants and other species of wildlife.
RWANDA'S ORTPN RETAINS TOP RATING AT ITB
The Rwanda office for tourism and national parks once again scored highly at the just concluded ITB, when they retained the top spot for African exhibitors. Congratulations to Rosette Rugamba and her entire team for this wonderful achievement in putting Rwanda firmly back on the map of tourism destinations in Eastern Africa. Well Done!
RWANDA &endash; TANZANIA RAILWAY 'ON TRACK'
Further progress has now been reported for the intended railway link between Kigali and the Tanzanian inland dry port of Isaka. The line, to be constructed over the next few years, will be of 'standard' or otherwise called 'international' gauge of 1.435 mtrs width, compared to the hitherto common 1 mtr gauge narrow line, which is found all over Eastern Africa. Rwanda is said to be very keen on developing this alternative supply and export route to and from Dar es Salaam port by rail, which would substantially lower the road transportation cost for fuel and other goods for the country, but also make exports through Dar es Salaam's port cheaper. The Isaka station will become the interchange platform where containers and other goods will be transferred from the narrow gauge line coming from Dar to the standard gauge line moving into Rwanda. It could not be confirmed if a railway extension into Burundi is presently planned or indeed viable for development.
RWANDA CAA COMMITS TO SITA
Kigali's international airport will soon see the installation of Sita's air traffic information system and air-ground data link 'Digital ATIS'. The introduction of the new technology for Rwanda's main international airport is a result of ICAO's ongoing commitment to improve aviation safety in Africa. The new system is reportedly reducing reliance on voice transmissions and installation is expected to be complete by the end of the year.
And this week once again quite some more tourism news from Gill Staden in Livingstone / Zambia about the trials and tribulations of the tourism sector there. Contact Gill at <livingstonian@zamnet.zm> for direct inclusion in her weekly newsletter
Victoria Falls Boma, the place of eating
During the week I was invited for dinner at the Victoria Falls Boma. Because it is so difficult to take one's car across the border these days I opted for the taxi route. It was not painful at all. I drove to Sun and parked my car; walked to the border; caught a taxi across the bridge (K10,000), then took a taxi to Victoria Falls Safari Lodge (US$10) ... easy stuff ... and some good coversation on route with taxi drivers too ...
I had arrived around 4pm so we spent an hour or so looking at a new development in Victoria Falls ... yes, the Zimbos are all thinking that now is the time to develop in Victoria Falls. Zimbos know that we, in Livingstone, cannot compete with their tourist facilities in Zimbabwe and that when Zim comes right, they must be ready to make the most of their advantages. The fact that Zambia has already shot themselves in the foot with the new tourist visas is an added impetus for them to make the most of things. The site we looked at was for a new hotel ... yes, a new hotel ...
Victoria Falls, Zimbabwe, already has at least four times the accommodation that we have in Livingstone, but they can, all being well, fill their hotels, whereas we cannot. Why???? Maybe it has something to do with costs???
Anyway, let me tell you about the Boma. It is akin to Ngoma Zanga but on a larger scale. It is a huge thatched structure, open at one side, with loads of local artefacts. It is almost like a traditional village scene. We were welcomed by a drink of chibuku ... I say no more, except that chibuku is an acquired taste ... and when someone started mentioning vomit I gave up on my attempt to be polite ... Really, though, it is not that bad ...
After the starters we went to the servery to select food from such an array of beautifully prepared local (or western) dishes. I think I ate eland, warthog, ... and loads of traditionally prepared vegetables. Really, there was so much to chose from that I was totally spoilt for choice. There were even mopani worms - anyone who eats one gets a certificate ... Having eaten mopani worms before at Songwe Village and not being in need of a certificate, I declined the invitation to eat one.
During the meal we were entertained by some troupes of entertainers. The first group was OK but was nothing to write home about. The second group, though, was a group of drummers. They were first rate. I could have listened to them for hours. All the diners were given a drum so that they could join in ... I did try, but found that I have absolutely no talent in the drumming department, so gave up.
The Boma in Victoria Falls was started as an experiment on a very small scale. But, because of its popularity, has become part of the African experience in Victoria Falls. I suppose there were about 100 people there that night and they said that it was a quiet night!
Victoria Falls Safari Lodge
I stayed the night at the Victoria Falls Safari Lodge. This is a beautiful hotel set on a ridge overlooking the National Park and the Zambezi. The hotel faces the sunset and that evening we had watched, along with loads of other guests, the sun as it dipped below the hills in the distance, the sky steaking with reds and oranges. A stunning sight.
Below, in the valley, there is a waterhole. While eating breakfast in the morning a herd of impala, accompanied by some kudu, came down to drink. As we were eating, a red-winged starling sat on the balcony looking for food - it was treated to a knob of butter ... The breakfast was definitely 5-star and the service was excellent.
Next time I go there I will, hopefully, have my camera and will take some photos.
From Kafue National Park
ZAWA has re-categorised the Kafue Park from a B park to an A park meaning the bed night levies went up 150% overnight! People at Mayukwayukwa, Two-Fig [Mukambi's new bushcamp], Hippo Lodge, McBrides Camp and Wilderness are complaining bitterly as they are located in the park and have not calculated the new fees into their rates for this season. Plus the border entry visa fees have been doubled and the visa waivers scrapped so Zambia has yet again outdone themselves in welcoming tourists to the country!!
Tour Operators continue the fight for a change in the new visa fees
Correspondence is flying around Zambia as the tour operators get an argument together to present to Government to fight the new visa fees which have resulted in a huge loss of business in the budget market. Here are some of the comments …
We have received the questionnaires and also passed them on to a lot of our agents to return direct.
We sincerely hope that for the sake of Tourism in Livingstone the fees are going to be brought down for everyone and not just for the Brits and Americans.
A lot of operators in Livingstone already say that a visa fee of USD 50-00 for everybody would be acceptable. These operators mainly work with the top-end of the market and a visa fee of USD 50-00 will not make any difference to their holiday and these clients will come anyway.
We should however be looking at the bigger picture and think for Livingstone and Zambia as a destination and not just everyone's own operation. Livingstone region is bordering three countries of which two do not have any visa fees for the majority of the visitors. The only reason that Livingstone has been doing reasonably well is because the majority of visitors to Livingstone come for The Victoria Falls. They do have the option between Zimbabwe and Zambia and because of the political situation in Zimbabwe we now have the majority of the market.
Costs of nearly all commodities as well as fuel in Zambia are approx double of the costs in Namibia and +40% of costs in Botswana, which makes our overheads also nearly double. Zimbabwe, we cannot really compare with because they, at the moment, have to get most of the commodities they need to run an efficient Tourism enterprise, from their neighbouring countries, which they quite successfully do.
Livingstone and most of the local smaller businesses in Livingstone have done very well with the budget market and mainly because of the visa waiver. The budget traveller stays in local guest houses, backpacker places, use local taxi's, shops and restaurants and over the last couple of years these small businesses started thriving. The budget market we will lose, without any doubt, to Zimbabwe, because even a USD 20-00 or more difference for a visa, that Zambia now is more expensive, will make the budget traveller swing the other way. Therefore the Zambian visa fee should stay below the Zimbabwe visa fee which is USD 30-00 for most nationalities.
Also Livingstone airport is the Gateway to Botswana's Chobe National Park and no doubt National Airports can give you the exact figures for transit passengers to and from Botswana. I fear that Botswana visitors will start using Victoria Falls Airport once again if the transit visa is not cheaper than the Zimbabwe transit visa. This will be a great loss for National Airports Livingstone.
The day tripper!!!! Of USD 10-00 for visitors to Livingstone coming for sight seeing and leaving within 24 hours is not implemented any longer.
If you look at the government immigration website, you will see that all the new visa fees have been listed and the day tripper visa for USD 10-00 according to this website is still in place. Immigration Livingstone does not seem to know about this and charges our day visitors for the full visa fee. Many tourists coming for a helicopter flight, micro light flight or any other activity that Livingstone has to offer, or to visit Livingstone Town and the Falls, now turn back because of the hefty visa fees.
The Livingstone Tourism Sector at the time has fought long and hard to introduce this day visa, with a lot of documentation to proof the success for this visa.
Now by the looks of it, we have lost this as well.
What I also do not understand is, how these fees from one minute to the next can be changed and implemented before it having gone through parliament. Surely this is against the law!!!
* * * * *
In a nutshell our argument is based upon the fact the majority of tourists visiting Zambia before the 'fee waiver' was abolished were paying Zero for their visa's. They are now paying anything up to $150 which will have a negative impact on tourism which is substantiated in the report. The Govt needs to consider a fee that is competitive based upon the region, Botswana '$0', Namibia '$0', Zimbabwe '$30' and South Africa '$0' and the re-introduction of the day visa so that competively priced activity providers in Zambia can benefit from the Zimbabwe and Botswana markets which has since ceased due to the abolishment of the day visa.
From the Museum Newsletter
Photographic Survey of Wild flowers of Victoria Falls
Victoria Falls is one of the world heritage sites endowed with natural beauty. Within its perimeter, there is a diversity of wild flowers. For many years now, there has not been any book photographically documenting the wild flowers of the Victoria Falls area. The last known piece of literature on flora of the Victoria Falls was by D B Fanshawe in 1975. Helen Pickering from Kew gardens in England, and Freddie Sayi Siangulube of the Livingstone Museum have undertaken a project aimed at documenting the wild flowers. The anticipated book will be useful for both casual visitors and amateur botanists interested in the flowers of the Falls area. For more information, contact Helen Pickering (helen@hpickering.com
EMIRATES OFFER UGANDANS A380 CONNECTIONS TO BIG APPLE
Starting in October this year, the daily Emirates flight out of Entebbe to Dubai will allow Ugandan travellers a first chance to fly the fabulous giant aircraft A380 onwards to New York, soon after to be followed by London and Sydney in December 2008 and February 2009 respectively.
Emirates, the award winning airline from the Dubai / United Arab Emirates, has set many first's for Uganda, since it began daily direct flights between the two countries. Presently travellers can make a brief, or longer if so wanted, stop-over in Dubai before choosing one of now three daily connections between Dubai and New York, currently operated on the B777. However, from end of 2008 onwards at least one of these daily flights will be operated with the double-decker A380, bringing a new dimension to air travel between East Africa and the rest of the world, as long as travellers connect via Dubai. The first airline to receive the new plane was Singapore Airlines, but they are not easily accessible for East African travellers. SIA has however been repeatedly mentioned to be looking at flights between East Africa and Singapore, although no concrete dates have ever been announced. Most recent events in Kenya were also not helpful to attract additional airlines to the route but this is due to change once the tourism and economic recovery has gone underway. Watch this space for breaking airline news from Eastern Africa.
GIVE CHOGM ADVANCES BACK SAYS GOVERNMENT
Uganda's hotel sector has woken up to a stark reality when government sources gave notice to recover at least some 4.1 billion Uganda Shillings (about US Dollars 2.35 million) paid to them as advances for confirmed accommodation of delegates during the Commonwealth Summit last November. Apparently all transactions, where delegations had paid directly, are being audited and scrutinized to ensure that unused and unallocated advance payments are being returned by the hotels.
The Serena Hotel, according to government sources and related press reports, was singled out for a refund of 1.4 billion Uganda Shillings in building advances to prepare the meeting room for the Executive Committee session of the Commonwealth and a further 327 million Uganda Shillings for accommodation advances, while its towering neighbour Imperial Royale Hotel is reportedly due to repay a staggering amount of 2.7 billion Shillings for unused accommodation, when due to the state of readiness of the hotel at the time of the summit start only a few rooms were occupied. Other hotels in Kampala and Entebbe, which housed delegations and the press teams, are also mentioned in the lists now made public, but with lesser amounts claimed from them.
The parliamentary watchdog 'public accounts committee' is also chasing the whereabouts of some 2.2 billion funds advanced to the J&M Airport Hotel &endash; which was due to become the Protea Entebbe Hotel until the South African hotel management company pulled out of the deal last year when they finally recognised too that they were engaged with a cuckoo land project &endash; for which government has yet to demonstrate if any guests at all stayed at the then building site (still not completed as of now). The owners of the 'hotel' are in any case in deep financial trouble as a leading commercial bank has started foreclosure procedures and taken possession of several of their Kampala properties given as loan security, including a major shopping mall, should loans to the crumbling business empire not be repaid by end of March. Watch this space.
PUBLIC AND AGENTS COMPLAIN ABOUT PRICE ADVERTISING
While the rules on price advertising for consumer goods are relatively clear, in that all charges have to be included in the prices publicly advertised, some hotel owners conveniently forget this and add in hard to see little asterix lines 'plus VAT and service charge', causing at time embarrassing moments for clients, when they are presented with a bill unexpectedly higher by 18 percent VAT and 5 percent SVC than budgeted for. The Ugandan consumer watchdog has hitherto kept rather quiet on such misleading practises but more and more complaints from the public are bound to change this.
Airlines too have been criticised for publishing fares without clear mention of the regulatory charges to be added for airport taxes and security fees, which completely distorts the final billing for a ticket. This has reportedly resulted in complaints at agent's offices, when disappointed clients vented their anger over the extra charges after feeling duped and misled by adverts and commercials.
While in Europe the EC has taken harsh measures against offenders, this seems still a long way off here in Eastern Africa but the pressure is said to be building. In fact, exposing the regulatory charges will put the pressure and spotlight equally on the regulators to begin reducing these costs for domestic, regional and international flights to make flying more affordable.
Hence, in particular airlines should review their advertising practises and clearly mention what the asterixed 'conditions apply' financially involve, unless they want to stand accused of misleading the consumers on a broad and deliberate basis. Some sections of the civil society have also taken exception to airlines' statements, calling recently acquired aircraft 'new', withholding and muddling information about aircraft age and by doing so misleading the general public. Increased competition however is likely to sort out the black sheep in the industry to the benefit of travellers.
ITB PARTICIPATION &endash; TOUCH AND GO FOR UGANDA
The release of funds for the Uganda Tourist Board to pay for travel and stand cost of this week's ITB in Berlin took top level intervention and directives to make it happen, after the government bureaucracy had broadly failed to avail the funds to UTB, as it would rightfully be expected of them. Some stakeholders in the tourism industry, clearly at the end of their tether, spoke openly of their disgust with this situation and accused unnamed officials of trying to sabotage their efforts to promote the country, clearly inferring to an opposition sponsored destabilisation activity and fifth column within government aimed to embarrass the country and its tourism sector. This could not be independently verified in the short space of time but similar incidents were alleged before and were found to be of some substance and credibility.
Other angry stakeholders however called this correspondent and accused the Minister of Tourism, Trade and Industry for being as they phrased it 'detached', 'uninformed', 'never available' and 'not fighting for the tourism industry', before demanding a new minister of Hon Migereko's calibre (immediate previous Minister of Tourism and now excelling at the Energy portfolio) to be appointed in the next cabinet reshuffle, which is expected soon. Watch this space to see if anything comes out of this and what lessons can be drawn from this heart rending experience. Yet, all is well that ends well and I hope the Ugandan delegation has a successful time in my old country promoting my adopted home.
LOADSHEDDING ON THE INCREASE &endash; AGAIN
The rising global energy prices, combined with the shortages of diesel caused by the Kenya crisis over the past two months, has now led to a significant reduction of power generated by thermal plants. This has promptly increased the load-shedding across the country. Power companies were quick to blame the denial of a tariff increase on this situation, leading to less production to minimise their extra cost for diesel, which were not budgeted for and where anticipated price increases exceeded the projections by far. The business community and civil society have already made urgent representations to government to set aside more funds to subsidize diesel importation as well as accelerate any projects for hydroelectric power across the country. This applies in particular to the planned power station at Karuma Falls, but also smaller plants at suitable locations feeding into both national and stand-alone grids. Eastern and also Southern Africa have been hit by persistent power shortages, largely blamed on the failure of the respective governments to plan ahead in good time for increased consumption.
In a parallel development it was also reported that the cost of charcoal has risen too, contributing to climbing inflation, but more importantly causing increased environmental degradation and deforestation, which in years to come may inflict a heavy price on the developing countries of Africa. The Ugandan government has recently pledged to build additional fuel storage facilities catering for another 150 million litres of various fuels in 4 strategic locations across the country to be better prepared in coming years for any potential disruption in fuel supplies, until Uganda's own domestic crude oil reserves can come on line late this decade. Peak demand in Uganda is estimated to now stand near 400 MW with the combined hydro production and reduced thermal production now only catering for about half of this demand.
PEACE DEAL DONE &endash; TIME TO RETURN TO KENYA
As the Kofi Annan brokered peace deal was signed on Thursday last week between the Kenya Government led by President Mwai Kibaki and opposition leader Odinga, jubilations broke out across the Eastern African nation's population. Neighbouring countries too breathed a sigh of relief over the deal, which will result in Odinga claim a newly created Prime Minister's position, however thought to be subordinate to the President, who will retain substantial powers of his own.
President Kikwete of Tanzania, his predecessor Mkapa and other dignitaries witnessed the signing of the deal, which was initiated by former UN Secretary General Kofi Annan in a marathon series of closed door negotiations, often thought at the brink of collapse but finally succeeding due to the personal influence and creativity of the diplomatic supremo.
With the deal done, it is now time &endash; just as the world's biggest tourism fair ITB is underway&endash; to throw anti travel advisories into the trash cans, restore charter flights to Mombasa and return to 'business as usual' &endash; as it was before the end December elections. Kenya and her people have suffered enough from the opposition goons loosened upon them, when the results did not go Odinga's way at the polls, and as a result tens of thousands of people lost their jobs, not only in the tourism industry but across the entire economy, plus a thousand or so innocent Kenyans who lost their lives.
Bringing tourists back to Kenya, and the wider region, is now a paramount obligation to all of Kenya's friends near and far, so that people recently laid off can return to work and begin restoring order in their personal lives once again.
The forthcoming Karibu Travel and Tourism trade show, the Leon Sullivan Africa Summit and the ATA &endash; Africa Travel Association annual convention in Arusha should therefore also focus in rapidly increasing tourist arrivals to Kenya, as this will benefit the entire region, where drops in occupancy during the current high season were also witnessed.
Kenya's tourism sector is gearing up towards the challenge to put the past two months behind them and look ahead in rebuilding tourism businesses. One of the strongest delegations ever assembled is now hitting the road towards ITB to see clients before, during and after the world's biggest tourism trade show to reassure them all that 'hakuna matata' has indeed returned to Kenya. All the best to them in their endeavours and success galore along the way.
TIME TO TAKE A LOOK
With the sad events in Kenya now hopefully over and never to be repeated again following a landmark political power sharing deal between the leading parties, it is probably the right time for at least some Kenyan tourism business leaders to take a hard look in the mirror and ask themselves some pertinent questions. Prior to the political crisis, up to December 2007, nothing seemed to go wrong for them and the figures for the past years constantly went in one direction only, upwards. This however also led to some complacency concerning product quality and innovations as well as at times almost personal arrogance, when dealing with legitimate issues raised with them from a 'high horse' position. The sharp reminders over the past two months should be taken to heart by those concerned to revise their positions. Instead of allocating and distributing accommodation in 'hot properties' and seats in eternally full aircraft they will now have to start 'hard sell' once again to fill those rooms and seats, and a little humility will come in handy when dealing with clients, who up to December got more than a little stick. Scorn, contempt and attitude are no acceptable tools when dealing with a client and the past two months have hopefully taught that lessen too. Just as the estranged and politically divided communities in Kenya now need to rebuild trust and confidence, the same ought to apply to tourism business leaders and their clientele.
Further to this, regional tourism administrators and industry gurus would do well to firmly remember how the crisis in one country affected all the other countries in the region immediately to a greater or lesser degree. Interdependence has grown and regional integration is becoming a fact of life. Fast tracking regional tourism integration, including full cross border operations for tour/safari and air operators, joint promotion and marketing of the entire region as 'one destination with many attractions' would be helpful towards the success of making tourism the number one economic sector in the region. Regulatory measures are also most urgently required, like lowering airport taxes, introducing a common East African Visa for visitors from abroad, rapidly rolling out the EAC protocols on freedom of movement of labour, joint monetary markets and a common open sky policy for all East African nations would be just a few areas, where progress towards Kenya's recovery can be cemented across the region. Watch this space in coming weeks as we evaluate and assess the recovery process.
PRECISION AIR GETS NEW ATR 72-500
Hot on the heels of Air Tanzania's emerging fleet renewal did Tanzania's leading privately owned airline Precision Air take delivery of a brand new ATR 72-500, which will be used to operate routes with larger traffic volumes and help expand the destination network. The airline, 49 percent owned by regional aviation giant Kenya Airways, has several more such aircraft on order and expects them delivered between now and 2010. The deal between the French manufacturer and Precision is said to be worth more than 100 million US Dollars and is a sign of confidence that the market will continue to expand and offer opportunities for at least two mainstream airlines in Tanzania in coming years. It is also an appropriate moment to congratulate airlines like Kenya Airways, Air Tanzania, Precision Air, Fly 540 and Jetlink for their commitment to employ new aircraft unlike other aviation pretenders and upstarts, who continue to dupe the public through their use of very old and old aircraft, which would not be flying in much of the rest of the world but seem good enough for the owners of such companies to pollute the East African environment with noise and fumes while squeezing every last penny of revenue out of their obsolete fleets.
RADISSON NAIROBI ON COURSE
Inspite of the upheavals over the past two months in Kenya, the Rezidor Hotel Group is on course with the progress on its new Radisson Nairobi Hotel, due to open in early 2010. Construction of the 244 suites and rooms 5 star hotel is on course, conveniently located in the newly emerging business district on 'Upper Hill'. The development will eventually feature almost a dozen meeting and conference rooms, serving notice on the hotel trade of the new player meaning business. Other international companies, not yet represented in Kenya, have also expressed ongoing interest in either taking over or developing a top notch city hotel in Nairobi, the most immediate candidate being Kempinski Hotels. The international top star management company already manages properties in Tanzania (Dar es Salaam and Zanzibar) and Djibouti and is also reportedly interested to develop a safari and resort circuit across Eastern Africa. This will undoubtedly inject some new ideas and concepts into the otherwise a little stale city hotel market in Nairobi, where the only international entry in recent years was the buyout by Kingdom Hotels of Lonrho's hotel interests. Subsequently, the Norfolk Hotel, the Mount Kenya Safari Club and the group's safari properties like the Ark, the Aberdare Country Club and the Mara Safari Club all benefited from a major rehabilitation and modernization package injected by Kingdom Hotels.
However, Kingdom's Kampala project has not shown any signs as yet of going ahead, as the free prime city plot given to them 2 ? years ago is still lying idle, after displacing a key city primary school and teachers training college in a hurry.
KISUMU AIRPORT UPGRADE TO START NEXT MONTH
Inspite of the political upheavals in Kenya over the past two months, largely centred at the opposition strongholds in Western Kenya and around Kisumu, election loser Odinga's political stomping ground, the Kenya Airports Authority has now confirmed that the long planned re-development of Kisumu's domestic airport will go underway at a projected cost of about 2.6 billion Kenya Shillings. Amongst the work to be done will be a runway and taxiway resealing and upgrade, a substantial runway extension and an enlargement of passengers facilities for both check in and arrivals. The works, expected to take about 2 years, will then allow regional and even international flights in and out of Kisumu.
Several airlines, often led by Kenya Airways on safety grounds, have in the past halted operations due to the poor state of the runway, forcing emergency repairs at the time, but only a full rehabilitation will ensure the long term safety of air operations in Kisumu according to internationally accepted standards.
NATIONAL FUEL RESERVE TO GET 30 MILLION LITRES
The national fuel reserve is to get an additional 10 million litres of petrol and 20 million litres of diesel to avoid a repeat of the crippling shortages caused by the violence inflicted upon Kenya by election loser Odinga's street mob and gangs, when all transit routes were subsequently shut down. The African hinterland nations (Uganda, Rwanda, Burundi, Eastern Congo and Southern Sudan) all paid a heavy price when imports and exports were delayed for weeks. Kenya in turn is also expected to loose valuable port activity to Dar es Salaam, to which &endash; subject to capacity &endash; a great deal of the goods flow will be switched in coming weeks and months to avoid a repeat of the January scenario. There was no word however about reserves for kerosene, heavy fuel oil, aviation fuel JetA1 and most important the ever short supply of AVGAS, on which much of the domestic and charter aviation sector depends.
The move was welcomed by the business community and civil society at large, in particular as the stale mate in Kenya's political talks has revived fears of yet more violence and a repeat of the transportation problems encountered in January, when few if any
UB 40 TAKES KAMPALA BY STORM
African telecoms giant MTN sponsored the one and only UB 40 concert in East Africa last weekend, with the crowd reaching some 35.000 in Kampala's Lugogo cricket ground and many remaining outside due to lack of tickets but still able to listen to the sound from inside the stadium. The ground breaking concert was also the very last one of the English group in its original composition, as the lead singer has now left UB 40 to start a solo career the after Kampala concert. The group had arrived earlier in the week on Emirates from previous engagements of their world tour in the Far East and Pacific region and reportedly spent some time on charitably activities as well as taking in some of Uganda's spectacular sights before returning to Europe.
Fans from across Eastern Africa travelled to Kampala for the music event, cited to be the biggest ever in the Ugandan capital. The Saturday night event drew the 300 who is who of Kampala in the 'platinum' section with back stage access, while some 5.000 revellers crowded the special 'gold' section and some 30.000 spectators filled the remaining stands to capacity. The musical success of the event, organized by the local MTN company, is likely to bring more globally recognized performers and groups to Uganda and possibly the wider East African region. However, there were some negative vibes from the 300 platinum ticket holders over problems with the promised shuttle vehicles from the parking to the venue, the substitution of the envisaged dinner with canapés and bites and the promised back stage access after the show for interaction with the band, who had been whisked off to their hotel. It also appeared that the distance from the stage became an issue for holders of the most expensive tickets, but ultimately the fun of UB40's last show in its original set up outweighed those points of organizer's neglect.
SHERATON GETS READY FOR EASTER
Ahead of the upcoming Easter holidays Kampala's oldest 5 star hotel, recently completely refurbished, rebuilt and modernized, has put their annual Easter packages on the market. The arrival (see related column item) of Fly 540 on the Entebbe &endash; Nairobi route has also added scope to market such package holidays in the wider region. Kenya holidays from Uganda are already marketed aggressively by Declan Peppard's TravelCare making use of the Fly 540 flights which offers very attractive excursion fares to promote travel in the region. These packages offer flights via Nairobi to the Masai Mara or the Kenya coast (Mombasa, Malindi and Lamu) with convenient connection times in Nairobi, unlike other upstarts which can only offer point to point flights and yet pretend to be the aviation Wizard of Oz.
Regulatory charges and Visa cost however continue to be a deterrent for the expatriate population across Eastern Africa, many of whom continue to rather fly to the UAE or Southern Africa, where they have to pay no fees for tourist Visa. This is unlike in Eastern Africa, where a trip covering the entire region (Kenya, Tanzania, Uganda and Rwanda) for a family of four can easily add 1.000 US Dollars in Visa fees and airport taxes to the holiday budget. Kenya in particular under the present circumstances is therefore called upon to scrap Visa fees for East African residents and the East African community ought to fast track a regional Visa for visitors from abroad to add incentives towards restoring tourism arrival to the levels of Kenya's pre-election and pre-violence performance.
KABALE &endash; KISORO ROAD TO TAKE LONGER
The long awaited and much needed, for both trade and tourism, road between Kabale and Kisoro &endash; located in the border triangle between Uganda, Rwanda and Congo - in the extreme South West of the country, will now take three more years to complete, according to a press report attributed to the project manager Mr. Inbar Giora of SBI Construction. The road construction, always promised and regularly delayed in the past, started some time last year when sufficient finance had been secured from the African Development Bank. The new delay will undoubtedly add negative feelings amongst tour operators using the route regularly as well as area residents, who depend on the road to send their produce to the urban centres and receive their own supplies of fuel and assorted other goods.
The road, considered as one of the most scenic in Uganda, offers spectacular views through the bamboo forests towards several of the main volcanoes located just across the nearby border in Rwanda and also offers some of the less frequented nature reserves to visitors keen to explore the forests, swamps and wetlands for a rich variety of birds, butterflies and an extraordinary flora.
Kisoro, under the World Bank's PAMSU programme, benefitted through a 'district tourism development plan' which was enhanced by the EU UGSTDP programme with feasibility studies and more concrete proposals, how local residents could partake in the growing tourism business. Watch this space!
TRUCE SIGNED &endash; BUT TRUST KNOW WHOM
The ongoing, and long drawn out negotiations in Southern Sudans's capital Juba between the Uganda Government and the LRA terror rebel group have now resulted in a renewed truce agreement and the signing of a formal peace agreement could be just weeks away. However, the rebels refused to accept the 06th March date offered by the Ugandan side, as they had failed to get confirmation from their on the run leadership. The LRA has so far failed to assemble its thinning ranks at the two designated meeting points and there are ongoing reports that the bulk of their remaining men, and of course their slave abductees, continue to move towards the Central African Republic, where they are carrying out their usual crimes and inflict terror on otherwise peaceful populations unprepared for such goons. While there is sentiment in Kampala 'the further away they go the better' there is also anger about their negotiating tactics, twists and turns and hardliners in Kampala are spoiling for a final showdown with the depleted rebels, should the present agreement bounce. Not much different from Savimbi, Kony has previously left each and every opportunity go unused and ultimately the same fate may await him too. His rebel ranks have shrunk due to many recent defections, encouraged by the ongoing amnesty programme by the Uganda Government and by the open and transparent negotiations and consultations by the Ugandan side. On the positive side, with peace settling in across Uganda's North, economic development and also tourism are on the upswing in the area, hopefully creating much needed jobs and business opportunities for the long suffering Acholi people and their equally affected neighbours.
In fact latest news obtained from the Southern Sudan indicate that Kony has added yet more pre-conditions to signing a final peace accord, such as retaining arms and the International Criminal Court having to drop their indictment against him and several of his killers. This latest change of mind is again delaying the prospect of an early conclusion of the long lasting conflict after nearly two years of negotiations. The ICC has indicted the LRA leader on crimes against humanity and war crime charges and fully expects to have Kony arrested and handed over for a full trial at The Hague.
UGANDA SET FOR ITB
Some 18 companies and of course the Uganda Tourist Board / Tourism Uganda will attend the forthcoming biggest global tourism show in Berlin / Germany in early March. There is however still an issue with government releasing sufficient funds (speak any money) for UTB to pay for their travel and stand services. Uganda's tourism marketing agency has been notoriously shortfunded for years and has struggled to make ends meet, living on meagre handouts since its main support line, the EU funded Uganda Sustainable Tourism Development Programme, expired in mid 2007. As previously mentioned in this column, government had also failed to seek an add on programme or specific intervention from its development partners, leaving UTB financially nearly incapacitated. This led some time last year to the resignation of the marketing body's chairman Roni Madhvani in obvious disgust. Inspite of parliament passing the new tourism bill last week, which will allow for the introduction of a tourism development fund levy, this is expected to take up to another 18 months to operationalize, as the relevant regulations first need to be passed and a mechanism of fund collection be established. The private sector has already made it abundantly clear that collected funds need to go directly to the beneficiary body and not first go to the consolidated fund at the treasury, where the likely scenario will be that only a fraction of the money collected may go back to the tourism sector. This in fact prevented previously the introduction of the marketing levy and the training levy under related legislation (HTTI Statute and UTB Statute &endash; both of 1994), as no agreement on collection and funds administration and disbursement could be reached then. Appointments with the Ugandan delegation can be made via utb@starcom.co.ug, attention of Mr. James Bahinguza, CEO of Tourism Uganda.
FLY 540 NOW SET FOR ENTEBBE
Following shortly after launching their first regional destination &endash; Southern Sudan's capital of Juba &endash; Fly 540 has now started operating their next regional route to Entebbe, launched earlier this week with yet little fanfare. The advertised fares stand at 79 US Dollars one way, plus continuously high regulatory charges, which the regional governments now have to address as a matter of urgency. Bringing airfares down on a broad basis has to be matched with lower airport taxes and navigation / landing fees for regional flights to promote airtravel beyond its present transportation market share. These regulatory charges presently cost US Dollars 116 for a return flight, with the air fare costing USD 158, an unrealistic equation. The Fly 540 fares are not much different from the Royal Daisy / African Express fares of USD 70 one way plus regulatory charges, mentioned some time ago in this column as breaking news, but are substantially lower compared with other airlines on the route. In addition Fly 540 operates 2 daily flights while African Express operates only twice a week and may therefore not stand the pace of the new competition.
This will be a welcome development for travellers and is aimed towards the AKFED owned Air Uganda, which was licensed by the Uganda Government in November 2006 with the understanding that fares between Kenya and Uganda would come down on a broad basis. Not only did the upstart fail and subvert this expectation but also introduced two aviation stone age, first generation DC 9's as their start up aircraft, one of which will this weekend be substituted with what they say ' a newer' aircraft, this being a nearly 20 year old MD 87. Environmental concerns obviously do not feature at all in this outfit and regulatory demands therefore must be hastened to compel such companies to comply with global standards of emission controls. This is of particular significance in view of AKFED's corporate song of 'best practise', which alter ego may now have to be looked at afresh by the green lobby and real conservationists to establish its true global carbon footprint and industrial emissions caused in the developing world.
Fly 540 is starting on the route with ATR 42 equipment with 48 economy seats, and having several brand new ATR's on order from the French manufacturer will undoubtedly put Fly 540 into an excellent position as far as operational cost are concerned. The route will see the new ATR 72 introduced soon, which will then operate with 12 business class and 50 economy class seats, reflecting anticipated market demand for services on the heavily travelled route.
There will, for the time being, be two daily flights between Nairobi and Entebbe, offering the important and convenient first connection out of Nairobi to Entebbe at 06.40 hrs, as well as a late afternoon flight, which will allow travellers from Kenya to spend a full working day in Uganda and be home in Nairobi the same day again. Fly 540's biggest single investor is Lonrho Africa, which also intends to launch air operations in several other African countries during 2008 and 2009 as a credible regional alternative, going by recent press statements issued by the company. In fact, travel agents during this week's Skal function in Kampala expressed delight with Fly 540's start in Uganda and were hopeful the airline could soon add further flights, which in their combined view were offering the best value for money in the market.
AIR TANZANIA NEWS
The first Bombardier Q300 has early this week transited through Entebbe on its ferry flight to Tanzania and the second Q300 is due for delivery next week, in late March to be followed by a leased Airbus A320, before their newly ordered additional Airbus aircraft are due to be delivered in a full fleet renewal exercise. By doing so Air Tanzania seeks to reclaim lost market share in the domestic market and restore a full regional and domestic schedule. It goes to demonstrate that airlines in the region, as initially practised by Kenya Airways, do not need cheap, old fuel guzzlers and sky howlers to make a commercial success of their business and that well managed airlines with capacity to develop and implement a strategic vision can indeed afford to use modern aircraft.
In a related aviation development Tanzania's Precision Air will also shortly commence flights from Tanzania to Luanda / Angola and Lubumbashi / Congo to cater for the growing demand by businesses intent of trading with Tanzania and in particular Dar es Salaam port, which managed to position itself as a reliable alternative to Mombasa during the recent upheavals in Kenya.
Tanzania is set to host some major tourism events in Arusha over the coming months, including the annual Karibu Tourism and Travel Trade Show before the annual Africa Travel Association congress re-visits Arusha, and the added capacity and capabilities of Air Tanzania will well enhance the options for visitors to see the Indian Ocean islands, the beaches along the mainland coastline and the national parks through pre and post congress tours.
And finally some more tourism news from Gill Staden, Livingstone/Zambia <livingstonian@zamnet.zm>
HONORARY WILDLIFE POLICE
ZAWA SOUTHERN COMMAND
MOSI-OA-TUNYA UNIT
LIVINGSTONE
On behalf of the Honorary Wildlife Police Officers and Zawa Livingstone we would like to take this opportunity to thank Island of Siankaba for assisting us with a boat, fuel and a driver on the 16th of February 2008 which we used for Crocodile control.
During this patrol in which we had responded to a report that was made of an unfortunate event where by a crocodile had taken a woman from the village water point in the Mandia area.
This patrol would have been difficult to do with out the assistance provided by Islands of Siankaba. Once again thank you very much for all your help.
LEADING CONSERVATIONIST PASSES ON
Dr. Yakobo Moyini, a past Chairman of the Uganda Wildlife Authority and the immediate past Chairman of the Uganda Wildlife Society (a leading conservation NGO), passed away earlier in the week after some period of illness. Yakobo spent much of his life dedicated to conservation and the cause of protecting the environment and the flora and fauna of Uganda, in particular after he had returned in the early 90's from Canada (where he had attained his Ph.D. in forestry) to Uganda, his native country. As many others Yakobo had gone into exile to avoid the past dictatorships in the country, before returning home to help building the 'new Uganda'. Yakobo hailed from Adjumani in Northern Uganda and was laid to rest in his ancestral land.
He was well known to this correspondent in both a personal and professional collegial capacity and his loss will be felt for a very long time to come. Rest in peace my friend!
CHOBI SAFARI LODGE REBUILDING UNDERWAY
The works contracts were signed this week between the Madhvani Group, owners and operators of the two key safari lodges in the country, and their selected contractors, to restore the Chobi Safari Lodge to its former glory. With security returning to Uganda's North, after the LRA was expelled from Uganda in a concerted security effort nearly two years ago, more and more tourist visitors came to Murchisons Falls National Park and the previously closed gates into the park from the Northern side were reopened. Chobi was famous in the late 60's and 70's for fishing the Nile between Karuma Falls and the better known Murchisons Falls and restoring the lodge is expected not only to serve the fishing aficionados but also regular tourists wanting to visit the forested part of the park above the main falls. Road works are also going on to restore game viewing circuits, create more access points to the river and provide materials specially created for that hitherto inaccessible part of the park.
The reconstruction is going to take about one year to completion and will add much needed room capacity to the park. Packages will be available in conjunction with the group's sister lodge Paraa, which is located overlooking the main river crossing in the heart of the park. The other sister operation is the Mweya Safari Lodge in the heart of Queen Elizabeth National Park, arguably the most popular safari lodge in the country.
UWA GIVES PARK LAND AWAY FOR LIMESTONE MINING
The Uganda Wildlife Authority Board of Trustees, incidentally headed by a corporate lawyer, has given the green light to the Executive Director to sign away a substantial piece of land in a mining concession to Hima Cement. The locally incorporated company is owned by Lafarge of France and early indications are that global conservation bodies and activists are now going after the French company and put not only the company, but also its executives, board members and shareholders under the spotlight. The highly controversial decision to allow Hima open quarry mining and crushing of limestone is also bound to bring Uganda's development partners into the fray. The World Bank's private sector lending arm, the IFC, had already indicated that they would not finance Hima / Lafarge's plans, as in particular the World Bank itself has poured mega millions of Dollars into the rehabilitation of Uganda's protected areas and in especially into Queen Elizabeth National Park. The brewing controversy is following closely on the heels of more recent efforts to dissect the Mabira Forest and turn a quarter of the sprawling central forest reserve into a sugar cane plantation. These plans, as earlier plans to turn the Pian Upe Game Reserve into a farm / ranch, presently stand defeated, but it will only be with the help of development partners and global institutions, that conservation stands a chance to survive this latest onslaught on Uganda's natural beauty.
One of the main issues conservationists have with the project is the noise of blasting and crushing the stone, the inevitable dust, subsequent water and landscape pollution and damage to the flora and fauna, all of which is right at the edge of a globally recognised Ramsar site. Uganda is a signatory to the Ramsar Convention and other global treaties to protect biodiversity and nature, and in fact hosted not long ago a global Ramsar meeting, in which verbal commitments were made towards conservation and protection, which now sound hollow and unreal.
Tourism to Uganda is largely wildlife and nature based and has suffered of the Ebola scare in late 2007, now formally declared over by WHO and health ministry officials, before being further affected by the present Kenyan situation, which has a severe impact on tourism across the Eastern African region.
The company has meanwhile decided to avoid loans from major banking consortia, including the World Bank's IFC, ostensibly to avoid the environmental demands coming with the loan packages, and has vowed to use internal funding for the project. The company has also given vague assurances as to mitigating measures to be employed for the project, but this latter point has met with both stony silence as well as derision from conservation groups, tourism stakeholders and sections of civil society. Watch this space as the saga continues.
MT. ELGON SECURITY STEPPED UP
Tourism stakeholders have complained about the very late deployment of security forces to Mt. Elgon National Park, where a Belgian tourist was shot dead two weeks ago. The troops are now belatedly combing the area to find the perpetrators of the crime, and other law breakers, after UWA has all but admitted that the park has in the past harboured criminals engaged in cattle rustling and poaching. Several stakeholder in fact spoke of 'complacency' by the authorities and said they were not happy with 'reaction' and demanded a constant proactive stand in regard of security and no further lapses in surveillance. Said one senior figure from the safari operating fraternity &endash; opting for obvious reasons for anonymity; 'saying this will never happen again is a bit rich. UWA has to do a lot more to prove this. Things happened in parks before and every time we are given the same promises. We want UWA and others security forces to be more serious when dealing with tourist sites. They have to be there all the time and need to be awake all the time, because there is always complacency creeping in. Then, when it is too late, they cry wolf but meanwhile it is our industry which suffers.'
In fact, in view of previous troubles across the border with Kenya, not related to the present round of post election violence, this has also raised questions why insufficient security has been arranged on the Ugandan side of the transborder national park to avoid any spilling over of perpetrators of crimes from the other side of the frontier.
Six suspects have been detained at the time of writing this report, a source revealed. Also recovered in the forest were about 100 Friesian cattle, thought to be stolen from Kenya and driven across the open frontier of the transborder national park. UWA in a press briefing also all but admitted their problems with encroachment, often fuelled by irresponsible statements and actions by community and area political figures, which in the past has also led to repeated assaults on UWA protection and enforcement personnel. This requires a firm and sustained approach from UWA and others to continuously uphold the existing law and maintain park boundaries and evict encroachers as and where found.
OBJECTIONS TO LODGE / PERMIT DEAL BASED ON ENVY
Misguided 'stakeholders', speak disgruntled individuals pretending to speak for a wider constituency in the Kisoro area of Uganda have belatedly expressed their 'concerns' over the contract UWA has entered into with the Nkuringo community, granting them concession rights and guaranteed gorilla tracking permits for a group habituated in the immediate neighbourhood of their villages and homesteads.
A process which started way back in 2003/4 saw a commendable effort being made by Uganda Wildlife Authority to engage with and benefit communities surrounding national parks, here in particular the Western side of Bwindi National Park, only accessible by road via Kisoro to Nkuringo. The area is gifted by both habituated and non habituated gorillas and a separate forest nearby is home to chimpanzees, a unique combination for primate tourism. UWA at the time engaged the community, together with the AWF and finally reached a ground breaking agreement, granting the community, through a cooperative type development association, a licence to market the tracking permits and have an upmarket eco lodge built on their land, catering for tourists.
After a sustained open bidding process, in which such companies as Serena Hotels endlessly dragged their feet over this golden opportunity, Wild Places Africa / The Uganda Safari Company won the tender by offering the best package for the community. This involves a royalty agreement and job creation for 'real locals', where the company has already excelled in their other safari properties in Kidepo National Park and the Semliki Game Reserve. It was the winning combination of these proposals cum an impressive lodge design, which impressed the tender committee at the time and won Wild Places the concession.
Building of 'Clouds' &endash; incidentally mentioned before in this column, has now commenced and up to 10 stone cottages are nearing completion on the site, which is located in one of the most scenic parts of Uganda. Barbs therefore for the envious objectors and bouquets for Wild Places to add another key attraction to the tourist circuit in Uganda, incorporating 'green principles' as well as giving direct benefits to the people of Nkuringo.
TOURISM BILL FINALLY PASSED
Inspite of assurances, and press reports to the contrary and apparently owing to 'a more important bill taking up our time' to quote a senior member of parliament, the long overdue tourism bill was last week still stuck in the hearing process. Some 10 chapters had been addressed by parliament, but the remaining balance of the bill's chapters was still due for the full process in the house. This development, once it became public knowledge, disappointed and angered the tourism private sector to no end, causing emotional outbursts by some stakeholders known for such, and others saying 'government has no visible interest in tourism' while yet more complained that 'government has absolutely no idea about the tourism sector at all'. Other more level headed individuals however went on to lobby parliamentarians and once again explained the urgency to have the bill passed. These efforts, especially towards select influential members of parliament, finally seems to have done the trick as the bill was then eventually passed on Tuesday afternoon and is now only awaiting assent by the President to make it the law of the land for the tourism sector. A regulatory framework has also been prepared and is expected to be promulgated by the minister in due course. The new law has also repealed the Hotels Act of 1964, the Tourist Agents Licensing Act of 1968 and the Uganda Tourist Board Statute of 1994, now providing for one comprehensive piece of legislation for the entire sector.
RAIN FOREST LODGE BENEFITS FROM MABIRA SOLIDARITY
The award winning lodge in Mabira Forest has of late become a focal point for mid week and weekend trips by prominent Kampaleans as not only a luxurious getaway but also, as confirmed by many guests staying there, to demonstrate solidarity with the 'Save Mabira Movement', which has successfully stood up against government's ludicrous plans to dissect the forest and turn a large portion into a sugar cane plantation. It is believed that the commercial success of the lodge will undoubtedly add weight to the argument, that more is to be gained by keeping the forest intact for tourism and conservation purposes than giving it away for free to a greedy sugar baron, whose sugar factories are amongst the least productive in the entire country.
However, in a recent Uganda Wildlife Society annual general meeting more reports emerged on a continuous assault on Uganda's protected areas for commercial and industrial purposes. The society vowed to strongly oppose such attempts to encroach on national parks, reserves and forests for short-sighted commercial gains, when in the long run tourism and conservation, including the upcoming carbon trading, may yield a multiple in financial terms for the country. Prof. Derek Pomeroy was re-elected Chairman of the Board of Trustees of UWS for a second and final term of office.
KAMPALA TO HOST AFRO &endash; ARAB YOUTH SUMMIT
Over 2.500 youth leaders from across the African and Arab countries will assemble in Kampala between March 07 and 14 to hold a cultural and youth issues summit at the lakeside resort of Munyonyo. Some 18 Presidents and Prime Ministers have also confirmed attendance of this ground breaking meeting.
HOLLAND BOOSTS GORILLA CONSERVATION
The Dutch government has given a grant of 4 million Euros for gorilla conservation projects across the region, involving Uganda, Rwanda and Congo DR. The International Gorilla Conservation Programme (IGCP) is closely involved in the project, which also includes the Uganda Wildlife Authority, Rwanda's ORTPN and Congo's wildlife management body. The endangered mountain gorillas are found in all the three countries along their respective national parks straddling the frontiers across the border triangle. Gorilla tracking is a major tourism activity in Rwanda and Uganda, but Congo has been falling short of the achievements and standards of the other two countries, as they continue to struggle with security in the area's national parks, poaching of the prized animals and almost total indifference, in fact what often appears as contempt, towards wildlife conservation by their regime in Kinshasa.
GARAMBA NATIONAL PARK NEWS
It has emerged in recent days, that the Ugandan rebel and terror gang headed by one Joseph Kony, wanted by the International Criminal Court for crimes against humanity, has began leave their hideout in the park and is now moving towards the Central African Republic, giving hope that the park will soon come under formal park authority administration again. It was in this park where the last remnants of the Northern White Rhino were found some years ago, which were then wiped out by the Congo regime's own intransigence and callous attitude towards wildlife conservation and the heavy poaching by the rebels of the entire rhino population (now thought to be extinct), elephant and other species.
Congo has been sitting on the fence in regard of the rebel group's continued presence on its territory, as it has incidentally done in regard of the Hutu militias, which found safe haven after committing the 1994 Rwanda genocide before running to safety in Congo.
The LRA was due to assemble at designated points under the 'cessation of hostilities' agreement signed with the Uganda government, while engaged in 'peace talks' in the Southern Sudanese capital city of Juba, but this now seems less likely to be done by the rebels. The talks have also been dragging on with rebel representatives being changed at will by Kony or - as in the case of his deputy Otti &endash; being killed by his goons. Both the Ugandan armed forces (UPDF) and the Southern Sudanese SPLA have taken all possible precautions to avoid the rebels re-infiltrate sections of Southern Sudan and Northern Uganda, while covert support seems to once again reach the rebels from the Khartoum government, which has long actively fuelled this conflict to divert attention from their own criminal conduct, first in the South of the Sudan and now continuing in Darfur.
CHANGES AT KENYA AIRWAYS
It was learned just a fraction too late for last week's column, that Kenya Airways Commercial Director Hugh Fraser will be leaving the airline, as will his colleague Neil Canty, holding the portfolio of Finance Director. In particular Hugh was enormously instrumental in the team supporting and surrounding CEO Titus Naikuni, to build Kenya Airways into the success story it was prior to the opposition inspired post election violence, which hit Kenya on a broad basis and ripped the carpet-s peak business - from underneath the feet of many leading companies including KQ. Recent reports filed in this column already spoke of the problems the airline was encountering in particular on the European routes and routes in and out of Mombasa. Staff have been asked to take paid leave (for the time being), although no formal lay offs are presently underway. A strict cost saving and cost reduction programme is presently being finalised and implemented to keep Kenya's national airline financially balanced, until the recovery of the tourism sector goes underway and passenger numbers return to normality. However, it is sadly noted that this recovery will apparently be without Hugh, whom this correspondent wishes the very best in the future.
It is also noted that other senior staff had left the airline over the past few months (Technical Director and Director Flight Operations / Chief Pilot), probably making way for a major top management shake up and organizational revision, including creating the position of Chief Operating Officer (COO). The airline's CEO Titus Naikuni's position is reportedly however not under review as he continues to enjoy the ongoing confidence of key shareholders like Air France / KLM and the Kenya Government.
The airline has been struggling before the Kenya post election violence started affecting the passenger and cargo performance, with a huge network and fleet expansion and related problems, but was reported to be on the way to getting things on the straight and narrow once again before the current crisis began to depress the financial results and drove the share price to sharply lower levels.
Hot on the heels of these changes come further news that the airline suspended the Paris route for the time being, owing to a sharp drop in passenger numbers. Passengers already booked will now connect to Paris via Amsterdam, where the onward flight is operated in code share with KLM or via London, where the onward codeshared flight is operated by Air France. The route may be restored at a later date, once demand levels have risen sufficiently again to justify the service.
France's anti travel advisory has been particularly aggressive, warning off would be travellers with grave language, but this may change in view of a political agreement coming nearer and the situation in Kenya in general stabilising in recent days, after the opposition goons apparently got the message from their puppetmasters to stop the unwarranted attacks on fellow Kenyans. Germany, Italy and the UK already lifted their anti travel advice which will be a welcome boost to restore tourism arrival from these countries to their per-election levels.
BUSH VISIT TO RWANDA WILL BOOST TOURISM
The just concluded visit by President Bush to Rwanda &endash; and Tanzania for that matter &endash; is expected to boost tourism arrivals in coming months due to the excellent press coverage received during the state visit. Rwanda has been hailed as a model nation, recovering from the genocide perpetrated against the Tutsi ethnic community and moderate Hutus in 1994 by hardline Hutu militias, spurred on by incitement from politicians, many of whom have now been jailed or are facing trials in Rwanda and at the Arusha special court set up by the UN. The present government led by President Paul Kagame has turned the economy around and supported tourism to the hilt, while also excelling in fighting corruption and meeting democratic benchmarks.
While in East Africa President Bush demanded an end to the violence in Kenya and a swift political settlement, having dispatched Secretary of State Condoleezza Rice to Nairobi in support of former UN Secretary General Kofi Annan's initiative for an early agreement between the two protagonists. He demanded in even sharper terms an end to the violence in Darfur, where the US is engaged with massive food aid for the starving population, displaced from their land by Khartoum sponsored militias as well as direct military action by a ruthless government. President Bush also visited the Genocide Memorial in Rwanda and, with his wife Laura, paid respects to the over 800.000 innocent victims of ethnic slaughter.
While in Kigali President Bush also formally commissioned the newly built American Embassy.
Rwanda's ORTPN will be present at the forthcoming ITB once again and will be happy to meet tourism trade visitors to showcase the 'land of a thousand hills'.
There were however disgruntled undercurrents about the security regulations ostensibly imposed by US agencies, and several tourism stakeholders complained about airport and road closures impacting on their day to day business, delaying clients arrivals and departures in and out of Arusha and subsequently also in and out of Kigali. Said one operator from Arusha: 'it was nice of sorts to have them here and get global coverage, but thank God they are gone again, not to imagine they had been around for a week and what this would have done to our businesses and day to day life'.
RWANDA / TANZANIA RAILWAY LINK ON COURSE
As reported in this column some time ago, Rwanda was also seeking to develop an alternate route for its imports, probably hastened by the present Kenya crisis, which seriously affected imports and exports for this land locked East African hinterland nation. Progress has now been made in the various stages of preparation to eventually link Kigali with the Tanzanian inland dry port of Isaka, from where the railway would continue to the Indian Ocean seaport of Dar es Salaam. Construction of the railway link is expected to commence later this year and will take approximately 5 years to complete.
And some more tourism news from Gill Staden / Livingstone, Zambia
Tourism News
Government has terminated the contract for Zambia National Tourism Board Managing Director Charity Lumpa. ... Her monthly salary according to (the Auditor General's) report was pegged at K47million excluding other allowances.
* * * * *
The mind boggles ...
Zambia to spend K12bn to host smart partnership dialogue
By Times Reporter
THE Government will this year spend K12 billion to host the Smart Partnership International Dialogue
(SPID) aimed at strengthening south to south diplomatic and political ties.
Commerce Trade and Industry Deputy Minister, Dora Siliya, said in Parliament yesterday that SPID
encompassed economic development, peace, security and increased investment in the participating countries.
She said in response to Chipili Member of Parliament (MP) Davis Mwila (PF) who wanted to know how much the Government will spend to host the dialogue.
The Government had proposed a K12 billion budget under the ministry of Foreign Affairs.
Ms Siliya said the Government had requested the Commonwealth Partnership and Technology Management (CPTM) to contribute towards the event and a feedback was being awaited.
She said 400 delegates from Africa, Asia and Europe were expected to attend the dialogue that would be held from July 28 to August 1, to coincide with the Agriculture and Commercial Show where a field trip would be conducted to expose delegates to Zambia's industry.
And adds Wolfgang: The Smart Partnership Dialogue is held every alternate year in a selected developing country of the Commonwealth before returning to Malaysia, the original host country. The annual meeting is the brainchild of former Malaysian Prime Minister Dr. Mahathir Mohamed and has proven beneficial for networking and tourism / trade relations between participating nations. It was last held in Uganda in 2001 and triggered substantial Malaysian investments in Uganda, plus opening a range of educational opportunities in Malaysia for Ugandan students.
KAMPALA AERO CLUB SUSPENDS TRAINING FLIGHTS
The ongoing shortage of AVGAS has now claimed a further victim amongst the aviation fraternity. The only Ugandan private pilot training facility at the Kajjansi airfield's Kampala Aero Club and Flight Training Centre has halted pilot training for the time being, owing to the acute shortage of AVGAS fuel, which their Cessna 172 trainer aircraft require. Commercial operations are also at the edge, as stocks have now run so low that only key regular clients can count on getting their flights into the air, while 'casual' sightseeing and other less essential air travel has been postponed for the time being. Aviation sources from Kajjansi speak of possible imports of AVGAS from Tanzania's Lake Victoria airport of Mwanza, but red tape and usual bureaucracy are making a swift solution difficult. However, KAFTC's Cessna Grand Caravan fleet continues to operate normally as these aircraft run on Jet A1, the common aviation fuel for jet and turbine engined aircraft.
Other domestic airlines and private aircraft owners also suffer of an AVGAS supply shortage for their piston engined small and light aircraft and confirmation of charters now depends on the level of urgency demonstrated by clients, at least until regular supplies have been restored.
This situation will have a severe impact on the financial performance this year of the few Ugandan domestic scheduled and charter airlines and a leading aviator said his sector felt 'abandoned by government'. He claimed that attention seems focused on getting enough fuel for the international airlines coming to Entebbe, rather than giving equitable attention to the smaller and mostly indigenous owned airlines, which operate from both Entebbe and the Kajjansi airfield and require a different fuel type.
No confirmation on the status of training flights and fuel supplies for the East African Aviation Academy in Soroti could be obtained, as no single person approached for a situation report or a statement would be prepared to comment, neither on nor off the record.
UWA STATEMENT CALLED 'HOGWASH' BY SOME STAKEHOLDERS
Following the killing of a Belgian woman tourist on Mt. Elgon, Uganda Wildlife Authority called a press conference to try and explain the circumstances. According to press reports published, UWA's Executive Director admitted that the spot was known for some time to be frequented by cattle rustlers and criminals, speculating over who 'could have done it'. Sections of the tourism private sector took grave exception with the press report of the statement, saying that if UWA had known of such problems, then why would their guides and rangers have taken the tourist to that spot for an overnight stop. They also said that they suspected complacency and a level of incompetence and took further issue with UWA's statement, that 'all tourist sites in Uganda are safe'. Said one leading safari operator to this correspondent: 'one death is one too many. UWA and others in charge of park security should stop looking for excuses. Trying to explain this away in such a contemptuous fashion is an insult to the victim. If UWA had known this to be a trouble spot and that criminals are hiding in the park forest, then why wait for this to happen and then crying over spilt milk. I suggest they are afraid to act in a timely manner, because they fear political repercussions in the context of past eviction actions they took at Mt. Elgon park and the tourist now paid the price for this. The director should have concentrated in the past on what should have been done to prevent this incident and not now assume the CID role and speculate who could have done it'
Members of the Belgian community in Uganda also expressed anger aimed at, what a leading figure amongst them called an 'inept statement if the press report is accurate', 'full of contradictions' and aimed at 'exculpating' the institution of blame and liability. He went on to say that his organization had in the past faithfully and generously supported tourism activities and developments and felt 'very much let down' by this incident.
Subsequently, tourism to Mt. Elgon, in any case not a front runner in terms of numbers for both domestic and international visitors &endash; inspite of its scenic beauty &endash; is expected to take a setback and safari operators in Uganda and tour operators abroad will be keeping a keen eye on the situation to see if actions will match the words which are too often and too casually spoken after such events.
HOTEL DEVELOPER IN FINANCIAL TROUBLE
The main proprietor and promoter of the building site hotel along Entebbe road &endash; projected to become the Protea Entebbe Hotel &endash; has ran into a severe financial storm, as Barclays Bank Uganda has taken control of a number of his properties, including his downtown shopping mall, over an alleged defaulted loan of some 4.7 billion Uganda Shillings, equivalent to nearly 3 million US Dollars. The hotel venture, due to have been ready for the Commonwealth Summit last year, has been gobbling up money for construction and loan finance, while the awaited CHOGM guests failed to materialise, as the hotel then, as it does now, resembles the building site it still is. The size of the project, given by the owner as reaching 1.000 rooms, shopping malls and other amenities half way between Kampala and Entebbe, has also mind boggled industry observers, one of whom described the project as 'developing cuckoo land'.
The financial implications of the seizure of assets by the bank is expected to also have repercussions on the hotel project's progress, which has already been visibly slow in past weeks already.
The receiver appointed by the bank has given a deadline to clear all outstanding interest on the loans, fees and the principal amount owed by March 14th or else auction off the seized assets to clear all debts.
The proprietor, a Mr. Joseph Behakanira, denied the charges however and vowed to start a legal defence to overturn the bank's decision and seizure of his properties.
NEW EDUCATIONAL INITIATIVE UNDERWAY
An EU funded educational initiative was launched during the week, when the F+U University Group / IBA University from Germany signed an agreement with Makerere University to start cooperation, also extended to the University of Dar es Salaam, the University of Nairobi and Moi University in Kenya. Named 'East African Academic Alliance for Curricula in Logistics and Tourism (EA3CLAT) the 500.000 Euro project is aimed at reviewing existing tourism and hospitality curricula across the region in universities but also at other tertiary institutions like Uganda's national Hotel and Tourism Training Institute. This will be done in conjunction with the regional academia and the private sector and past efforts by HTTI to redevelop a skills based curriculum will be used as a foundation for the process in Uganda.
It was observed during the signing, that much of the tertiary education in the hospitality and tourism sector at universities is presently theory based and requires additional practical input, to make graduates more employable. Employers in particular have long criticised the lack of practical skills of degree holders, resulting in added expenses to retrain the newcomers to the workforce.
The notable exception in this is the national hotel and tourism training institute, which is fully committed to a curriculum rooted in practical training of the students to give them 'hands on training', resulting in all graduates from HTTI finding employment in the sector and the hotel school in fact being unable to produce enough quality certificate and diploma holders.
The project will also facilitate training of selected participants, i.e. lecturers and instructors, in Germany at the participating institutions to promote in particular the 'dual system' of education practised in Germany for vocational and skills programmes. Internships for the best students are also available.
The head of the F+U University Group was part of the visiting German business delegation which came to Uganda and Rwanda last week as part of President Prof. Horst Koehler's state visit to East Africa, underscoring the importance of private public partnership to meet development goals.
PARLIAMENT PICKS ON LACK OF UTB FUNDING, PASSES TOURISM BILL
Following persistent complaints in the local media over the pathetic funding for the Uganda Tourist Board and the previous failure to pass the new Tourism Bill and subsequent regulations, the parliamentary committee overseeing the sector has now also voiced concern over these issues. The MP's called upon government to better facilitate the sector and pour more resources into marketing the country, while debating the report of the sessional committee and its recommendations about the tourism bill. It does so appear that the bill was then passed in parliament but further details are being sought to ascertain this fact. If correct, and once assented to by the President &endash; as required by law &endash; the bill would trigger new regulations to be issued for the sector and create a tourism development levy, besides causing the restructuring of the Uganda Tourist Board / Tourism Uganda into a private sector driven and more proactive organization, also taking care of licensing, monitoring and enforcement of regulations for the entire sector.
KENYA AIRWAYS BAGS WINE AWARD
During the annual Sky Award ceremony Kenya Airways came globally a respectable third behind Singapore Airlines / Qantas (joint second place) and Germany's Lufthansa (category winner) for their excellent choice of champagne for inflight service in their much lauded business class.
This follows special efforts last year to select a new range of wines and champagnes to accompany the airline's applauded inflight meals, and tasting sessions to gauge passengers' tastes and feedback. The Piper Heidsieck NV from France hence made all the difference with the judges and gave 'The Pride of Africa' another exhibit for their trophy cabinet.
The airline is also expected to contest for the top honours again in the regional recognition of excellence annually held by TN East Africa, the leading regional magazine for travel, leisure and life issues.
Well Done KQ!
FLY 540 STARTS REGIONAL FLIGHTS
Kenya's low cost airline Fly 540 has now commenced work daily flights to Juba, Southern Sudan as part of their regional expansion. This adds more capacity to the route, on which several other Kenyan airlines already fly, with the notable, and hard to explain exception of Kenya Airways. They are Jetlink, East African Safari Air, Marsland Aviation and African Express. The latter is also flying in codeshare with Royal Daisy Airlines between Nairobi and Entebbe already via a wet lease agreement with Royal Daisy. It could not be ascertained if Delta Connection is still on the Juba route.
More flights into the greater East African region are said to be planned for later in the year by Fly 540. Certainly flights between Nairobi and Entebbe would be most welcome as recent route upstart Air Uganda has broadly failed on the expectations to bring fares down to a more affordable level. Fly 540 has recently signed a major purchase agreement with French manufacturer ATR for 8 more of their aircraft to allow for this expansion and 4 of them are due for delivery in 2008 already. Watch this space for emerging news.
KENYA TOURISM PLANS FOR FUTURE
With the world's most important tourism fair, ITB in Berlin, just weeks away, the Kenyan tourism fraternity is getting ready to tell the world that all is not lost with East Africa's leading destination. The Kenya Tourist Board and the private sector are now preparing a market offensive aimed at bringing the tourists back to the beaches and national parks. No tourist has come to harm during the period since the elections in late December 2007 and sectoral associations like KTF and KATO are working around the clock with security organs to stay abreast with the situation and keep their members fully briefed.
While the present situation is bleak, there is hope for a political settlement now on the horizon thanks to the efforts of former UN Secretary General Kofi Annan, who for the past two weeks has been engaged in behind the scenes diplomatic efforts to bring the opposing sides together and have in particular the opposition drop their unrealistic demands for the good of the Kenyan nation.
Once a settlement has been reached the tourism industry is bound to engage in a global marketing campaign once again to rekindle interest in the country and kick-start the recovery from the present down turn of fortunes. The greater region also has a role to play in this scenario, as all other East African countries have lost business and will be well advised to join hands with Kenya to promote the region in an aggressive fashion, attract overseas tour operators to send fam trips to the region and convince the charter airlines to add capacity back on the routes to Nairobi and Mombasa to cater for the expected growth in demand.
Kenyan and other East African governmental authorities however must use this opportunity to introduce a single tourist Visa for the entire region to bring not only the cost of visits down but also to encourage regional tours, which can help Kenya on their path to recovery. Travel for duly registered expatriates in the EAC region also ought to be streamlined and the requirements for Visa, when visiting a neighbouring country, must also be dropped if this important market is to be fully tapped. Further interventions should include the temporary or even lasting reduction in airport taxes for passengers, navigation &endash; landing and parking fees on aircraft bringing visitors to the region and a range of regionally coordinated tax incentives for the sector to allow investments aimed at adding value and quality to the tourism industry. Finally, the tourist boards of the East African nations must be given a big enough budget to run a sustained campaign in existing and emerging markets, if the recovery is to be swift and sustained. Uganda, Rwanda and Tanzania are all expected to attend ITB also and offer some moral support to their Kenyan colleagues. Watch this space.
KENYA RETALIATES TO TRAVEL BAN
News have emerged over Kenya now retaliating on 'travel bans' slapped upon at least 10 politicians and business leaders by prohibiting the UK's former High Commissioner to Kenya, Sir Edward Clay, to return to his former diplomatic stomping ground. Sir Edward, during his time in office in Nairobi an outspoken and candid critic of corrupt practices amongst the Kenyan political elite and key members of government, again locked horns with the Kenyan establishment recently at the BBC's Hard Talk programme over the persisting violence in the country following allegedly rigged elections. In a first comment the former diplomat reportedly said the 'persona non grata' status accorded to him by the Kenya government was a 'spine chilling warning to others campaigning against Kenyan corruption'. Sir Edward also called for a coordinated position of Western countries like the US, Canada, Britain and the continental EU nations in their response towards Kenya.
The ban on Sir Edward is particularly hard on him in personal terms, as he reportedly acquired a piece of land and had planned to retire in Kenya, something the latest spat seems to make impossible for the time being.
Sources from within the diplomatic community in Nairobi also spoke of still more Kenyans suspected to be involved in the violence since the late December elections to be targeted for travel bans, which ordinarily also include the family members of the affected individuals. Such action can also lead to the freezing of assets and bank accounts in the respective countries, making possible targets amongst the Kenyan elite uncomfortable to say the least. Yet, any measure helping to end the violence and bringing peace back to the Kenyan population is welcome and in any case, culprits should swiftly be brought to justice irrespective of their political background.
In the meantime, the Kenyan government was compelled to accept international demands on a full and impartial investigation into the causes of the post election violence, with perpetrators due to face charges on 'crimes against humanity', one of the vilest acts imaginable. A spokesperson for the Kenya government however swiftly turned the heat on the opposition ODM, whom he accused of 'planning, financing and executing systematic post election ethnic cleansing', sadly as true as it sounds.
RWANDA AIMS AT 50.000 TOURISTS FOR 2008
The Rwanda tourism sector is intend to increase tourist arrivals for the current year to 50.000, inspite of the present problems caused for the entire region by the Kenyan post election situation. In 2007 tourism has replaced Rwanda's traditional exports as the leading foreign exchange earner, exceeding projections and proving the general theory right that tourism can indeed &endash; if properly structured and facilitated &endash; become the region's undisputed number one economic activity. ORTPN, the Rwanda Office for Tourism and National Parks, together with a sizeable private sector delegation, will attend ITB where it will once again showcase the 'Land of a Thousand Hills' from its sunniest side. To make appointments for meetings at the Rwanda stand please contact rosetterwandatourism@rwanda1.com.
RWANDAIR PRIVATIZATION STILL PENDING
While a request for comments from the airline was not responded to it could nevertheless be established, that the exercise has not been concluded in January, as was widely expected. Informed sources confirmed under cover of anonymity, that Rwandair's review of the proposals took in particular issue with the types of aircraft floated by the two remaining bidders. Meridiana, an airline based in Italy, had proposed to introduce some of their own aged MD 87 series, but Rwandair had disposed of a similar model some time ago due to the cost of operation of this particular aircraft type in favour of a Boeing 737-500. There is also negative perception in the region about such 'investors' bringing old equipment and peddling it as 'state of the art' as does the travel market not appreciate the use of old aircraft, when regional giant Kenya Airways has a truly modern fleet in operation.
Brussels Airlines too ran into predictable questions when they initially offered to use the BAe 146, which the airline is progressively retiring from the European fleet. Again, this particular aircraft type is not considered suitable to the climatic operating conditions and elevations across Eastern Africa, nor would it allow non stop flights from Kigali to Johannesburg.
A decision is now expected in coming weeks, after updated proposals are being reviewed at present, though no precise timeframe is available from the airline. Meanwhile, application deadlines for several advertised positions for personnel were extended this week to allow for more applications to be submitted to the airline's offices in Kigali, Entebbe, Kilimanjaro, Bujumbura, Johannesburg and Nairobi.
BELGIAN TOURIST KILLED ON MT. ELGON
A Belgian tourist on safari in Uganda was reportedly shot and killed while climbing Mt. Elgon. It is not immediately clear if anyone of the rangers or guides were injured in the attack. Details are sketchy right now and no particulars on the number or identity of the attackers could be established as yet. It could have been poachers who had stumbled upon the climbers, but the vicinity of the Kenyan border, which runs across the mountain peak, has also raised speculation that it might have been intruders from across the frontier. Sources insist however that the attack took place at the overnight camp, which would imply purpose and intent by the perpetrators of the crime rather than an 'accidental' situation. Usually well informed sources also spoke of 'delays' by Uganda Wildlife Authority when dealing with the situation and about dispatching a rescue mission, while the tourist was still alive for a period of time after the incident. She however passed away in the absence of prompt airborne medical evacuation or competent first aid. The area, a border transcending national park shared between Kenya and Uganda, is part of a pilot project to implement joint tourism activities, which will now need reviewing in regard of security afforded to the parks to ensure a safe environment for tourists and local visitors. It is the first tourist visitor fatality for some years now, as general security had been stepped up markedly after incidents in the past had raised the prospect of loosing out on market standing unless decisive steps were taken to boost surveillance. A joint ranger / army force 'SWIFT' was put into place at the time, but complacency was always a matter of concern to the tourism private sector.
Combined with the present Kenya situation this tragic incident will put a further dent into the effort of the Ugandan tourism industry to maintain its growth momentum, at a time when funds for marketing the country are already at a near all time low. Watch this space.
ACROSS THE NILE &endash; ON A WIRE
Tourism adventure activities received a boost recently, when a high wire was strung across the river to allow the not too faint at heart a suspended harnessed ride from one side of the river to the other on a pulley. Participants are then taken back to the starting point by boat, adding to the adventure experience. Established by the promoters and owners of Nile River Explorers (a leading adventure company), the Nile Porch and the Black Lantern at Bujagali Falls, the new activity rivals bungee jumping and is adding yet more to do for visitors to this most popular spot along the upper Nile valley. Jinja, also called East Africa's adventure capital, is home to spectacular white water rafting, float trips on the Nile, kayaking, quadbiking, cross country cycling, horse riding, river fishing, bungee jumping and now the high wire act. A rock climbing wall was also established some time ago near the Jinja Nile Resort at a site managed by Adrift, the other leading adventure company in Jinja.
SHERATON EXPANDS WIFI INTO NEWLY RENOVATED AREAS
The recently re-opened and completely refurbished bar, lounge and outdoor 'Paradise' restaurant areas on the ground floor of the Sheraton Kampala Hotel have now also been given wireless reception for hotel guests and patrons, a move welcomed by regular clients of the hotel wanting to do a spot of work, check mail or e-chat while enjoying drinks or a meal at the same time.
The announcement was made last weekend, when the 'Valentine's Day' food and accommodation packages were also launched in preparation for the global 'lover's day' on 14th of February.
Next on the rehabilitation schedule is the garden based Lion Centre, but prior to the works commencing the Kampala City Council is required to renew the user rights for the hotel. The city owned park has for the past 20 or so years been maintained by the Sheraton Kampala Hotel and been available for the general public. The council itself was unable to take care of the facility and with general sentiment about the council's capabilities to run and maintain the city rather negative, and a city management takeover expected under a new law bringing in central government city oversight, it is generally just considered a formality to renew Sheraton's use rights. In any case, the Sheraton Kampala already presents itself once again as the grand old dame of hospitality in Kampala and has &endash; inspite of other hotels entering the market over the past year &endash; increased its occupancy and popularity.
MIHINGO HORSERIDING BY MAY
The owners of Mihingo Lodge, located just outside the Lake Mburo National Park, have clarified that their planned horseback safaris and excursions will be available before the middle of the year, probably by May 2008. The building of the stables is far advanced already and 'test rides' have already started to get the horses used to the environment. The trips along the outside boundaries of the national park are expected to be much in demand, when the lodge will officially begin the riding trips. They do not interfere with the running of the park and its restrictive rules for activities inside the boundaries and will permit visitors a close up look at the landscapes, the animals and the magnificent birds from an elevated position, said to be vastly superior to walking safaris. Visit www.mihingolodge.com for more information and in particular the photo library, which is giving a good impression of what to expect when visiting this boutique lodge in the wilderness of Western Uganda.
CHANGE COMING AT THE HELM OF THE CAA
The positions of both Managing Director and Deputy Managing Director at the Uganda Civil Aviation Authority have now been advertised, as the office holders are nearing retirement age. The incumbents, Mr. Ambrose Akandonda and Dr. Rama Makuza, have been with the CAA since its inception in the early 90's, prior to which they had already a distinguished career in the aviation field at the then department of civil aviation under the Ministry of Transport. Both individuals were committed supporters of the Ugandan tourism sector over the years, assisting and financially boosting several programmes and projects, but will mostly be credited to steering the authority to new levels. The airport in Entebbe, as well as several aerodromes across the country, was fully rehabilitated from their sorry state 15 years ago. Entebbe International Airport has been expanded and technically upgraded to state of the art levels, new air service regulations were put into place, reflecting international standards in comparison with FAA, JAR and EASA rules now in place and air traffic &endash; passengers, cargo and aircraft movements &endash; during their terms of office has increased in large multiples. Many in the aviation fraternity will be sorry to see them retire and they use this opportunity to thank them for services rendered to the industry beyond the call of duty and wish them both the very best, once retirement finally comes in a few months.
QUAKES RATTLE GREAT LAKES REGION
Last Sunday, 04th February two earthquakes once again hit the region, with epicentres located near the Rwanda / Congo border and just inside Congo respectively. A church filled with worshippers collapsed in Rwanda, killing over 20 people instantly and many other casualties from the affected areas were also reported. The East African region has in past years experienced a number of quakes, minor and major, as well as some volcanic activity, a constant reminder of what danger is slumbering underneath the Great African Rift Valley.
GERMAN PRESIDENT DEMANDS HALT TO VIOLENCE IN KENYA
The just concluded state visit of German President Prof. Horst Koehler ended at a high note in Kampala with a dance performance by the Burudali Dance Group, showing the plight of 'child soldiers' used in many conflicts across Africa and in particular by the terror group LRA, which has wreaked havoc on the Northern Uganda population for many years. President Koehler and his entourage in fact visited Gulu, which was at the centre of the LRA's decade long campaign, during which it abducted thousands of young boys and girls and turned them into sex slaves, slave labourers and militia fighters. Some of the abducted children were as young as 10 years old and the abducted girls oftentimes gave birth as young as 12 or 13 years old, underscoring the brutality and contempt for human life and dignity by Kony and his band of criminals. (Kony and several others are in fact facing indictments and international arrest warrants by the International Criminal Court in the Hague for crimes against humanity) The one hour presentation drew a prolonged standing ovation for its emotionally charged display.
In his final address to the assembled representatives of the Uganda Government, Members of Parliament and the Judiciary, the Diplomatic Corps, leading representatives of the German community living in Uganda and business and civic leaders, President Koehler demanded an immediate end to the violence in Kenya, which he said was affecting not only Kenya but the entire region.
The second state visit in the region took place in Rwanda. Both East African nations were promised closer cooperation in education and health programmes and further assistance in trade relations with Europe's economic powerhouse nation.
GLOOM AND DOOM HOVERS OVER KENYA'S TOURISM FUTURE
Following the announcement by Kenya Airways about severe cost cutting measures and possible staff lay offs over cut backs in both capacity and routes presently flown, the tourism sector has been dealt a further massive blow. KQ, fondly known as the 'Pride of Africa' has been a role model of transforming an African airline from a loss making state owned and much interfered with parastatal body to a groundbreaking modern privately owned and managed showpiece of African aviation. Its modern fleet of state of the art aircraft and its award winning inflight service was long credited for being a major catalyst for the massive growth tourism to Kenya underwent over the past several years.
However, as a result of the post election violence, first unleashed upon Kenya's generally peace loving population by election loser Odinga's street mobs, tourism and aviation in Kenya are facing their hardest test yet since independence. The present circumstances and economic impact, though at times compared with previous situations, are in fact very much worse than the post 1982 coup attempt downturn &endash; when incidentally the same Odinga was said to be one of the masterminds behind the airforce's failed uprising &endash; and ultimately worse compared to the 1997 / 1998 and 2003 aftermath of the Likoni riots, the US Embassy bombing in Nairobi and the bombing of an Israeli owned beach resort in Mombasa in conjunction with the failed shootdown of an Israeli aircraft taking off from Mombasa.
Share prices of Kenya's national airline, in which Air France / KLM hold about 25 percent, have sharply fallen and are now worth less than half of the peak value, and being one of Kenya's most visible companies, carrying the flag across much of the globe, these news will be adding to the generally gloomy outlook of Kenya's economic development in coming months.
Flight capacity has since early January been reduced on routes going to Europe (London, Amsterdam, Paris), Johannesburg, Lagos, Cairo as well as on domestic routes, while the Mombasa &endash; Johannesburg flights have been cancelled altogether. Cargo loads area have also shrunk as deliveries of cut flowers from the big farms in the Rift Valley, of late also a violence prone area, have been irregular and of lesser quantities, as many farm staff are not coming to work for fear of their lives.
Meanwhile, the US administration has slapped travel bans on at least 10 newly elected members of parliament and other 'prominent' Kenyans as a first retaliatory measure following the failure to contain the politically inspired violence and find a peaceful solution to the country's political differences. Canada is due to follow with their own ban, which will include family members and even children, wishing to or presently studying in the US or Canada. The EU and Britain are reportedly also considering similar steps, adding further pressure on the Kenyan politicians to find a swift way out of the impasse.
DAILY FLIGHTS TO JOHANNESBURG FROM MARCH
No sooner had SAA announced, that they would add another flight between Johannesburg and Entebbe from the beginning of February, are news coming out of the airline's offices in Kampala that from March 2008 they intend to fly daily on the route between South Africa and Entebbe. In view of the downturn of traffic between Johannesburg and Nairobi this may be a re-deployment of traffic to the non-stop route, and the aircraft used will continue to be a Boeing NG 737-800. The present timings will be maintained, allowing SAA network connections both ways. This will be a further boost for tourism and trade relations between Uganda and South Africa but also allow long haul traffic passengers from the global SAA network and their alliance partners to fly seamlessly on to Uganda.
KENYA AIRWAYS MOVES TO ZERO COMMISSION
Kenya's national airline has announced that effective April 01st (no fool's day joke) they will cease paying commissions to travel agents across East Africa for ticket sales, following the international trend started some years ago in other parts of the world. KLM / Air France, which own a major stake in Kenya Airways, has made a similar announcement a few days ago. The airline had paid 6 percent for the past two years, after reducing commission levels by one and then two percent respectively at the time from the initial 9 percent standard rate. Travel agents had sufficient warning of these developments and will now charge a service fee to their clients, while the airlines promote on line bookings to further lower their own distribution costs. However, some airlines, i.e. Virgin, flying to East Africa, continue to pay a modest commission, which under the circumstances is also very likely to be phased out in coming months, finally eliminating the main past source of travel agency income.
Further consolidation in the travel industry is now expected across the region with mergers, buy outs, take over's and even outright business closures and many smaller agencies are expected to find the going probably too hard to survive, unless they managed over the past to widen their range of paid for services. In the meantime, KQ has also increased the fuel surcharge for flights out of Entebbe due to the scarcity of aviation fuel, supplies of which have still not reached pre-crisis levels.
PARLIAMENT INVESTIGATES 2005 CNN DEAL
The public accounts committee of the Ugandan Parliament has now taken the CNN publicity deal of 2005 into their cross hairs, with the Permanent Secretary of the Ministry of Tourism, Trade and Industry the first high profile individual having to appear before the panel. It was also reported in the local media, that a letter attributed to the then Minister had strongly warned that the 1.35 million US Dollars equivalent drawn from the ministry's accounts for the activity 'would cripple' other projects and commitments in the absence of finding the money from other sources. The parliamentarians also took issue with the fact that a company linked to an in-law of the President was receiving allegedly some 350.000 US Dollars, acting in their capacity as 'agent' for CNN. Judging by the mood of the committee they will call other personalities linked to the expenditure to testify before them and seek out culprits for appropriate sanction.
The campaign at the time developed a new tag line and branding for Uganda, shifting emphasis from 'Uganda &endash; the Pearl of Africa' to 'Uganda &endash; Gifted by Nature'. The CNN campaign of advertising for Uganda ran for a period of 6 months in conjunction with CNN's 'Inside Africa' programme, but then expired in the absence of sustainable funding, something much decried by the tourism sector since then. Other critics also bemoaned the fact that the screening of the commercials did not take place globally but only in markets of lesser importance for Uganda, which as everything connected to this matter will be arguable. The results measured after the initial campaign did show improved 'visibility' of Uganda as a tourist destination and yielded results in rising visitor numbers, but the effect &endash; by general consensus of the tourism private sector and industry observers and analysts &endash; has since then completely evaporated, in the absence of follow up and in the face of constant heavy advertising by other tourist destinations competing for tourist Dollars and Euros.
The failure of government to bring the draft tourism bill &endash; which incidentally was ready for submission to cabinet in 2005 &endash; to the law makers in parliament, is also being cited as a main reason for lack of funding for the Uganda Tourist Board, which presently lingers in a near broke state, unable to fulfil its mandate. The bill was to create a 'tourism development fund levy', from which marketing and vocational and educational services linked to the tourism industry were to be paid. None of this however has materialised inspite of assurances given by government to the tourism private sector, leaving the tourist board and the national hotel and tourism training institute chronically underfunded. Donor support has also largely expired for the sector, as government has not made tourism a priority with the country's development partners, as a recent EU evaluation of their tourism support programme has candidly revealed.
The parliamentary public accounts committee has become increasingly assertive over, what they term 'unauthorized government expenditure' and 'investments' such as payment to hotel companies ahead of the Commonwealth Summit in November or the shareholding in the failed Victoria International Airways in 2006, none of which the committee says has been sanctioned by parliament and its vote on the country's budget. Watch this space to follow this emerging story.
In the same meeting of the PAC it was also revealed, that due to lack of funds Uganda's membership at the UN World Tourism Organization &endash; UNWTO &endash; has lapsed and the country been suspended, denying Uganda all the benefits from marketing and training support it would be entitled to as a member of the LDC group of nations (least developed countries). This benefit ordinarily amounts to a great multiple of the annual membership fees. The tourism private sector has been demanding compliance from government on this issue for years now, but other than lip service never saw concrete action. Other key memberships in global bodies are also hanging in suspense, as substantial dues arrears have accumulated over the past years &endash; owing to lack of adequate funding of the Ministry of Tourism, Trade and Industry.
HIGHWAY MARKINGS TO COMMENCE
The Ministry of Works and Transport has now advertised a tender for highway distance markings cum advertising signs. Across the major roads and highways in the country signs are to be erected at one or two kilometre intervals, showing distances to the next major town or rural centre, in exchange for advertising opportunities. At the same time new direction signs are going up all over Kampala to direct traffic towards their destination like key places of interest (Museum, Kasubi Tombs), the Entebbe International Airport, the Kajjansi Airfield, the main stadium and city exits to the major upcountry towns.
FUEL CRISIS LOOMING AGAIN
Following reports of targeted violence against Ugandan trucks, ferrying fuel from the pipeline head depots in Eldoret and Kisumu, transporters and drivers have at least for the moment reduced operations, until full security is guaranteed and provided by Kenyan security forces. Subsequently, fuel in some stations is again being rationed or has run out. Truck drivers arriving at the Ugandan border showed journalists broken windscreens, windows and other damage to their cars and trucks by stones and rocks thrown at them by thugs and goons &endash; the area between Eldoret and Kisumu to the border being the heartland of the political opposition and most prone to outbreaks of violence. They also reported vehicles being looted and burned while in transit to the border. Opposition leader Odinga's recent public call for an end to violence sounded hollow and was described by sections of the media as 'too little, too late'. Parallels have now also been drawn between the 1982 coup attempt supported by Odinga and similar tactics today, to turn his whole tribe &endash; the Luo &endash; against the rest of peace loving Kenyans, prompting calls even by the US administration to end 'ethnic cleansing' &endash; although presently stopping short of calling it 'genocide' &endash; witnessed in the aftermath of the elections in opposition areas. Watch this space as news break.
DEATH OF TWO GERMANS UNRELATED TO KENYA'S POLITICAL VIOLENCE
The killing of two German citizens at the South Coast of Mombasa is evidently not connected to the present post-election violence, which some parts of Kenya have suffered from over the past weeks. The two victims, a German businessman living in Kenya and his visiting friend from Germany, were attacked and killed at the residence of the business man in either an outright robbery attempt or &endash; as part of the usual speculation over such incidents &endash; a result of a possible business dispute or rivalry. The wife of the visitor from Germany was also injured in the attack but is recovering at a hospital in Mombasa.
It should be stressed, that due to the ongoing close liaison between the tourism private sector and security organs, and through regular updates to safari companies on the actual situation on the ground along key airport and safari routes, the Kenya Tourism Federation (KTF) and the Kenya Association of Tour Operators (KATO) have so far successfully managed to keep all tourists out of harm's way. A group of tourists coming from their Kenya section of an East African safari tour to Uganda for gorilla tracking in fact confirmed to this correspondent during a chance meeting at Entebbe International Airport earlier in the week, that they &endash; while initially a little apprehensive over the situation &endash; very much enjoyed their safari to the key national parks in Kenya, felt safe throughout their trip and at no time came near any trouble on the road. Many safari vehicles are equipped with long distance radios and guides can receive important information from their offices in Nairobi or Mombasa, allowing them to avoid troublespots.
BUSH AVOIDS KENYA DURING VISIT TO EAST AFRICA
The forthcoming Africa visit by US President Bush is once again avoiding Kenya during its East Africa loop, as already done by him in 2003. State visits this time will take place in Tanzania and Rwanda. This means that for the last three times a US president came to Eastern Africa, Kenya has found herself excluded from the visiting programme, always reportedly over the US' concerns about domestic political issues in Kenya at the time. Prior to the December 2007 elections there was some hope to have Kenya included in the visiting schedule, but the outbreak of ongoing post election violence has put paid to that.
In the meantime, visiting former UN Chief Kofi Annan expressed his shock over, what he termed 'systematic human right abuses' of which he saw evidence when visiting the main problem areas in Western Kenya, where in particular the members of President Kibaki's Kikuyu tribe were relentlessly hunted down and their homesteads and businesses looted and burnt. The tense political situation in Kenya has now also spread to the Rift Valley provincial capital of Nakuru, globally known for the Nakuru National Park, which is home to millions of flamingos. The hitherto peaceful Nakuru saw some serious violence over the last weekend, again perpetrated largely against members of the Kikuyu tribe and most likely carried out by opposition goons loyal to election loser Odinga, who remains ambiguous about the ongoing crimes against humanity and ethnic and political cleansing. Retaliatory 'strikes' by the Kikuyu tribesmen are now also starting, said to be in defence of their people, but clearly inflaming the cycles of violence some more in an area hitherto largely peaceful, and to make it worse being home to key tourist attractions in the rift valley. Kofi Annan and his team of eminent African personalities subsequently called for 'hard choices' to me made by the two opposing camps, a halt to all violence, for political leaders to reign in their supporters and for police investigations and prosecutions of the perpetrators of political violence, which they could see first hand and close up.
DOMESTIC TOURISM IN KENYA HARDEST HIT
The absence of sufficient foreign tourist visitors in Kenya, needed to maintain the tourism industry's occupancy figures, is being compounded by the collapse of the domestic tourism segment. Middle class Kenyans, who contributed to the industry by taking advantage of financially very attractive 'residents rates' in beach resorts and safari lodges, are now staying at home for fear of running into violent confrontations on the roads or simply wanting to watch our for their homes and businesses. Many would be travellers also feel this is not the time for travel and vacations, when their jobs are at stake and the country's economy under severe threat. Domestic tourism in Kenya in past years accounted for as much as one third of the overall income, and as long as Kenyans do not travel their country it will be even harder to convince international visitors to return to Kenya's sunshine coast or visit the world class national parks and reserves.
"The domestic tourism market is basically dead," said Dr Dan Kagagi, chief executive of the European Union (EU) funded tourism development initiative TTF &endash; Tourism Trust Fund. He said it has become difficult to convince Kenyans to visit some parts of the country, effectively making local tourism, estimated to contribute 30 per cent of tourism revenue, to grind to a halt. "If Kenyans are now scared of travelling, that wipes out domestic tourism".
This report comes shortly after the sports tourism project at Masinga Dam in Central Kenya reopened its doors, which TTF supported with some 22 million Kenya Shillings and which future now looks equally bleak. Tourism Permanent Secretary Rebecca Nabutola is also quoted in the local Kenyan media to have put the losses for the tourism sector over the past weeks to at least 6 billion Kenya Shillings. She is also on record that the country would need to add at least a billion Kenya Shillings to the budget of the Kenya Tourist Board in coming months to aggressively promote the country in its core and emerging markets and arrest the present slide in fortunes.
The Kenya Shilling in the meantime has during trading in the week temporarily broken through the 74/- barrier versus the US Dollar, while prior to the elections it reached briefly a high of nearly 60/- before retreating again into the low 60-margin. The currency is expected to slide further yet, as export earnings and remittances from Kenyans living and working abroad are low due to the prevailing situation in the country. A lower shilling however also brings benefits as tourism products can be sold at more competitive rates abroad, helping to revive the sector once the violence has finally subsided and order been restored. The Nairobi Stock Exchange during the week also experienced the highest single day loss of share values, wiping some 40 billion Kenya Shillings off the ticker, arguably as a result of the political impasse unsettling the market.
AFRICAN SAFARI CLUB CLOSES 6 RESORTS IN KENYA
According to news reports from Mombasa, one of the leading operators of beach and safari holidays to Kenya, the African Safari Club, has closed 6 of their 10 Mombasa based resorts, laying off nearly 1000 people. They have also reduced their 'in house' charters from Europe from 5 per week to only 2 per week, and are said to be monitoring the situation closely, should a further drop in passengers require additional closures. African Safari Club and African Safari Air have been operating to the Kenya coast from Europe for almost 40 years and their current problems reflect an industry wide trend in Kenya, threatening to wipe out the gains of the tourism industry of the past 5 years in one fell blow over politically inspired violence, largely perpetrated by election losers upon an otherwise generally peace loving population.
ENTEBBE ROAD HOTEL UNDER CHOGM AUDIT SCRUTINY
The privately owned hotel venture at Bwebajje along Entebbe road &endash; due to become the Protea Entebbe Hotel when eventually completed and open &endash; has again come under the spotlight, when accountability for allegedly advanced funds from the CHOGM budget was demanded by the Public Accounts Committee in Parliament. The hotel gained notoriety when during the early stages of construction a building collapsed killing many workers in the process. The owners however seem to have escaped the law as no prosecution was ever brought against them. The hotel was predictably not ready for the Commonwealth Summit in November, inspite of full mouthed statements to the contrary by the owners, but tried nevertheless to have guests check into the building site's 'ready' rooms. The proprietors have in the meantime continued their cloud nine ambitions when announcing recently that the size of the project would grow to 1.000 rooms and over 1.000 shops, something industry analysts dismissed out of hand as 'ludicrous', considering the record of the owners, being total novices to the hotel industry, but also due to the distance from both Entebbe and Kampala and the ensuing commuting problems during rush hours. Parliamentarians have now claimed that the hotel had received advance payment for CHOGM delegates but did not host any at all. Watch this space.
ELECTRICITY TARIFFS WILL NOT INCREASE
Following angry outbursts by the general public over plans by the electricity company to apply for yet another major tariff hike between 21(domestic) and 59(large industrial) percent, the Electricity Regulatory Authority has now reacted and said that tariffs are due to come down in 2008 but at worst will remain at the present 2007 level. More investments are underway in the sector to combat the shortfall by both conventional production and using increased renewable energy sources, with government removing tax and duty elements on solar equipment and planning a further distribution of energy saving bulbs to reduce peak time demand. Conversions are also underway from diesel powered thermal plants to heavy fuel oil powered thermal plants, which will reduce the cost of operations considerably. The electricity company also stands accused of not doing enough to reduce system losses by upgrading the grid and combating energy theft, which would allow them to increase their revenue substantially without having to empty consumers' pockets even more.
CRUISE LINER DOCKS IN MOMBASA
Inspite of the political tension which is gripping Kenya at present, following the opposition's refusal to accept the election results, the Italian cruise liner 'Costa Marina' went on to make the scheduled port call in Mombasa with some 800 tourists on board. The visiting tourists went on shore excursions and safaris and while there was tighter security than usual surrounding the ship and the visitors, the port call apparently went smoothly. Mombasa is expecting another 6 cruise ships to visit the port over the next couple of weeks and there is no indication of any of them considering delaying or cancelling their visits, subject of course to the present political passions cooling off again very soon and the opposition accepting the declared results or else taking their grievances to the competent courts.
KENYAN ELECTIONS PRODUCE CHAOS AMIDST TIGHT RESULTS
PRESIDENT KIBAKI DECLARED WINNER, SWORN IN FOR SECOND TERM OF OFFICE (December 30th, 2007)
Calm has been replaced with chaos in Kenya after the relatively peaceful end December elections, which raised the emotions of this East African nation to new fever pitch levels. Voters appeared at polling stations in a record turn out already at night on the 27th December, making for long queues and long waiting times before they could cast their votes. In some cases this led to the extensions of the evening voting deadline to allow the waiting crowds to cast their ballot. Some 20 ministers and assistant ministers lost their parliamentary seats, including Nobel Laureate Prof. Wangari Mathai, feeling the apparent anger of the electorate over broken promises from the 2002 general election but also having believed the quick silver campaign the opposition used to make itself shine.
Presidential candidate Raila Odinga, whose late father Jaramogi Oginga Odinga was an avowed communist and &endash; as the son himself &endash; served time in prison detention over allegation of wanting to sabotage the Kenyan state, promoting treason and sedition and being generally subversive, was initially unable to cast his vote as his name did not appear on the voter's register in his chosen constituency in Nairobi. The younger Odinga was also repeatedly rumoured to have been one of the dark forces behind the 1982 coup attempt in Kenya, which tried to overthrow the elected government of former Kenyan president Daniel arap Moi. His voting problem was however later resolved and he could finally make a tick against his own name on both parliamentary and presidential election ballots.
As it turned out from the results however this was not enough, as he lost to the incumbent in a tightly fought race. Odinga's projected early lead &endash; at least as peddled by sections of the media and his own supporters, but notably not the electoral commission &endash; was progressively eroded by President Kibaki's growing numbers, at which stage the opposition brought out their goons to the streets to begin causing chaos, following the 1982 recipe. In Odinga's home stronghold of Kisumu members of Kibaki's Kikuyu tribe were literally hunted like animals by rampaging Luos (Odinga's home tribe), their shops targeted, looted and burned and individuals beaten up and worse.
Loosing is not new to the Odingas. Raila Odinga's late father had made a spectacle of himself when he lost the presidential contest in the 1992 election, and begged the electorate under tears to give him 'even one day in State House', which forever remained a distant dream for him as well as for the son now. Raila Odinga had decisively split the former ruling coalition with his uninhibited ambition for power and the top post in the country. He was part of the initial Kibaki government which was swept into power in 2002, but was soon afterwards sacked for dissent and only then became an outspoken critic of the now re-elected president, before being sent by the majority of the people of Kenya into dustbin of history. Bringing his hoodlums out to the streets once again shows his true ilk and after the country has settled down again it may be the time to look into criminal charges for inciting crowds of clearly misled people into violence as well as for his alleged role in the 1982 coup attempt.
Odinga also refused to take the his grievance to the courts, saying in a press statement: 'we will not go to the courts controlled by President Kibaki', then demanding that the Electoral Commission should: 'resign before releasing fraudulent figures'. This outraging stand was the clearest indication yet that he would continue sending his goon squads into the streets to cause chaos from which he was hoping to benefit by bringing him to power through street violence.
Thankfully tourists were spared the worst of the excesses as they were kept in their beach resorts, safari lodges or city hotels by tour operators' staff to avoid being targeted too. Many of those departing expressed both relief for their personal safety as well as sorrow over Kenya's internal troubles which the opposition perpetrated in their ultimate greed for the presidency while themselves failing any democratic standards. The proverbial 'Orc of Mordor', as he was described by a Kenyan friend (who went to vote and then returned to his workplace in Kampala) of this correspondent was ultimately prevented from taking Kenya down the dark road of tribalism, revenge and vengeance but at a high cost to the country's reputation abroad and for the deliberate loss of life and wanton destruction of property. There are troublesome days and weeks ahead for Kenya and her generally peace loving people. Neighbouring countries, in particular the African hinterland nations of Uganda, Rwanda, Burundi, Southern Sudan and Eastern Congo are also expressing their own concern over their import and export lifeline through Kenya to the Indian Ocean port city of Mombasa, as any looming trouble would undoubtedly have an immediate impact on the flow of fuel and other goods. Watch this space as the story develops.
FUEL SHORTAGE HITS HOME (Tuesday, 01st January 2008)
Following the developments in Kenya, where supporters of the defeated presidential candidate took to the streets in running battles with security forces, the flow of fuel to Uganda was immediately affected. Already on New Year's Eve long queues formed at the few stations with sufficient supplies, but rationing was invoked with a maximum of 20 litres per car while prices rose to an unprecedented Ushs 3.000 per litre ( US $ 1.78) at the increasingly few still open or willing to sell stations. First reports coming from Juba / Southern Sudan also indicate that the price for fuel jumped above the 5 US Dollar mark per litre and was still rising. Other goods are also stuck in transit, while exports like coffee and tea for Mombasa from Uganda and other hinterland countries are now halted at the Kenyan border points.
At the same time, travellers using the services of the bus companies on the routes from Kenya and Tanzania to Uganda and beyond were also stranded as no public service vehicles were moving in the face of declared or undeclared curfews. Petrol stations and cash points are also said to be running dry across Kenya, compounding an already difficult situation. Many locals across Eastern Africa use busses to reach their destinations in the region as it is an affordable means of travel, compared to the cost of air tickets, once the extremely high regulatory taxes are added. Subsequently a sizeable number of people who had gone to the Kenya coast by bus or their own cars for the Christmas / New Year holiday are now unable to return. In turn Kenyan visitors now equally 'stuck' in Uganda, as reports have emerged that opposition supporters committed a major crime by burning 25 children and many more adults in a church, where they had sought refuge. This happened near the Western Kenyan town of Eldoret, where most of the transit traffic between Uganda and Kenya passes and where also the fuel pipeline head is located, from where Ugandan an other hinterland countries pick their supplies. This will put more strain yet on the already inflamed ethnic relations, which the opposition has exploited for their own political ends.
First reports on charter operations to Mombasa also indicate a reduction in arrivals with outbound flights fully booked and tourists scrambling for seats to return home. Some of the hoteliers at the Kenyan coast known to this correspondent have privately expressed their concern over the developments, saying it could spoil the 4 year upswing of the tourism industry, which yielded record figures for 2007 but now has a rather bleakish outlook for 2008. South coast hoteliers have also lamented the fact that tourist traffic needed to go through the Likoni part of Mombasa where vandalism and political fighting was ripe. Likoni was at the centre of previous ethnic clashes which subsequently led to Kenya's tourism collapse in the late 90's.
In a related development Kenya Airways has reportedly suspended flights to and from Kisumu &endash; an opposition stronghold &endash; due to lack of fuel at the airport and domestic flights in and out of Mombasa also appear delayed, keeping scores of passengers at the airport waiting for their aircraft to arrive to connect to their international flights home and away from trouble.
IMPACT OF KENYA TROUBLES SPREADS FURTHER INTO THE REGION
(Wednesday, 02 January 2008)
Reports from Nairobi and other parts of Kenya now indicate that after petrol and cash dispensing ATM's ran dry, the supply of prepaid phone cards also dwindled to near none available on the streets. As of Wednesday the entire central business district looked like a ghost town with shops closed and few people on the roads, according to eye witnesses calling from Nairobi. This will in addition to transport and trade also affect telecommunications, as most users are on prepaid services to control their tight budgets. Fuel supplies in Uganda and the inland countries dried up more yet, as no new supplies could be processed from the pipeline heads in Eldoret and Kisumu / Kenya. The handful of stations in the Kampala which still had some fuel available raised prices to as much as 8.000 Uganda Shillings per litre or almost US Dollars 4.70, which put it beyond financial reach of most Ugandans. Subsequently even public transport suffered a severe impact with many 'matatus' off the road due to lack of petrol and traffic into the city was even thinner than on a usual Sunday. This was possibly also due to many Ugandans remaining in their upcountry home villages, since transport fares have already doubled across the country. Should the situation in Kenya persist more widespread shortages are expected to hit Uganda, Rwanda, Burundi, Eastern Congo and Southern Sudan, all of which depend on the road and rail supply line from the Mombasa port. Fuel prices in Juba, Southern Sudan's capital, are also continuing to rise and early indications are that charges have now reached between 8 and 10 US Dollars per litre, if and where fuel is still available.
Aviation is considered the likely next 'victim' of these developments, as all aviation fuels like JetA1 and AVGAS also need to come from or via Kenya for the airports and airfields in Uganda, Rwanda and beyond. In the absence of new deliveries airlines may soon be given a mandatory notice to bring more fuel and choose intermediate waypoints for refuelling when flying back to Europe or the Middle East. Watch this space for updates.
STAY AWAY FROM MEETING VENUE SAYS POLICE
KENYA GOVERNMENT BANS OPPOSITION MEETINGS
(Thursday, 03rd January 2008)
Security forces in substantial numbers were deployed already on Wednesday in Nairobi and across the country, supported by army units, to prevent unauthorised opposition meetings in Nairobi's Central Park, which were expected to generate more violence upon the suffering country. President Mwai Kibaki laid the blame squarely on the opposition and its leader Raila Odinga, who now stands accused of having promoted and fostered ethnic violence and cleansing in areas where he enjoyed political support. Subsequently Nairobi and other urban centres are once again expected to resemble ghost towns as business owners are unlikely to open their shops, while the opposition is spoiling for another fight.
In another effort however to bring the opposing sides together the President also met with a number of the newly elected Members of Parliament at State House Nairobi, but details are still scarce of what has been discussed and was agreed in the meeting to end the cycles of violence since elections results were declared a few days ago and the President sworn in for a second term of office. Belated calls by the opposition party ODM to their supporters to halt violence also sounded hollow after first loosening their goon squads on unsuspecting fellow Kenyans with the aim to maim and kill.
In a related development all types of excursions, shopping and city tours in Nairobi and Mombasa have been shelved by responsible tour and safari operators to avoid any harm coming to their clientele on visit to Kenya, a strategy which has up to now worked well as no single tourist has been reported to have come to harm during the upheavals of the past days. Congratulations for this achievement to the Kenya Tourism Federation and governmental agencies and security forces, which cooperated towards this common goal of keeping their visitors safe.
UGANDA TOURISM READY TO ABSORB DIVERTED TRAFFIC
(Thursday, 04th January 2008)
Enquiries have been received by Ugandan safari and tour operators to handle some of the traffic destined for Kenya, should the current situation there prevail. While capacities on the safari sector with lodges and safari camps are not numerically matching those of Kenya, Uganda could however provide some relief for the top end of the market, should there be a switch of itineraries. That said, business projections for the Ugandan safari circuit during the present high season are already excellent as it is, with gorilla tracking permits literally sold out until the end of March &endash; as are permits for chimpanzee tracking &endash; although some of the top end lodges may be able to accommodate extra traffic.
Should the Kenyan situation however prevail for too long, damage to the tourism industry across the region can be expected, as much of the air traffic to Eastern Africa still connects via Nairobi and trouble in the leading tourism country of East Africa will undoubtedly have an effect for the other countries too. This comes with particular reference to the opposition's declared intention to defy a ban on their planned (Thursday) meeting in the heart of Nairobi, which could spell more trouble yet to come.
Tourism operators in Kenya are meanwhile putting a brave face to the situation and are downplaying the potential impact and damage to their sector. The industry has been struggling to rebuild market confidence since the notorious Likoni riots 10 years ago and the fall out of terrorist attacks in Nairobi and Mombasa. For the past four years numbers have been rising impressively, following a major EU funded marketing initiative, and for 2007 some 2 million overall arrivals (tourists and non tourists) are expected for Kenya with the resulting revenue nearing 1 billion US Dollars. This makes tourism one of the most important economic sectors for the country and arguably the biggest foreign exchange earner.
It has also been reported that in Mombasa, tourists travelling to and from the airport are now provided with police escorts to ensure their safety, which is a reassuring measure for most but of course also visibly underscores the present problems in the country. Kenya Airways reportedly resumed flights to Kisumu but information received from there indicates that all airlines have scaled back flight operations to single flights per day in the face of very low passenger loads. International flight arrivals, according to an airline source at Jomo Kenyatta International Airport, are also showing sharply lower inbound passenger loads, while literally every flight exits Nairobi with full capacity, leaving passengers with no confirmations or on standby behind.
Every one in the Uganda tourism industry extends the very best wishes to their Kenyan brothers and sisters for a swift and peaceful solution to their problems.
BRUSSELS AIRLINES CELEBRATES 4TH FLIGHT
In time for the Christmas high season rush Brussels Airlines has commended their long awaited 4th weekly flight between Brussels and Entebbe. The occasion was celebrated in style at the new Imperial Royale Hotel in the form of a pre-Christmas cocktail party for clients of the airline, the business community and of course the travel fraternity. The airline operates state of the art Airbus A330-200 aircraft on the route, featuring the latest flat beds in their award winning business class and enhanced cabin technology for in-flight entertainment. Happy Landings!
UGANDA WILDLIFE AUTHORITY GIVES 'CHRISTMAS BONUS'
Ugandan citizens and registered foreign residents enjoy a 50 percent entrance fee discount once again (announced after the editorial deadline of the pre Christmas edition) between December 20th 2007 and January 15th 2008. UWA is expecting in the region of 30.000 visitors taking advantage of this great fee reduction, which however will not include tracking fees for gorillas and chimpanzees nor fees for other charges applicable like launch trips on the River Nile towards the Murchisons Falls or the Kazinga Channel cruise in Queen Elizabeth National Park. This initiative is aimed to increase domestic tourism over the holiday period, making visits in particular for Ugandan families more affordable. The main school holidays in Uganda fall into this period of time and with budget accommodation facilities inside and near the parks also on the rise, Ugandans and foreign residents will also not have to fork out too much cash to put a roof over their heads. Well done UWA for the true Christmas spirit!
MORE CHRISTMAS BONANZAS FOR PHONE USERS
The presently operating three mobile phone companies have continued to shower the market with incredible special offers for the holiday season, bringing call charges for international, regional, domestic and network based (Celtel's Africa network) down to the lowest levels yet. MTN has also at last finished their network upgrade at a reported cost of about 60 million US Dollars, having suffered of horrible congestion and network downage problems for much of the year. However, this flurry of price reductions might have less to do with Santa Claus activities but the imminent switching on of two additional new network operators, both of whom are expected to ramrod into the market with vigour. Network tied quality mobile phones are now available from operators for less than 25 US Dollars per set, volume rebates have reached 20 percent with instant call credit applied and per second charges have also entered the market across the main networks. Watch this space, as a sixth operator appears to have been licensed by the Uganda Communication Commission due to enter the market in mid / late 2008.
ELECTRITY SUPPLIER NOT IN CHRISTMAS MOOD
In time for the festive season the South African managed monopolist electricity supplier Umeme has served notice to the country of their intent to further increase tariffs in 2008, just as figures of government subsidies to the sector for 2007 emerged. Some 113 billion Uganda Shillings have been spend by the Uganda government to keep the tariffs within reach of domestic consumers and of industry but the apparent never ending corporate greed seems to know no bounds. No happy festive season news for Ugandans therefore, who will likely have to dig their pockets deeper still to keep the lights on next year.
OFF OR ON, HILTON KAMPALA SAGA PERSISTS
Unconfirmed reports indicate that building on the abandoned site of the proposed 'Kampala Hilton Hotel' has resumed to some extend. A swiftly organized site visit however found security at the gate refusing to allow anyone into the compound nor were they willing to call anyone in authority at the site, preferring instead to resort to foul language. A few people could be seen through gaps of the fence which however did not constitute 'significant' activity at the site. The now notorious team of brothers from the Sudan had started the project nearly two years ago but persistently failed to have their action on the ground match the action of their mouths. Eventually building stopped at first floor level when their money had run out and they had failed to secure the necessary finance for the 90 million US Dollar project inspite of their repeated empty promises the have the hotel ready for the Commonwealth Summit in November this year. Time will tell if this latest twist is just seasonal 'snowflake in the eye' or if really the building is going ahead again. There has also been speculation in the local media over a change of ownership of the site and the project, which could not be independently confirmed. However, cost of construction has since the start of the project rocketed, due to escalating fuel, cement and building steel prices and a substantially higher price tag is now expected in any case. In a related development a firm of PR consultants, retained by the brothers some time ago to improve their public image in order to reel financiers in &endash; incidentally without much success &endash; has sued them for almost 400.000 US Dollars over non payment of fees, which makes interesting reading when comparing notes over the purported resumption of construction on the abandoned site. Watch this column for future updates.
WHAT'S GOING ON WITH MABIRA FOREST
During a meeting of Commonwealth Finance Ministers earlier in the year in Guyana the Ugandan Finance Minister had announced that plans to turn nearly a third of this key tropical rain forest in to a sugar plantation had been dropped by government. Subsequently, visitors and dignitaries of the recently concluded Commonwealth Summit were paraded through the forest and given comprehensive explanations about Uganda's stand on conservation and bio diversity protection, while also visiting a 2 million + US Dollar investment in the recently opened RainForestLodge.
However, latest press reports now indicate that the matter is far from resolved, which will undoubtedly get the environmental lobby back into play and will also ring alarm bells at the World Bank, which has a binding agreement from the Government of Uganda to leave the forest alone as part of an offset agreement over the finance of the Bujagali hydro electric power plant. In any case, questions are now being asked just how much one can rely on government commitments vis-à-vis the Ramsar Convention and the Convention on Bio Diversity Protection it signed some years ago, statements made to the effect that the sugar plantations plans had been finally shelved and yet raising the matter ever again. Parliament too is expected to get involved again now, as the majority of sitting MP's had expressed their opposition to the plans. The sugar baron was also offered alternative land on a lease basis but rejected this offer on grounds of cost, while hoping to get the forest land for free.
KENYA ELECTION HAD LITTLE INFLUENCE ON VISITOR ARRIVALS
The just concluded election in Kenya has, unlike on previous occasions, not influenced the arrival pattern of tourists into the country, nor led to the usual widespread exodus of predominantly Asian residents' families in the East African nation across the borders. In fact the Kenya coast was swamped with overseas visitors &endash; as were the game park lodges &endash; and literally every single resort was fully booked. This column had suggested that the elections would be conducted in a largely peaceful climate and, apart from some incidents in upcountry areas and known trouble spot constituencies far away from tourism centres, this has generally played out very well. Results are expected over the coming days and the first column in 2008 will undoubtedly report about this.
AFRICAN AIRLINES DOUBLE ORDERS FOR NEW AIRCRAFT
AFRAA, the association of African airlines, has just released information that member airlines on the African continent have during 2007 ordered over 150 new aircraft, up from only 84 new aircraft ordered in 2006. The trend to modern equipment will continue in 2008 according to forecasts, with the key continental players setting the standards other airlines are likely to follow. In stark contrast the latest Ugandan upstart is using first generation DC 9-32 - aptly termed 'sky howlers' by a Ugandan aviation veteran - which spew fumes and leave very audible noise prints across the East African landscapes. Fuel savings generated by the latest engine types and stricter environmental controls (and categorical demands by governments in international destinations) have pushed the leading African airlines towards modern state of the art jets and their rising passenger numbers also confirm that the market is keen to see their airlines fly the latest type aircraft -not to mention safety considerations.
The leading airlines in Africa have also, with the notable exception of Ethiopian Airlines, now chosen alliance partners, which has a further impact on marketability of their services. South African and Egypt Air are now flying with 'Star Alliance' while Kenya Airways in 2007 joined the Air France / KLM led 'SkyTeam', which will leave smaller airlines without IOSA certification and operating with internationally shunned old aircraft, trailing in their wake. Watch this space.
KAMPALA MARATHON A GREAT SUCCESS
The annual MTN sponsored Kampala Marathon, run last Sunday across Uganda's capital city, was once again a resounding success with another record attendance. The race start and finish was for the first time located at the Lugogo Shopping Mall, where ample parking was available and the logistics of start and finish better organized compared with the previous start and end point along Parliament Avenue. The various category races over the full distance, the half marathon and the 10 KM race were won by Kenyan (men and women full marathon) and Ugandan (men and women half marathon) competitors while the 10 KM race produced a 1-2-3 for Ugandan women and men respectively. The men's finishing time was a weather induced relatively slow 2:17:25 for Kenyan Tuwei Kiprop and second placed Ugandan Joseph Nsubuga narrowly missed the Beijing 2008 Olympic qualifying time by just a few seconds. This column congratulates all participants for their sporting and fundraising efforts.
SHERATON'S FESTIVE SEASON UNDERWAY
As we are entering the pre Christmas mode in our daily lives, the Sheraton Kampala Hotel has released its traditional season programme. Companies honouring their employees are using the newly renovated meeting and function rooms for their annual staff parties and the renowned pastry shop is turning out classic European styled cakes, including the famous 'stollen' and of course the equally famous Christmas Pudding.
The New Year's Eve do seems of particular attraction to Kampaleans, taking place at the swimming pool deck and rooms for that night go for an amazing US Dollars 100 only, including the use of the Kidepo Spa to work off the overindulgences of the previous night and a full breakfast buffet for those with a taste for more. Call the hotel for reservations at +256 414 420000 or +256 414344590 or email them at sales.kampala@sheraton.com
NEW YEAR'S EVE 'AROUND THE WORLD' DINNER DANCE
OPPOSITION USES EBOLA OUTBREAK FOR POLITICAL ENDS
The present Ebola outbreak, suspected to have been brought into Uganda by infected persons from Congo DR seeking treatment or escaping their own government perpetrated violence in the East of the jungle nation, is now being misused by the Ugandan political opposition for their own ends. They seriously suggested that government held back the information to allow for a smooth Commonwealth Summit to take place. It was however established by this correspondent that the CDC in Atlanta only confirmed an outbreak on towards the end of November, i.e. after the summit ended, at which stage a combined WHO, CDC and Ministry of Health containment group was dispatched to the affected area along the Congo border in one of the remotest parts of Western Uganda.
Reports, probably also peddled by the same characters, that the disease has spread into other parts of the country, were also dismissed by the health team tasked with the containment exercise, who confirmed that only the immediate border area was affected. Such irresponsible propaganda, though not unexpected from these quarters, is therefore to be condemned in the sharpest possible way and the perpetrators should be made to answer charges in court.
In the meantime more equipment was flown into the country to effectively combat and contain the disease, as done a few months ago with a Marburg fever outbreak. There seems no level low enough for a hapless opposition in this country to stoop lower still, trying to exploit this tragic situation for their own political ends.
The Uganda government has in the meantime mobilised internal funds to the tune of about 7 billion Uganda Shillings as emergency allocation to the health sector besides material support from development partners and the WHO, who have also stepped up their assistance levels. President Museveni has also ordered an official enquiry to establish the true origins of the disease, after suspicions were raised that the outbreak originated from across the border in Congo DR, where earlier in the year a major outbreak was reported in the more central part of the jungle nation.
Would be visitors to the country can obtain updated information from their safari and tour operators, the Association of Uganda Tour Operators (auto@utlonline.co.ug) or the Uganda Tourist Board / Tourism Uganda via their website www.visituganda.com or www.health.go.ug
KLUGE'S GUEST FARM NOW READY TO RECEIVE GUESTS
Stefan and Mariam Kluge's farm holiday concept in the foothills of the mighty Rwenzori Mountains, aka Mountains of the Moon, is now ready to receive guests. Located between Fort Portal and Kasese it offers 8 guest cottages, a VIP cottage and 5 tents for camping fans without their own equipment. The setting allows splendid views across the Rwenzori mountain peaks and their ice fields from a serene and tranquil setting in the midst of a working African farm. Many amenities are provided, including a swimming pool. The Kluge Guest Farm allows guests staying there to see all attractions in the area within a day's travel, including the Kibaale Primate National Park, the Semliki Game Reserve and the cultural sites of the Tooro Kingdom, besides visiting the forests on the slopes of the mountains. Horse riding is also possible across the farm or along cleared forest paths. Cuisine is varied and best described as solid home cooking, if with a little bias on German food, and besides a daily table d' hote menu guests have a choice of other dishes prepared to order by the well trained cooks, prepared from fresh farm produce. Groups of black and white colobus monkeys are frequently seen from the guest room verandas as are a variety of other wild animals and birds, besides the farm animals like goats, cows, horses and poultry. Interested visitors can write to marketing@klugesguestfarm.com for more information or otherwise visit their website at www.klugesguestfarm.com
CONSERVATION VS OIL
A new conservation debate is brewing in Uganda, as plans have emerged to degazette part of a wildlife reserve, the Kaiso-Tonya wildlife conservation area in Hoima district, Western Uganda. The proposed mini refinery and a gas fed power plant are to be constructed there, if further test drilling in one of the exploration areas confirms the commercially viable size of the oil and gas deposits. Conservationists have already started their machinery to drum up local and international support, while the oil companies are assuring the public that international best practice and latest technology will be used, if the plans are to go ahead. Uganda Wildlife Authority in contrast assured the public that they are not aware of any such plans as yet and that no decision could be taken without NEMA and UWA involvement, as it requires an act of parliament to degazette existing protected areas.
In the meantime as case of ranger turned poacher was brought to the public's attention, when in Fort Portal (Kabarole) two UWA staff were arrested as they were about to sell 4 shoe bill stork eggs for incubation to traders ready to send them to Southern Africa. The Shoe Bill stork is one of the rarest birds in Uganda and generates much interest amongst birders coming to the country to see the prehistoric looking bird in its natural habitat. Watch this space as this saga develops.
NEW BRUSSELS AIRLINES CONGOLESE VENTURE TO FLY IN EARLY 2008
The partnership between Belgium's national airline Brussels Airlines and Congo DR based Hewa Bora Airline, titled 'airDC', will take to the skies in early 2008, the airline has now announced.
Hewa Bora Airlines has been operating for some years already and met the EU aviation guidelines in full, and was subsequently the only airline from the Congo allowed to fly to Europe. The joint venture airline, in which Brussels Airlines holds 49 percent of the shares, will according to well informed sources operate along JAR and EASA guidelines, which are said to be substantially more stringent than Congolese aviation regulations and requirements. None of the other about 30 operating airlines inside the DR Congo meet those standards, resulting in regular aviation accidents, spurned also by the widespread use of poorly maintained former Soviet Union aircraft. Once the new joint venture has taken to the air, incidentally using modern aircraft unlike the latest Ugandan upstart, the airline is also expected to look at connections to East Africa, besides connecting Kinshasa with Europe and operating an extensive domestic and regional network. Brussels Airlines is also the leading contender in the privatization process of Rwandair, a decision for which is expected also in early 2008.
SEARCH FOR PILOTS HEATS UP
As the brain drain continues unabated from Eastern Africa to mainly the Arabian Gulf States, Fly 540 of Kenya has now advertised once again for captains and first officers to fly on their fleet of ATR's, Dash 8's and other aircraft operated on their fleet. Gulf based airlines have over the past years increasingly 'poached' ready made pilots away from their employers in Eastern Africa and even siphoned off cabin crews and maintenance personnel. Most of those accepting such offers opted for better pay, better career prospects and often better life styles, when flying for the fast growing airlines based in the Gulf States. This has left many airlines, including Kenya Airways, struggling to fill vacancies for cockpit crew positions. It led even within East Africa to a migration of crews from smaller airlines and in particular struggling upstarts with aviation stone age equipment (or as an industry analyst recently put it in Uganda 'sky howlers') to the better facilitated and reputed airlines in the region. This trend has inevitably raised questions on the quality and experience of pilots operating aircraft. Demands are getting more urgent to increase regulatory oversight and offer regional training facilities to keep crews up to date with their training schedules and refreshers. Openings exist at the East African Aviation Academy in Soroti, the only public aviation training facility in East Africa for pilots and technicians, but the academy is also said to be faced with an application boom while dealing with severe capacity limitations.
STAFF EXPRESS RELIEF OVER CHANGE AT THE TOP
Several Air Uganda staffers have expressed their glee to this correspondent over the recent departure of their CEO Pietro Neider. According to these sources he had made the poorest of impressions on them in regard of vision and more importantly staff relations, which seemed to have been rocky with several of them since his arrival in April this year. It is understood that the airline has since appointed a new CEO, who in his first interview with the local media was however coy to speak about their future strategy, apparently too worried that other established airlines in the region may be able to react too soon to the upstart's plans. The airline presently operates two first generation DC9 aircraft, which leave a substantial noise print across the East African landscapes, as they obviously do not meet modern emission standards in regard of both CO2 emissions as well as noise patterns. This is particularly significant as the principal owners on other platforms constantly babble on about their commitment to protect the environment and about their 'best practice', well, not here you don't. It could be established that these nearly obsolete aircraft should sometime in 2008 be replaced with again almost 20 year old MD87 aircraft, which are also hardly 'modern jets' especially in comparison with Kenya Airways' state of the art fleet. Watch this space to follow the battle for the East African skies.
CONGO REGIME TROOPS GIVEN A THUMBING
As reported in the column on previous occasions, the border area with Congo DR has been a somewhat troublespot for some time now. Along the common frontier Hutu militias, responsible for the 1994 Rwanda genocide, but also Ugandan rebels fighting against all and sundry but nor for anything constructive for that matter, have been using the 'hospitality' of the Kinshasa rogue regime to stage hit and run attacks across the border, mostly to loot supplies like common thieves. With the UN MONUC 'protection' force taking unashamedly sides on behalf of the regime in Kinshasa, leaving the Tutsi tribes once again to the murderous intent of their erstwhile killers, the only way out of the situation was for Tutsi forces to organize their own protection. Kinshasa militias claimed for almost a week 'success' in their offensive but were now proven utterly wrong once again, when they were pushed into a running retreat, speak rout, by Gen. Nkunda's troops with reportedly hundreds of casualties for 'government' forces. In the meantime treatment of Ebola victims on the Congo side is literally non existent as large populations were once more displaced by Kinshasa's violence perpetrated against their own people. Welcome to East and Central African reality. The gorilla national park in Congo, just across the borders from Uganda and Rwanda, is also said to be literally dysfunctional now, a further result of Kinshasa's intransigence and their policies of aggression against their neighbours, their own people and their wildlife. Meanwhile, a new round of bilateral talks is taking place this week at the recently opened Commonwealth Resort (part of the Speke Resort and Conference Centre) in Munyonyo, but the tranquil setting and peaceful atmosphere on the shores of Lake Victoria are no guarantee for the talks to succeed, as many prior meetings have ended inconclusively or failed outright.
KENYA CELEBRATES INDEPENDENCE DAY
Congratulations to the people of Kenya on the occasion of their 44th Independence Day, which was celebrated this week on Wednesday, 12th December.
KENYA COAST WANTS OWN BRANDING AND IDENTITY
The Kenya Association of Tour Operators coast chapter chairperson Ms. Tasneem Adamji has recently demanded from the Kenya Tourist Board a separate branding and product identity for the coast, reflecting the diversification and changes of the destination over the past years. In order to succeed in the future, especially when looking at the ambitious plans to build two resort cities along the Indian Ocean coastline in coming years, a new approach has been requested from the country's marketing body to prepare Kenya's main markets for the upcoming changes. The Kenya coast is intent to improve its image and move gradually towards a more upmarket level and change market perception, to dispose of the 'cheap image' often going along with rock bottom priced inclusive tour charters. Well done!
And from Gill Staden, Livingstone / Zambia comes the third part of her travel report and a little more about tourism developments in Zambia (livingstonian@zamnet.zm)
Kaza Park
The meeting on Kaza Park has been postponed until January. These meetings are being held to map a way forward for the formation of the new Transfrontier Parks between Zambia, Zimbabwe, Botswana, Namibia and Angola. Zambia is being used as a test case. It is therefore important that the meetings are attended by a range of people from all walks of life so that all the problems can be ironed out. Admittedly, they are a bit dull, because we are having to persuade Government, tribal groups, etc, to agree to the formation of the park. Having said that, there is little representation by the tourism sector - the sector which will benefit most from the formation of the park. Please let me know if you want to attend the meetings and I will forward your name to the organising committee - Peace Parks.
The continuing saga of our trip ...
I left you all as we were packing up in Liuwa Plains to start our trek homewards. Five of us had decided to go via Kafue National Park and into unknown territory, and three back by the same route &endash; all those lumpy, bumpy roads … via Senanga.
Our journey, for all of us, took us back over the hand-pulled ferry and the across the floodplain from Kalabo to Mongu. And there our journeys took different roads. After filling up with fuel our three vehicles headed east on the Lusaka road. We had no idea what the state of the road would be and were pleasantly surprised to find that the tar was in excellent condition and we could make good time. This is not a very interesting road, in fact, I cannot remember the smallest detail of that drive. Mukambi Lodge was our destination and we reached there by about 3pm.
Mukambi is in a Game Management Area, just off the main road, and sits on the Kafue River. It is a great lodge and very popular with Lusaka-ites for a weekend away. It is right next to Kafue National Park and is a magic stop-over before going into the northern section of the park and Busanga Plains …
We were greeted by Edjan and Robyn, the owners of Mukambi Lodge and were then taken to meet Basil. Basil was asleep on the veranda and was not very interested in our arrival, although he did manage to open one eye for a quick squizz. Basil is a hippo who has made an enemy in the river &endash; another hippo who likes to fight. So Basil prefers to spend his days on the Mukambi veranda. Basil does have some friends, however, in the form of Pumba and Piglet and Piglet's three offspring … and these are warthogs who also like to spend their days asleep on the veranda. One wonders what will happen as the Mukambi menagerie increases … whether they will eventually have any room for guests. Clearly, the animals seemed to have made themselves very much at home.
All of us, on arrival, went straight to our rooms for a long hot shower … absolute bliss. Having donned some clean clothes on clean bodies we met up in the lounge area to download photos from cameras and drink ice cold beer … more bliss. Being old fogeys, four nights of camping had taken their toll and we were glad of a bit of luxury. We enjoyed one of Mukambi's fine dinners, treating ourselves to a few bottles of wine.
After a very comfy night's sleep in the chalets, we got up to breakfast and preparation for the next day's trip to Itezhi-Tezhi. Having done this trip before, I knew that we were going to go through tsetse areas and we had to be prepared. We got out the dettol and flannels; mixed a dettol/water solution; soaked the flannels and then put them in plastic bags to await the tsetse onslaught.
We left Mukambi at around 9.30am, taking the road east towards Lusaka again. After a short distance we took the road south to Itezhi-Tezhi. This road goes through two GMAs; the road being graded tar, which is a bit horrible in places. It was not long before we entered tsetse-land and the flannels were taken out of their plastic bags and we used them to wipe over our skin and clothes. Although this is not the ultimate deterrent, it certainly makes a lot of difference. I think we all got a few bites but no-one complained too much &endash; it was more of an irritation than too much discomfort.
We stopped part way on a side road for some bloody marys (a mixture of vodka and tomato juice) &endash; not my idea &endash; but I was told that this is the sort of thing one does on holiday … so I joined in … just so that I didn't spoil everyone's fun … We all had that warm glow as we took the road again …
We reached the dam wall at Itezhi-Tezhi around lunchtime, taking the road below it and into the small town. After a bit of searching we found our next night's stop &endash; Chibila Camp, the Wildlife Society Camp, on the edge of the lake.
It is a lovely spot and has recently been renovated by the Middletons of Kalomo. There are three self-contained chalets, a kitchen and a dining/lounging area. The kitchen has loads of equipment &endash; cooker, fridge, freezer, lots of pots and pans and other cooking essentials; the rooms have basic bedding. The camp attendant was very helpful and looked after us properly, making sure that we were comfortable. And we were comfortable, in fact, too comfortable … we lounged on the loungers and enjoyed the view and did not feel guilty when we decided not to find a boat to take us on to the lake. Only Brian got out his fishing rod and walked down to the lake to try his luck.
There were a couple of hyraxes on the rocks around the camp and we enjoyed watching their antics. A monitor lizard slithered past us down the hill to the rocks and the lake below. We watched some makoras glide along the lake bank full of people and their loads. Apart from that we just relaxed … and enjoyed.
The following day we loaded the vehicles for the last part of our journey &endash; one day, we thought, down through Kafue National Park, Kalomo and home to Livingstone. But that will have to be another story because it was not just one day … it was a bit more … and it was a lot of mud later that we actually reached home …
HTTI RETURNS TO TOURISM MINISTRY
The Ugandan national hotel and tourism training institute will, effective 30th November, return to the Ministry of Tourism, Trade and Industry. The hotel institute was in a fell swoop some years ago excised from the tourism ministry and handed to the Ministry of Education and Sports, loosing millions of Dollars in the process in approved funding from the World Bank under the ICB Pamsu phase (protected areas management and sustainable use) as the change of ministerial oversight had not been catered for in the respective financing agreements with the World Bank. The hospitality and tourism industry at the time protested vehemently for not being consulted over the move at all and any assurances by government, that all such institutions were moved to the Education portfolio at the time were promptly disproved, when other similar institutions, including the East African Aviation Academy, were retained by their respective home ministries. Over the years however much progress was made by the institution under the Ministry of Education and Sports and the present move, although not entirely unexpected, once again was taken by government without consultations with key stakeholders &endash; Public Private Partnership in its finest manifestation …
CELTEL AFRICA SETS NEW GLOBAL STANDARDS
Celtel, the Gulf owned African telecommunications giant, has just broken new ground in Africa, and in fact the world, when integrating 12 of their national networks under a single 'borderless' call system. This now allows Celtel subscribers from East Africa and the other participating countries to call at local rates the Celtel networks in the other countries or receive calls while travelling in these states without roaming fees. The 'borderless network' includes Uganda, Kenya, Tanzania, Malawi, Sudan, Chad, Congo DR, Congo Brazzaville, Gabon, Niger, Nigeria and Burkina Faso. More countries are due to be added in further phases of the programme, which is unique in the world and has no parallel in Europe, North America or Asia at present. The feature is available for both post paid (invoiced) subscribers and also for pre-paid subscribers, who can now add call credit from over 500.000 airtime sales points across the participating countries. This too is a novel feature on a global scale.
The company also lowered call charges into the rest of the international network and has engaged in an Africa wide promotion to alert the market places to the advantages of calling the rest of Africa within one network and local rates.
AIRFIELDS SHUT DOWN DURING SUMMIT
In a not so nice (at all) development the Kajjansi airfield, base for Mission Aviation Fellowship and the Kampala Aero Club / KAFTC, plus several other air operators was shut down during the Commonwealth Summit. All charter operations, including to and from Bulago Island (airstrip also closed without notice) and to the national parks, were halted due to 'security reasons' and other regular users of air services were made to use road transportation or else wait for several days, while the embargo was in place. Some other private fields like Kakira (near Jinja) were reportedly also told to stop operations until after the summit. The only exception was to fly the Duke of Edinburgh from Kajjansi around the country, showing the advantages of being a Royal and the disadvantages of being a ordinary mortal. Talk about going overboard … this development was incidentally feared by the aviation fraternity in advance of the summit and repeated questions were raised with the authorities, but officials literally strung the aviators along until the sudden shut down notice was served on them and implemented. Well earned barbs for this, as it once again demonstrates that public private partnership often seems to be only a convenient window dress but in practise, and when really crucial issues are at hand, does not function well. One particular air operator, obviously not wishing to be named, accused the authorities of bad faith and well nearly of deceit over this sudden development, while also accusing the CAA of completely ignoring a due consultative process and hiding behind 'orders from above' as obscure as this sounds. Operations in and out of Entebbe were also hamstrung with scheduled flights being delayed or cancelled to the annoyance of connecting passengers, many of whom reacted with open anger over their inconvenience. CAA officials were rather coy over this development, pointed to 'orders from above' and otherwise opted not to comment in any capacity. The air operators are now blaming the regulators for causing massive revenue losses with the shut down order and are considering taking the matter to law over compensation claims.
This development took place inspite of constant official assurances before the summit to the contrary, bringing sighs of relief from the affected tourism, travel and aviation fraternity, after the summit juggernaut had waltzed out of town again. Yet, with the restrictions gone the traffic jams were back with a vengeance overnight, proving that the world is not perfect …
EAST AFRICAN AIRLINES RETURNS
As reported recently in this column, Air Tanzania has sold one of their B737 to Africa Direct / East African Airlines in Kampala. The aircraft was initially build as a 'combi' version and will, when reconfigured, be able to carry three standard pallets of cargo in the front of the aircraft, whereas passenger capacity will reduce to only about 60 seats in an all economy version. The aircraft will be delivered to Africa Direct / East African Airlines just as soon as Air Tanzania has taken delivery of their first leased Airbus 320, expected to take place before Christmas. Fred Obbo, Managing Director and CEO of Africa Direct / East African Airlines has also confirmed that the airline is not likely to resume their former routes immediately. The revived airline is likely to initially offer combined scheduled cargo and passenger services into the Congo on routes from Entebbe presently not served by any other airline. EAA operated from Entebbe to Nairobi and Johannesburg and neither route is judged viable for the revived airline at present.
Africa Direct bought East African Airlines two years ago after a debt restructuring deal with the key creditors was agreed. EAA had gone out of business in mid 2005 and then had their single B737-200 grounded in Brazzaville over a commercial dispute. Fred Obbo, an aviation veteran in Uganda, has also estimated the overall capital requirement to resume full operations with their combi aircraft to be in the 15 million US Dollar region, which will include the reconfiguration of the aircraft from an all passenger aircraft into a combi version with a cargo side door. Good luck and Happy Landings.
SUDAN AIRWAYS DROPS ENTEBBE, AGAIN
Sudan Airways has once more suspended their flights from Khartoum via Juba to Entebbe, following what they claim is 'low demand'. This is however contradicted by other aviation sources, which blame poor reliability and other problems for the halt of the flights. Sudan Airways at one time intended to fly three times a week between KRT &endash; JUB &endash; EBB but ended up with only one (often irregular) flight, as their single B737 was committed elsewhere in the network and the arrival of 'new' aircraft never materialised. Southern Sudanese travellers were also apprehensive to fly on the Sudanese national airline which is generally considered as being owned by the Central (Khartoum) Government, and when relations soured once again over Khartoum's intransigence and refusals to implement the Comprehensive Peace Agreement, Sudan Airways really no longer made inroads in the Juba market. Even passengers travelling on to international flights now routinely fly via Entebbe or Nairobi and connect from there rather than having to route their travels via Khartoum.
KENYA AIRWAYS BAGS REGIONAL AWARD
In the annual CEO survey carried out by PriceWaterhouseCoopers Kenya Airways once again won the top award in the Service Sector category. This puts to rest the many 'hit and run' attacks from certain sections of the East African media on Kenya's national airline, which in recent weeks marked the attitude suddenly developed by a particular newspaper group against the 'Pride of Africa'. Informed readers know of course that this campaign was entirely aimed at preparing the ground for the latest Ugandan airline upstart and cause a shift in market share in favour of a sister company by the media house in question. Bouquets for Kenya Airways and barbs for the others …
JETLINK SPREADS THEIR WINGS
Following the introduction of their two CRJ 100ER aircraft, the privately owned Kenyan airline has now started adding more domestic and regional destinations. The fast 50 seater jets have taken the market by storm and proved popular with the passengers. The airline is reportedly already looking at flying from Nairobi to Kigali, Bujumbura and also Goma and inside sources do not rule out additional regional routes. Entebbe sadly is not yet on the drawing board, as the Ugandan travelling public would have loved to see the jet aircraft type, upstart Air Uganda had rejected in favour of aviation stone age DC9-32 equipment. That airline claimed at the time that no maintenance facilities could be found in Africa for these jets, a contention proved utterly wrong by Jetlink now.
Jetlink has now also fully migrated to e-ticketing and established a state of the art call centre to cope with increased loads and passenger numbers. IOSA certification is also said to be in the final stages, which will confirm the operational standards of the airline as compliant to internationally accepted safety levels as prescribed by IATA to its member airlines.
KENYA REVENUE AUTHORITY KEEPS MESSING WITH TOURISM
A dispute has arisen between suppliers of aviation fuel and KRA over tax and duty payments for fuel delivered to airlines outside the three gazetted airports JKIA and Wilson in Nairobi and Moi International in Mombasa. Yet, air operators also require fuel when operating into other fields such as Kisumu, Eldoret or even airstrips in remoter locations like Nanyuki, where operator Tropic Air is based and reportedly suffering greatly from KRA's latest stunt.
This column has on many occasions written about KRA messing with African hinterland fuel supplies (Uganda, Rwanda, Eastern Congo, Southern Sudan), when trying to impose inexplicably rash, sudden and unimplementable decisions on the market for those fuels in transit to their final destination. Most of these issues were decided by KRA apparently in total isolation from the affected parties and had to eventually solved by top level political intervention, leaving KRA regularly with egg over their faces. Said one Kenyan air operator, who for obvious reasons preferred anonymity: 'they [KRA] are totally out of control. They do simply not understand what aviation is all about and as a result about 2 dozen aircraft have been rendered useless and are just standing there without fuel. It seems KRA is not accountable or answerable for such damages but for sure they will even argue with air operators about accepting the losses incurred over such mistakes.' A fuel company official also commented under the same terms of anonymity that KRA owes the fuel companies millions upon millions of Shillings in pending refunds and showed total intransigence over meeting those obligations, delaying payments with every trick in the book. Likewise behaviour from tax payers by the way would end them up in court or worse. He also pointed out that KRA had refused to give any answers regarding their action in writing, causing a legal vacuum. Well earned barbs for the Kenya Revenue Authority once again.
KEMPINSKI TANZANIA BREAKS INTO THE TOP ECHELON
The 'most respected company awards' for the year 2006 also included the Kempinski hotel group in Tanzania, which broke into the top rankings of the hotel and tourism sector in a closely fought contest. The group now has presence in Dar es Salaam and Zanzibar and is reportedly seeking a rapid expansion into the hotel, resort and safari lodge sector across the region. Well done!
The contest is expected to be even tighter next year when Fairmont Hotels will become a serious contender for the number one spot after their long awaited refurbishment of the Norfolk Hotel and the Mount Kenya Safari Club will be concluded in Kenya.
The new Fairmont managed resort in Zanzibar is also said to be fully operational now and is apparently fully booked already for the forthcoming high tourist season, making them a contender too for 2008. Also well done!
MANPOWER DRAINS CONTINUES UNABATED
The tourism, hospitality and aviation sectors in East Africa continue to be targeted by recruiters from the Middle East and in particular the Gulf states, where the national resource pool is too limited, both in terms of manpower and in terms of available skills, to sustain the growth of the respective sectors. Pilots in particular have been made the target of fast growing Gulf airlines, but also cabin attendants and any kind of hotel personnel such as cooks, chefs, front office and house keeping staff. While those lucky to be chosen often find greener pastures, the treatment of foreign staff in Gulf states often leaves much to be desired, as numerous reports in the past have amply demonstrated.
Employers in Eastern Africa, where tourism is also booming at present, may now have to dig deeper in their pockets to retain their key staff and spend also more in training replacement staff, poached from new hotels in the East African region and also of course from further abroad.
In any case, these developments open new opportunities for well trained and skilled personnel in the various sectors of the tourism industry and are in itself an incentive for young people to join training programmes where they can attain basic and advanced skills.
and from Gill Staden in Livingstone / Zambia comes her personal travel experience to the Liuwa Plains National Park:
Liuwa Trip (part 1)
Our trip to Liuwa Plains started on Friday 16th November. We were to travel to Liuwa Plains National Park, via Senanga and Mongu, then on to Mukambi Lodge, then to Itezhi-Tezhi and finally through Kafue NP and home to Livingstone &endash; a week's trip, in all.
The first stretch of the journey was west from Livingstone to Katima Mulilo/Sesheke. This is a two-hour run on a good tar road; one of the few good bits of road we were likely to see throughout the journey. We were six friends in three cars. At Katima Mulilo we were joined by another vehicle and three people who came in from Botswana. Our group was now complete and we took off north on the road to Senanga.
The road to Senanga is horrible … lumps, bumps, potholes and craters. Our first vehicle-problem arose one hour into the drive on this pot-holed nightmare &endash; driving speed was a around 40km/h. My car hit a huge hole and the car stopped. On opening the bonnet we found that the battery had fallen off its ledge and was now at 45º inside the engine with both wires having broken off. Woops. After some bush mechanics courtesy of Brian, we are on our way again ... but the car was behaving badly … huffing and puffing like an old woman … something was wrong. Open the bonnet again … something else had come loose … Brian joined it up and we were back on the road and all seemed well.
After the lateness of our start and the small break for vehicle mechanics, there was no way we were going to reach Senanga that day so we decided to stop at Thebe Safari Lodge which has a good campsite. On arrival we met up with Toff and Kiddy from Ultimate Africa Safaris (Kasane tour operator) who had arrived the day previous. They said Sioma Falls was great and that we had better go and see it. So we all piled up into the Hilux and took a drive to the falls … half and hour away.
The water in the Zambezi is low at this time of the year and Sioma Falls was actually falling over the rocks unlike the previous time I visited in April of this year &endash; then, the Falls had completely disappeared and become mere rapids. We walked along beside the river looking at the falls from various angles. They really are beautiful. It is such a shame for tourism that the road there is so bad because it could become quite a tourist attraction. As it is, very few people take the time to travel there. Interestingly, I read an article in the Post newspaper the other day which said that Danish Aid is to spend US$75,000,000 on roads in Western Province during the next 5 years. So let us hope that this road is on their list of roads-to-do.
That evening we heated up a pre-cooked meal and went to bed early. We knew that we had a long journey again the following day. We were up early and on our way by 7.30am. First stop, ferry at Sitoti. K40,000 per vehicle. Then on tar to Mongu. At Mongu, we filled up with fuel and took the road to Kalabo.
The crossing to Kalabo is interesting. There was a huge causeway which had been built to cross the floodplain but much of it had collapsed. In fact we wondered whether it had been finished in the first place as there were pieces of bridge and concrete tubes lying all over the place as if they had been brought to the site and never been put in place.
COMMONWEALTH SUMMIT UNDERWAY
Two years of hard work and preparations are coming to a conclusion this weekend, as the Her Majesty Queen Elizabeth II, Prince Charles, Heads of State and Government of the Commonwealth countries and their delegations have arrived in Kampala for their biannual summit. Related meetings like the Youth Forum, the People's Forum and the Business Forum have already been concluded or are in their final stages and will deliver their recommendations to the main summit participants. Ministerial meetings are also now underway at various venues in the city dealing with working group issues and preparing position papers for the Heads of State and Government meetings.
The Queen is, besides opening the summit officially, due to visit the Mildmay HIV research and treatment centre, which was opened by her daughter Princess Anne some years ago. More significantly for the tourism industry she will also visit the national park in South Western Uganda named after her in 1954, when she first visited Uganda. Prince Charles and Lady Camilla in the meantime are due to visit Jinja and see the Source of the River Nile, where the world's longest river starts its epic journey to the Mediterranean Sea, a must see landmark for all visitors to Uganda.
While the unpredictable weather continues to alternately drench Kampala and its suburbs with rain galore and then bask the city again in bright sunshine, this has not put a damper however on the mood of government and many Ugandans, who have worked tirelessly to prepare for the event and are now working equally hard to deliver a quality summit. To the regret of many certain print media in East Africa however continue to pour scorn over the activities, and while with half of their tongues singing (very) limited praise for the event (obviously to avoid a severe backlash from the authorities) the other half of their forked tongues speak with acid voices about the cost and resulting (non)benefits of the summit to Uganda and her citizens, and publish endless stories about the alleged trials and tribulations of ordinary people 'suffering severely' from the summit and its security preparations. The political opposition has also largely absented itself from the summit proceedings and turned down invitations to join the proceedings. Some of the cultural leaders, speak local 'kings' have reportedly even shunned to join the State Dinner for Her Majesty to demonstrate their opposition to whatever it is they feel like opposing today. The seemingly ever angry and self-pitying opposition members lost a great opportunity to make friends across the Commonwealth and make sure they are taken seriously. Some of them are said to be planning apparently an 'alternative summit' somewhere, probably under some tree with all meeting venues booked solid for months now, while yet others intend to organize demonstrations against all and sundry, in particular the latter … Patriotic indeed … as for me, it is 'Proudly Ugandan' during these days and appreciating the facelift the city got and all the improvements, which otherwise may have taken years to materialize.
RWANDA APPLIES FOR COMMONWEALTH MEMBERSHIP
'The land of a thousand hills' as Rwanda is fondly known to her neighbours and friends, is at last dropping the remaining pretence to be a Francophone country, when visiting President Paul Kagame confirmed that his country would seek full membership to the global body. Rwanda was one of about 30 countries in the Francophone group of newly independent nations, when she attained her freedom from Belgium in 1962. English was added as an official language after the genocide of 1994 and has taken the country by storm, as many of the returnees who had been forced into exile under the Hutu dictatorship years grew up in other English speaking East African countries.
Rwanda severed diplomatic relations with France last year over a French magistrate's feeble attempt to indict President Kagame over some wild allegations of having been involved in the fatal plane crash which killed the Burundi and Rwanda presidents ahead of the Hutu inspired genocide in 1994. This diplomatic row paved arguably the way for the final integration of Rwanda into the group of Anglophone countries in Africa. Rwanda also became a full member of the East African Community earlier this year, further cementing the use of English as the main business language. Even the most British of games has now taken root in modern Rwanda and cricket is being played in schools and as a recreational sport, although the country is a long way off from joining the test cricket nations. Welcome to the family then, says this correspondent, and if only Rwanda could now adopt the East African Standard Time of Kenya, Tanzania and Uganda, it would make live in the region even easier.
A SUMMIT REFLECTION
I could after all not stay away from the city as I had considered for some time, to escape those hectic days inevitably associated with such a major political meeting taking place in Kampala.
An opportunity came along to productively fill those 'spare days' by accepting a short term consultancy for a newly opened hotel, not far from my own residence, which reduced driving time to a mere few minutes, leave alone sparing me trips into the city on a daily basis. Located nearly on top of one of Kampala's major hills it overlooks the lake shores and allows glimpses towards the main summit venue, the Commonwealth Resort in Munyonyo. The elevated setting also allowed me to monitor traffic and the convoys zapping back and forth from the city to the venue down in the valley. As a Kampalean it made me proud to see thousands of visitors from across the Commonwealth world assemble in our capital city, and to have the global media houses set up camp and cover not only the proceedings but also the country as a whole. This gives our beautiful Uganda exposure and will hopefully attract in coming months and years more visitors yet, coming to meet our friendly people, explore our landscapes and see the flora and fauna, which is incredibly varied and diverse to the extreme.
The massive deployment of security across the city and the suburbs did not unduly disturb me (YET) during my daily trips up and down that great hill, and the detach around the hotel too made friendly and competent impressions on me and the hotel guests. In fact, a not entirely unexpected trip into the city under peak summit conditions revealed that, while traffic was thinner than usual it also ran smoothly, drivers were very disciplined and our traffic police looked real pretty in their new white livery. If this experience is anything to go by we at least now know that orderly traffic can be achieved &endash; I hope we will not return in coming weeks to the rowdy scenes of the pre-summit days, when often 'survival for the fittest' is the battle cry, or at least s/he wins who seems the least worried about having another fender bender while fighting over positions in the jams. More next week on how we conducted ourselves while being under the global spotlight and a few comments caught from our visitors. Watch this space.
CASSIA LODGE OPENS JUST AHEAD OF SUMMIT
A Belgian owned small upmarket hotel, nestled on top of Buziga Hill, has opened its doors to the public last weekend. It offers commanding views over part of the city and across Lake Victoria and the surrounding lake shore suburbs, including Munyonyo where the main CHOGM summit activities will take place. Presently the 'lodge' offers 20 well sized rooms, with a further 10-15 to be built some time in the future, once occupancy levels justify the additional investment. Besides a restaurant and well stocked bar the hotel offers a small business centre and wireless high speed connections in all public areas. Also available are meeting and conference facilities for small to medium sized corporate meetings and last but not least a pool which almost seems suspended in the hill side. This is the second Belgian owned small boutique hotel in Kampala after the Le Petit Village opened recently. Distance to the city's business district is only about 12 KM from the Cassia Lodge and exactly 2 KM to the Commonwealth Resort and the Speke Resort and Conference Centre, all on recently upgraded tarmac roads. The building style is distinctly different from a 'normal' hotel building and truly deserves the name 'Cassia Lodge' for its garden and hillside setting and the feeling of remoteness from the city.
The restaurant in particular offers panoramic views which are especially attractive at night, when the city is lit up and the outlines of the main hills in the city are clearly visible, making it a 'must visit' lunch, dinner and party venue. The young kitchen brigade is already living up to the high expectations and produces food of a quality which matches the 'million dollar' view. (Quoting a TV team crew member staying at Cassia while covering the summit with his colleagues)
Cassia is by the way the name of a common tree in the neighbourhood, which is very distinct with its bright yellow flowers.
RAINSTORMS CAUSED KAMPALA FLOODING
One of the heaviest downpours in recent months, lasting almost 10 hours last weekend caused the biggest damage yet in Kampala. President Museveni's convoy to the airport was delayed at the end of last week for some time when trying to leave the city, as residents were rushing away from the low lying areas, their houses were built in, to escape the rising waters. Several parts of Kampala were former drainage swamps towards Lake Victoria but had been encroached on and now easily flood whenever the weather conditions are so adverse. The President upon seeing the problems promised the gathering crowds to deal firmly with the issue of rubbish collection, as he blamed plastic bags and empty plastic water bottles to be the main cause for blocking the roadside drainages and the channels dug towards the lake. After reportedly making some calls the President eventually managed to leave but not long afterwards the Minister for Works came to the same site to inspect the problem also, before proceeding to other affected areas in the city and its environs. The Minister was subsequently quoted in a local newspaper that government would deal with the issue of illegal buildings in wetlands and take councils to task which approve building plans in designated drainage areas. Over the past months, as also repeatedly mentioned in this column, Uganda and in fact greater parts of Eastern, Central and Western Africa across the equatorial belt, have experienced out of season heavy rains which caused wide spread flooding, ruined crops and destroyed roads, bridges and other infrastructure. The Meteorological Department in fact attributed the weather anomalies to the 'la Nina' effect, while predicting more heavy rains in coming weeks.
Some three children were reported to have died on that particular day in a Kampala suburb, when their mud and wattle house collapsed on them as the waters rose fast to nearly 6 feet before gradually draining off in subsequent hours and days.
AUTHORITIES RELOCATE RED LIGHT BUSINESS
Until a few weeks ago the nightly flesh trade in Kampala took place around some of the poshest hotels in town and apart from the occasional police raids or bad weather the ladies of the night went after their business regularly just across the main gates of some of Kampala's major business hotels. No more that is. The introduction of CCTV cameras and the restored street lighting has driven the 'buyers' away, seeking anonymity and being shy that their car registrations could be detected and ending up in the rainbow press. The city authorities too took advantage of the forthcoming Commonwealth Summit and set aside certain areas in the city for the shadowy 'business' although prostitution continues to be a criminal offense in Uganda. When confronted with this contradiction therefore government, through the Minister of State for Ethics and Integrity issued a statement to the contrary, although the local media had extensively quoted a senior cabinet minister and the Lord Mayor of Kampala previously about having earmarked such 'zones'. In fact, the Minister 'ordered' the twilight ladies off the streets during the summit to the amusement of the media attending the press conference. The Minister has in fact a history of making statements which provide 'nourishment' and 'fodder' for the press. Make sense out of this as we are also wrestling with the issue.
Out of sight however is not out of business this correspondent contends, and in this day and age, in a country fighting HIV / AIDS with vigour, more needs to be done to offer alternative sources of employment and income for prostitutes and as and where necessary and possible not only the women but also their 'clients' should have to answer charges in court as a deterrent to others.
MORE WOES FOR CONGO
The Lake Albert Rukwanzi Island in the middle of a border dispute &endash; initiated by Congo DR when they decided the challenge the colonial borders &endash; has now become the centre of a medical emergency of the highest order. Cholera has broken out on the Congolese side of the island with some 60 cases reported. As is generally the case in Congo (also reported recently over an Ebola outbreak in the centre of the sprawling jungle nation) health care is not a key priority for the authorities and the victims have gone untreated in the absence of health centres, doctors, nurses and drugs. It was reported in the local media that Congolese authorities are now making arrangements to evacuate the victims of the disease and try to find treatment for them on the mainland, unlikely as this sounds. Congo is alleged to have 'stuffed' their side of the island over the past weeks with people to underscore their territorial claim. Yet the vastly increased population in a small area not able to sustain such large populations is now paying a terrible price for the ambitions and mistakes of their militant regime. Facilities and infrastructure cannot cope with the numbers allegedly 'imported' by the authorities, resulting in a severe cholera outbreak, which in the absence of a functioning health centre and clean water is probably getting worse first before being contained.
Ugandan authorities have in turn made swift arrangements for people on 'their' side of the island to be monitored so as to capture any outbreak at the earliest possible time. The porous borders with Congo have for long been of concern for the health authorities in their neighbouring countries, as diseases like Ebola and similar haemorrhagic fevers, but also cholera and even polio have long been spread across the borders into populations which had received vaccinations against polio and enjoy health services, as limited as those may be in remote areas.
Meanwhile, fresh domestic fighting in the East of the country (near the gorilla national park bordering Uganda and Rwanda) between the regime's soldiers and liberation forces aiming to protect minority tribes interests have once again displaced at many as 50.000 people who fled from the violence into the jungle and towards the Rwanda and Uganda borders, seeking safe haven from the marauding soldiers. The Kinshasa based regime has a notorious record how it treats its own people and its wildlife conservation records are equally miserable. In past years the entire Northern White Rhino population, the last in the world, has been wiped out in Congo's Garamba National Park, which the regime surrendered to Ugandan rebels and terrorists. Even many of the highly endangered mountain gorillas have been poached in the recent past by what are often suspected to be government officials themselves, trying to make up for months of unpaid salaries and allowances.
AIR TANZANIA FLEET NEWS
Tanzania's national airline has now all but confirmed that they will get their first Airbus A320 before the end of the year, at which time their planned fleet renewal will begin in earnest. The first Q300 is also due to join the fleet around the same time, if not before, while delivery of their ordered Q400's is due by end of 2008 and early 2009. It was also learned that the operating losses caused by the previous management of about 1 million US Dollars a month have been very substantially reduced already, which allowed the Tanzania government to phase out the monthly subsidy for ATCL. The airline is understood to be partnering with a major Chinese carrier, which is intent to commence flights to East Africa and use Air Tanzania to feed and defeed traffic into the region and across the continent. It was also learned that a buyer is in the frame to acquire one of the ATCL B737 aircraft with the intent of the operating it in the region, which would be good news for Air Tanzania's cash flow of course. Watch this space for emerging aviation news from the East African region.
SODA ASH PROJECT PUT ON HALT
Following the exposure of the controversial soda ash extraction project underwritten by India's Tata Corporation, pressure piled up on the Tanzania government to review its position and cancel the deal. Within days of the international media catching on to the story the company was then told that the deal was being reviewed in view of the expected impact on the environment in general and the breeding grounds of the lesser flamingo along the Lake Natron shores in particular. The tourism and conservation fraternities from across East Africa had stood together and complained about the plans, which could very well have wiped out the one and only breeding ground of the birds and subsequently destroyed the entire population within a few years. Well done to everyone making contributions towards the preservation of the ecosystem around Lake Natron.
POLICE CHIEF APOLOGIZES FOR TRAFFIC MESS
As reported in last week's column, traffic trials ahead of the Commonwealth Summit spiralled out of control, clogging the city for hours at end and turning motorists into one angry crowd. While a police spokesman tried to put gloss on to the situation and asked 'please bear with us' this only drew acid replies in radio call in shows accusing the traffic police of incompetence, contempt for the general public and motorists in particular. The Inspector General of Police, Major General Kale Kayihura then took the laudable initiative to come forward and apologize to the public and suspend the trials to allow for time to reorganize traffic control ahead of the summit. It would appear that the IGP himself got caught in the mammoth traffic jam his officers caused and being an equal victim prompted him to react sharply to the mess.
Individual police officers were accused of being high handed and insensitive to the problems they created at their stations, causing traffic to grind to a complete halt across all the entry and exit points of the central business district and into the suburbs. The IGP also said that hosting the summit should be a happy moment for Ugandans and warned off his officers from harassing the public and stick to their allotted duties. The outbursts of angry callers on radio call in shows seems to have triggered prompt action from government to appease the general public and avoid a wider anti reaction, which the political opposition would wish to exploit for their own anti summit aims. However, a mid week night traffic trial produced an interesting reaction from residents. Most people left the city early to avoid being caught by surprise and being unable to reach home until late. Key traffic arteries were locked down for motorcade dress rehearsals, something apparently to be repeated again this coming Sunday, which once more is likely to see an empty city centre. The beautiful country side is beckoning ever more for those who can get away from the city, which in fact would be a nice boost for domestic tourism. That is at least for such sites which are not earmarked for official CHOGM visits like Queen Elizabeth National Park, as ordinary folks can expect summit related hassles there too.
CHOGM SUMMIT NOW MAKES PUBLIC HOLIDAYS
In a surprise turn of events government has declared next Thursday and Friday public holidays. This measure will inevitably keep much, if not all of the business and work related traffic out of the city and in a way remove the anticipated problems of commuting into the city. Schools, universities, all government offices, banks and businesses will remain closed. This will greatly relief pressure on the key roads to and from the summit venues. So for all who can it should be 'stock up and stay home' or else get out of the city altogether and enjoy a very long weekend in upcountry homes, the national parks or on the islands in Lake Victoria. The business community however has voiced concerns over the loss of two productive days and having to foot the cost of the work outages. Uganda already has a generous public holiday regime leading to a higher cost base for companies compared with many other countries and every extra off day weighs heavily on the bottom line of businesses.
In the meantime the Commonwealth Youth Summit has gone underway at the Imperial Resort Beach in Entebbe with the arrival of several hundred of participating young people in the country. This opens the formal summit activities, which will also include a People's Forum and a Business Forum. The parallel activities will allow for the development of stronger ties between Commonwealth nations, their people and their business communities. Forum resolutions and recommendations will be formally handed to the Head of Government Summit participants for their consideration.
MINISTRY OF TOURISM TO INSPECT HOSPITALITY BUSINESSES
A public notice was served on all hotels, restaurants and entertainment businesses that the long overdue inspection of business premises would commence instantly to ensure standards are as prescribed and expected. It is not immediately clear which law or regulations have been used to cover this exercise, as neither the new draft tourism bill has been passed nor the new regulations been promulgated. However, the exercise is due to cover such areas as signage, state of the premises, safety and security measures, staff professionalism, guest room standards, food production and storage areas, hygiene and general infrastructural readiness in regard of water, electricity, and back up systems. There was also no available information on sanctions or measures to be taken against substandard establishments.
BRUSSELS AIRLINES NEWS
In time for the forthcoming Christmas high season the airline will add a long awaited 4th weekly flight every Sunday from Brussels to Entebbe, as incidentally already reported in this column several months ago, when the news of the plans could be confirmed from airline sources in Brussels. The acquisition of an additional A330-200 aircraft allows the capacity increase on the route but also across the airline's Africa network, one of the best from any European capital city.
The airline is also establishing a crew base for the Great Lakes region in Uganda, cognizant of the fact that they now serve Kigali, Bujumbura, Entebbe and Nairobi. The crew hotel selected is the Speke Hotel and Conference Centre / Commonwealth Resort in Munyonyo, which will next weekend also host the retreat of the Commonwealth Heads of Government. With all necessary accommodation and recreation facilities in place this choice will allow the crews to enjoy their stay on the shores of Lake Victoria before their deployment on long haul routes back to Europe.
Some of this information was provided by the airline's Senior Vice President Sales &endash; Long Haul and African Projects Mr. Etienne De Nil, who visited Uganda during the week.
News are also awaited on Brussels Airlines' bid for Rwandair, where they are the leading contender in the privatization exercise presently in its final stages. In addition, Brussels Airlines is now also partnering with Congo based Hewa Bora Airlines, the only Congolese carrier licensed by the EU to fly to Europe. They are reportedly also actively seeking similar partnerships in other West African countries. This constellation, if the Rwandair bid is successful, will likely establish a feasible air bridge between West and East Africa under Brussels Airlines auspices and make the crew base in Entebbe even more important in years to come. This in fact may become more significant if plans do materialize to commence flights to Tanzania. The airline is understandably hush hush about their intent but the growing business and tourist traffic to Tanzania can simply no longer be ignored by Brussels Airlines, which already is the leading European airline to the Great Lakes region and would do well to further cement their market share and destination spread across Eastern Africa.
EVER HEARD OF 'GROUP CELESTAIR'
Air Uganda, aka Meridiana Africa Airlines (U) Limited, has apparently now taken to the skies, using first generation DC 9's for their operation. Industry experts have already raised questions on their likely operating cost in view of record fuel prices at the moment, as the aircraft is known to be a fuel guzzler of the highest order, more so as the fares advertised under asterix (see final paragraph) are lower than what has since been charged. If this signals a price war with Kenya Airways remains to be seen but in view of past experiences no airline in the region has yet managed to break KQ's standing in the region through lower fares and aggressive attitudes.
Incidentally, no answers could be received on the actual age of the aircrafts, which were obviously given a new coat of paint before their deployment to Uganda. The aircraft were introduced to the Ugandan public last week, when a series of 'test flights' were conducted, something which could not be ignored by onlookers as the noisy aircraft screamed down the runway and into the sky with exhaust fumes clearly visible as from a different aviation age.
The new Uganda Civil Aviation Air Service Regulations require supervised non-commercial test flights from new operators applying for an AOC under the Uganda regulatory regime to ensure the new airlines actually have minimum levels of competence. As to the obscure 'Group Celestair' painted on the side of the aircraft, readers may wish to seek out the web and try establish what comprises this 'group'.
Meanwhile a clear trend is visible to use organization friendly news media to head bash Kenya Airways over their pricing, occasional operational problems or even highlight KQ's drop of profits over the past year, with the apparent aim to soften up the public and turn their sentiment against East Africa's leading airline. No word of compliment on KQ's use of environmentally much more friendly aircraft though, which is in stark contrast with the fleet employed by the upstart, nor about the contributions the airline made over the past 15 years to help develop traffic into Uganda. It is therefore suggested that what such reporting is really aiming for is to help create traffic share on the Entebbe &endash; Nairobi route for a sister company and this should be openly said.
And all this incidentally on the same day when the European Commission exposed as 'misleading' some 200 airline websites in Europe for not being in compliance with consumer protection guidelines, such as showing taxes and other fees included in the advertised fares and instead referring to unspecified 'terms and conditions apply', well well well …
FINAL CALL FOR MARATHON REGISTRATIONS
The annual MTN Kampala Marathon will this year be run on Sunday December 09th as previously reported in this column. The registration period is now however closing imminently and interested participants from abroad can rush their participation requests to mtnmarathon@mtn.co.ug or register directly through the website www.mtnkampalamarathon.co.ug before the end of the week.
SKAL KAMPALA ANNOUNCES DATE FOR ANNUAL BALL
The Kampala Skal chapter 611 has set the 15th of December as the date for their annual dinner dance. Skalleagues interested to visit from the region and further abroad can contact the club president James Rattos at the Sheraton Kampala Hotel james.rattos@apolohotel.com. James will on request give the particulars of the function and can even make arrangements for transport from and to the airport cum accommodation if required at the completely refurbished Sheraton.
SHERATON'S EQUATOR BAR REPLACES RHINO PUB
After the reopening and rebranding of the Hippo Grill and Rhino Terrace last week the former pub was next in line, when it reopened as the 'Equator' bar. The former slightly grubby pub atmosphere has gone out with the wind and a new and very stylish bar, more resembling a lounge now and reflecting the changing face of the Sheraton Kampala Hotel, has emerged from the upgrading and renovations. High French windows allow a view across the outside Paradise Terrace and light colours and fabrics make the 'Equator' a sure crowd winner, although the demographics and customer profile, compared with the former pub operation, are likely to change now and probably for the better this correspondent adds.
INFLATION RISES AGAIN
The global trend of rocketing fuel prices has hit home as inflation is once more rising fast. Cost of food and other items depending on transportation to the capital city Kampala from the upcountry farms has shot up substantially, driving inflation to a new year long high. There may be additional fuel supplement charges underway for safaris and air charters to cover for the unexpected cost increases and visitors are advised to enquire with their tour and safari operators to avoid unpleasant surprises.
NEWLY OPENED HOTEL 'DOES NOT LIKE KIDS'
As recently reported in this column, the Kampala Metropole Hotel has opened its doors to the public some two weeks ago. A leading travel agent made subsequent enquiries about child rates and the availability of cots or small beds in the rooms, only to be told - in what she felt was a dismissive and flippant tone &endash; that children were not welcome at the hotel as the owners were only targeting the business market. They did not want to cater for families or individuals travelling with one or more of their kids. Certainly an interesting approach for a newly opened hotel which needs heads on beds first and foremost. Much deserved barbs for the Metropole and its owners and management. Surely all the other hotels will be pleased about this policy and make their own offers for visiting families.
COMPUTER FAILURE CAUSED BORDER JAMS
The failure of customs computer networks for several days caused massive jams along the two main border entry points from Kenya at Busia and Malaba. Trucks were piling up more than 10 kilometres, impacting also on passenger and tourist traffic into Uganda. The same situation arose on the Ugandan side of the border, where trucks wanting to leave the country could also not be processed. Transport companies claim the journey from the port of Mombasa now takes over 10 days because of red tape and very bad roads on both sides of the border, leading to sharp increases in the cost of imports.
CONFUSION OVER SUMMIT TRAFFIC RULES
Some serious concerns have been voiced by residents along the main traffic arteries to be used for the forthcoming Commonwealth Summit. Seemingly careless talk picked up by the local media from individuals responsible for the traffic flow indicates that routes towards the retreat venue in Munyonyo &endash; a Kampala suburb along the Lake Victoria shores &endash; may be closed for general traffic. This leaves residents now wondering how they can reach their work places, go shopping, take kids to school, receive visitors or even go home in the evening. Some of the areas neighbouring those routes have only that single access road to the city and should such routes be closed for general traffic the population would be left stranded. Affected areas are the entire neighbourhood of Munyonyo, Buziga, Konge, Makindye, Kansanga, Bunga and Gaba, where this correspondent lives. Such prospects make it ever more attractive to be away for the summit period and take some well earned vacation time or else attend to assignments outside Kampala (there is no tourism element on the agenda of the summit deliberations requiring sector specific reporting). In fact, 'traffic trials' carried out during rush hour already caused motorists to miss appointments, failing to pick kids from school and getting home on time when journey's taking otherwise 30 &endash; 40 minutes took up to three or more hours. Public transport during the period was scarce if not absent altogether as busses were not allowed back to their stages. Not a good way to create sympathy and positive affection for what is still to come … a police spokesperson was subsequently quoted in the local media, as if adding insult to injury: 'we are making a humble appeal to members of the public to bear with us. We shall provide alternate routes'. However, no such alternatives were seen to be available causing outcries from the general public to respect their own rights and stop treating them with such contempt.
The Bulago Island Lodge has in fact advertised special packages for residents of Kampala for a week long stay on the island during the summit period to 'escape the summit craze' and other lodges and hotels upcountry also expect excellent bookings from 'escapees' who wish to avoid the hassle ordinarily associated with such major political meetings. Visit the Bulago website at www.islandinthesun.biz and stand by for this correspondent's experience with traffic during the summit period, unless he also decides to join the exodus from the city to preserve his sanity.
TENDER FOR WILDLIFE TRAINING INSTITUTE CANCELLED
Inexplicably, and to the great disappointment of the tourism and conservation fraternity, the tender for bids to construct three classroom blocks and an administration building in Katwe near Queen Elizabeth National Park, was cancelled this week. The Ministry of Education and Sports had some time ago advertised in the local media for 'open domestic bidding' for the work scope. The institute was transferred to the Education Ministry at the same time as the Hotel and Tourism Training Institute but was closed for several years. This denied training opportunities for field guides and other courses for rangers of UWA who had benefitted from the training facility until it was transferred several years ago. Information will be sought from the Ministry of Education to understand the reasons for the tender cancellation and the new timeframe under which the facility will subsequently be upgraded.
AIR UGANDA TEASER ADS START
Meridiana Africa Airlines (U) Limited, aka Air Uganda, has now started placing teaser ads in the local media, which by conventional wisdom indicates that they may in fact now start operations after all within the next one or two weeks. It is however understood that they continue to face problems with traffic right issues between Kenya and Uganda. Usually well informed sources were coy over the reasons for this situation and, while not going on record, indicated a lack of understanding by airline management of the complexities of the rights issues.
WILDLIFE OFFICIAL 'MOCKS' CONSERVATIONISTS
Controversy has once again emerged over some hair brained scheme to allow the shooting for sport of 28 leopards, a proposal allegedly smuggled into the last CITES convention by a Ministry official for approval. While wildlife officials accept that they have no idea of exactly how many endangered leopards they have across the country or even inside protected areas, conservationists have heavily criticized the plan to hunt the nocturnal cats. The mockery accusation was made following a published article by acclaimed conservation journalist Gerald Tenywa in the New Vision (www.newvision.co.ug), where it was reported that the ministry official had said: 'they [the leopards] are like Jesus Christ because they die to save thousands of other animals'. Calls have since emerged demanding that the official in question should be relieved of his duties in the public interest and several members of the conservation fraternity have vowed not to rest until the man has been retired from duty to allow a review of this proposal and subsequent reversal of the killing plans. The Uganda Wildlife Society, which is affiliated to the East African Wildlife Society in Nairobi, is the main platform from which the struggle for the leopards will be taken to government. Complaints will reportedly also be filed with CITES and other international organizations and pressure be applied on such institutions funding Uganda Wildlife Authority to withhold payments until such decisions as hunting leopards are reversed. Judging by the success of the struggle against the Mabira forest give away by government this will be an interesting development to watch and see, how UWA and its home ministry can weather such a brewing storm.
This is taking place at the same time the evolving Queen Elizabeth National Park quarry story is already stirring great controversy over the country's true commitment to conservation. In fact it was in Queen Elizabeth National Park that herdsmen, who had invaded the park and roamed it with their cattle herds with impunity for years (before being at last evicted a few weeks ago ahead of the Queen's visit in November), had killed large numbers of predators while UWA was standing by and watched.
Local print media have also caught on to the controversy and editorials and readers letters counselled caution over the hunting plans, more so as Tanzania is actively reviewing their hunting policy at present and Kenya has since 1976 prohibited hunting altogether. Efforts there to once again allow hunting have so far been foiled by the conservation fraternity. Uganda had for some time now undertaken a hunting pilot project outside Lake Mburo National Park but authorities never published the findings of the study inspite of firm undertakings to discuss the matter with stakeholders, in particular the tourism fraternity. A camp operator in the area of the pilot project in fact advised that the echo of shots fired caused alarm and disquiet amongst ordinary tourist visitors in camp at the time. These tourists in turn then complained bitterly about coming to Uganda to see wildlife in a park only to hear that the same animals would be hunted just a few kilometres away from the park and camp. Follow the news in this column every Friday.
LAFARGE UNDER THE SPOTLIGHT
French company Lafarge, owners of the local Hima Cement company, has come under scrutiny over Hima's plans to use 450 hectares of national park land, which allegedly also extends into part of a Ramsar site. Information obtained about Lafarge claims the company to be in close association with WWF, the world business council for sustainable development and habitat for humanity, all organizations by their very nature critical to the type of the proposed exploitation of the park land to mine limestone in an open quarry. Limestone is harvested through blasting and from open digs, causing immense dust clouds and vibrations from the explosions, leave alone the noise pollution all of which is a recipe to drive animals away. It is also claimed by wildlife experts that the dig site would block wildlife migration corridors in and out of the park, further impacting and aggravating an already untenable situation.
Calls are becoming louder, according to findings of this correspondent, to take Lafarge to task in the international arena and hold them accountable for the plans of their Ugandan company. Efforts are reportedly underway, as had happened with the Save Mabira campaign, to open an international petition website so as to expose the French company, their management and in particular the shareholders of the company to an open debate and seek explanations how membership and cooperation with WWF can be reconciled with such flagrantly exploitative plans. International companies have become wary of such exposure, in particular their shareholders, as they wish to stay anonymous and in the background. It is often shareholder pressure on management which then makes them change their plans and many cases are on record where top managers were sacked over their intransigence and having kept their eyes only on the profit line and not lived up to social responsibility which goes along with the job.
In fact, latest information received now suggests that a major 50 million US Dollar loan application by the company through the World Bank private sector lending arm IFC has already been put on hold, as the World Bank has been a major source of funding for the rehabilitation, upgrading and sustainable management of Uganda's national parks. The World Bank has in the more recent past been more vigorous in regard of the environmental impact of such projects and has been listening more keenly to the conservation fraternity, before approving any funding.
TANZANIAN SODA ASH PROJECT UNDER FIRE
As controversy rages on in Uganda over plans to use part of Queen Elizabeth National Park for limestone mining, fresh disagreements have broken out between Kenya and Tanzania over plans to use an environmentally sensitive part of Lake Natron for extraction of soda ash. A similar venture in Kenya at Lake Magadi goes back decades into pre-independence days, for which reason Lake Magadi was later on excluded from becoming a protected area. Lake Natron however is the annual breeding ground for the millions of Flamingos, which criss cross East Africa to feed in the main soda lakes (Lake Nakuru, Lake Bogoria, Lake Elementaita) in search of food and migrate every year back to Lake Natron to hatch. Plans to build a soda ash factory at this crucial site has now raised the heat between Kenya and Tanzania, with conservationists pointing out the danger to the survival of the Flamingo population, which depends entirely on their single breeding ground. Any major disturbance of this fragile ecosystem is said to have a fundamental impact on the breeding grounds and may be able to wipe out the entire population of the birds within years. Flamingos only breed every few years and are known to have abandoned their traditional breeding ground before when they felt disturbed, loosing an entire generation of the birds as a result. They make shallow mud nests along the Lake Natron shores, otherwise unprotected from predators, and it is only the climatically hostile environment which provides protection to the birds. Any influx of traffic and people, leave alone an industrial extraction plant, will heavily impact on this situation, as leading conservation and wildlife NGO's from across East Africa and the world at large have pointed out.
Conservationists have already lined up heavy legal guns to support their efforts of blocking the industrial development in Tanzania and have moved into the international arena with petitions and boycott calls, which may not only affect the promoters TATA Chemicals of India and the financiers of the project but also Tanzania as a tourism destination. Watch this space to get more news in coming weeks.
KENYA AIRWAYS SUSPENDS KISUMU FLIGHTS, AGAIN
Following major maintenance for their Saab 340 aircraft, KQ has suspended their Kisumu flights once again. The airline has refused to deploy their new Embraer 170 aircraft on the route citing the state of the runway as a major obstacle. An airline official confirmed that small stones and loose gravel found on the runway may be sucked into the engines causing damages to the aircraft and requested the Kenya Airport Authority to carry out more repairs to the runway ahead of the planned major expansion and resurfacing of the single runway the airport has. Kenya Airways has also suspended flights to Bamako in West Africa due to safety concerns over the state of the runway at Senou International Airport. Visit the airline website for updated information on their schedules www.kenya-airways.com
FLY 540 PLANS FOR REGIONAL FLIGHTS
Lonrho Africa has confirmed plans for further investments in their aviation offspring Fly540, in which they hold a 49 percent share. They are said to eye in particular the Angolan market for which they appear to have selected a partner already. Information received some months ago already shows that the private Kenyan airline is looking at Juba / Southern Sudan but may also be preparing to spread their wings to Kilimanjaro, Dar es Salaam, Zanzibar and Entebbe. This would give them a full regional network and allow long haul carriers landing in Nairobi use these flights to feed and defeed. More aircraft are on order by Fly 540 and once delivery takes place the airline will offer more choices to travellers.
GOLDEN NAPED WEAVER FOUND IN SEMLIKI
A bird species previously not recorded in Uganda, the golden naped weaver, has recently been identified in the Semliki Game Reserve (formerly Toro Game Reserve). This brings the total number of birds found and identified, meeting the international requirements, to 1020 across the country. The bird was on rare occasions seen previously in the Ituri area of the Congo DR and is said to be a forest resident. The bird is thought to have migrated across the rainforest to the Semliki area and made a new home there.
Uganda is generally recognized as a leading bird watching destination in global terms, with Queen Elizabeth National Park alone having a confirmed bird count of 606 species, with several more awaiting the crucial second independent sighting before being added to the list. The news were broken by Mr. Achilles Byaruhanga, Chief Executive of Nature Uganda, a leading conservation NGO working across the country to maintain the extensive biodiversity and sustainably exploit it for eco tourism purposes.
Semliki Game Reserve, located in the Albertine Graben, can be reached from Kampala by air to the lodge's own airstrip (air charters by single or twin engined aircraft from Entebbe International Airport and the Kajjansi airfield) or by road via Fort Portal. Some very upmarket accommodation is provided by the Semliki Safari Lodge, a member of Wildplaces Africa. Other attractions in the park are chimpanzee tracking, night game drives to spot leopard and other nocturnal game, boating on Lake Albert and seeing a variety of different ecosystems extending through the reserve. This correspondent described the Semliki Wildlife Reserve in a previous article as a 'prime piece of African wilderness real estate', where the remoteness adds to the unique experience visitors can enjoy. Visit www.wildplacesafrica.com for more information or go to the official UWA or UTB websites www.uwa.or.ug / www.visituganda.com and seek the link to the Semliki Game Reserve.
TOURIST ATTRACTIONS GET FACE LIFT
Ahead of the summit month in November, when the Commonwealth assembles in Kampala for a series of meetings, some of Uganda's key tourist attractions have been renovated. Sites which benefited from the capital injections are, amongst others, the Martyr's Shrine in Namugongo (focal point every year for Catholic pilgrimage on 'Martyr's Day), the Kasubi Tombs (the final resting place of the Kings of Buganda), the Wildlife Education Centre in Entebbe (formerly the Entebbe Zoo), the National Theatre and the Uganda Museum in the city and the Source of the Nile in Jinja, where the world's longest river commences its epic journey to the Mediterranean Sea. The anticipated 5.000 officials and delegates coming to Uganda have the opportunity to see these important sites and attractions as part of the official programme. HRH Prince Charles, who is also due to visit Uganda during the summit, has already made arrangements for his visit to Jinja and is expected to take a white water rafting trip down the rapids of the upper Nile valley. Uganda will benefit within the Commonwealth family of added exposure and promotion of its tourist sites through over 1.000 journalists who have been accredited already. The country also hopes to attract record numbers of tourists once again in coming years but tourism private sector officials have already warned that the budget for the Uganda Tourist Board has to be increased tenfold to truly put Uganda on the global map and keep it there.
FLOODS EXTEND TO CENTRAL UGANDA
Only about 60 percent of the affected population in the North and East of Uganda are now receiving regular food aid, often delivered by WFP planes dropping the supplies from the air due to lack of available landing sites. Roads and bridges still remain flooded in many areas and land transport has been all but impossible. More roads have in fact been closed due to structural problems on bridges which were submerged in the floods and suffered at times severe damages. Emergency repairs have been initiated to gain access to the affected areas and begin delivering food supplies by road once again.
Latest reports now also inform about lives lost in the central Ugandan region near Mubende and about 120.000 people being affected there by rising flood waters of rivers swollen by continuous rains. Torrential rainstorms keep sweeping across East, Central and parts of West Africa and at least in Uganda the peak of the rainy season is still to come. Visitors are advised to check with their safari operators ahead of their travel to avoid disappointments.
NILE BRIDGE TO BE REHABILITATED
Government has now advertised the work scope and invited construction companies to go through the prequalification process ahead of the tenders being made public. The single major bridge across the river Nile in Jinja runs across the main hydroelectric dam and requires major works in coming months and years to keep it safe and structurally sound. The dam was initially constructed in the early 1950's and officially opened by the Queen during her 1954 visit to Uganda. Plans have also emerged that a new bridge is due to be built halfway between the present dam and the railway bridge, which is several hundred metres upstream. The road across the present dam is the lifeline for imports to Uganda from Kenya's seaport Mombasa, and crucial also for supplying Rwanda, Eastern Congo and Southern Sudan. The new bridge will relieve the pressure on the present crossing when completed and leave the road across the dam then as a fall back.
SOROTI FLYING SCHOOL TO GET NEW PLANES
The East African Aviation Academy in Soroti, Eastern Uganda, has been promised 5 more single engined and one more twin engined planes to improve the facilities at the