its commitment to safety.
Flight News from East Africa by Prof. Wolfgang Thome

Hot News from East Africa
More Hot News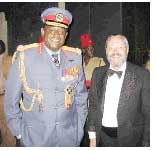 Photo: Profl Thome (right) with Forest Whitaker
star of movie Last King of Scotland

EMIRATES MOVING TO NEW TERMINAL 3 IN DUBAI
The Kampala office of Dubai's global airline has now given out information, that the airline will move all operations to the new terminal 3 at Dubai's International Airport from about mid October this year. The new terminal is expected to double the airport's current passenger throughput and the opening will come into effect over several phases. This is thought to avoid a repeat of the disgraceful opening of the new Terminal 5 at London's Heathrow Airport a few month ago, for which both BA and the British Airport Authority came under sustained criticism. Thousands of pieces of luggage were lost at the time and passengers messed about to no end, compounding the loss of popularity of BA from the former 'world's favourite airline' to 'Best Avoided', as voiced by many travellers.
Emirates and the airport management in Dubai are already, according to the report, training staff and testing systems. Eventually all Terminal 1 operations of Emirates will move to the new terminal, concentrating all the airline's arrivals and departures in the new facility.
Several more test runs and trials will be conducted between now and the expected opening date. Dubai expects to handle up to 40 million passengers this year and inspite of the global aviation crisis Emirates seems nearly immune against the global trend bedevilling the industry right now. There seems no end in sight of the boom created by 'Dubai Incorporated', which started its vision for a transformation of the Emirate in the late 70's and subsequently saw the biggest building boom and infrastructural developments over the past 30 years ever witnessed in human history.
A
iArport of the Year Rankings
http://www.skytraxsurveys.com/
FLY540 UGANDA BRINGS IN AIRCRAFT
Having been granted an AOC by the Ugandan Civil Aviation Authority &endash; an expensive duplication of a process already in place in Kenya but required by stubborn regulators still unwilling or unable to delegate part of their oversight and control functions to another East African Community member state CAA &endash; Fly540 has now acquired and put on the Ugandan registry initially two converted F27 freighters, which will operate out of Entebbe into the region and provide sufficient capacity to cater for transit air cargo destined beyond Entebbe. Often times in the past cargo reached Uganda by air through European or Middle Eastern airlines on pallets, but then had to be delivered by truck to its final destination in Eastern Congo or Southern Sudan due to lack of adequate palletized or loose cargo capacity on onwards flights. This problem has now finally been solved to the relief of air cargo agents in Entebbe.
News are also expected on passenger operations originating from Uganda's main aviation gateway, so watch this space for breaking news on Fly540's plans.
BRUSSELS AIRLINES EXTENDS ETIHAD CODESHARE
Information was received from SN sources that the main Belgian airline, of late the newest member in the Lufthansa family, has extended their codeshare arrangements with Abu Dhabi's flag carrier Etihad. The Gulf airline can now offer 'through' tickets for their four weekly flights to Brussels to connect their passengers to the Scandinavian capital cities of Oslo, Copenhagen, Stockholm and Helsinki. All connecting flights will be operated on Brussels Airlines equipment.
Brussels Airlines also confirmed that their tie up with Lufthansa and eventual entry to Star Alliance, the world's leading global airline alliance, will have no affect on their present contracts and long term cooperation plans with Jet Airways. For the coming winter season around 20 European destinations connect Jet Airways passengers within two hours of landing in Brussels through SN flights, a substantial increase from the previous schedule. The cooperation is expected to initially feed some 6.000 passengers a month to Brussels Airlines flights and these numbers are expected to increase further by 2009.
AIR UGANDA NOW GOES DAILY TO JUBA
Information was received that Air Uganda has upped their frequencies from 5 per week to daily flights between Entebbe and Southern Sudan's capital Juba. Load factors on this particular route show the best performance within their route network, justifying the extra flights.
Royal Daisy Airlines in the meantime is still without their Embraer 120, which also plied the route with daily flights but is now undergoing heavy maintenance with no replacement aircraft in sight as of going to press. Third contender on the route, Eagle Air Uganda, reduced their scheduled flights to three times a week via the Southern Sudanese town of Yei, basically leaving the profitable Juba route without serious competition at this time. Eagle Air however has commenced scheduled operations to Bunia in Eastern Congo using Beechcraft 1900B and LET 410 aircraft. Brussels Airlines has also recently signed an agreement with Air Uganda to cater for connecting passengers in Entebbe to and from Juba.
ETHIOPIAN OFFERS OUAGADOUGOU
Information received from the ET offices in Kampala indicates that from end October onwards they will fly six times a week from Addis to the West African destination, using a B757 aircraft. The flights will be routed via Accra and Abuja, although Lome is also still a possibility for a stopover.
Ethiopian Airlines, together with Kenya Airways, offer the most comprehensive inter African networks and are largely responsible to not only connect Africa within but also connect Africa to the rest of the world.
RWANDAIR TO ADD CARGO SERVICES
The Executive Chairman of Rwandair earlier in the week confirmed that Rwanda's national airline is due to establish a separate cargo operation in a few months time. The strategic objective of this move will be to guarantee affordable, regular and dedicated airfreight capacity to export flowers, fruits and vegetables to the consumer markets in Europe and the Middle East, as the present capacity for palletized cargo is limited to the flights of Brussels Airlines, and for loose cargo to Kenya Airways and Ethiopian. It was also confirmed that negotiations with Lonrho Africa's airline partner Fly540 are on course and expected to be concluded soon. This will result in the Rwandan government selling 49 percent of its stake to Fly540 while a portion of the remaining shares will then go to some institutional investors from Rwanda itself, to retain the required number of shares for the nationality clauses in international and bilateral agreements with other countries.
The airline has also confirmed that they are putting t
DELTA'S NAIROBI FLIGHTS PUSHED TO 2009
Delta Airlines, a partner of Kenya Airways through their mutual Sky Team membership, has now reportedly moved their intended flights to Nairobi further into the future. Prior to the post election violence in Kenya, the inaugural flight was due to have taken place already, but owing to the market down turn in the wake of the violence, Delta then decided to launch a few months later than initially planned. This however has now, according to aviation sources in Nairobi, been postponed once more and the launch of the much expected flights, said to be initially three a week between a yet to be confirmed gateway in the US and Nairobi, will now not take place before some time well into 2009..
AIR TANZANIA FLEET UPDATE
The two recently acquired Bombardier Dash 8-300Q have now commenced service, after having been repainted in the livery of Tanzania's national airline. The two aircraft will be deployed from Dar es Salaam on the routes to Kilimanjaro / Mwanza, Zanzibar, Kigoma, Mtwara and Dodoma as well as other domestic destinations. It is also understood that the Tanzania Government has now issued the guarantee to the lessor / owners of the new A320, which Air Tanzania is to receive shortly, fulfilling the last outstanding contractual element before delivery of the aircraft. Technical personnel and crew are already undergoing training and typerating on the aircraft, ready for delivery and deployment. Additional aircraft purchases are also at an advanced stage, underscoring the political will of the Tanzanian government to keep ATCL independent from snap up vultures hovering in the region and operationally capable to strongly compete in the East African aviation market and beyond. Well done indeed!
AIR TANZANIA TO PARTNER WITH CHINESE AIRLINE
As indicated some time ago in this column, it has now finally been confirmed that Air Tanzania will indeed invite a Chinese airline to acquire 49 percent of their shares and inject much needed extra capital into the Tanzanian national airline. According to further information available the China Development Bank will make loans available for the purchase of additional new planes in coming months, probably of both Airbus and Boeing make, to allow the airline resume traffic on international, continental and regional routes which it could not serve due to lack of suitable aircraft. The airline already operates a recently acquired A320 and two recently acquired Q300, with two Q400 turboprop aircraft due to join the fleet in 2009. While this development means good news for Air Tanzania and Tanzanians and the country in general other airlines in the region will have to take a hard look at their own business strategies, in particular smaller one or two plane and upstart airlines, to be ready when Air Tanzania will eventually unleash quality competition on them.
AIR ZARA JOINS THE THRONG
A family owned airline has now reportedly started operations from Dar es Salaam with a Boeing 737-200, not the best of credentials these days for an upstart company, as this type of aircraft &endash; while cheap to lease or buy &endash; burns substantially more fuel compared to more modern jets and is more expensive to maintain. The aircraft is reportedly fitted with 14 business class and 96 economy class seats, again considered large for the Nairobi route they intend to fly regularly on scheduled services. The aircraft will also be available for charters according to the promoters. The airline headquarters will be based at the international airport in Dar es Salaam. Best of luck to the newcomers, safe landings and time will tell just how well they will eventually do.
PRECISION AIR DOUBLES ARUSHA FLIGHTS
In a long awaited move has Precision Air, Tanzania's premier private airline, now added a second flight from Dar es Salaam to Arusha. The airline also announced extra flights to Zanzibar from Kilimanjaro International Airport and Dar es Salaam as well as more weekend flights to Nairobi. As Precision is preparing for the delivery of a second B737-300 they are now positioning themselves to aggressively compete in the market ahead of the expected market entry of new players and amid the ongoing revival of Air Tanzania.
KENYA AIRWAYS LAUNCHES AVIATION TRAINING CENTRE
In a move setting the Kenyan national carrier further apart from other airlines in the region, KQ has now opened its ground breaking aviation training centre. The facility is reportedly already being used for KQ staff but is said to go commercial next year. Courses on offer will cover ticketing, management skills, supervisory courses and importantly engineering courses which will be supported by KQ's own maintenance base facilities at Embakasi. AIR TANZANIA NEWS UPDATE
A ministerial statement in parliament this week reaffirmed that Air Tanzania has indeed started operations to Dodoma and was about to serve four more domestic destinations across the country, such as Kigoma, Tabora, Songea and Shinyanga. The development is thought to stir up the domestic aviation market with competition, as ATC could not serve all domestic routes in past years due to lack of suitable aircraft. However, recent aircraft deliveries have turned the trend and the Tanzanian public will be keen to see improvements in service delivery and greater choice.
KENYAN LIGHT AIRCRAFT CRASHES INSIDE SOMALIA
A Kenya registered aircraft, carrying 'miraa' or 'khat' to Somalia, reportedly crashed yesterday not far from Mogadishu, while attempting to land. Early reports from the scene indicate that there were no survivors and the crew on board died at the scene. Miraa is a major export item from Kenya's Meru area and consumed in large quantities in Somalia. No cause for the accident was available.
RWANDAIR RESTORING JOHANNESBURG FLIGHTS
When the Rwandan national airline returned their ACMI leased B737-500 to Air Malawi a few months ago, their regular flights between Kigali and JNB had to be suspended due to lack of suitable aircraft. However, it was now learned that the airline has last week concluded a fresh lease arrangement for a B737-300 which &endash; once commencing operations &endash; will allow the resumption of the South Africa flights. To cover the gap which the returned B737 left in the fleet, Rwandair then leased a CRJ100ER from Kenyan airline Jetlink and another Bombardier Dash 8 to maintain at least their regional schedule. The newly leased B737-300 is due in mid / late September according to usually well informed sources. Other contacts within the airline also confirmed that they were planning to acquire additional aircraft in coming years to widen their network.
In confirmation of information published in this column in recent weeks the airline's executive chairman also made reference earlier in the week to the planned cooperation with Fly540 / Lonrho Aviation, indicating that negotiations are well near complete and a fully fledged partnership was now imminent. This will ultimately result in selling a 49 percent shareholding to the new investors and constitute a further stepping stone in establishing Fly540 as a regional force to reckon with.
It would also appear that the acrimonious suspension of the code share agreement between Kenya Airways and Rwandair on the Nairobi route over the use of the leased CRJ100 may have put to rest any last opportunity for KQ to step into the fray after Brussels Airlines failed to submit the required financial proposals and effectively dropped their bid for a partnership with Rwandair two weeks ago.
RWANDAIR PRIVATISATION REGROUPS
News were received from usually well informed sources in Rwanda, that the privatisation exercise was halted when Brussels Airlines did not submit the required financial proposals, after coming out on top of the applicants class. It appears that an Italian airline's proposal was lacking in substance and they eventually withdrew their bid, as their sister airline in Uganda continues to struggle in the face of adverse market conditions. This left expected frontrunner Brussels Airlines, but the latest development probably reflects the hard times airlines are falling on in the face of exploding fuel prices and other operational cost increases. Regrets have already been expressed over this development, which had raised many hopes and expectations that SN would establish a stronger foothold in the East African market.
A new player however is thought to have positioned itself to step in to the breach by the names of Fly540. The Lonrho Africa backed airline, which is already operating from Kenya into the region and has recently established a Ugandan operation too, is thought to have quietly made contact with Rwandair and there is speculation amongst aviation industry observers that a partnership with Rwandair or even an outright participation in the airline as the government in Kigali was initially seeking, may be on the drawing board or indeed near. Should indeed the information be correct it would be good news for Fly540 as well as for Rwandair, strengthening cooperation in the region and offering quality services albeit through a low cost operational model. Fly540's Uganda operation could upon start up even commence code shared flights between Entebbe and Kigali, where only recently Rwandair upped their once daily service to double daily.


AVIATION FRATERNITY SPLIT OVER NEW AIR SERVICE REGULATIONS
The Kenyan aviation sector has apparently placed an injunction on the new regulations, which were developed in recent years. While sections of the industry appear to have no issues with the new regulations, mainly the scheduled airlines, the non-scheduled and charter operators engaged in safari flying do have major objections to the new regulations. The Kenya Association of Air Operators Executive Director Col. (rtd) Waithaka said: [the regulations are] 'fundamentally flawed in their current state and many operators will be affected if they are gazetted without exceptions.' He pointed out that once the new regulations are in force, flights to unmanned upcountry airfields and small air strips will be all but impossible, which would impact greatly on the ability to offer countrywide comprehensive air services.
Aviation authorities have been obstinate to a degree to listen to the private sector and employ some common sense, a rare commodity in those circles, often hiding behind obscure ICAO regulations for which however exemptions are possible in particular in countries where much of the traffic is operated on VFR and below certain flight levels. Both communications as well as navigations aids are also not in line with the more developed countries, preventing the provision of weather data and strip conditions to pilots prior to taking off for those 'unmanned' airstrips in parks and elsewhere. This is one of the prohibitive measures the new regulations demand and no consideration was given so far to the justified objections of the affected air operators. Similar objections were also raised in Uganda and Tanzania, with one or two of the more outspoken Ugandan operators calling the regulators 'useless' &endash; in reflection not entirely justified however, as this correspondent can attest, having been part of the group developing the new regulations. It is also noteworthy however that verbal commitments made by the regulators to the private sector over dispute resolution have not taken root as yet, causing the friction between regulators and the aviators to deepen if not addressed soon.
Meanwhile EAC authorities and member states continue to decry the high cost of air travel without however addressing the exorbitant regulatory cost and fees levied on tickets, where the cost of the plain airfare can easily double to meet the regulatory add-ons. Memberstates have also placed non tariff barriers on the aviation sector by demanding unreasonable duplications of licences and operating permits and restricting airlines from one country to freely operate into any airfields or aerodromes in another memberstate or allow cabotage operations within a memberstate other than the one where the airline is registered and licensed.
AIR TANZANIA LAUNCHES DODOMA SERVICES
The recent arrival of two new turbo prop aircraft has now allowed Tanzania's national airline to resume services on domestic routes, which they could previously not serve due to equipment restrictions. Dodoma is Tanzania's political capital &endash; Dar es Salaam is the commercial capital &endash; and requires regular air connections between the two cities to facilitate easy travel of politicians, since many ministries are in fact located in Dar. At the same time of the announcement the airline also appointed a new general sales agent in Dodoma, Antelope Safaris Ltd., to represent their interests and facilitate ticket sales and bookings. Flying time between Dar and Dodoma will take approximately 1 ? hours on the Bombardier built Q 300. Meanwhile, the Tanzanian government has expressed its displeasure over charging certain services in US Dollars, probably aimed at airlines, travel agencies and landlords, while the Tanzanian Shilling is the legal tender in the country. Government sources were quoted to have vowed to 'stamp out the practise' which they termed 'illegal' in the face of market realities.
PRECISION AIR TRAINS STAFF FOR NEW ATR FLEET
It was reported during the week that Tanzania's premier private airline has welcomed back 4 staff who were deployed over the last year at the ATR factory to train in aircraft maintenance ahead of the delivery of more of the advanced turboprop aircraft. The airline is also sponsoring several more staff for the final stages in qualifying as ATR pilots, which is a commendable move looking at the massive cost involved to reach the stage for commercial flying on scheduled airlines. Inspite of the start of global lay off's of pilots due to fleet adjustments and the retirement of aged jets, there is still a looming pilot's shortage on the global stage, thought to worsen over the next years as in particular Middle Eastern airlines are enticing qualified pilots to join their growing fleets.
CHANGES AT KENYA AIRWAYS
IIt was learned just a fraction too late for last week's column, that Kenya Airways Commercial Director Hugh Fraser will be leaving the airline, as will his colleague Neil Canty, holding the portfolio of Finance Director. In particular Hugh was enormously instrumental in the team supporting and surrounding CEO Titus Naikuni, to build Kenya Airways into the success story it was prior to the opposition inspired post election violence, which hit Kenya on a broad basis and ripped the carpet-s peak business - from underneath the feet of many leading companies including KQ. Recent reports filed in this column already spoke of the problems the airline was encountering in particular on the European routes and routes in and out of Mombasa. Staff have been asked to take paid leave (for the time being), although no formal lay offs are presently underway. A strict cost saving and cost reduction programme is presently being finalised and implemented to keep Kenya's national airline financially balanced, until the recovery of the tourism sector goes underway and passenger numbers return to normality. However, it is sadly noted that this recovery will apparently be without Hugh, whom this correspondent wishes the very best in the future.
It is also noted that other senior staff had left the airline over the past few months (Technical Director and Director Flight Operations / Chief Pilot), probably making way for a major top management shake up and organizational revision, including creating the position of Chief Operating Officer (COO). The airline's CEO Titus Naikuni's position is reportedly however not under review as he continues to enjoy the ongoing confidence of key shareholders like Air France / KLM and the Kenya Government. The airline has been struggling before the Kenya post election violence started affecting the passenger and cargo performance, with a huge network and fleet expansion and related problems, but was reported to be on the way to getting things on the straight and narrow once again before the current crisis began to depress the financial results and drove the share price to sharply lower levels.
Hot on the heels of these changes come further news that the airline suspended the Paris route for the time being, owing to a sharp drop in passenger numbers. Passengers already booked will now connect to Paris via Amsterdam, where the onward flight is operated in code share with KLM or via London, where the onward codeshared flight is operated by Air France. The route may be restored at a later date, once demand levels have risen sufficiently again to justify the service.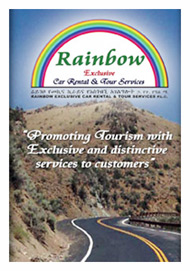 France's anti travel advisory has been particularly aggressive, warning off would be travellers with grave language, but this may change in view of a political agreement coming nearer and the situation in Kenya in general stabilising in recent days, after the opposition goons apparently got the message from their puppetmasters to stop the unwarranted attacks on fellow Kenyans. Germany, Italy and the UK already lifted their anti travel advice which will be a welcome boost to restore tourism arrival from these countries to their per-election levels.
Access to Africa flights via three great oceans. Consider fam tours to Africa via North America's Pacific Gateways with exotic stopovers in Asia and many carrier options.
Air Cargo Update
WFS PROMOTES PABLO GARCIA TO SENIOR VICE PRESIDENT WORLDWIDE SALES

FLY 540 NOW SET FOR ENTEBBE
Following shortly after launching their first regional destination &endash; Southern Sudan's capital of Juba &endash; Fly 540 has now started operating their next regional route to Entebbe, launched earlier this week with yet little fanfare. The advertised fares stand at 79 US Dollars one way, plus continuously high regulatory charges, which the regional governments now have to address as a matter of urgency. Bringing airfares down on a broad basis has to be matched with lower airport taxes and navigation / landing fees for regional flights to promote airtravel beyond its present transportation market share. These regulatory charges presently cost US Dollars 116 for a return flight, with the air fare costing USD 158, an unrealistic equation. The Fly 540 fares are not much different from the Royal Daisy / African Express fares of USD 70 one way plus regulatory charges, mentioned some time ago in this column as breaking news, but are substantially lower compared with other airlines on the route. In addition Fly 540 operates 2 daily flights while African Express operates only twice a week and may therefore not stand the pace of the new competition.
This will be a welcome development for travellers and is aimed towards the AKFED owned Air Uganda, which was licensed by the Uganda Government in November 2006 with the understanding that fares between Kenya and Uganda would come down on a broad basis. Not only did the upstart fail and subvert this expectation but also introduced two aviation stone age, first generation DC 9's as their start up aircraft, one of which will this weekend be substituted with what they say ' a newer' aircraft, this being a nearly 20 year old MD 87. Environmental concerns obviously do not feature at all in this outfit and regulatory demands therefore must be hastened to compel such companies to comply with global standards of emission controls. This is of particular significance in view of AKFED's corporate song of 'best practise', which alter ego may now have to be looked at afresh by the green lobby and real conservationists to establish its true global carbon footprint and industrial emissions caused in the developing world.
Fly 540 is starting on the route with ATR 42 equipment with 48 economy seats, and having several brand new ATR's on order from the French manufacturer will undoubtedly put Fly 540 into an excellent position as far as operational cost are concerned. The route will see the new ATR 72 introduced soon, which will then operate with 12 business class and 50 economy class seats, reflecting anticipated market demand for services on the heavily travelled route.
There will, for the time being, be two daily flights between Nairobi and Entebbe, offering the important and convenient first connection out of Nairobi to Entebbe at 06.40 hrs, as well as a late afternoon flight, which will allow travellers from Kenya to spend a full working day in Uganda and be home in Nairobi the same day again. Fly 540's biggest single investor is Lonrho Africa, which also intends to launch air operations in several other African countries during 2008 and 2009 as a credible regional alternative, going by recent press statements issued by the company. In fact, travel agents during this week's Skal function in Kampala expressed delight with Fly 540's start in Uganda and were hopeful the airline could soon add further flights, which in their combined view were offering the best value for money in the market.
RWANDAIR PRIVATIZATION STILL PENDING
While a request for comments from the airline was not responded to it could nevertheless be established, that the exercise has not been concluded in January, as was widely expected. Informed sources confirmed under cover of anonymity, that Rwandair's review of the proposals took in particular issue with the types of aircraft floated by the two remaining bidders. Meridiana, an airline based in Italy, had proposed to introduce some of their own aged MD 87 series, but Rwandair had disposed of a similar model some time ago due to the cost of operation of this particular aircraft type in favour of a Boeing 737-500. There is also negative perception in the region about such 'investors' bringing old equipment and peddling it as 'state of the art' as does the travel market not appreciate the use of old aircraft, when regional giant Kenya Airways has a truly modern fleet in operation.
Brussels Airlines too ran into predictable questions when they initially offered to use the BAe 146, which the airline is progressively retiring from the European fleet. Again, this particular aircraft type is not considered suitable to the climatic operating conditions and elevations across Eastern Africa, nor would it allow non stop flights from Kigali to Johannesburg.
A decision is now expected in coming weeks, after updated proposals are being reviewed at present, though no precise timeframe is available from the airline. Meanwhile, application deadlines for several advertised positions for personnel were extended this week to allow for more applications to be submitted to the airline's offices in Kigali, Entebbe, Kilimanjaro, Bujumbura, Johannesburg and Nairobi.

AFRICAN AIRLINES DOUBLE ORDERS FOR NEW AIRCRAFT
by Prof. Wolfgang Thome
AFRAA, the association of African airlines, has just released information that member airlines on the African continent have during 2007 ordered over 150 new aircraft, up from only 84 new aircraft ordered in 2006. The trend to modern equipment will continue in 2008 according to forecasts, with the key continental players setting the standards other airlines are likely to follow. In stark contrast the latest Ugandan upstart is using first generation DC 9-32 - aptly termed 'sky howlers' by a Ugandan aviation veteran - which spew fumes and leave very audible noise prints across the East African landscapes. Fuel savings generated by the latest engine types and stricter environmental controls (and categorical demands by governments in international destinations) have pushed the leading African airlines towards modern state of the art jets and their rising passenger numbers also confirm that the market is keen to see their airlines fly the latest type aircraft - not to mention safety considerations.
The leading airlines in Africa have also, with the notable exception of Ethiopian Airlines, now chosen alliance partners, which has a further impact on marketability of their services. South African and Egypt Air are now flying with 'Star Alliance' while Kenya Airways in 2007 joined the Air France / KLM led 'SkyTeam', which will leave smaller airlines without IOSA certification and operating with internationally shunned old aircraft, trailing in their wake.

Read Prof. Thome's regular news update on the entire East Africa sector. Details. More Airways News . Air Highways Website . Air Safaris. We're in Google's Top 3
Did You Know? In 1995 our team launched Air Highways Magazine and followe

d up with Air Highway Days, a conference to showcase member airports and communities to the travel industry. Several years later we staged and even bigger show in Vancouver, the Air and Marine Tourism Conference. Good fortune continued to smile on us that same year when, in partnership with the Africa Travel Association, we introduced Africa Travel Magazine. It's 4,000 page web site now leads the pack in many search categories. Continued . See: http://www.airhighways.com