About Kampala
by Helen C. Broadus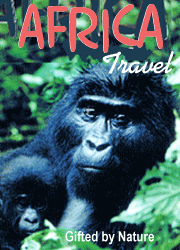 Kampala, the Capital City of Uganda, much like Rome was originally built, is spread over seven hills and takes its fabled name from Kasozi K'impala, interpreted as "the hills of the antelopes". The origin of Kampala goes backto 1891 when the Kabaka of Buganda held his court on Rubaga and Mengo Hills. Today as you stand on the hills within Kampala you are blessed with magnificent evergreen views intermingled with red tiled villas, green iron roofed bungalows and tall modern buildings surrounded by a lush green countryside and the nearby Lake Victoria.
While Kampala is often referred to as the greenest city in Africa, it is also the heart of Uganda, serving as the center of commercial life and the seat of government. It is a vibrant modern metropolis adorned with many beautiful gardens and parks which provides a colorful oasis in the midst of the urban landscape for both the citizens and visitors to admire. Hotel facilities range from the best in international standards with state-of-the-art conference facilities, to accommodations for the more budget-minded traveler.
UN World Urban Forum

Africa's Cities
Gateways to Tourism
There are many attractions to see in Kampala such as : The Kasubi Tombs, which were the traditional royal tombs of the Kabakas of Buganda; The Namugongo Martyrs' Shrine, which commemorates twenty Ugandan Christians that were burnt alive in 1886 on the order of the Kabuki of Buganda; The Ugandan Museum featuring a display of Uganda's cultural heritage, and a vivid reminder of their fabled past; The National Theater of Uganda, which opened in 1959 and is truly a national theater for the people of Uganda;
The Parliament Building, which is the seat of Uganda's government and symbol of their independence; Makerere University, which is the oldest and most prestigious university in East Africa; and the Markets of Kampala, where shoppers can absorb the pleasures of the Nakasero Fruit and Vegetable Market, the Owino Market in Nakivubo Place or the Ugandan Craft Center in downtown Kampala. Kampala also has several famous religious landmarks to include The Rubaga Cathedral also known as St. Mary's Catholic Cathedral, which is a magnificent edifice standing on a hill overlooking the city; The Namirembe Cathedral, also known as St. Paul's Protestant Cathedral located on an adjacent hill, which is the largest of its kind in East Africa; The Baha'i Temple, which is the only temple of this religion found in Africa; The Hindu Temple on Sikh Street; and The Kibuli Mosque which is situated on Kibuli Hill.
Uganda Tourist Board
P.O.Box 7211
Tel: 256-41-342196/7
Fax: 256-41-342188
E-mail: utb@starcom.co.ug
Website: http://www.visituganda.com
Also: Uganda- Another Land
Your guide to the East African Great Lakes region