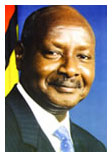 First Africa Media Exchange at 4th IIPT African Conference on Peace Through Tourism, Kampala, Uganda, 20-25 May 2007
Message From H.E. Yoweri Museveni, The President
Uganda, 'The Pearl of Africa', as aptly described by Winston Churchill, is a beauty to behold. With her warm climate, an altitude of 650 meters to 5,200 meters above sea level, we have permanent snow on the Equator. The people of Uganda are very friendly and hospitable. We have a diversity of flora and fauna and a host of other attractive features.
Stowe, Vermont, USA: Counterpart International has agreed to partner with the International Institute for Peace through Tourism (IIPT) to organize the first ever Africa Media Exchange (A-MEx) as part of the 4th IIPT African Conference on Peace through Tourism. The Media Exchange will bring together notable journalists from Africa, Europe and North America with the aim of creating increased media coverage and international awareness of Africa's rich mosaic of sustainable tourism initiatives and products.
The 4th IIPT African Conference, under the patronage of His Excellency Yoweri Kaguta Museveni, President, Republic of Uganda, is being organized in partnership with the Africa Travel Association, and hosted by the Uganda Ministry of Tourism, Trade and Industry.
"Tourism, which represents the greatest voluntary transfer of wealth in the history of humankind, benefits communities which host tourists," says Lelei LeLaulu, President of Counterpart International. "Travelers to Africa can make a huge difference in the quality of life of the people and communities they visit. We look forward to collaborating with IIPT in the organization of the First Africa Media Exchange."
The first Africa Media Exchange builds on the success of the Caribbean Media Exchange (CMEx) which began with the inspiration of Counterpart International to improve the quality of media coverage of sustainable tourism in the Caribbean. Newspaper articles, radio shows, television features, coral reef restoration initiatives, public-private sector collaboration and other international partnerships are some of the outcomes resulting from CMEx since it was launched in Jamaica in October 2001.
IIPT Founder and President, Louis D'Amore said, "We are proud to have Counterpart International partner with us in this first ever Africa Media Exchange. We will benefit not only from their experiences with Media Exchanges in the Caribbean, but as well their experience on five continents in providing options and access to tools for sustained social, economic and environmental development."
Conference Theme
Theme of the Conference is "Building Strategic Alliances for Sustainable Tourism Development, Peace and Reconciliation on the African Continent." Its goals are to broaden awareness of the social, cultural, environmental, and economic benefits of tourism; identify new markets; facilitate product development and investment opportunities; and contribute to reconciliation peace, wealth creation and poverty reduction on the African continent.
The Conference will bring together Ministers of Tourism and senior executives from both the public and private sectors of tourism, NGOs, and donor agencies, as well as educators, policy analysts, leading practitioners, entrepreneurs, future leaders of the industry, and senior representatives of related sectors including environment, culture and economic development.
Journalists are invited to go to www.iipt.org to apply for media credentials for the 4th IIPT African Conference &endash; and participation in the First African Media Exchange or contact Ms. Karen Hoffman, Director, IIPT Public Relations at email iiptmedia@aol.com.
About International Institute for Peace through Tourism (IIPT)
IIPT is dedicated to fostering and facilitating tourism initiatives which contribute to international understanding and cooperation, an improved quality of environment, the preservation of heritage and poverty reduction, and through these initiatives, help bring about a more peaceful and sustainable world.
IIPT's mission is to mobilize travel and tourism, the world's largest industry, as the world's first 'Global Peace Industry,' an industry that promotes and supports the belief that 'Every traveler is potentially an Ambassador for Peace.'
For more information on IIPT please visit: www.iipt.org; Tel: 802 253.2658; Fax: 802 253.2645; Email: Africa@iipt.org
For more information on Counterpart International please visit: www.counterpart.org.
Media Contact: Karen Hoffman, The Bradford Group. Tel: 212 447.0027; Email: iiptmedia@aol.com.