BIRD WATCHERS ... LOOK OUT FOR THE HIPPOS!
Home to more than 560 species of birds, Queen Elizabeth National Park is a 2,000 kilometre area located in Western Uganda that has become a mecca for bird watchers from around the world. Queen Elizabeth National Park also boasts the highest concentration of hippos in Africa. Birding adventures can be combined with safaris to view the famous tree climbing lions and the Big Five (Elephant, Lion, Leopard, Rhinoceros, Buffalo).
Edsa African Safaris & Tours, a leading Ugandan based tour operator, offers land-only packages starting at US$707 per person (based on double occupancy) for the three-day Queen Elizabeth adventure. The 3-day Queen Elizabeth Safari includes a boat cruise on the Kazinga Channel, a game drive, a visit to the Ishasa sector famous for its tree climbing lions and chimpanzee tracking in Kyambura Gorge. Edsa also offers 7, 10 and 14 day packages that include Queen Elizabeth National Park and the famous Gorilla Tracking tours. Prices for these safaris start at only USD$2,132 per person sharing (land only) and includes all accommodation in 4 or 3 star lodges, meals, park entry fees, park activities, gorilla and chimpanzee permits, transportation, driver/guide and boat permits (excludes international airfare).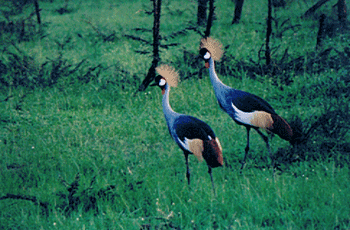 "In Queen Elizabeth National Park you will see crater lakes filled with huge flocks of flamingoes, spot fish eagles soaring and vultures perching," says Sarah Mugabi, Managing Director, Edsa African Safaris & Tours. She added, "On the game drives you will view lions, elephants and giant forest hogs. And, in its lakes, you'll see hippos swimming and kingfishers darting."
Queen Elizabeth National Park is bordered to the North by the Rwenzori Mountains and to the West by Lake Edward. Its beauty includes sprawling cacti, savannah, forests, rivers and lakes. From the launch trip on the Kazinga Channel, visitors can watch hundreds of hippos at close range, spreading their mouths wide and rushing to the water or view the birdlife that includes pelicans, fish eagles, kingfishers, cormorants and saddle bill storks. Buffaloes, waterbucks, elephants, lions and crocodiles also come to the water to refresh themselves.
In the North sector of the Kazinga Channel are the Kobs Mating Grounds. Here, in a small area in the plain near Lake George, hundreds of Uganda Kobs reside. It is an amazing spectacle to watch the rival kobs' antlers come together in a sounding clash. A different experience is offered at Kyambura Gorge, where visitors can take a walking safari along a river through tropical forest, where Black and White Colobus, Redtail Monkeys and Chimpanzees are often seen.
Guests will stay at Mweya Safari Lodge, Uganda's finest lodge, which is located on a peninsula within the heart of Queen Elizabeth National Park. With its luxurious accommodation, Mweya Safari Lodge is an ideal place for relaxation and even offers spa treatments! It is a 5-star lodge with swimming facilities, breathtaking views from every room, an abundance of game and some of the best bird watching in East Africa.
Established in 1997, Edsa African Safaris & Tours is a leading tour operator, based in Kampala, the capital city of Uganda and operates a modern transportation fleet and provides comfortable, spacious and private accommodation. Edsa's experienced tour leaders emphasize the importance of safety and health considerations for all guests, and the company advocates high standards for environmental conservation and wildlife management. From white water rafting on the Nile River, to safaris in Queen Elizabeth National Park, Edsa offers a full range of tours which can be tailor-made to cater to clients' individual interests.
For more information or to book a safari or tour, please contact Travel Marketing Experts, Edsa's Canadian Representative at 55 Town Centre Court, Suite 642, Toronto, ON M1P 4X4; call (416) 861-1022 or toll free (888) 423-3995, fax (416) 861-1108 or email edsa@travelmarketingexperts.com or visit Edsa African Safaris & Tours comprehensive website at www.edsatours.com
FOR IMMEDIATE RELEASE- September 2, 2004
CONTACT: Chris Ryall
TEL: (416) 861-1022
Uganda Tourist Board
P.O.Box 7211
Tel: 256-41-342196/7
Fax: 256-41-342188
E-mail: utb@starcom.co.ug
Website: http://www.visituganda.com
To be part of the delegation and join ATA, contact ATA Headquarters:
347 Fifth Avenue, Suite 610
New York, NY 10016, Tel 212 447-1926, Fax 212 725 8253
E-mail: africatravelasso@aol.com, Website: www.africa-ata.org