Uganda: A Study in Development
By David A. Saunders
Fondly referred to as the "Pearl of Africa", Uganda is a highly recommended tourism destination with breathtaking game parks and nature reserves creating an amazing eco-system full of Africa's wildlife in their natural habitats. Since the early colonial years until the 1970s, when it was a major destination on the East Africa circuit, Uganda was known as a major tourism destination in great demand by international tourists. From the source of the White Nile on Lake Victoria to the snow-capped "Mountains of the Moon" to the Mountain Gorillas &endash; Uganda has always offered a fantastic diversity of habitats that support a great variety of wildlife. Uganda has a bird list of over 1,000 species, is home to over 1,000 species of butterfly, has one of the highest densities of primate populations in the world, and an abundant population of lion, leopard, elephant, antelope, crocodiles and hippos.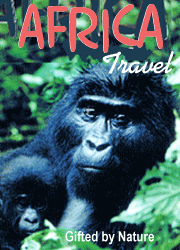 As worldwide tourism expanded, however, Uganda's tourism and tourism assets, went into decline. During the fifteen years of Uganda's trauma, its wildlife population was decimated, its tourist accommodations neglected and its tourism infrastructure left in disarray. It was during this same period that the neighboring countries of Kenya and Tanzania expanded and capitalized on their tourism attractions. When Uganda finally re-entered the tourism marketplace, it found that its neighbors had dominated the East African tourism scene, with Nairobi becoming the major hub.
Steps to Success
In 1987, Uganda adopted a structural adjustment program and began a process to reenter the tourism marketplace, seeking to develop a socially, economically and environmentally beneficial tourism program. The first step was to implement an Integrated Tourism Master Plan, created in concert with the United Nations Development Program and the World Tourism Organization for the period 1992 to 2002. The ITMP envisaged dividing the country into Primary (Rift Valley, Murchison Falls, and Kidepo Valley); Secondary (Capital Area and the South West Mountains); and Tertiary (Lake Mburo, Mount Elgon and the Ssese Islands) zones. Specific programmes of improvements to Uganda's tourism infrastructure were proposed for each zone. Key marketing objectives of the ITMP were to cooperate with neighboring countries, develop a wide spread of market segments, encourage off-peak traffic, extend optimum stay, and attract high spenders. It was widely accepted that Uganda's image was badly damaged and in great need of rehabilitation. The strategy was to target a public relations campaign at the travel industry press, major tour operators, travel writers, and special interest press and television. In addition, the Uganda Tourism Board was created as a result of the master plan. In 1997, Uganda launched the European Development Fund Tourism Support Program to further expand upon the guidelines of the ITMP.
Tourism Support Plan
A process of product definition identified and assisted in the development of niche markets; white-water rafting, bird watching, community based tourism, chimpanzee trekking, gorilla trekking and sport fishing. The plan also began the rehabilitation of tourism in National Parks, assisting Uganda Wildlife Authority in the production of high quality guides to Murchison Falls National Park, Kibale National Park and Bird Watching. Other initiatives included creating a new image for Uganda and marketing the "Uganda Trail" locally, regionally and internationally as well as fostering community tourism. By 2000, the World Bank's Institutional Capacity Building &endash; Protected Areas Management and Sustainable Use initiative was instituted. One objective was to facilitate a Governmental Tourism Policy for Uganda. The policy came as a result of various World Bank supported workshops and seminars.
Tourism to Alleviate Poverty
It was decided that Uganda's tourism development should be socially and culturally acceptable and become a vehicle for poverty alleviation. Based on a wide participation of Ugandan and foreign investors, it should form the basis of protection of the environment including financially supporting National Parks. The policy targeted an annual tourism increase from 10,000 to 50,000 tourists within ten years providing an increase of revenue by 60 million. The increase should be widely spread in Uganda with participation at the local level. Tourism would become a vehicle for economic development with benefits widely spread and economic linkages enhanced, encouraging ecotourism, agro-tourism and community tourism products. The private sector would be the driving force with the public sector providing the enabling environment and encouraging local development and entrepreneurship. The private sector would enhance its institutions and the government will put in place the necessary regulatory framework for development. In addition, a Uganda identity and cultural pride would be encouraged including cultural performances, handicrafts museums and theaters.
Competition and Positioning
Moreover, in order for Uganda to successfully compete with other African mainstream tourism products, it was suggested that it focus on niche markets. Special consideration will be given to ecotourism, community tourism combining nature, culture and local communities as well as adventure-sports tourism. Tourism will also be incorporated into the National Curriculum along with the Uganda Wildlife Authority and Wildlife Clubs of Uganda being supported to interlink wildlife education and tourism issues and concerns. The Tourism Policy document will also be distributed and focus-group seminars conducted in order to promote tourism awareness locally and nationally. The press and Parliament will also be provided with tourism-related information. Given the huge U.S market, Uganda is putting special emphasis on attracting investors. With over 22 million inhabitants, ample natural tourism resources and an economy in transition, Uganda offers great potential for foreign direct investment. Uganda also has one of the more established economies in Africa with a well developed infrastructure and many investment opportunities available in the travel and tourism industry.
Uganda Sustainable Tourism Development Program's objectives include image rehabilitation, improved tourism products and services, widespread discussion of tourism initiatives, stronger private and public sector collaboration on tourism, more communities benefiting from tourism and naturally, more tourists and associated revenue. Uganda has been able to achieve a remarkable comeback in the past 15 years. More on this topic in our next edition.

» Asyanut Tour - 8 days, 7 nights- Uganda :Pearl Expedition. Web site

UGANDA BASED

TRAVEL & TOURS

» Churchill 's Tour of Uganda


| | |
| --- | --- |
| HOTELS IN UGANDA | |

Stay at Uganda's Sunset Hotel on the banks of the River Nile, over looking Owen Falls Dam, and the source of the River Nile. Just 2 km from downtown Jinja. www.sunsethoteluganda.com.