RESULTS FROM SUCCESSFUL IIPT EVENT MAY 2007

Africa Travel Magazine Supplement Souvenir of Commonwealth Heads of Government Meetings in Kampala, November 23-25, 2007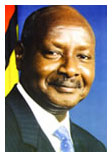 Message From H.E. Yoweri Museveni, The President
Uganda, 'The Pearl of Africa', as aptly described by Winston Churchill, is a beauty to behold. With her warm climate, an altitude of 650 meters to 5,200 meters above sea level, we have permanent snow on the Equator. The people of Uganda are very friendly and hospitable. We have a diversity of flora and fauna and a host of other attractive features.
From the new Website
What Is Chogm?
CHOGM is an acronym for the Commonwealth Heads of Government Meeting. It is held every two (2) years and brings together Commonwealth leaders to discuss global and Commonwealth issues, and to agree upon collective policies and initiatives. Commonwealth leaders have met regularly for more than a century. The first meetings, known as Colonial Conferences, began in 1887. In 1911, these were replaced by Imperial Conferences, held regularly until 1937.
In 1944 the meetings became the British Empire and Commonwealth of Nations Prime Ministers Meetings and were held almost annually in London. With the independence of India and Pakistani in 1947, and there inclusion in the Commonwealth, the subsequent meet became known as the Commonwealth of Nations Prime Ministers Meeting. The words British and Empire were permanently dropped. At Singapore, in 1971, the term Commonwealth Heads of Government Meeting (CHOGM) was adopted to encompass Presidents, Prime Ministers and Monarchs. Since then, CHOGMs have taken place on a biennial basis.
Importance Of Chogm
CHOGM is the biggest Heads of Government meeting that brings together leaders sharing a common language i.e. English. Given the break down of communication barriers, exchange of views can be frank and honest. The Executive Retreat &endash; comprising mainly Prime Ministers and Presidents &endash; provides the perfect informal environment for consensus building and issues resolution. Furthermore, all nations regardless of size have an equal say and vote. All CHOGM decisions and initiatives are only reached by consensus.

http://www.chogm2007.ug/index.php
Fuill details and tour itinerary to come.