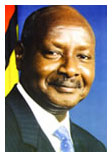 UGANDA PRESIDENT H.E. YOWERI KAGUTA MUSEVENI TO BE PATRON OF 4th IIPT AFRICAN CONFERENCE
Kampala, Uganda, May 20-25, 2007
(Stowe, VT., March 7, 2007) - H.E Yoweri Kaguta Museveni, President, Republic of Uganda, will formally open the 4th IIPT African Conference on Peace through Tourism being held at the newly opened Kampala Serena Hotel and Conference Center, Kampala, Uganda, May 20, 2007. Theme of the Conference is "Building Strategic Alliances for Sustainable Tourism Development, Peace and Reconciliation on the African Continent."
IIPT Founder and President, Louis D'Amore stated: "We are most honored to have President Museveni as Patron of the 4th IIPT African Conference, which promises to be our most exciting and successful African Conference to date. More than 400 delegates from some 50 countries of Africa, Asia, Europe, North, South, and Central America and the Caribbean are anticipated to take part in the Conference."
Hosts of the Conference are the Ministry of Tourism, Trade and Industry, The Honorable Janat B. Mukwaya, MP, Minister, and The Honorable Serapio Rukundo, Minister of State. The Conference is being organized by the International Institute for Peace through Tourism (IIPT) in partnership with the Africa Travel Association (ATA) and the World Bank in support of the U.N. Decade of Peace and Non-Violence for the Children of World and the U.N. Millennium Development Goals.
Conference goals are to broaden awareness of the social, cultural, environmental and economic benefits of tourism, identify new markets, facilitate product development and investment opportunities, and contribute to reconciliation, peace, wealth creation and poverty reduction throughout the African Continent.

With the participation of Bermuda Premier The Honorable Dr. Ewart F. Brown as a keynote speaker, an additional focus of the conference will be in support of the Africa Diaspora Heritage Trail - a visionary initiative of the Bermuda Government - and the building of long term relationships of tourism, friendship and collaboration among African nations and nations of the Africa Diaspora in regions throughout the world.
Susan Muhwezi, Special Assistant to the President and Director of SPA-ELGSU, AGOA & Trade Related Matters will also play a leading role in the conference. Ms. Muhwezi is also President of the Africa Travel Association (ATA) Uganda Chapter. First Lady Janet Museveni is Patron of the chapter.
The conference will bring together Ministers of Tourism and senior executives from both the public and private sectors of tourism, donor agencies, and NGO's; as well as Traditional Leaders, educators, policy analysts, entrepreneurs, leading practitioners, future leaders of the industry, and senior representatives of related sectors including environment, culture, and economic development.
In addition to plenary sessions with keynote speakers, the Conference program will include concurrent sessions and workshops with presentations of outstanding "Success Stories" and "Models of Best Practice." Pre-Conference events will include three full day forums: Educators Forum, Student/Youth Leadership Forum, and for the first time &endash; a Traditional Leaders Forum. Training Workshops in selected topics are also planned.
This year's conference will include the first ever Africa Media Exchange (A-MEx) being organized in partnership with Counterpart International. The Exchange will feature prominent media personalities from Africa, Europe, North America and the Caribbean.
The goal of the Africa Media Exchange is to develop communication strategies &endash; actions - and commitments leading to a more balanced and positive international image of Africa &endash; its lands, its cultures, and its peoples in regions throughout the world.
The 4th IIPT African Conference builds on the foundation of three previous IIPT African conferences, Lusaka, Zambia (2005), Dar es Salaam, United Republic of Tanzania (2003), and Nelspruit, Mpumalanga Province, South Africa (2002), as well as three Global Summits on Peace Through Tourism : Amman, Jordan (2000), Geneva, Switzerland (2003), and Pattaya, Thailand (2005.
About International Institute for Peace through Tourism (IIPT)
IIPT is dedicated to fostering and facilitating tourism initiatives which contribute to international understanding and cooperation, an improved quality of environment, the preservation of heritage and poverty reduction, and through these initiatives, help bring about a more peaceful and sustainable world.
IIPT's mission is to mobilize travel and tourism, the world's largest industry, as the world's first 'Global Peace Industry,' an industry that promotes and supports the belief that 'Every traveler is potentially an Ambassador for Peace.'
For more information on IIPT please visit: www.iipt.org; Tel: 802 253.2658;
Fax: 802 253.2645; Email: Africa@iipt.org
For more information on Counterpart International please visit: www.counterpart.org
Media Contact: Karen Hoffman, The Bradford Group. Tel: 212 447 0027; Email: iiptmedia@aol.com