..

Benin Marina Hotel: Cotonou's Convention Headquarters

When it comes to business as well as pleasure the Benin Marina Hotel offers you all that's best in Africa. As a business traveller, you'll be presented with superb surroundings providing conference facilities and versatile meeting rooms, all designed to make a comfortable and efficient environment, and adaptable enough to suit individual needs. Then, when work is done for the day, the recreation begins.
Situated right on the beach, the Benin Marina Hotel is an idyllic spot - the perfect setting for you to unwind. Perhaps you'll choose to enjoy an energetic game of tennis, or just order lunch by the pool, In addition, the hotel prides itself on its superb cuisine, attentive staff and luxurious accommodation. With all the other benefits of staying in a ITT Sheraton Hotel, you'll find you're enjoying the best of all worlds.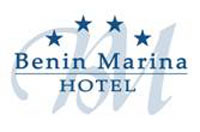 ---
This section provides interviews on properties we have visited, plus profiles, business cards and listings. Fax 604-681-6595 or e-mail africa@dowco.com. The following are some examples:
---
BENIN MARINA HOTEL
SERVICE MARKETING
Adresse : Boulevard de la Marina
01 BP 1901 Recette Principale
Cotonou, République du Bénin
Tel : +229 21 300 100
Fax : +229 21 301 155
Web : www.benin-marina-hotel.com
Email : marketing@benin-marina-hotel.com