Africa's Designers Win World Acclaim.
By Muguette Goufrani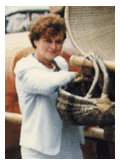 Africans are painting the world in a kaleidoscope of bold colors and patterns. Africa Travel Magazine features fashion shopping in every issue and searches on Google and Yahoo scored our magazine's website #1 on "Africa Fashion," from 1,340,000 entries. Vibrant color combinations, dazzling patterns, rich fabrics, fabulous headgear and elegant gowns we saw in Conakry and traveling through Guinea were outstanding. We had the good fortune to meet Farouque Abdela (below right) in Zanzibar during the 7th Africa Travel Association Cultural Eco Symposium . While returning to Paris from Cameroon, we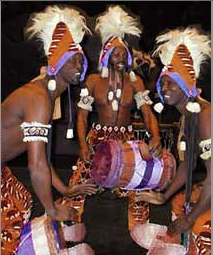 spent some quality time with Seidnaly Alphadi, (left) whose African- inspired creations are taking Europe by storm. It seemed like half the plane was filled with models from a Fashion Show he had just staged. At a garden party near Mount Cameroon and Limbe Botanical Gardens, our travel agent group was treated to an outstanding fashion show by ' Estrella' one of Cameroon's top designers.
Washington, DC: The Ministry of Tourism and Handicrafts for the Republic of Mali showcased the rich culture of Mali and its people at the Smithsonian Folklife Festival on the National Mall, last June. In addition to the great entertainment, Mali's musical ambassadors gave their United States audience a sample of the country's colorful fashions. Stay tuned for much more about Mali's role in the world of fashion and design.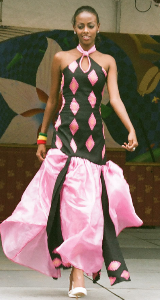 Webisco of Nigeria: In 2000 at the Addis Hilton in Ethiopia, our editor was prompted to get into the act, and took the stage, along with his ATA colleagues at an event sponsored by Chief Margaret Fabiyi of Nigeria. The first of what's now an annual affair, was held in Arusha, Tanzania . Convinced by the results from Webtrends and comments from Tourism Ministers, we know that Africa Travel Magazine's readers enjoy this timely topic. That's why we invite designers, jewelers and cosmetics firms to send items of interest. African wear has been a routine with us for years at home and away. It's a reminder of the wide smiles, upbeat attitudes and lasting friendships we enjoy. Like the pace and lifestyle of Africa itself... it feels good.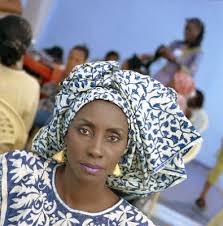 Oumou Sy, Senegal's Queen of Couture
by Nicole L. Smith. Where else does Western chic meet Afro-avant-garde but in the creations of Oumou Sy, Senegal's Queen of Couture. Her signature: bold fashion ideas which contain glamorous Afro-centricism fused with universal style. Ms. Sy is not only a prolific fashion designer, but she is also a stylist, teacher, businesswoman and founder of the annual Dakar Carnival and International Fashion Week in Dakar. Always on the cutting edge, it was she (with her partners) who pioneered cyber-cafe culture across all of Senegal. (continued)
---

What is Kente Cloth? Basically, it's an Asante ceremonial cloth that is hand-woven on a horizontal treadle loom. The looms we saw at the village near Kumasi were out in the open air, although in a grassy, shaded area. Cloth strips, approximately 4 inches wide are sewn together into larger bolts. Of many colors, sizes and designs, Kente cloth items, long scarfs in particular, are worn throughout Ghana and its neighboring countries, during most social and religious occasions. The name comes from the word 'kenten', which means basket. We saw virtually every possible color and pattern of kente cloth during the day-long Durbar ceremony at *Koforidua village near Accra. According to Ghanaians, kente depicts the area's history and philosophy, its ethics, oral literature, moral values, social and religious concepts.
---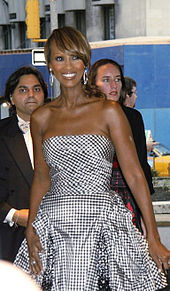 Iman Cosmetics: Iman, daughter of a Somalian diplomat, might be called the Estee Lauder for women of color. Iman distributes her cosmetics in 700 shops in the USA. Now living in London and married to David Bowie, she's rated among the 5 most beautiful women in the world. Iman opened a shop in London and South Africa in 1998. Her products are for women of many races; Asian, Black, Hispanics and Arabs. Iman says that Metis are in fashion and provides products for them. Colored women were always ready to invest in cosmetics, a sector of rapid expansion. What's termed minorities, represents the majority of world population. In the USA, fifty percent of the public will soon be colored, which represents a gigantic purchasing power. We have to tell to the black women that they are beautiful. I am against products which clear the skin. Colored women sometimes use chemical products and damage their skin. Those products should be controlled by professional dermatologists.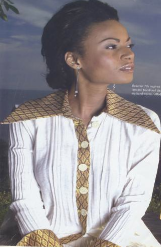 Ethiopia's Rising Star
Guenet Fresenbet, known as Gigi to many, is one of a few Ethiopian designers in Addis. She launched the first fashion magazine in Ethiopia called 'GIGI,' with the message of promoting clothing that is made in Ethiopia by Ethiopians. Gigi's desire is to promote the Ethiopian textile and leather industry, so that Ethiopia as well as other African nations can play a more competitive role in the worldwide fashion industry. Gigi has always had a passion for art but decided to pursue a career in the fashion industry in the late 80s after studying fine arts and graphic design in the United States. Although Gigi spent some years in United States, she has always had a desire to return to her homeland of Ethiopia to promote Ethiopian clothing and textiles. Her dreams have always been to see Ethiopian clothing sold in stores throughout the world (continued below).
Speaking of Ethiopian Design, attractive, multicolor scarves and shawls are very popular with visitors. I bought several, one to match each of 3 separate outfits. Such an array to chose from, and they take up so little weight and space in your suitcase. The photo (right) by Robert Eilets of New York, was taken at Lake Tana. We visited a busy and bountiful outdoor market there at Bahar Dar, a lakeside resort that is sure to become a major tourism attraction of the future, thanks to its historic setting and the addition of an attractive new resort that was nearing completion at the time of our visit in February 2000. details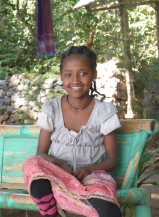 Ethiopia's Rising Star (continued)
Gigi uses several types of Ethiopian fabrics for her designs, and one type of material that she is currently using is known as the 'Shibshebo' which means 'crinkles' in Amharic and gains this crumpled effect when washed. The Shibshebo is a very popular fabric in Ethiopia and is used to make the traditional Ethiopian dress. The traditional manner of designing dresses from this material does not enhance the woman's body, so Gigi has used contemporary designs to make better use of this wonderful handmade fabric. Her Shebshebo designs have created dresses that are graceful, flowing and comfortable. The Shibshebo is unique, because to date it has generally been used to make traditional dresses.
The new designs by Gigi that use this material incorporate tradition and contemporary fashion, a unique mix. It also offers a special advantage because the designs are very modern but the fabric will still remind people of the tradition associated with this material. This material can also be appreciated because it keeps one cool when worn in warm weather. Residents of Ethiopia can especially appreciate this attribute because we live in a land where we have 13 beautiful months of sunshine. In addition though, Shibshebo can be appreciated in the western world where it can be worn during their summer months. It can compete with linen, which is normally worn during hot weather.

The Shibshebo has traditionally been used to make clothing for women only but Gigi has taken this a step further and has designed different outfits for men as well. We are certain that the future designs of Shibshebo will include children's clothing as well. Also, Gigi's designs have made clothing made from Shibshebo quite adaptable, enabling them to be worn at both casual as well as formal occasions. The Shibshebo is one of many Ethiopian-made materials that Gigi uses for her designs. All of her designs use materials that have been produced in Ethiopia since she believes in supporting Ethiopia's natural resources that have thus far been underutilized. In the future, Gigi would also like to develop and introduce western made raw materials if they can not be produced in Ethiopia. She continues to encourage Ethiopian designers living overseas as well as local designers to use Ethiopian raw materials as well as doing everything in their power to help the Ethiopian fashion industry grow to its full potential. Gigi: Tel: 251-1-53 16 86/53 16 90, E-mail: gigi's designs@yahoo.com, Website: www.geocities.com/gigiecm, PO Box 101315, Addis Ababa, Ethiopia.
Gigi, one of our advertisers in the Jubilee Edition, presented a Fashion Show at the elegant Sheraton Addis Hotel; one of two African Fashion events held during ATA's 25th Jubilee Congress in Addis Ababa, Ethiopia, May, 2000.
A fashion show was held in Ghana's State House in Accra during the ATA-WTO Congress in May, 1999, confirming that Africa's Upbeat Fashions is integral part of ATA events to come. Fashion from Ethiopia was a main feature in our Jubilee 2000 edition, as we journeyed to the Roof of Africa for a Congress in Addis Ababa (new flower).
Footnotes: Koforidua, Ghana, also called New Juaben, is capital and commercial center for the Eastern region. The area produces cocoa, palm oil, cassava, and corn. An important highway and rail center, Koforidua was founded by refugees from Ashanti in 1875. The Population is over 60,000.
About Muguette Goufrani
Muguette was born in Casablanca, Morocco and has worked in Francophone countries in Africa around the world as a travel agent and in airline and cruise ticket sales. She currently resides in Canada, a country where one third of the population is French-speaking. More
Africa's famous textiles.

Photo Credits: Alphadi / Gigi Fashions / Muguette Goufrani / Iman Cosmetics