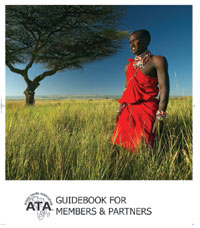 ATA Members & Partners Guidebook

3-7 December 2007
11th Annual Ecotourism & Culture Symposium, Djibouti City, Djibouti
27-28 February 2008
1st Africa Sports & Tourism Marketing Seminar,Jacob Javits Center, New York, NY
19-23 May 2008
33rd Annual Congress, Arusha, Tanzania
INDUSTRY EVENTS
22 August-1 Sept 2007
Osun Festival, Osogbo, Osun State, Nigeria,
9-11 September 2007
THETRADESHOW, Las Vegas, NV
25-28 September 2007
PATA Travel Mart, Bali, Indonesia
10-14 October 2007
3rd International African Diaspora Heritage Trail Conference, Nassau, Bahamas
28-30 October 2007
World Tourism Marketing Summit, Beijing, China
17-18 November 2007
South Florida Travel Expo, Ft. Lauderdale, FL
22-25 November 2007
Abuja Carnival, Abuja, Nigeria
12-13 January 2008
Adventures in Travel Expo, New York, NY
26-27 January 2008
Adventures in Travel Expo, Chicago, IL
9-10 February 2008
LA Times Travel & Adventure Show, Long Beach, CA
22-24 February 2008
Boston Globe Travel Show, Boston, MA
29 February to 2 March 2008
New York Times Travel Show, New York, NY
29-30 March 2008
Adventures in Travel Expo, Washington, DC
11-13 April, 2008
The Atlanta Travel Expo
Cobb Galleria Centre, Atlanta, GA
12-16 April 2008
International Destination Expo (ASTA), Lyon, France
Emirates Expands East And West: Launches Ahmedabad and Toronto services

(FIR) Emirates Airline today launched two new non-stop services: a six-a-week service to Ahmedabad, India, and a thrice-weekly service to Toronto, Canada - marking a simultaneous expansion of its global route network eastwards and westwards from Dubai.

HH Sheikh Ahmed bin Saeed Al Maktoum, Chairman and Chief Executive, Emirates Airline and Group, traveled on the inaugural flight to Toronto, together with VIP guests HE Sara Hradecky, Canadian Ambassador in the UAE; and HE Hassan Al Suwaidi, UAE Ambassador in Canada.

Sheikh Ahmed also leads a delegation of senior Emirates executives to Toronto, comprising Ghaith Al Ghaith, Executive Vice President Commercial Operations Worldwide; Ali Mubarak Al Soori, Divisional Senior Vice President Chairman's Office, Facilities, Projects Management and Procurement and Logistics (Non-Airline); Mike Simon, Divisional Senior Vice President Corporate Communications; and Peter Sedgeley, Senior Vice President Cargo Commercial Operations.

Representing Emirates on the airline's first flight to Ahmedabad were Nabil Sultan, Senior Vice President Commercial Operations - Gulf Middle East and Iran; and Salem Obaidalla Vice President Commercial Operations - West Asia and Indian Ocean.

The Dubai-Toronto service heralds Emirates' second destination in North America after New York; while the Ahmedabad service represents Emirates' ninth gateway in India, strengthening the airline's connections between Dubai and the subcontinent. Emirates currently offers thrice-daily service to Dubai from New York's JFK (two non-stop flights and one flight via Hamburg), and will launch service from Houston starting on December 3.

Sheikh Ahmed said: "Emirates is delighted to launch the keenly-anticipated flights to Ahmedabad and Toronto today, bringing to fruition many months of work preparing for the start of services to both cities. We are glad to be able to grow our route network, thus expanding the number of travel options available to our customers around the world.

"We are confident that both new Emirates services will be well-received by our customers, and we hope that the two new air connections forged today will be the harbinger of even closer ties for Dubai with Canada and India in the coming years."

On its Dubai-Toronto route, Emirates will operate its long-haul Boeing 777-300ER aircraft, offering 12 First Class, 42 Business Class and 304 Economy Class seats, with on-demand personal entertainment in all classes.

To Ahmedabad, Emirates will operate a three-class configured Airbus A330-200 offering 12 First, 42 Business and 183 Economy Class seats, and its Boeing 777-200 in a two-class configuration, offering 42 Business and 216 Economy Class seats. Both offer industry-leading comforts including ergonomically designed seats, and personal entertainment systems in all classes.

With the launch of flights to Ahmedabad and Toronto, Emirates Airline now serves 87 passenger destinations across six continents. Its global route network currently spans 97 cities in 61 countries including cargo-only destinations. This year, Emirates has introduced passenger services to Venice, Newcastle and Sao Paulo, and it will soon start services to Houston in December.

......