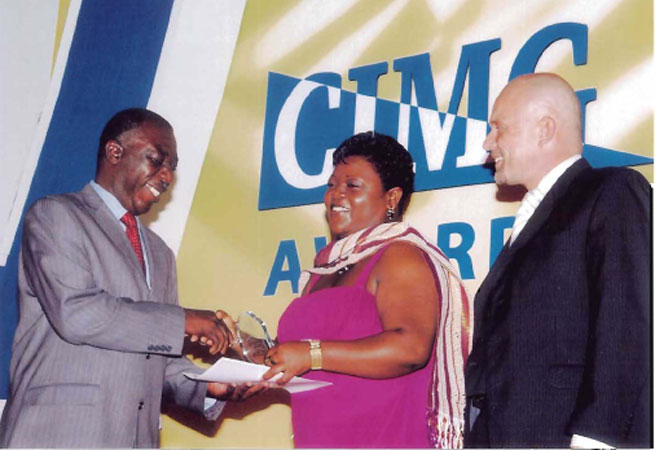 The CHARTERED INSTITUTE OF MARKETING, the Ghana chapter, organised on 25th July 2009 its annual gala awards evening in the prestigious banquet hall of the State House in Accra - Ghana. During this event, attended by Ghana's Vice President H.E. Mr. John Mahama Dramani, Alisa Hotels received the award for Hospitality Facility of the Year- 2008. The award was granted by the CHARTERED INSTITUTE OF MARKETING and the following citation accompanied this acclaimed award:
Citation
CIMG HOSPITALITY FACILITY OF THE YEAR
ALISA HOTELS GROUP
Having started 10 years ago, the hotel has expanded considerably and is today ranked as one of the best hospitality groups in Ghana; unparalleled customer service is one of your reputed hallmarks.
Your flexibility and ability to tailor-make products to meet guest requirements is unmatched. This is buttressed by the customer loyalty you enjoy.
Your guests rate you high on room and porter services. Your rating on value for money, ambience and entertainment position you as a facility of choice.
Evaluators recognize your contribution to society through the donation Alisa Hotel's facilities for the promotion of charitable causes.
In recognition of this, and many others mentioned, the CIMG confers on ALISA HOTELS GROUP, THE HOSPITALITY FACILITY OF THE YEAR &endash; 2008.
The much sought after award was presented to Ms. Jemima Odonkor (Resident Manager) and Mr. Marcel Andeweg (General Manager) of Alisa Hotels Group by Mr. Bonsu, Deputy Director of the Ghana Tourist Board.
About Alisa Hotels Group Ltd.
Alisa Hotel Cantonments opened its doors in 1999 with 14 hotel rooms in Cantonments, a part of Accra. Due to its success an existing property was bought and completely renewed. This property opened its doors as Alisa Hotel North Ridge in 2004 and added 25 well equipped rooms to the portfolio including extensive banqueting facilities. In 2006 a new building was commissioned and added to the existing portfolio increasing the North Ridge branches capacity to 68 bedrooms. In the summer of 2009 Alisa Hotels added its latest addition to the North Ridge Branch, the Pegasus wing totalling the capacity of the hotel to 173 bedrooms, 12 conference and banqueting rooms ranging from 2 to 1.000 guests, tennis court, state of the art fitness room, spacious swimming pool, upper and lower sundeck, ample parking facilities etc. etc.
Since its inauguration Alisa Hotels has been awarded with the "primus interpares" award of the Ghana Tourist Board amongst others and recently with the "Hospitality Facility of the Year" award of the Chartered Institute of Marketing Ghana.
Alisa Hotels is a member of the Ghana Hotel Association and the Africa Travel Association of which it is also a member of the International Board of Directors.