---

"God created Mauritius first, and then made a
copy which he called Heaven."
Mark Twain
Exotic Mauritius Island: A Tropical Paradise
By Muguette Goufrani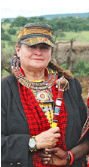 One year during my decade in Africa, rather than taking off for France for my annual vacation, I left our family's adopted home in Cote d'Ivoire, West Africa to tour East Africa and the Indian Ocean Coast, with its adventure islands of Madagascar, Reunion and Mauritius. My favourite souvenir - or most memorable experience at the time -- was the trip between Port Louis and Pereybere. The island capital of Port Louis, named after the King Louis XV of France, is a relatively small port, yet it happens to be one of the busiest in the Indian Ocean. Its bustling market resembles something between an Arab soukh and the Parisian Halles.
Multicolored saris, a sea of smiling faces, and a passing parade of folks in bright attire and high spirits -- all contribute to the show. Large woven baskets of fresh vegetables, neat rows and mounds of exotic fruit delight the eye and tempt the palate. To quickly forget all about the workaday world, I spent several days relaxing in Grande Baie, which is sometimes known as the Saint Tropez of Mauritius island, with its Indian, Chinese, Creole and French restaurants. The area's elegant shops , pubs and bars stay open almost all night.The trip along the coast, admiring the exotic beaches and pastel seascapes of Pointe aux-Piments, Montchoisy, Trou aux Biches and Pereybere was a delight I will never forget. Web site: http://www.mauritius.net/


Moevenpick Resort & Spa Mauritius
Allee des Cocotiers
Bel Ombre, Mauritius
Phone +230 623 5000
Fax +230 623 5001, E-Mail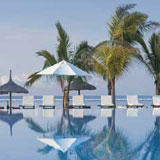 Inspired by a Zen atmosphere, the sumptuous Spa dedicates its 1800 sqm to peace and serenity. The humid pavilion, which accommodates Turkish baths, saunas and a whirlpool, is the right place for body wraps, scrub and hydro jet showers. Treatment rooms surrounded by an aquarium, put forward treatments developed from tropical, local elements as well as traditional ingredients. This unique place brings a feeling of harmony to body, soul and mind. Families are not forgotten with special rooms offering a separate children bedroom of 11 sqm, particularly recommended to parents wishing both to preserve their intimacy as well as having their children close by. This original room concept is supported by the Mini Club for children from the age of 3 years with a wide range of activities. The Club Lounge is an exclusive service, a hotel within the hotel, and is reserved for residents of our Club Rooms, Suites and Villa which includes:
- Open bar with soft drinks (coffee, tea, fruit juice and cookies) served every day from 10:30am to 6:00pm - Free access to the book, DVD and Playstation library at the Guest Relation desk located in the Lobby - Free entrance to the SPA with free use of stimulating leg hydro massage corridor, steam room, sauna, jacuzzi and solarium . More->
Mauritius, so far away, yet so much at home...

Mauritius, a sparkling crystal in the turquoise waters of the Indian Ocean, will fascinate you. The contrast of colours, cultures and tastes makes the island so charming that the scene is set for an unforgettable holiday. Here, you have the opportunity to experience unparalleled luxury: a level of refinement that is head and shoulders above that on offer in other tropical holiday destinations. Here, you will discover the true meaning of 'beauty' – a realisation that will compel you to return to Mauritius' shores time and again. Mauritius was named after Dutch Prince Maurice Van Nassau...
Port Louis, Capital of Mauritius

Port Louis , the capital of Mauritius, was founded by the French governor and colonist Bertrand-François Mahé de La Bourdonnais in 1735.

Situated on the north-west coast, Port Louis is the business and administrative capital of Mauritius. Packed with office-workers during the day, it quickly quietens down after office-hours – allowing visitors to enjoy a night out along the famous Caudan Waterfront.

Those arriving during daylight hours should head for the bustling Central Market or Champ de Mars: the oldest racecourse in the Indian Ocean region.

North

The northern coast of the island is the place where the most development has taken place in recent years. Thanks to this work, Grand Baie has an abundance of restaurants and discotheques. If you like to party to the sound of good music, you will find plenty of options to choose from here.

The north isn't only about night life, however. It also boasts some of Mauritius' best-loved sights, including the charming red-roofed church that overlooks the lagoon at Cap Malheureux.

East - The Jewel in Mauritius' Crown

A coastline comprised of exquisite coves and emerald lagoons, permanently enhanced by a cool sea breeze: life goes by at a slow pace in the east – whether you're a member of the fishing community or a holidaymaker.

Situated between the mountains and the sea, the east is characterised by charming little villages with poetic names like Petite Julie, Mare d'Australia and Queen Victoria. It also plays home to some of the country's best beaches, including Belle Mare, where you will want to spend hours basking in the sun, glorying in the sight of the long stretch of white sand.
South & South-East

The south reveals a dramatically different landscape from the rest of the island: one typified by high cliffs – in places – that are battered by waves. These are created where the protective barrier of coral reef that surrounds Mauritius falls away on the seabed, so leaving the coastline exposed to a punishing Indian Ocean.

But the south is not singularly about cliffs and rough waters. Further round the coastline, heading westwards, are an array of beautiful beaches and top-rate hotels and resorts, in up-and-coming areas such as Bel Ombre.

Rodrigues

Some 560 kilometres north-east of Mauritius lies Rodrigues: the jewel in the crown of the Mascarene Islands – a 18 kilometre by 8 kilometre pearl surrounded by a crystalline blue lagoon twice its size.

The secure waters of the lagoon and the trade winds that gently buffer the island provide many opportunities for the adventurous. Rodrigues is a wonderful playground for scuba divers who quickly fall in love with the diverse coral reef eco-system and its colourful assortment of sub-aquatic flora and fauna. Equally, the island appeals to those with a love of windsurfing, kite-surfing, sailing and fishing. Thanks to its outer reef edges sitting nearly ten kilometres away from the coastline, Rodriguan waters are rich in fish. In fact, no fewer than three world record catches have been hooked here since 2005.

It isn't only those who like the ocean that will be swayed by Rodrigues' charms. Yellows, greens and blues: nature on Rodrigues throbs with a palette of colours. Rarely will visitors encounter such a variety of landscapes in such a small area.

By MTPA tourism Office
Air Mauritius was one of the first advertisers in Africa Travel Magazine, and we appreciate the airline's continued support,with news, brochures and items for our web site and magazines. So that our many readers,viewers and browsers can become more familiar with this exotic destination off the Coast of East Africa, we will be adding current flight information and tour contacts.
Mauritius
Hon. Michael Sik Yuen
Ministry of Tourism and Leisure
12th Floor, Air Mauritius Building
Port Louis, Mauritius
Tel: (+230) 2101329, Fax: (+230) 2086776
http://tourisme.gov.mu
mtou@mail.gov.mu
---
Photo Credits: Air Mauritius/ Mauritius Ministry of Tourism