Morocco and Africa are developing their own tourism event, the Moroccan Travel Market (MTM), the International Tourism Fair dedicated to industry professionals, which will take place from 14 to 17 January 2010 in Marrakech.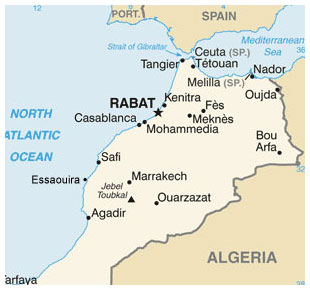 An International Event, MTM's first edition in 2008 brought together tourism professionals from over 20 countries; with 230 exhibitors, 8689 visitors and 120 foreign journalists who took part in the inaugural event, which has been unanimously described as a master piece.
An excellent business platform, the fair is the ideal opportunity for all Moroccan and foreign tourism professionals to expose their products and services and meet fellow professionals, decision makers and buyers from around the world. Enjoying its strategic geographical situation, between Europe and Africa, Morocco, through the Moroccan Travel Market, is becoming the vector of development of the North-South exchanges. For fill information and accommodation visit http://www.mtm.ma/Home_a71.html
Why Exhibit at MTM?
A single quote summarizes the satisfaction of the participants to the Moroccan Travel Market, that of a Tour Operator who addressed the organizers: "What has been noted here far exceeds what we generally expect at some shows that are more internationally famous. Morocco gave evident that it can organize its own event and succeed."
In one edition, The MTM became the first Travel Fair dedicated to tourism professionals in the region, this is confirmed by the international echo which it had that by the trust and the loyalty of the participants. Indeed, 97 % of the exhibitors renew their participations to the second edition and the majority of exhibitors double their spaces of exhibition. This trust is a strong signal expressed by satisfied professionals.
Exhibiting at the Moroccan Travel Market it is benefiting from the contribution of an integral event:
• Business and development opportunities for your company
• Fruitful and beneficial meetings
• Professional visitors and decision-maker
• A rich and diverse program in a friendly atmosphere
• A meeting space for professionals to promote destinations
MTM offers you the possibility to:
• Materialise commercial opportunities and finalise partnership agreements
• Follow new market trends and stay up-to-date
• Promote your offering to the leaders of the industry
• Boost your image and stress your positioning
• Enrich your address book
• Complete your offer by new signing new partnerships
• Develop B to B synergies
• Develop loyalty of your customers and gain prospects
• Attend conferences, discussions and debates organized for professionals and assert your positions.
http://www.mtm.ma/Home_a71.html