TRAVEL TRADE AND CONSUMER SHOWS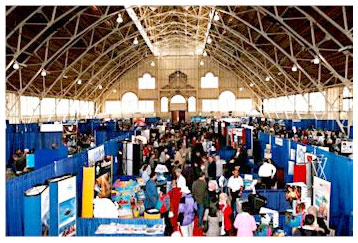 Ottawa Travel and Vacation Show, April 4-5 ,2009
Aberdeen Pavillion (1015 Bank Street). Contact
Come Visit the Nation's Capital in Full Bloom
Ring in Spring with Ottawa Tourism's Tulip Celebration Package
Visit Ottawa this May and watch the city burst with colour at the Canadian Tulip Festival from May 4 to 21. Over three million tulips in the region create an exotic mosaic during the annual festival. The two-night Tulip Celebration Package includes accommodation and everything you need to enjoy the world's largest tulip festival, including a Tulip Souvenir Pack, as well as admission to one of the city's world-renowned cultural attractions such as the National Gallery of Canada, Canadian Museum of Civilization or the Canadian War Museum. The Souvenir Pack includes a commemorative Tulip Festival pin, keychain, postcards and special coupons all packaged in an enviro-friendly Tulip souvenir bag. A variety of hotels are available to suit every budget. Packages start at $104 per person and can be booked online at www.ottawatourism.ca or by calling 1-888-OTTAWA-8.
The Canadian Tulip Festival will be a "festival without fences" with free admission to all parks featuring the massive tulip beds. This includes Commissioners Park at Dows Lake with 300,000 tulips, Major's Hill Park with 75,000 tulips, as well as Parliament Hill.
n the fall of 1945, Princess Juliana of the Netherlands presented Canadians (represented by Ottawa) with 100,000 tulip bulbs. The gift was given in recognition of the role which Canadian troops played in liberating the Netherlands from Nazi occupation and the hospitality shown by Ottawans when the Dutch Royal Family took refuge in the city during the war.
This continuing gift of tulips from Dutch royalty started what has now become the largest tulip festival in the world. More than three million tulips bloom in the region each year.
This year, the Festival kicks off on Friday, May 4 with the popular Tulip Ball (white-tie optional) held in the spectacular Grand Hall of the National Gallery of Canada.
Then, on May 5, the new Celebridée program will kick off with Governor General Michaëlle Jean at Rideau Hall. Celebridée will showcase the excitement and power of ideas in provocative presentations at venues throughout the National Capital Region. Internationally acclaimed Canadian author Margaret MacMillan (Women of the Raj, Paris 1919 and Nixon in China) will be guest "provocateur", as some of Canada's most exciting thinkers discuss "The Power of Ideas" in a bilingual session.
From May 11 to 21, Major's Hill Park will be host to embassies, high commissions and international communities which will join together in a festive, colourful International Pavilion to showcase their cuisine, culture, innovative thinking, and the lively sounds of music from around the world.
In addition, the Canadian Tulip Festival has selected War Child Canada as the beneficiary of charitable fundraising at the 2007 Festival. War Child is an independent humanitarian NGO that invests in the peaceful future of children affected by war. A special 2007 Souvenir Pin will be sold throughout the Festival with War Child sharing in the proceeds.
For further details on the Canadian Tulip Festival, please visit www.tulipfestival.ca
Ottawa Tourism provides industry leadership and destination marketing to service the travel media and attract visitors, tours and conventions to Ottawa and Canada's Capital Region. Visit Ottawa Tourism at www.ottawatourism.ca