Preparing Photos for E-Mail
Necessary steps to take.

Nikon Brings Built-in Wireless LAN for Compact Digital Cameras
New and versatile image-transfer and printing options
Mississauga, ON, September 6, 2005 - Nikon Canada Inc. announces an exciting new technology in digital photography with the introduction of built-in Wi-Fi LAN support (IEEE802.11b/g) for the new COOLPIX P1 and COOLPIX P2. As a world leader in digital imaging, Nikon is leading the way with its introduction of the world's first consumer digital still cameras featuring built-in Wi-Fi support.
Add outstanding flexibility to the digital photography experience with the advantages of built-in Wi-Fi LAN support (IEEE802.11b/g) which eliminates the need for wires and cables when transferring images to a computer or printer. With wireless transfer, pictures can be sent from a memory card or the camera's internal memory (32MB for the COOLPIX P1; 16MB for the COOLPIX P2) directly to a selected computer on command, or automatically as each picture is shot. And wireless printing delivers the convenience of cable-free direct printing to PictBridge-compatible printers.
An industry leader, Nikon is at the forefront of wireless image transfer technology. In 2003, Nikon introduced the Wireless Transmitter WT-1, enabling wireless image transfer for Nikon's D2H digital SLR. The WT-2 for the award-winning D2X digital SLR followed in 2004 featuring enhanced security and compatibility with new PTP/IP protocol. Wireless transfer is now available to even more customers with Nikon's release of compact digital cameras featuring built-in Wireless LAN support.
Examples of Wi-Fi image transfer and printing using the new COOLPIX P1 or COOLPIX P2:
· Immediately display pictures of an event on the living room TV or projector
· Add more to business presentations, reports, etc.
· Display pictures in a Nikon PictureProject slide show as they are taken
· Print pictures outdoors with a portable printer, without the use of wires and cables
Wireless image transfer functions of the COOLPIX P1 and COOLPIX P2:
Easy Transfer: Compare images stored in the internal memory or SD memory card with the images stored on a computer. Transfer only those images not already stored on the computer
Shooting Date: Transfer images by a specific recording date
Marked Images: Transfer only those images with the transfer mark
Selected Images: Transfer only selected images
Shoot & Transfer: Transfer an image immediately after it is taken
PC Mode: Transfer images using a computer
Wireless Printing: Transfer images to you computer's printer, without wires or cables
In addition to image transfer to televisions, DVD recorders and photo storage devices, direct image transfer from hotspots in airports and other public spaces, and even wireless image transfer between digital cameras, will be possible. Nikon will continue to develop and offer new possibilities for built-in Wireless LAN (Wi-Fi) support along with other cutting-edge features for added value of Nikon products.
Requirements for using the Wireless Transfer Mode
1) Wireless LAN Environment (IEEE802.11b/g compatible)
o Ad-hoc mode (When making a peer-to-peer connection between camera and computer)
Set up a computer with an internal or external wireless LAN adapter.
o Infrastructure mode (When making a connection via an access point)
Set up a wireless LAN environment using a wireless LAN access point. Check that the computer receiving the images is connected to the wireless LAN network.
2) Operating Systems that Support Wireless Transfer Mode
o Windows XP Professional Edition/Home Edition (SP1 or later; SP2 is recommended)
o Mac OS X (10.3 or later)
3) Software for Setting up Profile Information
o Wireless Camera Setup Utility (Supplied with products)
About Nikon
Coolpix ~ Simply, Better Pictures. Nikon Canada Inc. headquartered in Mississauga, Ontario, is a subsidiary of Nikon Corporation, a world leader in imaging products, precision equipment and instrument technology. Nikon Canada offers an extensive array of digital, SLR and compact cameras as well as film scanners, binoculars and microscopes for the consumer, business and photography markets. All Nikon Canada products are sold through a network of Nikon Canada Authorized Dealers. For more information on Nikon Canada and its products and services or to find a Nikon Authorized Dealer, visit www.nikon.ca.
Note: Specifications, design, product name, standard accessories, and release schedule may differ by country or area.
For more information:
Tara Reed/Anita Wong
Strategic/Ampersand
416-961-5595
tara@stratamp.com
anita@stratamp.com
---
Hot News and Cool Ideas
Photos On Call
We have started a series of Photo Index Pages, which make it easy to view situations and scenes from past events and tours. Countries with the most images in our archives are those that have hosted ATA events, such as: Cameroon in 2004 and Kenya in 2005. More African countries will follow.
ATA's Global Position: "This congress has achieved its main objective, which is to enhance cooperation in the promotion and marketing of our African destinations in the United States of America. I believe it would be a great idea to have an umbrella tourism organization such as the Africa Travel Association that can supplement our promotion and marketing efforts in other tourist-generating markets such as Europe and Asia." Hon. Morris Dzoro, MP, Minister of Tourism and Wildlife, Kenya,

Rovos Rail offers new Cape to Vic Falls combination
(with complimentary hotel stay and transfers in Pretoria)
Rovos Rail has launched a new 6-day packaged journey from Cape Town to Victoria Falls/Livingstone. The journey is a combination of the existing Cape Town to Pretoria route with the Pretoria to Victoria Falls/Livingstone route and includes a complimentary overnight stay in a pre-selected Pretoria hotel on a bed and breakfast basis, including transfers to and from Rovos Rail's Capital Park Station in Pretoria
"Whilst some agents and operators have already been combining the two back-to-back journeys into one itinerary, we felt the need to add value for the guest and reduce the workload for our agents by booking and including the overnight stay in Pretoria with transfers" said Rohan Vos, owner and founder of Rovos Rail. The overnight stay in Pretoria provides an opportunity for guests to explore and discover the historic capital city and it's numerous attractions. "Our agents and operators can confidently put their clients in our hands for a full 6 days knowing that all their needs and desires will be exceeded in the style and luxury with which our product is associated". A Pretoria city tour can be arranged on request and is not included in the overall package.
Off-train excursions during the journeys include a stop in the quaint Victorian village of Matjiesfontein, a tour of the historical diamond mining town of Kimberley, a game drive in Kapama Game Reserve in the Kruger National Park and a flight from Pietersburg to Livingstone aboard Rovos Air's Classic aircraft. En-route, guests will be treated to Rovos Rail's legendary service, fine cuisine, and luxurious accommodation on a fully-inclusive basis.
The new packaged itinerary will be available for booking from 1 October 2005 on selected fortnightly Monday departures out of Cape Town during the Victoria Falls train departure months.
For pricing and other information please contact Rovos Rail Reservations and Marketing on +27-12-323-6052, reservations@rovos.co.za or heike@rovos.co.za
Sun International appoints new Sales Manager
Sun International Hotels, Southern Africa's premier luxury hotel company including the world renowned Palace of the Lost City at Sun City, welcomes Rita Anagnostopoulos as the Sales Manager for the East Coast USA. Rita will be responsible for Incentive, Corporate and Leisure sales, marketing Sun International Hotels' properties, managing existing business relationships and building new accounts on the East Coast. Rita has a diploma in Travel and Tourism with over 12 years experience in the travel industry, having worked at South African Airways as a Sales Coordinator in Florida and for several travel agencies as a senior travel consultant in South Africa. Rita is also fluent in Greek, and Afrikaans.
In addition to her extensive travel experience, Rita has completed several travel training courses including the SA Tour Operator training course, IATA/UFTA international and USA Fares Course. "Her intimate knowledge of South Africa stands her in good stead to be able to effectively promote Sun International destinations," says Lorenzo Giani, General Manager, North America.
Rita is familiar with the Sun International brand, has experienced first hand the uniqueness of Southern Africa and has been exposed to the competitors. She is armed with firsthand knowledge of Sun International resorts, an important and vital tool when communicating with global media. Sun International Resorts is Southern Africa's premier luxury hotel group which includes the Table Bay Hotel, Cape Town, the Palace of the Lost City, Sun City and the new Royal Livingstone, Victoria Falls, Zambia.
Contact: Lorenzo Giani
SUN INTERNATIONAL
Phone: 954-331-4619, Fax: 954-331-3252
Email: Lorenzo.giani@sun-int.net
Rita.a@sun-int.net
Web: www.suninternational.com
Canada's Greatest Adventure Travel Show Big Success
ATA's schedule of international travel industry venues.

North Americans Captured by African Game School Experience. Sondela Nature Reserve Hamilton ON: "Konga imvelo", means "take care of nature" in both Zulu and Swazi. Many North Americans long to take care of nature, but are unaware that there are still peaceful, endless plains and blue skies to be experienced in our busy, high-speed world. It does still exist and is possible for those seeking peace, adventure or education to find it through experiencing the magic of Sondéla Nature Reserve in South Africa.More->
SUMMER CAMP FOR KIDS IN SOUTH AFRICA!
African Travel Inc, who have been operating African safaris for 28 years and are based in Glendale CA, are offering a unique Summer Camp for kids in South Africa for July 2005, at Grootbos Private Nature Reserve near Cape Town. Featuring a full schedule of organized activities supervised by camp counselors and instructors, the ten-night program costs from US$ 4,395 per child and is open to children aged 8 years and older. African Travel have arranged exclusive use of Grootbos for this Summer Camp. CONTINUED
Canadian Membership open to individuals, firms and agencies in travel, tourism, transportation and hospitality industries
Wherever you live in Canada, from the Great Lakes to the Arctic, geography is no barrier thanks to the worldwide web. You can belong to and benefit from membership in the Africa Travel Association Canada Chapter . CONTINUED
Africa Travel Association Marks 30th Jubilee with Grand Tour Magazines. Africa's Library of Destination Specific Editions.
Quick now. How many travel, tourism and business destinations are there in Africa? Answer: More than 50 countries dot the map of Africa and nearby island destinations in the Atlantic, Indian Ocean and Mediterranean Sea. All are anxious to attract trade and tourism revenues. Since its 1995, Africa Travel Magazine, worldwide voice of the Africa Travel Association, has published special event editions featuring ATA member host countries. Uganda will partner ATA's 8th Cultural Tourism and Ecotourism issue, as it hosts a major Symposium and trade show Oct. 24-29. Next May's edition celebrates the Africa Travel Association's 30th Jubilee featuring host country Kenya, with Grand Tour inserts on other host countries since 1975. Later on the 2005-2006 agenda are issues featuring Zambia, Angola Ethiopia, Nigeria and Ghana as host countries CONTINUED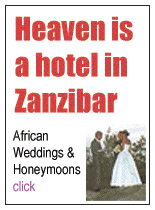 ELYSE WHITE our African Queen in USA
Elyse White was born on October 1, 1908 in Roanoke, Virginia and earned her bachelor's degree, cum laude, from Howard University in 1930. At the age of sixty-one, Elyse left the New York Board of Education to become a travel Agent, and has visited over 25 countries in Africa and 80 countries worldwide. "Enstooled" as an honorary Ashante Queen Mother by the Republic of Ghana, she was honored for helping to bridge the geographical and cultural boundaries that separate Africans (see profile page). Photo left: Elyse White and ATA President Hon. Zakia Hamdani Meghji, Tourism Minister of Tanzania at gala night, ATA 2002 Congress in Conakry.
AFRICAN DIASPORA UPDATE:
Paul Pennicook, former President and Chief Executive Officer of Couples Resorts, assumed office this morning as Director of Tourism at the Jamaica Tourist Board (JTB). Mr. Pennicook, whose term as head of the country's tourism marketing agency, commenced officially on March 1, has served Jamaica's tourist industry for nearly 25 years. A graduate of one of the world's leading hotel schools, the Cornell School of Hotel Administration in Ithaca, New York, Mr. Pennicook has, in the course of his career, held the positions of Senior Vice President, Sales & Marketing for SuperClubs and Executive Vice President at Unique Vacations, the marketing arm of the Sandals hotel chain. He has served on the board of the JTB as Chairman of the Marketing Sub-committee. The new Director is expected to forge a strong partnership with both large and smaller industry players in positioning Jamaica in the marketplace during what continues to be a challenging period for world tourism. Of his new appointment, Mr. Pennicook states that he is privileged to be called to serve as Director of Tourism for Jamaica at a time when, more than ever, the focus is on this industry as holding the potential for increased contribution to the economy of the island.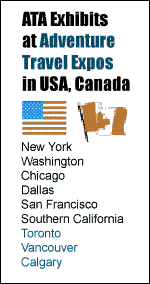 NEW JERSEY COMMERCE & ECONOMIC GROWTH COMMISSION CONFERENCE ON 'DOING BUSINESS IN AFRICA
' Successful Event leads to Opportunities

Survey says Internet More Important Than Ever: NEW YORK Americans who use the Internet consider it at least as important as newspapers and books, even as they've become more skeptical of what they find online, a UCLA survey finds. The Internet now exceeds television, radio and magazines in importance among online users, the third annual nationwide telephone survey of 2,000 households determined. When you need real information you always go to the library. But (for) easier stuff, and you're too lazy to go to the library, you can find it from Google," the Internet's leading search engine, said Yale University junior Ralph Byrd, 20. Only 53 percent of users believe most or all of what they read online, down from 58 percent a year earlier, according to the survey, which was released Friday by the Center for Communication Policy at the University of California, Los Angeles. Further, nearly a quarter of those who expressed concern about using credit cards over the Internet say nothing can ease their fears. Byrd, for one, tries to check information against other sites before believing it.
Africa Fashion Wear Ranks #1: Our pages on fashion shopping, textiles and designer profiles top the latest Webtrends ratings. The ATA site generates outstanding results, breaking all records.. SOUTH AFRICA Internet use: According to a recent survey, there was a total of 1,266,000 Internet users in South Africa at the end of last year. This figure includes dial-up subscribers, corporate users getting access through work, and those gaining access through academic institutions.
NEPAD Committee Names CCA as U.S. Representative
WASHINGTON, D.C. -The Washington-based Corporate Council on Africa (CCA) has been named the U.S. Representative for the Steering Committee of the NEPAD (New Partnership for African Development) Business Group. The coalition of international business groups will act as an intermediary between NEPAD and private business companies who support its aims. CONTINUED on CCA page 2
Congratulations on a great idea.: Here's a letter we received by e-mail, which may be of interest to readers and members. We are a group of seven acrobats based in Kenya and perfoming at the Safari Park Hotel and Casino every Tuesday to Sunday. We are aged between 20 year to 26 years young and energetic. We the Mighty Jambo Acrobats have our humble beginnings from one of the most densely populated Ghettos (slums) in Nairobi- Kenya known as Mathare Valley. Our dream and ambition is to improve life in the ghetto through provision of the necessary skills and training to the street boys and girls who are talented thus helping them gain self confidence and realise their full potential. We hope to improve their attitude, reliability, industry and focus as well as reduce drug abuse and idleness. We are therefore requesting to team up with you as road show biz in the cause of tourism attraction. Web site at http://www.mightyjambo.com
New Sustainable Tourism Web Site: With over 700 million international tourists every year there can be effects on environmental degredation, social and cultural impacts. Therefore the need for information and solutions about sustainable tourism are ever apparent. A new website - http://www.sustainabletourism.net provides case studies, definitions and information about sustainable tourism. The site links to sustainable tourism, ecotourism and urban sustainability sites and discusses some of the needs that are critical in today's environment. The site also showcases best practices and offers consulting services including planning, marketing and implementation tools for sustainable tourism/ecotourism management.
..
News Update: Africa Index