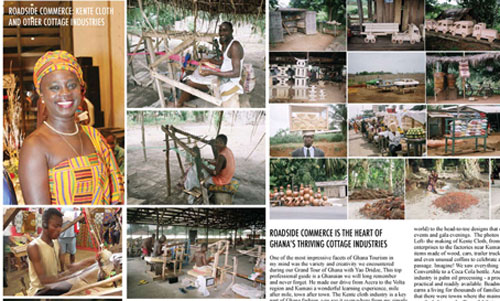 See Ghana Two Page Spread in Africa Travel World Edition Preview
By Anouk Zijlma

Ghana has ten regions which each have their own culture, customs, food and festivals. The regions are extremely diverse, from the hubbub of Accra to the stunning savannah of the North, each region has something to offer the traveller.

Ghana has no obvious landmark tourist attraction like the Eiffel Tower in Paris or Mount Kilimanjaro in Kenya - its beauty and intrigue lies in everyday life, from its bustling markets to palm-lined beaches and famous hospitality, you will never be bored in Ghana.

TOP 10 PLACES TO VISIT IN GHANA

Cape Coast Castle, Elmina and St George's Castle Accra, Ghana's Capital,National Museum,Makola Market
Beaches, Labadi Beach, Kakum National Park, Mole National Park, Kokrobite Beach, Kumasi, Busua Beach
Nzulezo, Lake Volta (Volta Lake) Fantasy Coffins
Ghana Tourism Authority launches 2013 National Tourism Awards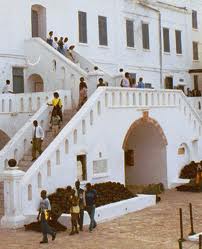 Accra, May 08, 2013

The introduction of the tourism development levy on tourism facilities in the country raked in some one million Ghana cedis for the Ghana Tourism Authority in just six months of operation.

The acting Executive Director of the Ghana Tourism Authority disclosed this to e.tv Ghana news in an exclusive interview during the launch of this year's National Tourism Awards in Accra.

The tourism development levy was introduced in response to calls by stakeholders for government to invest in basic interventions to help develop the tourism industry in Ghana.

Following the passage of the Tourism Act 817 October last year, the acting Executive Director of the Ghana Tourism Authority, Sampson Donkoh has expressed satisfaction of the revenue his outfit has accrued in just six months of implementation.

The Executive Director of the Ghana Tourism Authority said the authority is confronted with challenges in registering operators in the formal and informal sectors thus making them lose potential revenue.

Meanwhile the 2013 National Tourism Awards has been launched in Accra on Monday after a four-year hiatus. The Awards aims at rewarding excellence and professionalism in the Ghanaian tourism business environment.

Addressing industry players, the Minister for Tourism, Culture and creative Arts, Elizabeth Ofosu-Adjare underscored government's commitments in maintaining Ghana's stature as the leading tourism destinations within the sub-region.

This year's award is scheduled for December 13 and is under the theme "Tourism: Gaining a competitive Edge through innovation and service excellence"
Freeman Kwade / e.tv Ghana News.
Marcel Andeweg, General Manager, Alisa Hotels, Ghana

Florence Oboshie Sai Cofie,
Minister of Tourism, and Diaspora Releations Ghana
GRAND TOUR OF GHANA- A GOLDEN EXPERIENCE!
By Jerry W. Bird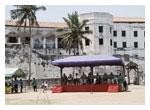 What was my impression of Ghana on our first visit since 1999? Upon landing at Accra's Kotoka International Airport my eyes were fixed like lasers on a banner newspaper headline that shouted its bold, positive message across the arrivals area - "Ghana is Safe." What a confidence builder -- and nothing in two exciting weeks of ATA 31st Congress activities, colorful galas and an educational, fun-packed, cross country tour gave us any reason to doubt the authenticity of that challenging statement.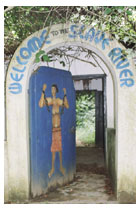 Our 2006 Grand Tour can easily be described as a "Photo Safari," and over 10 new gallery pages are available for online viewing from hundreds of images captured by Muguette Goufrani, featuring Cape Castles, Kente Weavers, Slave River, Bead Making Art, Ceremonies and Festivities, Roadside Commerce, Tour Sites, Ghana Fashions, Gala Events and the ATA Trade Show. Combined with superb photography by Robert Eilets and selections from Sandy Dhuyvetter of TravelTalk Radio, we are able to showcase Ghana like never before. Being non profit, we seek no financial benefit from sharing the sights and sounds of Ghana with a worldwide audience - and with other approved media upon request.
Advertise Online. New York Times Travel Show . USA Canada Air Link
Roadside Commerce
This tour, with its focus on roadside commerce, creative crafts and cottage industries, was an eye opener to the amazing entrepreneurial spirit that is so dominant in Ghana. It is reflected in the latest book by Dave Fick entitled ""Africa: Continent of Economic Opportunities." The experiences enroute during this week long, dawn to dusk tour left a profound impression Starting with the Lake Volta Region near the Togo border, our journey took us to the provincial capital of Ho; then to the Kumasi area, home of the Ashanti Empire. Our agenda included Senchi Riverside Resort, Liate Wote, Afadjato Mountain, Wli Waterfalls, Tafi Monkey Sanctuary, Abenyinase Kente Weavers, Cedi Beads, Oumasi, Shai Hills Game Reserve, Bunsu Arboretum, the Bobiri Butterfly Sanctuary, Ejisu Bease, Bonwire Village, home of the Kente Weavers, Ntoso, the Adinkra Printing Village, plus Ahwiaa, the Carving Village. We visited the the Ghana Tourism Board's Kumasi office and Crafts Center, plus a new luxury resort at Lake Bosomtwe. One of the most meaningful sites was NNonkonsuo, the Slave River Memorial Center. Enroute to Kakum National Forest, with its famous rope bridges, we stopped to watch a family operation producing palm oil. The final leg of our journey involved Elmina and Cape Coast Castles. Continued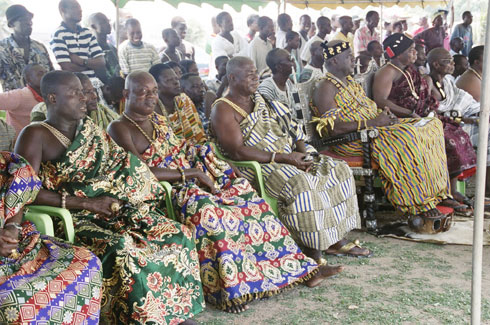 ---
GHANA, AN ECOTOURISM PARADISE