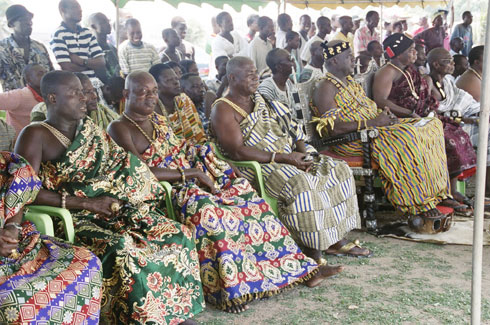 Photos on this page by Muguette Goufrani.

African Americans Invest in Ghana
While on our media tour, following the ATA World Congress in Accra, Africa Travel Magazine's editors saw some shining examples of African Investment in Ghana. One was a new lakeside resort south of Kumase that was ready for opening. Now here's an exciting new story devoted to that new trend. Time Magazine's feature article "Ghana's New Money" includes a section on ATA member Mona Boyd of Land Tours, Accra. Details
GRAND TOUR OF GHANA- A GOLDEN EXPERIENCE!
By Jerry W. Bird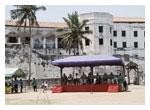 What was my impression of Ghana on our first visit since 1999? Upon landing at Accra's Kotoka International Airport my eyes were fixed like lasers on a banner newspaper headline that shouted its bold, positive message across the arrivals area - "Ghana is Safe." What a confidence builder -- and nothing in two exciting weeks of ATA 31st Congress activities, colorful galas and an educational, fun-packed, cross country tour gave us any reason to doubt the authenticity of that challenging statement.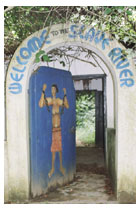 Our 2006 Grand Tour can easily be described as a "Photo Safari," and over 10 new gallery pages are available for online viewing from hundreds of images captured by Muguette Goufrani, featuring Cape Castles, Kente Weavers, Slave River, Bead Making Art, Ceremonies and Festivities, Roadside Commerce, Tour Sites, Ghana Fashions, Gala Events and the ATA Trade Show. Combined with superb photography by Robert Eilets and selections from Sandy Dhuyvetter of TravelTalk Radio, we are able to showcase Ghana like never before. Being non profit, we seek no financial benefit from sharing the sights and sounds of Ghana with a worldwide audience - and with other approved media upon request.
Roadside Commerce
This tour, with its focus on roadside commerce, creative crafts and cottage industries, was an eye opener to the amazing entrepreneurial spirit that is so dominant in Ghana. It is reflected in the latest book by Dave Fick entitled ""Africa: Continent of Economic Opportunities." The experiences enroute during this week long, dawn to dusk tour left a profound impression Starting with the Lake Volta Region near the Togo border, our journey took us to the provincial capital of Ho; then to the Kumasi area, home of the Ashanti Empire. Our agenda included Senchi Riverside Resort, Liate Wote, Afadjato Mountain, Wli Waterfalls, Tafi Monkey Sanctuary, Abenyinase Kente Weavers, Cedi Beads, Oumasi, Shai Hills Game Reserve, Bunsu Arboretum, the Bobiri Butterfly Sanctuary, Ejisu Bease, Bonwire Village, home of the Kente Weavers, Ntoso, the Adinkra Printing Village, plus Ahwiaa, the Carving Village. We visited the the Ghana Tourism Board's Kumasi office and Crafts Center, plus a new luxury resort at Lake Bosomtwe. One of the most meaningful sites was NNonkonsuo, the Slave River Memorial Center. Enroute to Kakum National Forest, with its famous rope bridges, we stopped to watch a family operation producing palm oil. The final leg of our journey involved Elmina and Cape Coast Castles.
The Volta Region
Our first night of the tour was spent at the Freedom Hotel , a bright, attractive courtyard facility in the city of Ho. Capital city of the Volta Region, Ho has a population of over million and consists of 17 town and villages in the Ho District. We passed through several of these communities in our tour. Ho has three hospitals, including the Volta Regional Hospital and numerous small clinics. There are two internet cafes, a museum and many churches, including a Catholic cathedral in the city center. Ho has many restaurants, including a popular dining establishment they call the White House. The main language spoken in this area of Ghana is Ewe.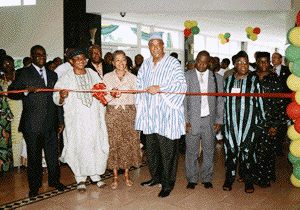 Hon. Jake Obetsebi- Lamptey presides at the ATA 31st World Congress
On the right is a photo animation of the Tourism Minister and delegates at this popular annual event, hosted in 2006 by the Republic of Ghana.

Official Media Tour

Our tour itinerary courtesy of the Chief Director, Ministry of Tourism, Ghana was issued by the Tour Operators Union of Ghana. The agenda was as follows, and thanks to our experienced and knowledgeable guide Mr. Yao Dzide, we were able to visit almost all of the sites outlined in this ambitious four day tour schedule.

Day One. Our journey began when we departed from the Palm Hotel in Accra, driving along the Coastal Highways to Wli Waterfalls, with further stops at the Senchi Riverside Resort on the Volta River, and at Liate Wote, where we viewed Afadjato and the highest mountain in Ghana. Next on the tour agenda was the Fafi Atome monkey sanctuary. Our final stop for the day was in the city of Ho, capital of Volta Province. Our overnight stay was at the Freedom Hotel.


Day Two: After visiting the Regional Museum, we departed Ho for Abenyinase to visit and interact with the Kente weavers, with further stops at Cedi Bead making facilities and shop, plus the Shia Hills Game Reserve. Overnight was in Accra.

Day Three: An early departure from Accra for Kumasi, with stops at the Bunsu Arboretum, the Bobiri Butterfly Sanctuary, Ejisu Besease and Bonwire village, a kente weaving center near Kumasi. Other highlights were Nitonso, the Adinkra printing village and Ahiwaiaas, the carving village. Overnight was at the Royal Basin Hotel in Kumasi.

Day Four. Driving through Kumasi, after an enjoyable stop at the Cultural Center and regional office of the Ghana Tourist Board, we toured Ghana's second largest city and traditional home of the Ashanti Empire. The huge, sprawling city market and the furniture making operation on both sides of the main street were very impressive.

Leaving Kuumasi, we stopped at several new resorts on Lake Bosomtwe, then continued to the Memorial Gardens at Slave River (Monkonsuo) . Further points of interest were Kakum National Forest, a palm oil making operation nearby, plus Elmina and Cape Coast castles. We arrived for a late dinner at the Golden Tulip Hotel in Accra.


Kumasi
Having spent some valuable time in and around Kumasi on this and a previous trip, it was grand e experience six weeks after our return from Ghana to meet it's charming and highly capable le mayor, Patricia Applagyei and her colleague David at the UN World Urban Forum in Vancouver.
Our ATA Canada Chapter had the privilege of touring them around our own community. The professional, award winning tour guide selected by Ghana Ministry of Tourism and Diasporan Affairs was a fountain of information. We jokingly referred to him as yao.com, which in today's lingo is an apt description of his ability to answer questions on many topics, including those of a financial and business nature. yaodzide@yahoo.com
By the way, if you've never heard of the "Joseph Project," initiated by Ghana Tourism, with a major focus by ATA on the African Diaspora, then be prepared. There's an exciting new initiative on the way, starting immediately.
Much more to come-, including comments on the various sites and attractions we visited.