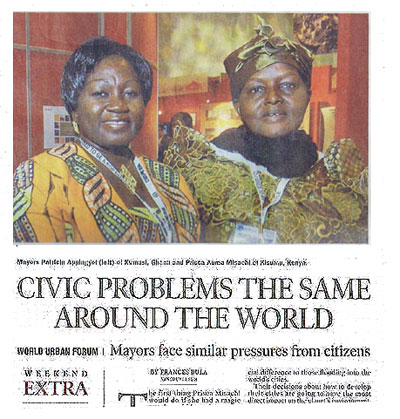 AFRICAN MAYORS NOMINATED FOR WORLD MAYOR AWARDS
• Mayor of Antananarivo, Madagascar
• Mayor of Johannesburg, South Africa
• Mayor of Maputo, Mozambique
• Mayor of Tunis, Tunisia

Kumasi Mayor makes Cover page during UN World Urban Forum
Article appeared on Saturday after the close of UN World Urban Forum 3. Mayor Patricia Applagyei (left) of Kumasi, Ghana, one of the mayors our editors had the privilege of touring during and following the forum in Vancouver, Canada..
From Vancouver Sun Article
"Patricia Appiagyei, the Mayor of Kumasi, the second-largest city in Ghana with 1.5 million people, is also struggling with garbage, but her problem is how to develop a system of charging a small fee to each household so the city can introduce individual pickup - a daunting task when half your city consists of slums that have no streets or house numbers. Abdelkader Sidibe, the mayor of Bomako in Benin, is trying to develop a school system with only 50 kids per gh classroom instead of the current 150-200. The forum brought together an unprecedented number of mayors - about 100 of them - and several sessions focused on city governments.".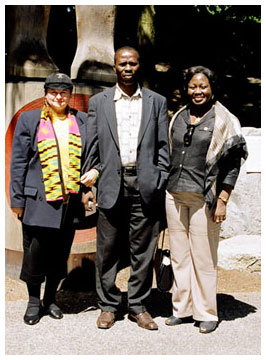 Right: Mayor Patricia Applagyei (right) of Kumasi, Ghana's second largest city with Africa Travel Magazine's Muguette Goufrani and Hon..David Quay Annang, Municipal Chief Executive of Tema.of Tema, Ghana.
AFRICA MUNICIPAL DEVELOPMENT PARTNERSHIP
Under the current local government reforms in Africa, Mayors and Councillors are key actors in establishing strong and sustainable local governments. They have a dual role of democratising local government and fostering local development. They represent the citizens and are supposed to provide both political and economic leadership; have an appreciable level of civic knowledge with the ability to manage public affairs; and create an environment for maintenance of peace and security in their jurisdiction. However, until the late 1980s, it was never conceived that representation of ordinary people requires a mayor or a councillor to have extraordinary skills. This was possibly due to the fact that their engagement was on a part time basis and for a fixed term of one or two years. Many elected officials come to local authorities without prior management skills or knowledge of local government systems, or knowledge of national priorities and goals. MORE-

MAYOR'S OUVERHAUL OF ADDIS ABABA: Executive Mayor Arkebe Oqubay
AFRICA CITY MAYORS SOCIETY- PROJECTIONS TO 2030
US AND AFRICAN MAYORS MEETLocal Government co-chairs
South Africa - Smagaliso Mkhatshwa (co-chair)
Local Governments - Africa/ Gouvernements Locaux - Afrique
Benin - Raoul Akodjigbe Houessou Mayor of Lokossa
Burkina Faso - Simon Campaore Mayor of Ouagadougou5
Madagascar - Olga Ramalason. Mairesse d'Antsirabe
Maroc - Mohamed Sajid, Maire de Casablanca
Namibia - Rosina Hoabes Mayor of Windhoek
President of Association of Local Authorities of Namibia
Senegal - Robert Sagna, Mayor of Ziguinchor
Senegal - Ahmed Khalifa Niasse, Mayor of Kaolack
Tanzania - Adam Kimbisa, Mayor of Dar es Salaam
Tunisia - Mounira Boukmiha, Adjointe au Maire, City of Tunis
Uganda - James Sseggane, Mayor, City of Kampala
United Cities and Local Governments Africa - Jean Pierre Mbassi Secretary General