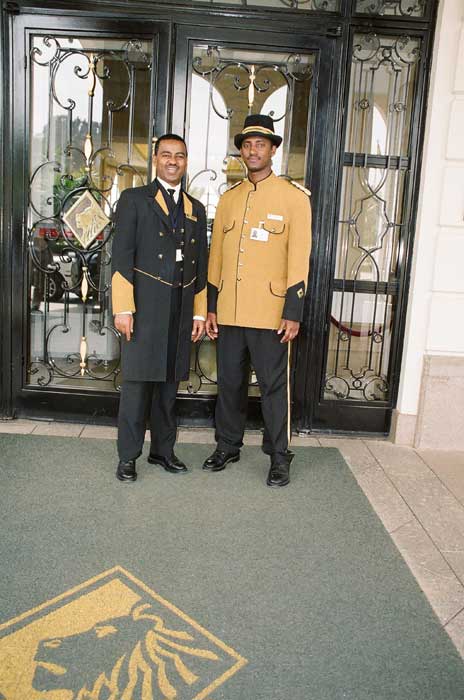 Above: Photo at Sheraton Addis Hotel by Muguette Goufrani, 2008

Addis Ababa: Africa's Meeting Place
by Jerry W. Bird, Editor

Quick now! Why did ATA choose Addis Ababa as the venue for its 32nd World Congress in May 2007? To begin with Addis is today's political capital of Africa, home of the Organization of African Unity (OAU) and the United Nations Economic Commission for Africa, (UNECA). Did you kinow that more than 95 embassies from all over the world have located their missions in Addis Ababa?. That's right - the capital of Ethiopia a city where the visitor or meeting planner will discover the highest concentration of embassies in the world after Washington DC, New York and London.

Our most recent trip to Addis Ababa was the first since 2000, and fortunately our friendship with well known experts such as Timkat Wedajo was a blessing. Timkat started us off with a city tour that brought back many pleasant memories, from the panoramic views of the city and area from Mount Entoto, to a network of famous parks, museums and historic attractions - including the ornate railway station that once carried the special train of Emperor Selassie from here to Djibouti. . We will describe the shopping, great restaurants and bistros in the Ethiopia Millennium Souvenir Edition now in production
.
Addis Ababa is easily accessible, having daily flights to and from cities in Europe. Ethiopian Airlines, Lufthansa, Alitalia, Kenya Airways, Egypt Air and others serve Addis Ababa. Perhaps what makes Addis unique is that the national carrier, Ethiopian Airlines, serves many cities in Africa - making it the most accessible city on the continent.
Hotel and Resort Development: Ethiopia's genial Tourism Minister, H.E. Ambassador Dirir spoke of the amazing growth in the country's hotel sector at the recent ATA Congress: "Investors are tapping Ethiopia's tourism potential. Already, four and five star hotels are currently under construction in Addis Ababa." We witnessed this surge of activity in construction first hand during our month in the area and made a special effort to visit as many hoteliers as possible, including our friends at the Ras Hotel Addis (one of seven in Ethiopia) with its beautiful convention facility. Did you know that Nelson Mandela stayed at this historic hotel during his exile from apartheid? We visited and photographed the same room. More about that in our next magazine edition. We attended a grand opening celebration for the Axum Hotel (one of two in Ethiopia) and had the pleasure of staying there for our final two weeks in the country. What attractive suites - complete with the latest wireless internet service, plus a health spa with sauna and steam. We also stayed at the Ghion Hotel Addis, famous for its gardens. See some of our beautiful wedding photos taken during several weekends at the Ghion.

Sheraton Addis: The Sheraton Addis offers modern conference facilities with simultaneous interpretation; big tv screens and executive boardrooms. Up to 500 participants can be seated in the main hall. The Sheraton Addis is set in beautiful grounds, overlooking the capital city. Aside from the conference facilities, the hotel has 3 restaurants; a gazebo for light meals by the swimming pool; a musical fountain; cozy bars, and a health center. This luxury collection hotel is ideal for those who wish to have their meetings and accommodations at the same place.
Hilton Addis Ababa: The Hilton Hotel offers a banquet hall for meetings of up to 500 participants. There are also two meeting rooms that can sit up to 20 people and another two for up to eight persons. Overhead projectors, flip charts, projection screens and video projectors are available.
United Nations Conference Center: The UNCC is one of the most modern and sophisticated conference centers in the world, offering state-of-the-art facilities, including:
• Conference Room capable of seating 600 delegates plus 180 in the gallery.
• Conference Room accommodating 400 delegates plus 48 in the gallery.
• Four Conference Rooms, each with a seating capacity of 114. Simultaneous interpretation facilities.
• Small meeting rooms for 20 to 30 people; briefing rooms; office suites; a press center with the most up-to-date electronic equipment to transmit audio and video reports
• Business Center; cafeteria; lounges; delegates dining room; press bar and an exhibition area. Africa Hall: Also in the United Nations compound is the famous and historic Africa Hall where the Charter of the Organization of African Unity was signed in 1963. Many conferences are still being held there. It has a seating capacity for 272 delegates with 100 microphones and 335 seats in the gallery. It has simultaneous interpretation facilities.
Editor's Comments: Enroute to Ethiopia last May our luggage was weighed down with over 800 copies of Africa Travel Magazine for delegates to the Africa Travel Association's 32nd Annual Congress. Would you believe the same suitcases were just as full coming back? The reason? They were stuffed with books, photos, DVDs and journals on every aspect of life in Ethiopia - culture, fashions, transportation, food, travel, tourism, investment and business opportunities. In 12 years, our magazine and web site have become a prime source for positive, timely substantive news and views about Ethiopia. Current searches of Google, Yahoo, MSN and others prove this point. But we brought back much more than information for our magazine's archives - we renewed friendships from two previous trips and had the opportunity to get to know several of the leading lights on the Ethiopian scene and to explore the capital city and all its treasures.
For information e-mail: info@tourismethiopia.org, or tour-com@telecom.net.et . Web site: http://www.tourismethiopia.org/pages/ethiopia.asp
.