Fossils of Oldest Human Ancestor Discovered in Ethiopia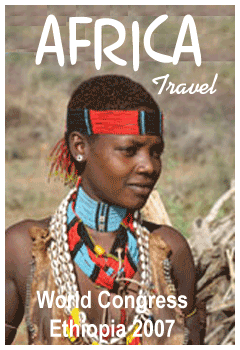 An international team of scientists working in Ethiopia's Afar Depression recently announced the discovery of hominid fossils that belong to the oldest human ancestor ever found. The fossils which date back between 5.2 and 5.8 millions years ago, are significant because they indicate that the ancestors of present-day humans split evolutionary company with apes more than 5 million years ago. The speciments are recognizable as early hominids and distinguishable from early chimpanzees, because some of their teeth characteristics are shared exclusively with later hominids. In addition, the bones have a distinctive feature found only in primates that walk upright on two feet, unlike apes, which do not walk bipedally. This new fossil discovery also supports Darwin's herory that hominids arose in Africa.
The first of the eleven specimens (which include a jawbone, several hand and foot bones, arm bone fragments and a partial collar bone) was discovered in December 1997 by Yohannes Haile-Selassie, an Ehiopian doctoral candidate in paleontology at the University of California at Berkeley. Haile-Selassie found the jawbone with teeth while working in Ethiopia's Middle Awash area, approximately 140 miles northeast of Addis Ababa. The area is about 50 miles south of Hadar, where the 3.2 million year-old "Dinknesh" or "Lucy" skeleton was found nearly thirty years ago, which was previously believed to be the oldest human fossils ever found nearly thirty years ago,. Paleontological research has been conducted in the Middle Awash study area since 1981 under the direction of an international team of scientists led by Professor Desmond Clark and Tim White of U.C. &endash; Berkeley, Dr. Giday WoldeGabriel of Los Alamos National Laboratory and Drs. Berhane Asfaw and Yonas Beyene of Addis Ababa.
The discovery of these Ehiopian fossils, named Ardipithecus ramidus Kadabba (root man ancestor), when coupled with even older remains reportedly discovered in Kenya, have brought sicientists tantalizingly close to determining what the earliest human ancestors looked like at the point in the ancient past &endash; somewhere between 5 and 10 million years ago &endash; when apes and humans diverged from a common ancestor to take separate evolutionary paths. Distinctly human species arose in Africa about 2 million years ago, while modern humans are only about 100,000 years old.
For more information about this discovery, read the July 12, 2001 issue of Nature Magazine
Embassy of Ethiopia
3506 International Drive, NW Washington, DC 20008
Tel: (202) 364-1200, Fax (202) 686-9551
---
Ethiopia B Directory: Recommended accommodation and services from our advertisers and sponsors. (details)
Addis Ababa: The Capital, with over 90 embassies and a state of the art UN Conference Centre attracts world class events. (details)

Photo: Ancient Shrine at Axum in Northern Ethiopia from biblical era

Airline Map: Getting to Ethiopia via the country's national airline. (details)
Airlines: Bringing Africa Together. Ethiopian Airlines, the international carrier that's winning friends and influencing people. (details)

Airports: Nationwide expansion sets stage for tourism (details

Art and Sculpture: Tekle, Ethiopia's Artist Laureate. (details)

Coffee: History of coffee growing and customs in Ethiopia (details)

Ethiopia's Holy Route: Lalibela, the Holy City (details); Gondar, Ethiopia Camelot (details); Bahir Dar and Lake Tana (details); Harar and Dire Dawa. (details); A sample tour itinerary by Abay Travel. (details)

Ethiopian Journey: Fascinating tourism destination.(details)

Fashions: Gigi- a rising star on the Fashion Horizon. (details)

Great Causes: People helping people in so many ways. (details)

Hospitality: Our 'Days of Wine and Roses' in Ethiopia's Capital. (details)

Hotels and Resorts: Places to stay in Ethiopia include (Ghion Hotels) a government hotel chain in Addis Ababa and other cities; the Hilton Addis, official hotel for the ATA Jubilee; Lal Hotels in Lalibela and Woldiya; the elegant Sheraton Addis, and two vintage hotels recommended by our friend John Graham. New hotel and resort development. (details)

Impressions: A group of North American journalists visit Ethiopia; their first and lasting impressions. (details)

Jubilee Memories: Helen Broadus profiles the ATA 25th Jubilee Congress in Ethiopia. (details)

Judaic Traditions: Two Israeli film makers portray Ethiopia's Jewish community. (details)

Newsmakers: We profile the inventor of Ethiopian Tourism. (details)

Photo Gallery: Links to photos taken before, during and following Ethiopia's biggest tourism event ever. (details)

Royal Legacy: Emperor Hailie Sellasie's legacy, the palace, royal rail cars and Lion of Judah engine. (details)

ETHIOPIA TOURISM (NORTH AMERICA)
Mr. Hagos Legesse, Director
347 Fifth Avenue, # 810, New York, NY 10016
Tel: (212) 447-6700, Fax: (212) 447-1532